Your movie Fetish Dolls Die Laughing - in a few words, what is it about?
It's about a man whose artistic obsessions get the better of him. He, Billy Tagg (Michael McGovern), is not an evil man. He has no desire to harm anyone. A demonic entity possesses him and he acts on his darkest desires. He runs a fetish photography studio and website with his wife Tanith (Diana Silvio), and then he starts killing his models to "feed" his demon. He kicks off his killing spree by murdering his wife. At the same time the police are looking for a killer they dub "The Maid of Honor Killer" with a special task force headed by detectives Greer English (Laura Romeo) and Leland Tucker (Angelo Bruni). Eventually the two killing campaigns intertwine and Greer finds herself in a lot of hot water including on a personal level with her partner Leland being her "ex" who is jealous of her recent lover Adam (Aaron Bernard). With all this happening to her, Greer finally ends up face to face with Billy himself and she knows she's in immediate danger being alone in the lair of the monster himself. How's that for a few words?
One of the film's main themes is, well, tickling. What's your personal take on this and similar fetishes?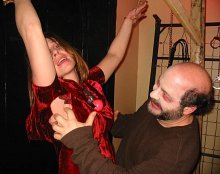 Michael McGovern tickles Kim Naim
Fetishes can be fun in movies. It's a way to push buttons just the same as blood and gore effects do. The more taboo a fetish is the better reaction you'll get from your audience whether it's lust or disgust, it still makes them think. The writer of the screenplay, Michael McGovern, wrote his story about serial killers mingling death and the supernatural with a barrage of fetishes. Besides the tickling and foot fetishes the main killer becomes consumed by, Michael also included adding something much darker: execution fetishes. It all adds up to a strange and different way to be entertained.
How did the project get off the ground in the first place, and at what point in production did you get involved? And who came up with the ingenious title "Fetish Dolls Die Laughing"?
At the time Meat for Satan's Icebox was being picked up by Troma for DVD release, Diana and I had met Michael McGovern while he was writing original horror plays and directing them on stage with his Theater Of The Night-troupe. Michael had written his screenplay he titled Die Laughing and asked Diana and me to produce it, and me to direct. It was a great opportunity to work with Michael so we took it on as our next project even though we were writing our follow up to Meat for Satan's Icebox at the same time. We cast the film with a mixture of Michael's actors and some from our Kiss Of Death Productions. Crystalann was the lead in Meat for Satan's Icebox, but in this new film she plays a bit part where she chews up the scenery as "Bart" the lesbian kidnapper who tortures her lover. Crystalann gets to do a wonderful death scene. She's just fantastic!
Now the title Michael had originally come up with, Die Laughing, was not very good to me. I knew we needed to change it to something else because I realized that it had already been the title of a Robby Benson movie in the seventies. I said if we keep his title we'd have to come up with something to go either before or after that to make it interesting. Michael came up with using the word "fetish" in it somehow. We did try "Fetish Girls" at first, then he suggested replace "girls" with "dolls" and so that's what we did. It was that simple. Michael has a great way with words.
What can you tell us about your screenwriter and lead villain Michael McGovern, and what was your collaboration like, both before and during the shoot?
Michael's enthusiasm about bringing his script to life on the screen prompted me to want to direct the film. He helped to cast the parts and was great in other pre production needs such as scouting locations and assembling our crew. The Billy Tagg character was going to be Michael, but he was not sure if he was the best choice to play it. My thought was that he knew the character inside and out and was capable of doing it better than anyone else we could've gotten. He is the Peter Lorre of Pittsburgh. He was a great actor for me to direct. Actually, I didn't really have to direct him. He knew the part and was always prepared. I think we worked together wonderfully. Being a director himself he made it easy for me to lead him through his paces.
A few words about the rest of your cast, and what made exactly them perfect for their roles?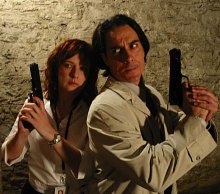 Laura Romeo, Angelo Bruni
Everyone in the picture was a seasoned actor from the theater. They were capable of playing any role. I put them in the parts I liked seeing them in that I felt were best suited the movie visually. Laura Romeo had that serious cop attitude that fit perfectly to Greer. Angelo Bruni is charming and very attractive to be in the middle of a love triangle. Aaron Bernard is the young man that the older woman uses to make her ex-lover regret losing her. James Shoberg is an exceptionally versatile actor who brilliantly plays Darren Keyes, the "other" serial killer. Having him on the set was dynamic because of the energy he creatively brought to his character. We loved watching him perform. Diana says about him: "The dude is awesome!"
One of my favourite aspects of Fetish Dolls Die Laughing was the increasingly bizarre ways the Tickler kills his victims in.
Were they all in the script or rather improvised on set? And since we're at it, what can you tell us about the film's effects work?
Every death was worked out in the script by Michael. He had seen Meat for Satan's Icebox and even played a small part at the film's beginning and he understood my vision of how I liked to film the deaths of characters. He wove that vision into his script perfectly.
The actual effects were done by Michael Burkett who is also an actor in the film. Both he and McGovern designed the look of the Tickle Monster entity. For all the murders Burkett used lots of makeup and blood on the wriggling bodies of our Fetish Dolls as they died laughing and screaming. He was very clever making his effects work to their best advantage in front of the camera.
How would you describe your directorial approach to your subject at hand?
For this movie I went with shooting all the scenes from many angles. I usually shoot a couple takes, but I wanted to make sure if something went wrong in the editing that I could depend on another point of view to bridge any gap. Shooting a lot of footage is a big headache for the editor. I'm very grateful David Dietz [David Dietz interview - click here], our editor, had the patience to endure my little mind-fuck of filming. I am surprised he didn't pull out his hair. He was brave to take this thing on.
Every day of filming, even with the multiple takes of every shot, we managed to fly through it really quickly. I did my own camera work on this movie as well as on Meat for Satan's Icebox because I can move things along at a faster pace. I do not believe in filming until all hours of the night..
What can you tell us about critical and audience reception of Fetish Dolls Die Laughing so far?
I have had a few good reviews. Those are from people who seem to get the entertainment of the film and who are less inclined to balk about the low production values that seem obvious in no budget movies. They accept the movie for what it is and can get enjoyment out of it. Then you have some bad reviews. These are from people whom I believe just can't get over the idea that fetishes are a prominent part of the storytelling in this movie. Either way, Fetish Dolls Die Laughing was the number one viewed movie for many weeks on MaddyGTV.com.
Let's go back to the beginnings of your career: What got you into filmmaking in the first place, and did you receive any formal education on the subject?
I had a talent for drawing and writing in school. I wasn't interested in sports so I centered my attention on art. I watched a lot of television back then and I realized I was slowly figuring out the construction of movies. It was a gradual thing. When I was in grade school I had this grand idea to write my own stage play based on the 1931 Bela Lugosi Dracula [Bela Lugosi bio - click here] and perform it with kids I knew in my classes. I audio taped the movie from a late Saturday night Chiller Theater and wrote my script while listening to the tape over and over again. Unfortunately, the play never happened, but I taught myself how to write a long script.
While in high school I was involved with the drama club, mainly building and painting scenery, doing chorus background stuff and moving the scenery. When high school was over in 1979, I had a strong desire to make movies in order to continue working in the world of drama. I felt I could control a movie easier than doing plays, and movies you can keep forever. So as soon as I started working a job I bought the tools to make movies. I teamed up with my cousin Joseph Bondi and we got ourselves a super 8 sound camera, projectors and a moviola. We "co-did" everything together on all the jobs and we filmed a 40 minute zombie movie called The Fires of Autumn with actors from high school. We even used the school building (with permission) as a location. It took nine months to complete and then we showed it at a couple colleges. It went over well and I wanted to make a follow up. This time I directed, wrote and produced on my own and it was a sci fi picture called The Deneebian Maneuver. After that I thought I should go to college for filmmaking and I took some beginning classes following Joseph's lead. I thought the film school would teach me something I didn't know, but I was highly disappointed.
I was working full time while going through film classes and making more movies at the same time. At some point I just dropped out of school and focused on creating art the way I wanted to. Also during this time, the 1980's, I got involved with the newly established local community television station where I made movies just to show on their late night schedule. Everything I did was for late night because there was blood on the screen. Too much for the producers of the station to handle. Otherwise, though, I was not censored. When I met Diana we formed our own team to produce movies for the cable station. Together we made their first original feature length movie to air, a thriller called Summer Snow. From there we made many horror shorts and a four part vampire cliffhanger series called The Deathmaster. We also did short run chiller theater type shows showcasing our shorts. The first was The Freak Show and then we went to a local drive-in to film wrap-a-rounds with goofy characters for Rocko's Drive In Bloodfest. Then we filmed another feature for the station, a crime thriller karate movie called The Black Raven about a woman vigilante who disguises herself as a martial arts superhero to fight a mob boss. After that we got involved with the show of a local video store owner, producing and directing it for Pittsburgh viewers. Bruce Lentz' s store was called "Incredibly Strange Video" and he starred in the monthly show as his own character Mr. Schlock in The Schlock Shop that played old horror films in public domain.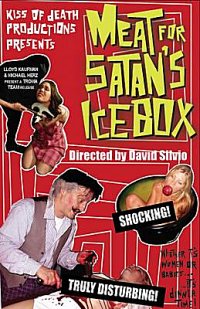 In the year 2000 Diana and I made Meat for Satan's Icebox, a feature we planned to have distributed. Bruce had brought Lloyd Kaufman to Pittsburgh to sign autographs at the store and show Troma movies at a local cinema. Lloyd saw the trailer we put together for Meat for Satan's Icebox and asked to be in it and to distribute it. By the way, Bruce Lentz plays the grandmother in the opening scenes of Fetish Dolls Die Laughing. He's good and creepy.
A few years ago, you were involved in another horror film with another ingenious title, Meat for Satan's Icebox. You just have to talk about that one as well?
For a long time I thought about making a movie about cannibalism. I wanted it have have blood, gore and nudity. When Diana and I finally wrote the script we stuffed it with all sorts of fetishes. Eating people was taboo material enough and we decided there should be doses of bondage, asphyxiation, necrophilia, and more. I was looking at it as the Citizen Kane of horror/exploitation movies. Orson Welles used all the visual movie tricks at his disposal for his cinema experiment. I chose to use fetishes to highlight mine. Nevertheless, it was fun to do. The title, Meat for Satan's Icebox, perfectly goes along with the exploitive pulp themes of the story. The shudder pulp magazines of the 1940's is where the idea of the movie came from. There were those wonderful classic covers where nude damsels were always in danger. I wanted to try to recreate that feeling of gloom and doom with the thrill of the possible demise of the beautiful heroine. They just don't make 'em like that anymore. I think there's definitely still an audience for that kind of stuff.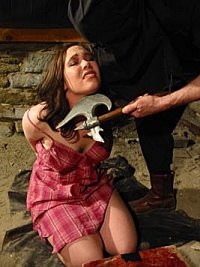 Crystalann
We got our leading lady through a call for talent in a newspaper. Crystalann sent us a few photos and a letter expressing her desire to be in the movie. We decided on her after an in-person interview because she had a great attitude and a scene reading from the script showed us that she was a very good actress. She didn't get freaked out by the material. She stayed with the production to the bloody end.
Any other films of yours you'd like to talk about? Any future projects?
Our next feature to be released in 2013 is I, the Killer. The film stars actors from Meat for Satan's Icebox - Crystalann, Angelo Bruni and Daniel Baxter. Unfortunately, Dan passed away during post production and it's sad he will not be around to see the completed movie.
I, the Killer is a crime/detective thriller. It's about a woman reporter who wants to learn the truth about the acquittal of a psychotic doctor whom she believes is guilty of murder and a detective gets involved as her lover.
Right now we're getting ready to film a new movie that Diana just finished writing called Scream, Bitch, Scream. It's a bloody slasher movie. For this production we're bringing in a talented cinematographer named Jeff Creller to film the movie. Yes, I'm going to give up some control for this one. Jeff and I worked together once before and it was a very nice experience.
How would you describe yourself as a director?
Sometimes I think of myself as a complicated director. I immediately take it upon myself to do a lot of the jobs required to make a movie. Of course, I either write the script or I'll work very closely with the writer who is usually Diana. Fetish Dolls Die Laughing was all Michael McGovern's writing and I directed his script mostly verbatim. Then, I'll design costumes, prep effects, acquire locations, dress sets, get props. On the set itself I'll physically man the camera because I feel I can move things along faster without an official cameraman. I'll light the scenes and take all the stills. Now on Fetish Dolls Die Laughing we had two wonderful stage craftsmen doing lights and building sets, Rick Nelson and Shawn Karabinos. I was extremely grateful for their help and expertise. They took a great weight off my shoulders! They both also have cameos in the movie.
And now the directing part: When it comes to blocking scenes and giving guidance to actors I think I become more of a controlling director. But I do try to give actors a bit of space to develop their characters within the time constraints we always face. There's no time for rehearsals in no-budget movies. You got to do your rehearsing in front of the camera or at home in front of a mirror the night before. No rehearsals sometimes translates to magic. Things an actor does can be very different than what's scripted and it can be entertaining to watch as well. One time in a short film called Killer at Large, Crystalann played a very lively street girl. She got so much into her part that she did all of her dialogue while literally bouncing up and down to show her enthusiasm at being selected as a famous murderer's next victim. She certainly gave us quite a jiggle show. Now that's directing!
Directors who inspire you?
I have a list of favorite directors: Orson Welles, Alfred Hitchcock, Sam Peckinpah, Howard Hawks, Woody Allen, John Ford, D. W. Griffith, Charlie Chaplin, Sergio Leone, John Huston, Roman Polanski, Fritz Lang, Otto Preminger, Ed Wood [Ed Wood bio - click here], Lloyd Kaufman. There are many more, of course. The list can go on and they're mostly old style, old school directors. I'm not really into new directors. I have to find something special in them to make them a part of my list. Terry Gilliam comes to mind and even more recently, I think, Christopher Nolan and Ridley Scott. The directors before the 1980's are my only mentors in my life's work. I had the pleasure of meeting and working with Lloyd and you wouldn't believe it from seeing him act in movies or speak in public, but he is very intellectual away from the spotlight. He makes me wonder why he isn't a rocket scientist or a Tibetan monk or something like that. He gave me the confidence in myself to make movies the way I wanted to see them regardless of what the world thought. Just look at what he does. He puts the wildest ideas and images into his movies shamelessly. He breaks molds, taboos and pus boils. How can you not love that? I also had the opportunity to meet George Romero on many occasions during the 1980's at various functions and the highlight was when I was on the set of Day of the Dead in 1985. I was a background zombie in a couple scenes and I had the pleasure of watching him direct. I was in heaven! It was an opportunity I just could not miss.
Your favourite movies? ... and of course, films you really deplore?
I was a fan of movies from the very beginning while I was growing up through the 1960's and '70's. We only had a black and white television so I was accustomed to watching everything without colors. I was infatuated with the show Dark Shadows and so, when in the fall of 1970 the first movie version, House of Dark Shadows, was released in the theaters, I was ten years old and I begged my mother to take me to see it several times. It was big, it was in color, it was bloody and it was Dark Shadows! For a long time, House of Dark Shadows was my favorite movie. That film made me seriously consider making movies when I grew up. A few years later The Omega Man played on television and I couldn't get enough of that. I was becoming really hooked on moviemaking by that time and I began watching every movie I could on television or in the theaters. Even though I was schooled on horror, I wanted to branch out to include and appreciate other types and genres.
In film school I was dead set against watching a movie that I thought the film geeks cherished way too much: Citizen Kane. I made sure I missed the class it was shown in. I wanted no part of it. Then I got free tickets to see it at a theater and I went by myself. I experienced Citizen Kane on the big screen and I loved it. It's been a favorite ever since and I made it a point to see everything I could by Orson Welles and I read just about everything I could about him. Other favorite movies The Maltese Falcon, The Big Sleep, Frenzy, The Night Stalker, Touch of Evil, To Have and Have Not, Return of Dracula and Blade Runner.

Feeling lucky ?
Want to
search
any of my partnershops yourself
for more, better results ?

The links below
will take you
just there!!!

Find David Silvio
at the amazons ...

amazon.com

amazon.co.uk

amazon.de
Looking for imports ?
Find David Silvio here ...
Something naughty ?
(Must be over 18 to go there !)

I generally appreciate all movies, but the worst thing I ever saw in a movie theater was a 3D western in 1981 called Comin' at Ya! I think it was made just to show off 3D effects. I cannot stand that kind of stuff. The whole thing just gave me a big headache! I guess I mostly don't like silly comedies. There are some that are done well, but most of them fall into idiotic ruin by the last reel.
Your/your movie's website, Facebook, whatever else?
For any news or information about Fetish Dolls Die Laughing you can "like" us on Facebook.
Anything else you are dying to mention and I have merely forgotten to ask?
Throughout the years while all this movie making madness was going on, Diana, Joseph Bondi and I created a web series called Nocturnal. There are 24 webisodes and they can be viewed on www.bloodparty.com.
Thanks for the interview!