You have recently starred in Kevin Strange's/Hack Movies' Stiff Jobs [Kevin Strange interview - click here]. What can you tell us about that film?
There's quite a lot to say, actually. As you have already reviewed the film - and we'd love more people to purchase and enjoy it - I won't waste time re-iterating the plot points.
The film started out as a series of promotional shorts for CockHammer, originally slated as the major release for the beginning of this year. Somewhere along the way it sort of morphed into its own feature - initially against Kevin's will. He claims this is the absolute worst way to produce a movie, yet it kind of fell together in a manner that none of us were prepared for. I think it is the best Hack joint yet; the only real downside was the interminable shooting schedule.
When we started out, it was summer and in the nineties. My last day of production involved forty-degree conditions with a thirty-mile-per-hour wind. (That was my disembowlment scene. There was NO acting involved! I was friggin' freezing!)
All in all, it was a rewarding experience. There were other memorable moments - including a near miss with local law enforcement entailing me being brutally frisked - that I wouldn't trade for anything. For viewers, the Hack flavour is unique and exhilarating; for the actors, it's almost better than sex. Almost.
A few words about your character in Stiff Jobs?
Windgate is a repressed, anal-retentive, introspective intellectual who just happens to kill people for a living. At least, that's my take on it. He doesn't seem to let unusual pursuits and fetishes bother him, but he's struggling more and more with his profession. I believe we might see more on this character arc in the upcoming CockHammer, in which the role is reprised. Also returning are Wolfram, CockHammer (naturally), and those lovable potheads from Dead Shit, Nixon and Hogan.
You have acted in other movies before, but Windgate in Stiff Jobs was your first lead. Was it a tough challenge for you to carry the film?
The true star of Stiff Jobs is Thaddeus Starbuckle as Wolfram. At best, I am Ed McMahon to his Johnny Carson. However, I will agree that it was a considerable part. I had similar responsibility in Gameheads - the biggest obstacle was the amount of dialogue. I appreciate Kevin's faith in me; I still claim that my strong suit is my ability to keep showing up. Such is the recipe for success in the Hack-world. That, and your acting can't suck beyond a certain level. I assume I hover above the threshold.
Basically, you have been a Hack Movies-regular for several years now. How did you hook up with the company?
A very roundabout association resulting from my first role in Gameheads. I have been friends for several years with Hack cinematographer/actor Nick Head's father. He suggested that I look him up online after hearing about my film debut. From there, I took a chance and ordered Dream Reaper. I laughed my ass off!
When a Myspace casting call came for zombie extras, I jumped on it. Erik A. Williams, St. Louis' answer to Kevin Bacon (and Gameheads co-star) joined me. And that was that - we are both Hack regulars now.
How did you get the role in your debut Gameheads (2007), interestingly enough not a Hack Movies-production, and what's that film about?
On a whim, I responded to a casting call at the local Y. I had never done anything like that before, but, at the time, it was the beginning of some serious changes in my life. Fortunately, not enough people showed up for all the parts...
Gameheads is a fine comedy about a day in the lives of a group of role-playing gamers. It is dialogue heavy and reflective in a humourous sort of way. This is an ideal film for anyone who ever played Dungeons and Dragons, or anyone who thinks Kevin Smith is a great artist (like myself.) I am as proud of this effort as the Hack movies, though the genre is a little divergent from Kevin Strange's trademark horror-comedies.
What can you tell us about your first Hack Movies film, Dead Shit (2007)?
Okay - this was basically my initiation. Zombie make-up, fake blood, the works. I went from not knowing anyone aside from Erik to assisting with special effects and doing a really bad undead impersonation. I worked a third-shift job at the time; the experience was surreal beyond the reality of the production. Yet I couldn't wait to do it again.
A few words about Colonel Kill, Motherfuckers (2008)?
If one is willing to be humiliated and covered in all manners of fake goo and bodily fluids, and one is willing to continue to beg for such treatment, one can get meatier and meatier roles in Hack films. Kevin awarded me the minor-but-juicy part of the old, weird, homeless guy in Colonel Kill, Motherfuckers. I had a splendid time with it. My convincing public performance resulted in a concerned call to the owner of the Eur-Orleans Cafe. (I was laying on the sidewalk next to the Strangeville Cafe. At least one local resident thought I was a real bum.)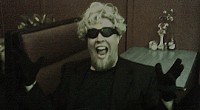 Kevin Strange as CockHammer
Your upcoming Hack Movies-film is called CockHammer - any relation to Cockhammer, the character Kevin Strange played in Stiff Jobs?
As stated above, CockHammer is now a sequel to Stiff Jobs. Expect more of the same wonderfully raunchy humour, no doubt cranked up a notch. Kevin has a few surpises in store for everyone; I don't want to steal his thunder. Let's just say you don't want to miss this one.
Hack Movies' output is known for its rather offensive and pretty macabre humour. Is this a kind of humour you share?
Um, I wouldn't say I go so far...but I certainly get a kick out of it. I will say that the extent has sometimes flabbergasted me; the results definitely pay off. Kevin does what he does well, and he knows how to surround himself with the right people. With a combination like that, one can pull off anything.
What are your aspirations as an actor?
To revel in the magic of it. To continue to be a part of kinetic art. To be a piece of a greater whole. To grow and to learn. And maybe even get paid one day. (The placement here IS in order of importance.)
What can you tell us about your involvement in The Book (2009)?
There's not a lot to be said about this right now. This is a project of one of Erik A. Williams' friends. It has great promise. It is a profound story. I hope it is eventually finished.
I was priviliged enough to work the boom mike one day. That was the extent. And this is how much I like this realm of the arts; it doesn't take much to get me to help out on a production.
Besides acting, you are also a writer. A few words about your books and stories, and where to get them?
I am first and foremost a writer. Thus far, an amateur writer. I have penned award-winning short pieces over the years, primarily for running publications and the local newspapers.
To date, I have two novels and a non-fiction book that I am in the endless process of trying to get published. (One, Zero Main Street, is available as a print-on-demand book at http://www.lulu.com/content/6149597. My others will soon be offered there as well.) And I have a short story coming out in a Southern Illinois University collection next month.
The novels - Zero and Baptists Gone Wild - are sequential existential romances. Main characters include a shiftless pizza delivery driver and a Wiccan-wannabe named Satan-Boy. Much hilarity ensues. It is biting social commentary/satire that is not for the easily-offended or religiously conservative.
Dream Warriors, my non-fiction manuscript, is an introspective, first-person analysis of my experiences with bizarre dreaming patterns and how they might be related to supernatural phenomena.
But if you know any literary agents who REALLY take on new authors/projects, please let me know. Please.
Your website/mySpace/whatever else?
If anyone wants to know more - including the latest on Hack minutae - check out my Myspace (www.davidwayneblack.com) or look for me on Facebook.
Any upcoming projects you'd like to share with us?
Aside from CockHammer (and other future Hack properties), I am set to pen a second sequel to Zero Main Street, and I'm working on extending a story about a vegetarian werewolf into a novel-length piece. Additionally, Kevin asked me to create some stuff for a anthology piece; short films may go in production soon through him or another local firm, JMan films - www.myspace.com/JManfilms.
What do you actually do besides working on films and writing?
I have a hetero-life mate, two kids, and a dog that keep me from being bored. I am also pursuing a second college degree...in Special Education, no less. And I have a serious distance-running addiction. I mean SERIOUS. Occasionally, I work as a substitute teacher's aide.

Feeling lucky ?
Want to
search
any of my partnershops yourself
for more, better results ?

The links below
will take you
just there!!!

Find David Wayne Black
at the amazons ...

amazon.com

amazon.co.uk

amazon.de
Looking for imports ?
Find David Wayne Black here ...
Something naughty ?
(Must be over 18 to go there !)

Actors (or actresses, actually) and writers who inspire you?
Kevin inspires me. As does Erik A. Williams and all the Hack regulars. All of the local independent guys and gals who do it for the love of the art.
As far as big names ... Kevin Spacey, Christopher Walken, Brad Pitt, Cary Grant, Janeane Garofalo, Frances McDormand, Queen Latifah ... this list could go on and on.
Writers: my first love and inspiration is Stephen King. I'm partial to Michael Connelly, Dan Brown, Anne Rice, Dean Koontz, and Isaac Asimov. This is another long list.
What kind of movies do you like to watch privately, and your favourite films?
I'm a huge fan of Kevin Smith and the Coen brothers. Between these two artistic powerhouses are my favourite Hollywood movies of all time. But I really like the local scene here in St. Louis right now. Until Stiff Jobs, two other faves were Dream Reaper and Gameheads. Does that sound narcissistic? (I wasn't in Dream Reaper.)
... and of course, some films you really deplored?
The 1990's film version of The Little Rascals is the only time I walked out of a theater. The Manitou with Tony Curtis was the worst one I ever sat through from beginning to end. I could name others, but those are the worst. I think I have managed to avoid quite a few simply by having precious little time to watch.
Anything else you are dying to tell us and I've simply forgotten to ask?
No one can truly call themselves a film connoiseur unless they own Gameheads and the entire Hack Movies catalog! Support local arts! Buy our stuff! Buy my books! Thanks for the interview and thanks for watching.
Thanks for the interview!