Your new movie A Cry from Within - in a few words, what is it about?
A Cry from Within is a story based on an actual haunting that my family experienced when we moved into my in-laws' brownstone in Brooklyn when my kids were little. It's a story about a lost soul trying desperately to be known.
With A Cry from Within being a ghost story - is that a genre at all dear to you? And other sources of inspiration when writing A Cry from Within?
I LOVE this genre. I grew up raised by my great-aunts who were from Poland and very spiritual... in both the traditional AND non-traditional sense. They saw spirits, they communicated in dreams with dead relatives, it was all totally normal. My first interaction with a spirit was IN their house when I was 4 1/2.
You also play one of the leads in A Cry from Within - so what did you draw upon to bring your character to life, and how much of Deborah Twiss can we find in Cecile? And did you write the role with yourself in mind from the get-go?
When I wrote the script, I wasn't even thinking about playing the role, I just wanted to write a fantastic, film-worthy version of what I believed to be the story I'd encountered. I couldn't just tell our own story. I learned at Stella Adler (acting school) that "No one cares about your own shitty little life. For something to be worthy of stage or screen it must be elevated to a level many can identify with" - so that is what I aimed for. Cecile was part of the creation of the vehicle for the story to be told. When I realized I wanted to play the role, it was easy because I had written her. But she's quite different from me.
I guess the core of what I drew from to play Cecile was my own utter love and dedication to my kids and to living my artistic dream. Cecile, in the beginning of the story, is completely shut off from those two very important things. To imagine that life really makes me feel such sadness for so many women in the world who have to push aside their need to pursue their dreams or embrace being a mom as fully as they may want to because they are stuck in a money job and can't get out.
What can you tell us about your directorial approach to your story at hand?
I was hoping to only be the writer and actor (and producer) but ended up needing to do much more to insure my vision would come across properly.
Do talk about your co-director Zach Miller for a bit, and what was your collaboration with him like?
Well, Zach was a friend for many years. We had met in Cannes in 1997 when I was there with A Gun for Jennifer. We had kept in touch while I lived in NYC and he was an American living in Paris. He had been involved in making a couple documentaries and was involved in running a film sales company. He had mentioned, during a conversation on the phone, that he could get money for a film and I told him if he did then he could direct.
When we got to set, finally, the money never showed and he, though a nice guy, wanted to take a "jazz" approach with my script regarding directing. That was the moment my other producer and the AD both stepped in and told me I HAD to get involved with directing the actors or the film was going to fall apart. And, to top it off, Eric Roberts was going to walk off. So Zach was allowed to yell action and cut and I was in charge of dealing with the actors.
Since everybody loves Eric Roberts, you just have to tell us, what was working with him like, and how did you get him on board even?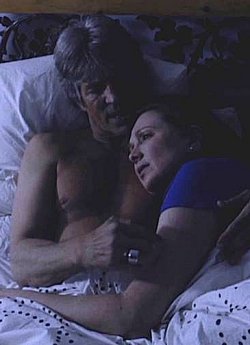 Deborah with Eric Roberts
Eric was amazing. AMAZING. I love this guy. AND his wife, Eliza Roberts, who we also put in the film. My incredible producing partner/casting director, Donna McKenna, is the reason Eric was accessible to me. I adore this chick. She is strong, powerful, inspired, and just an all around fantastic support who sees casting as an art form. She talks about how casting is like a jigsaw puzzle and all the pieces have to fit together. We started with me and Eric and worked our way from there. Donna was the one, when we began talking about the role of "ALICE", who mentioned Cathy Moriarty. I was like, "No WAY would SHE do this little film, Donna. Are you kidding me?!" Obviously she wasn't kidding... lol.
What can you tell us about the rest of your cast, and why exactly these people?
Donna McKenna is the reason. She built the cast. She was the one who wanted James McCaffrey to play the priest. I wanted someone older. But she was right. We kept looking for the right person to play the doc... finally Donna said "Robert Vaughn. I can get him." She's really a force of nature.
The kids are my own children, Matthew and Sydney McCann. I just, sorry if this offends, do not like stage parents. As much as possible I want to use my own children because first of all I know they are talented, but also, as a parent, I won't give myself any hassle. The other children in the film, Angel Berry and Journey Gonzales, I had already worked with and knew the parents were super cool and the kids were nice to have on set. Casting children is a very very tricky thing. I got lucky on A Cry from Within.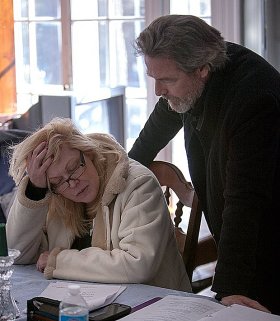 Cathy Moriarty, James McCaffrey
Do talk about the shoot as such for a bit, and the on-set atmosphere?
The shoot was interesting. While we were dealing with this supernatural story, there were actual hauntings going on in the house we shot in. A psychic, Janet Russell, had to come and help keep a spirit away from my daughter. It was a little crazy.
Other than that, artistically, it was cool. We DID have the biggest snowstorm of 2013 WHILE we were shooting. That turned out to be great. Prior to that we had a 30 person crew... too many people. When no one could come because the LIE was even shut down, we took a tiny little bunch of us that were staying at the local hotel and went shooting anyone. Eric Roberts was exceptionally fun then. We came up with all this cool improv stuff and shot it and it all ended up in the final cut.
Beyond that there was just the constant lingering fear of wether or not the promised money would arrive. Which it never did. But I don't want to think about that again. Makes my stomach sick. Hate being fooled.
A few words about audience and critical reception of your movie so far?
People seem to really enjoy the film. I'm so glad. I really didn't want to make a spfx/gore horror flick. I have no interest in that whatsoever. It's been done. I wanted to make a film with a great story and fascinating characters that the audience would be drawn into and care about. I think only if the audience cares can they engage in the psychological thriller aspect. So I'm happy.
Any future projects you'd like to share?
Confidence Game, a noir thriller we shot in December of 2014 and have another week of shoot end of March 2015. Stars Sean Young, James McCaffrey, me, Steve Stanulis, Robert Clohessy. Fun violent, sexy film. I was in the mood for a violent one - lol. After that is Crazytown, a dark comic series based on NYC indie film scene, art world and bar scene, all moshed up into one psychotic mess
What got you into acting, writing and moviemaking in the first place, and did you receive any formal education on either?
I studied acting at NYU, Stella Adler Acting Conservatory, and The Acting Studio. The first script I ever wrote was when I was 9 and it was produced as the main 20 minute one act at my school for the Spring Performance. I also starred in it... see the trend? How early it began?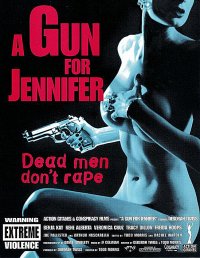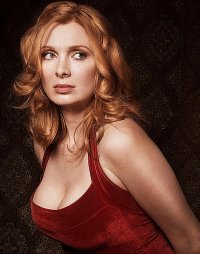 Feeling lucky ?
Want to
search
any of my partnershops yourself
for more, better results ?

The links below
will take you
just there!!!

Find Deborah Twiss
at the amazons ...

amazon.com

amazon.co.uk

amazon.de
Looking for imports ?
Find Deborah Twiss here ...
Something naughty ?
(Must be over 18 to go there !)

When I got my acceptance to NYU for drama my dad was concerned I'd end up waitressing my whole life. I assured him, "Daddy, if it doesn't work out fast enough as an actress I'll just make my own films and star in them." Shortly after getting to NYC, in addition to studying acting formally, I took a job at a commercial production company to learn about the production process. My writing and filmmaking education has been all "on the job training"... trial and error.
What can you tell us about your filmwork prior to A Cry from Within?
As far as being an actress, I've had lots of acting work since I've been in NYC. I wrote, directed and starred in a micro budget film, In-Between, a 9/11 drama, in 2005. Before that was Molotov Samba, 2005, directed by my ex Todd Morris. I produced and starred. The feminist cult hit A Gun for Jennifer, 1996, that was my first film as a writer/producer/actress. Todd Morris directed that. He did a great job.
How would you describe yourself as an actress and as a filmmaker?
Driven, focused, inspired by reality constantly... always learning.
Actresses, writers, filmmakers, whoever else who inspire you?
Cate Blanchett, Tilda Swinton, Cathy Moriarty, Emma Thompson, Monica Bellucci, Uma Thurman.
Your favourite movies?
Kill Bill (both volumes), Goodfellas, Full Metal Jacket, The Others, What Dreams May Come, King Of New York, Bad Lieutenant, The Red Shoes, Black Narcissus, Mildred Pierce, Bridge Over the River Kwai, Out of Africa... too many to mention. I love movies... love! Oh... but I also love things like South Park the Movie and the whole Scary Movie franchise.
... and of course, films you really deplore?
Sharknado, anything with bad acting.
Your/your movie's website, Facebook, whatever else?
www.DeborahTwissActress.com (because I AM an actor first).
Anything else you are dying to mention and I have merely forgotten to ask?
I am so so so EXCITED to be getting A Cry from Within out to the world. When the little spirit Sebastien imparted to me his story, I understood the most important thing was that he needed others to know he ever existed. For THAT I am utterly grateful, the path has led to this place where others will absolutely know about him. Sorry if that sounds cheesy, but I have to say it.
Thanks for the interview!