Your comicbook-series Ginger-Stein: Rise of the Undead - in a few words, what is it about?
The series is a horror/sci-fi tale that centers around the title character, Ginger-Stein, and her life starting with the outbreak of a plague that re-animates the dead and how she copes with it all.
Your comic seems to be full of horror- and especially zombie-movie references. Would you like to elaborate on that for a bit?
I'm a hardcore fan of horror films, zombie fare in particular. I think that preoccupation has a lot to do with the fact that zombies, out of all the fictional creatures and villains in the world, are the monsters that are really the closest to being us. Theyíre like a dark mirror. They don't seem all that far away from what could actually happen, and thatís scary to consider. Itís very easy for the reader or viewer to transport themselves into the zombie apocalypse scenario and ask ďWhat would I do if it were me?Ē
Most zombie stories that I enjoy are character-driven and because of that really made an impact with me. They're inspiring, raw, brutal and usually have some kind of social commentary to them. George A. Romero's Dead-movies, Robert Kirkman's The Walking Dead-books, the Russo spawned Dead-films were revelations to me, and they shaped how I look at storytelling and the visual impact of violence and horror. I owe a lot to those storytellers, so I'm always trying to find ways to reference them or pay homage. Each one of those properties explores their respective stories and characters through pure terror, humor and social commentary, and they do it in a very fluid way.
Other sources of inspiration when conceiving Ginger-Stein: Rise of the Undead?
The Phantasm films were a profound source of inspiration. I love the characters and the world those movies explored, the horror and science fiction of Coscarelli's psychology adding so much weight to what was essentially a series of stories about a family broken by death, pursued by death and ultimately confronting death. Those ideas heavily influenced Ginger-Stein and became a real source of motivation for the characters in the story, particularly in Rise of the Undead.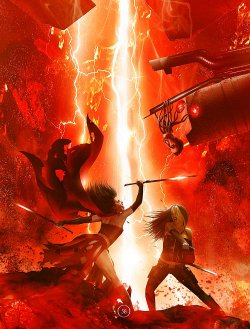 The character of Ginger herself was the female evolution of what I personally liked about the characters of Ash Williams (Evil Dead), Reggie (Phantasm) and Ellen Ripley (Alien). Her look evolved from several different actresses and models, specifically Alison Hayes, Sophia Loren, Lisa Marie Presley and so many others, itís hard to keep track. Whatís interesting is how many different people have come forward with their own theories on who Ginger is based on, to which I always rattle off the list above then always my body models for Ginger, Apple Angel and Lorretta Kenyon. Those two ladies have brought a lot to the character, giving her real grounding in terms of physical interaction and personality. I use my own facial expressions when it comes to Ginger emoting, basically because Iím always on hand to do it. A lot of Gingerís more angry, sarcastic and goofy expressions are my own, but they look better on her.
How would you describe your usual process of putting your comicbook together, do you write a detailed script first and then stick to it as best as possible, or do you make it up as you go (draw) along?
I tried doing it verbatim to the scripts I had written, which were very detailed and loaded with more than I think the traditional comic can handle. ďWordyĒ and ďdialogue-heavyĒ are terms Iíve heard pop up more than once. Anymore, I write loose scripts that detail where I want to start and where I want to end. Frequently, I'll get on a roll with a certain character and that character will allow me to go in new directions I didn't necessarily consider at the beginning. It's pretty much a combination of allowing things to progress naturally, and then editing and cutting back once finished.
How would you describe your visual style to someone who has never seen any of your stuff, and what techniques do you use in your comics?
There's been a lot of discussion about this particular subject. Ginger-Stein is a multimedia book, in that it incorporates hand-drawn and digitally painted characters, backgrounds that are created in Photoshop, and it also makes use photo elements. A good example of photo elements in the series is the Barracuda Ginger drives around in. I found out really quick that not only am I no damn good at drawing cars, but it would take forever and a day to draw and paint the same car or cars over and over again. So, I studied up on film compositing/ special effects, bought a scale replica of the Hemicuda from Phantasm on eBay and began doing miniature photography.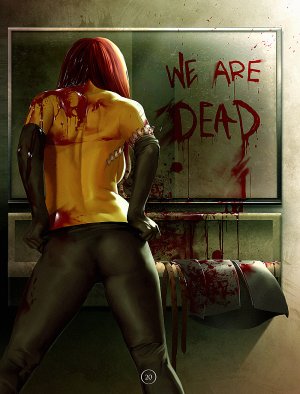 The early results were rough, but now it's like putting together slick special effects shots. The miniature photography can be rendered to fit with my drawn and painted characters. I'm using this same method to create the airplanes and bigger machines seen in the series by actually buying and building the models myself, and kit-bashing new designs together. More elaborate backgrounds, such as city skylines and the cities themselves, are usually stock photos or photos I've taken myself that are rendered and touched up to match my artwork.
Some people have been critical of the process, but I think it makes better artwork and a more consistent visual style for Ginger, which ultimately makes a better experience. A few people over the years have mistaken what I do for being nothing but photo-manipulation. I used to take offense, but I donít so much anymore. I found thereís a great compliment in people not being able to tell the difference between your pencil/paintwork and a photograph.
No zombie-comic without violence. So how far do you go in Ginger-Stein: Rise of the Undead in terms of violence and gore?
Ginger-Stein is heavy on violence and gore, so much so that I would consider it to be highly over the top. While the violence, blood and savagery of the creatures in the book serves a point thematically, it's also comical in how over the top it actually is. Obviously, I'm not gonna show people getting their naughty bits chopped off, bitten off or anything sadistic like that. But pretty much everything else is fair game. My philosophy is that violence and gore within context, even when extreme and over the top, is acceptable as long as it serves a purpose and elevates the story.
For Ginger-Stein: Rise of the Undead, you have used quite a few people who are quite prominent names in B-horror as models. Whom did you use, why, and what's your collaboration with these people usually like?
I'm a portrait artist. That's what the bulk of my career was prior to 2008. My specialty was always drawing hyper-realistic pencil portraits of people. When I started learning how to use the digital paints in Photoshop, I realized there was a lot of potential in how I could draw my characters and give them life. Thus, I decided to work with the actresses, actors and friends I had made through my work as a poster artist in the industry to get things going. There's something special and unique about a character that has the nuance and reaction of a real person. It makes the work feel more fluid and I think creates a more enriched experience.
The character of Lathan Bronx, the severed head that serves as Ginger's sidekick, was originally just a one-note joke in the earlier drafts of Rise of the Undead. When actor Landyn Banx did his shoot for references in drawing the character, everything just exploded. Suddenly, instead of a simplified character with limited abilities in terms of expression and emotion and movement, there was this amazing creature that had been born from a combination of my art skills and Landyn's acting. It was a true revelation to me.
It's important to note that most of the film personalities in the book are in there for cameos and one-note jokes, which is a lot of fun. I'd say 85% of the people that appear in Ginger are cameos. The primary cast, folks like Apple Angel, Lorretta Kenyon, Monique DuPree, Cari Thomson, Bobby Akers, Deneen Melody [Deneen Melody interview - click here], Mark Smith, DeeDee Bigelow [DeeDee Bigelow interview - click here], Landyn Banx, Jessica Cameron, Cyndi Crotts [Cyndi Crotts interview - click here], Damien Colletti and Bianca Barnett to name a few, are the ones that have been contracted to portray these characters throughout the run of the series. I've come to have a tremendous respect for the professionals that work with me on this project.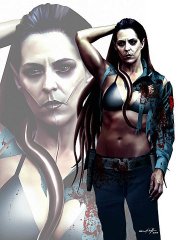 Cyndi Crotts in
Ginger-Stein: Rise of the Undead
There have been pros and cons to utilizing a modeling cast for the artwork, but by and large the pros far outweigh the cons. When the completed artwork is finished, and you see these characters interacting in a realistic way, it's all worth it. There've been only a few rough patches in terms of the modeling cast, and that was unfortunate. I can say that those problems weren't due to the quality of the work or the practices of Iron Dead Studios, but rather a simple incompatibility of view points and such.
In return, you are also a quite requested movie poster artist. What can you tell us about some of the movie posters you have worked on, and how do you usually go about designing a movie poster?
I've done a wide variety of promotional posters over the last four years, and I've been thankful for the work. I started with Regan Redding's Killer Biker Chicks, which was a massive campaign consisting of multiple character posters and a primary one sheet. That one was the genesis of my work as a poster artist. It was also a trial by fire as I was still very, very green with digital painting and coloring. I used way too many filters and textures, which led to this over-zealous and somewhat heavy-handed campaign, but I think the work still holds up. There were a lot of growing pains as I struggled to find my style through the films of 2009 and 2010. I'm particularly proud of the work done for Bikini Monsters, Stagnant, Humans vs. Zombies, The Hagstone Demon, The Locals, Song of the Shattered and Rose White. My all time favorite poster I've done is for the short film Super Undead Doctor Roach. I think in terms of composition, color and design, it's the most compelling thing I've come up with. And it's just a funny poster.
Designing a poster can either be a highly rewarding experience or a nightmare without end. It depends on the client. I find I do my best work when the client is able to be specific about their needs and then allow me to do what I do. That creative freedom is important, even when structured by a specific set of mandates. The artwork done for Bikini Monsters was really well received and the director Terence Muncy gave me enough direction to get the job done, but allowed me to roll with it and add my own sensibilities.

The original set of posters for Hallow Pointe, which came to be called the blue campaign, were some of the best pieces I'd done at the time, and even now I think are still pretty interesting to look at. Bobby Akers, the original director of the film, gave me a specific mandate in what he wanted to see, and we collaborated to create a smooth convergence of ideas. It was a process that led to tension sometimes, but ultimately, it allowed for a better product than either of us could have achieved alone.
Conversely, the red campaign, commissioned when the film was taken over by Thomas J. Churchill, was such a poorly micro-managed, ill-conceived, derivative waste of time and resources that it became an experience Iíd never want to re-live. The red campaign and the politics that became needlessly entangled with it is what led to me leaving Hallow Pointe. One of the primary reasons I changed my business policies on how Iím commissioned stemmed from that experience.
When it comes to movies, you have also worked as a producer on a handful of B-horrorflicks with such beautiful titles as Strip Club Slasher, Killer Biker Chicks and Super Undead Doctor Roach. What can you tell us about Dennis Willman the producer?
Ah yes, the 'producer' title. I gotta tell you, every week for the last four years I've typically gotten at least two emails from people trying to get into a movie, get their movie made or who seriously want to talk about funding their project. I have to chuckle, because those producer titles attached to my name are all honorary. They were all given as part of the deal for the key art on the projects. Dennis Willman the Producer is pretty much the same guy as Dennis Willman the Artist. The only difference is people assume Dennis Willman the Producer is rich with cash to burn. Dennis Willman the Artist knows better. The only producing duties I actually have on a film project are solely in relation to movie adaptations on Ginger-Stein.
There is a rumour that Ginger-Stein is about to be featured in the movie Nightmare Collection: Necro Nancy vs Ginger-Stein. What can you tell us about that project yet?
I have to credit Rick Danford completely. Necro Nancy vs. Ginger-Stein goes way back to, I believe, 2009, when Rick commissioned me to do poster art for The Nightmare Collection II. At that point, Ginger-Stein was an art project that was being developed into a comic book format, and Necro Nancy as a character had already been established in the Nightmare Collection-film. He realized that our trademark characters, Necro Nancy and Ginger respectively, would make awesome opponents and we started brainstorming. Initially, he did a casting call for an actress to portray Ginger, and ultimately Shannon Lark was selected. If memory serves, shortly after that happened, there was a pause in production of The Nightmare Collection II and everything was put on hold.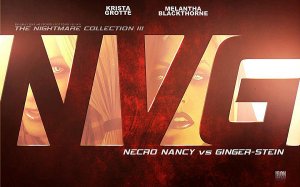 Earlier this year, Rick was ready to proceed and wanted to push the project forward again with a fresh outlook. After a few weeks of casting and decision-making, he decided on Melantha Blackthorne. I believe the decision to switch actresses had everything to do with setting a new course. I think Melantha is going to bring a very special quality to Ginger. We've had numerous discussions about the character's psychology, her background and what makes her tick. I think how she looks as Ginger is also a compliment to the drawn version already established in the books as modeled by Apple Angel and Lorretta Kenyon.
In the last year or so, there have been some preliminary movements to bring a film version of Ginger into reality, mostly centered on adapting Rise of the Undead. It's an exciting idea, and there've been a handful of pitches from different directors and producers to that end. Some of the pitches were amazingly well thought out and solid. Others weren't. I think some of the more shady pitches were all based solely in securing the film rights to keep on hold in case the books do well. Iíll put it to you this way: Anyone proposing to make a non-studio backed film that can look you in the eye and seriously suggest a $25 million budget to start out, based solely on independent filmmaking economics and fund raising, is just fishing for the rights.
For a project like Ginger, which really is just now beginning to step out on its own, to even see the notion of a film adaptation is a tremendous compliment. A big part of that even happening at this point is that the film industry sees the profit to be made from a good comic film, and they're hungry for what could be the next big thing. I think Ginger has real film potential. I've always said these books are the movies I'll never be able to make. That being said, Ginger-Stein would be a very expensive venture if the creatures, zombies and special effects were to be done right.
I liked Rick's approach in that he was honest and down to Earth about how to bring Ginger into a live action capacity. The mandate was to start realistic and small in terms of scope, and build from there. Necro Nancy vs. Ginger-Stein will have its roots in the finale of The Nightmare Collection II, and hopefully that will springboard the stand-alone film that can explore how these two somewhat antagonistic characters interact.
What's in store for Ginger-Stein in the future?
Aside from potential film adaptations, we'll be seeing Ginger through Rise of the Undead and then in the subsequent books that follow. I have six planned altogether. Rise will be finished this year and complete, released in total by September. Ginger II will be out in Fall of 2013, and Ginger III is slated for release in Fall of 2014.
The $64-question of course: Where are Ginger-Stein comics available from?
The facelift on the Ginger website will be complete shortly, and that will be the primary place to order the book. Hopefully someday there'll be a chance for wide distribution, but until then, it's grass roots baby.
Comics besides Ginger-Stein you worked on you'd like to talk about?
On the slate for this year, I'm also working on The Vengeance of Sleepy Hollow with frequent cohort Bobby Ray Akers. It's a black and white mini-series that's a real switch from Ginger, and I think it's going to blow people's minds. I'm actively working on Monique DuPree and Anthony Saint Thomas's new series "Tha Original Gata," which is something that I can only describe as epic. They'd shoot me if I said any more.
Let's go back to the beginnings of your career: What made you become a comicbook- and poster-artist in the first place, and where did you learn the craft?
Practice. Lots of practice. Look, here's the reality of what I do: I've always been an artist, even in the womb so I'm told, and it's all that I ever really wanted to do or have been really good at. Aside from instruction from my mother (an accomplished watercolor artist) and then later interning with other digital artists to learn the tricks and techniques, it's self-taught, good old fashioned trial and error. I practiced my art like some people practice the piano or martial arts. It was a passion, yes, but it was more this overly-compulsive instinctual need. I've never really been happy doing anything else.
My mind was always at the drawing board. The need to create and put it on paper, to create the colors, the lines, the designs... it's not negotiable. I'm working by 5 AM, splitting my day between the work, kids and household chores, and I finish up around 11 PM usually, on any given day. My typical workday is a 12 hour shift drawing, painting and writing.
I donít do it for recognition or awards, I can tell you that. I think the last award I won for anything was back in high school. Awards are cool to win, for sure, but it can never be a motivating factor. Hell, I generally stay away from conventions for the simple fact I personally hate being in the spotlight. Iím all for the spotlight being on the work and the quality of said work, not so much on me. Iím a reclusive, private type. My single goal in all this is to be able to do what I love and pay the bills while doing it. If I can do that, Iíll have succeeded. Thatís award and recognition enough for me.
Any future projects you'd like to talk about?
Thereís a few, PLAYZOM being the most prominent. That project is being spearheaded by Katie Russell and DeeDee Bigelow, and if all goes well, should be a fun parody magazine dedicated to horror, sci-fi and pin up artwork/photography.
In your private life, any comicbooks you like to read?
I follow The Walking Dead religiously, and I'm a huge fan of just about everything Alex Ross does.
Artists who inspire you (both within and outside of the comicbook world)?

Feeling lucky ?
Want to
search
any of my partnershops yourself
for more, better results ?

The links below
will take you
just there!!!

Find Dennis Willman
at the amazons ...

amazon.com

amazon.co.uk

amazon.de
Looking for imports ?
Find Dennis Willman here ...
Something naughty ?
(Must be over 18 to go there !)

Oh man that's a list a mile long, but to narrow it down: Drew Struzan, Alex Ross, H.R. Giger, Ralph McQuarrie, Boris Vallejo, Julie Bell and Greg Capullo have had profound effects on me, Struzan and Ross in particular. Those guys absolutely made me fall in love with commercially illustrative artwork, and I spent a lot of my youth trying to emulate them. I think the classification of ďcommercial artworkĒ is unfair, because what they do is so far above and beyond simple commercialism. I learned more from studying the artwork in Kingdom Come and dissecting Indiana Jones-posters than I ever did in a college art class.
... and since this is a primarily a movie-site, your favourite/least favourite movies?
Damn, that's a broad question too. I can list my top five on each category for you. Favorites: Raiders of the Lost Ark, Phantasm II, Day of the Dead, My Name is Nobody and Kelly's Heroes.
Least favorite? The entire Twilight-saga, Battlefield Earth, Nacho Libre, Wing Commander (so disappointed) and Napoleon Dynamite.
Your/your comicbook's website, Facebook, whatever else?
The official site for everything I do is www.gingerstein.com, which is undergoing some cosmetic changes and will be offline for a bit. However, Facebook is the best place to keep up with everything right now.
Anything else you are dying to mention that I've merely forgotten to ask?
Not that I can think of at the moment, but Iím sure Iíll think of something five minutes after I email this to you.
Thanks for the interview!
Thank you, sir.