Your upcoming movie Routines - in a few words, what is it about?
Routines is the story of a washed-up, overly offensive stand-up comedian who succumbs to loneliness and self-destruction after witnessing the murder of his only love; a young, crazy nymphomaniac.
Your movie's poster describes Routines as a stand-up tragedy - care to elaborate on this unusual genre of yours?
I took the term "stand-up tragedy" from performance artist Brother Theodore. Essentially, it is a performance that disturbs and provokes, rather than makes one laugh. Also, think Andy Kaufman.
So what can you tell us about your movie's brand of comedy then?
Routines is a dark character study about an unfunny comedian. Likewise, the film's "humor" is intended to disturb and provoke rather than make one laugh. Much like watching a very awkward comedy set.
What were your overall sources of inspiration when writing Routines?
I was inspired by '80s stand-up comics who are considered "hackneyed" or "offensive". Morning radio show DJ "humor". And prop comics like Gallagher.
Routines will be recorded in "binaural audio" - care to elaborate on this technique for a bit, and why did you choose it for your movie?
Binaural audio recording is a technique that utilizes two microphones, one on either side of the actor's head. When played back through headphones, it gives the listener the effect that they are in the environment where the sound was actually recorded (a "3D sound" effect). It is usually used for concert and stage productions. Since most movies are shown in theaters, recording binaural audio wouldn't make sense. But now that many films are watched via VOD, you can simply plug your headphones into your computer or smartphone. I intend to use this technique to transport the viewer directly into our main character's auditory headspace. The film is about our main protagonist, and binaural audio will allow for a more subjective cinematic experience.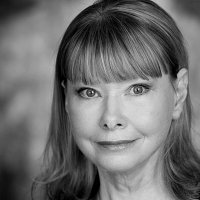 Lynn Lowry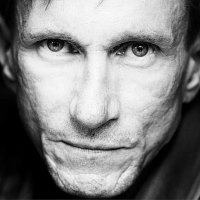 Bill Oberst jr
What can you tell us about the intended overall look and feel of Routines?
Routines will be shot in Chicago, a hotbed for legendary stand-up comedy. We found an old theater to shoot in, and will be filming in homes still decorated with outdated furniture. The point of this is to make the viewer never quite sure what time period we are in. We will never leave our main character. The film will have an underlying dread and awkwardness created by uncomfortable close-ups. It will be shot digitally.
With Bill Oberst jr [Bill Oberst jr interview - click here] and Lynn Lowry, Routines stars two greats of the horror genre in the leads - so why them, and how did you get them even?
Lynn Lowry actually contacted me about being in the film. She saw our page on Facebook and messaged me about possibly being in the film. I had just begun casting, and I thought that casting her against type, as the single mother of a mentally ill young woman, would be something that no one has seen. Bill, however, is a different story. Casting the lead for this film was extremely difficult. I've had everyone from David Koechner to John Hawkes turn down this role. At one point, Will Sasso really wanted to do it. But the fact that I had zero funds at the time was a huge problem. Finally, I talked to Lynn Lowry's manager, Matt Chassin, who just so happened to be Bill Oberst jr's manager. He gave the script to Bill, and, luckily, Bill was game to do it.
What can you tell us about the rest of your cast, and why exactly these people?
Well, you may find this hard to believe, but even if everyone says "they love your script", it's still very, very hard to find good actors willing to commit to a project. It took me 4 whole years to find Bill. As for the rest of the cast, I'd rather not comment as of yet, but there will be announcements soon.
As far as I know, Routines is still in its fundraising stages as we speak - so what can you tell us about your campaign?
Yes, the campaign is currently running. Every backer will get a digital download of the film. There are plenty of other perks as well. You can contribute here: http://igg.me/at/routines/x/61325
Once the funds are raised, what's the schedule? And even though it might be waaay to early to ask, any idea when and where the film might be released onto the general public yet?
We already have a distribution deal for VOD, from Glass House Distribution. Even if we don't make our goal, we will begin production in mid-September. Because of the small amount of funds at our disposal, we will be filming this project in segments (in chronological order). Unfortunately, I can only give you the date I hope to have the film finished (including post-production). Which is a year from our start date in September. After that, it will be available on Amazon, iTunes, and Google Play (hopefully Netflix).
Any future projects beyond Routines you'd like to share?
I did direct a few horror shorts for Amateur Porn Star Killer director Shane Ryan [Shane Ryan interview - click here], which he will be releasing in a few upcoming horror anthologies he is working on. But you will need to ask him about those.
What got you into filmmaking in the first place, and did you receive any formal training on the subject?
I've always wanted to tell stories. When I was 10 (or 11) I wanted to write novels. I think it was when I discovered Stephen King. At some point I decided I wanted to be a filmmaker. I don't even remember. I saw RoboCop when I was 8, and that had a big influence on me. But I still wanted to write, first and foremost. I taught myself how to write in the proper screenplay format when I was 14. I bought a bunch of books on the subject. But all those books were full of crap. All you need to know is the format. Everything else is nonsense. I did go to film school (when I was 18). But the only good thing about film school was networking and meeting friends. I ended up getting kicked out because I argued with the staff too much. But I got kicked out of every school I went to. (I have Asperger's, a form of Autism. Which is a long story for a different interview.)
What can you tell us about your filmwork prior to Routines?
I wrote a film called Ashley, which was released in 2013 on VOD. It stars America's Next Top Model winner Nicole Fox and Michael Madsen. It's a film about a teenage lesbian cutter, which is based on some of my close friends growing up. You can watch it here: http://www.amazon.com/Ashley-Nicole-Fox/dp/B00EEXPLYE
How would you describe yourself as a director?
If an actor wants to change a line, fine. By giving actors more freedom, and less instruction, you'll find that you get more believable performances out of them. Also, if a crew member has a suggestion, I listen. I don't believe in "set rank". I believe that everyone's opinion should be valid. Anyone should be able to call out the director's bullshit. I think this comes from getting talked down to by so many teachers in school because of my Asperger's. So I listen to everyone.
Filmmakers who inspire you?
Pier Paolo Pasolini, Abel Ferrara, David Cronenberg, David Lynch, Werner Herzog.
Your favourite movies?
Bad Lieutnant (the 1992 Abel Ferrara version with Harvey Keitel), Blue Velvet (by Lynch), Happiness (by Todd Solondz), In the Realm of the Senses (by Nagisa Oshima), The Devils (by Ken Russell).
... and of course, films you really deplore?

Feeling lucky ?
Want to
search
any of my partnershops yourself
for more, better results ?

The links below
will take you
just there!!!

Find Domenic Migliore
at the amazons ...

amazon.com

amazon.co.uk

amazon.de
Looking for imports ?
Find Domenic Migliore here ...
Something naughty ?
(Must be over 18 to go there !)

The remake of The Vanishing. That movie is the best/worst example of Hollywood taking a perfect film and shitting all over it. Shitty remakes don't bother me anymore because nothing will ever be as stupid and condescending as the ending of the remake of The Vanishing. Also, Tyler Perry's For Colored Girls. All of Tyler Perry's movie suck, but at least they are his movies. With For Colored Girls, he had to take the words of a brilliant playwright and turn them into his usual Lifetime movie nonsense, with a view of AIDS that seems stuck in the 1980s.
Your/your movie's website, Facebook, IndieGoGo, whatever else?
Routines Facebook - http://www.facebook.com/RoutinesMovie/
Routines IndieGoGo - http://igg.me/at/routines/x/61325
Thanks for the interview!