Your new project Badasssssploitation! - in a few words, what is it about?
An anthology celebrating the history of Black Cinema, the birth of the Black Movie Star, and Black Pride and Power in Cinema in general.
What's the idea behind Badasssssploitation!, and what does blaxploitation and "black" cinema mean to you, personally?
I met Melvin and Mario Van Peebles 11 years ago at Sundance and it was just a surreal moment. I then attended a Blaxploitation seminar in Los Angeles a few months later which Mario was speaking at along with Foxy Brown director Jack Hill and several other prominent folks of the Blaxploitation era. I just loved what I heard, and I loved Mario's film Badasssss! which was about the making of his father's film Sweet Sweetback's Badasssss Song. I totally connected with the independent spirit of what Melvin went through. Although in Melvin's case it was much different, as he was Black, not White, and putting his career in major jeopardy instead of playing it safe. But I loved that rebel attitude. Folks like that, ones who just go for it with all odds against them, the ones who survive that, they really change history... or make history. And Melvin not only made a huge change for Black Cinema, but for indie filmmaking period, which is why I think anybody struggling to make it could be totally inspired by what he did, some 45 years later.
So, the "badasssss" in the Badasssssploitation! title is a reference to Melvin. And also to Mario (the exclamation point referencing Mario's film that he made about his father). As Blaxploitation or Black Cinema, to me, when I was a kid/teen in the 90's, was the kind of stuff that Mario was doing. Which I think you could say Melvin is the one who paved the way for those 90's films as he paved the way first for those 70's Blaxploitation films. Next came a lot of great hip-hop music in the 80's, and filmmakers like Spike Lee, and then big time Black movie stars like Denzel Washington and Wesley Snipes as we pushed towards the 90's. All these films and actors and directors started intertwining. I was at first heavily influenced by ninja and action films in the 80's when I was like 7. Then I started getting into movies like Menace II Society and New Jack City as I came close to my teenage years. New Jack City starred Wesley Snipes, who became a major action hero which grabbed my attention in the action world I loved so much, but he was also in movies like Jungle Fever (and then we had the more indie version of Jungle Fever called Zebrahead which I really loved, probably because the characters were teenagers and not adults). And Mario, having directed New Jack City, led me to follow him with films like Panther and Posse, as well as action films where he stayed simply in front of the camera. Plus I was in love with 2Pac's music so I followed him as an actor in films like Juice. And I remember even buying tickets to see Jurassic Park only so that I could then sneak into Poetic Justice. I just really started following these actors, too. When I saw Dead Presidents 20 years ago I pointed out this guy Terrence Howard who was in like 5 minutes. I remember going "this guy should be a movie star, what charisma." I should have been a casting director, usually when I say that the person blows up, eventually. Though originally I watched the film for Larenz Tate and Bokeem Woodbine, both amazing actors. Bokeem reminded me of the guys from Onyx, another group I loved. I even tried to mimic Bokeem's walk in Strapped (which actually co-starred Onyx's Fredro Starr). And his performance in Jason's Lyric is one for the books.
These films just really clicked with me. I was never into horror films, like people always claim I am or was. I loved action films, and tried to mimic those in my films from the time I was 7-14, then for the rest of my teen years I was trying to recreate movies like Clockers. I made a 35 minute short film called The Setup aka A Thousand Chances when I was 14 as well as a feature film when I was 15, which I didn't finish, called Safe and Sound. I actually recently found the trailer I made for it back in 1995 - https://www.youtube.com/watch?v=jdfB_y0yzb4 - excuse the quality as I had to video it on a tube TV while it played from a 20 year old VHS tape!
I was talking to my mom about this anthology and realized during the conversation why I connected so much with Black Cinema and music in the 90's. I told her, "you know, I didn't understand movies about white kids." All that they did was play sports, live great lives, and all the drama or conflict was strictly their prom dates, losing their virginity or battling to win their sports games. Now, I had a great life at home (when the law wasn't screwing it up for me), but I didn't play sports, or care much about sex. And at school, I was beat to shit so badly that I'm left with two permanent injuries to my face. My first memory of a family dinner was in foster care with some Mexican family I didn't know. My first memory of my dad was seeing him through a court room door when I was 5 years old, watching him and my mother from a distance as I was being held back by authority figures as I was in a holding area with a ton of other kids after being picked up from foster care. My younger brother, aged 1 at the time, my only sibling, was then adopted by his second foster family until he was 18, so I barely ever saw him. I bounced around schools a lot. I seemed to connect better with black kids than white kids (my first friend was black). When I was 13 I was one of the few white kids at my school, it was almost all Hispanic. I didn't have any friends. I was the only white kid who sat alone, so I got picked on left and right, I wanted to kill myself due to the bullying got so out of control. For some reason some of the black kids would stick up for me when they saw me bullied. I don't know why, but they did. That's about the time that I really started getting into these movies about black kids growing up in the ghetto. While I was not living in bad areas (or black, obviously), I seemed to understand the fear of walking outside thinking that you'll be beat down or shot, growing up in foster care and with a fear of the system taking you away for good, hating cops (as my only encounter was being dragged out of home by them when I was 5 and then later being arrested when I was 16). But the problem is that I started dressing like a gang-banger in hopes that I could fit in. Next thing that happens is that I get a 9mm gun put to my head with a tweaker at the other end asking me if I'm afraid to die before he pulls the trigger. Click. Another friend (a black friend, my longest friend at that time, actually) got gunned down a couple weeks later while walking down the street (survived, fortunately). I had another kid always threatening to shoot me, always rolling up on me every time that he saw me walking down the street and every time I thought I was gonna get shot. I skipped so much school out of fear that I barely graduated high school from missing months of my 9th grade year. Finally I switched schools again for 10th grade. I got nicely settled in at a newly built school until I created my own problems; stealing merchandise from stores left and right, tagging up walls at school, getting suspended my first month there. So, I cleaned up my act pretty quickly, started loving school life for the first time ever for a few short months, but then I made a stupid joke out of boredom when I was 16, got arrested and charged with a horrible crime that I couldn't fathom (it was like I was 5 years old all over again), spent the rest of my childhood making court appearances battling charges that I didn't actually mean what I said (I was a bored kid making a stupid joke), becoming fearful and withdrawn from friends, and had a D.A. whom I'd never met try to send me back to foster care. I still remember standing in court listening to this bitch trying to ruin my life again and she hadn't even taken one glance at me. I had to take night classes, on top of R.O.P. classes and regular high school day classes just in order to make up for all of the time that I missed school in 11th and 9th grade and barely made 220 out of the 220 credits I needed by graduation time (I literally made 220 on the dot at the last minute).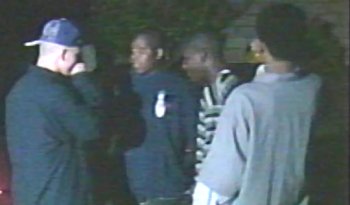 still from Shane's The Setup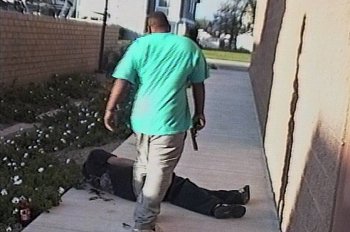 still from Shane's Safe and Sound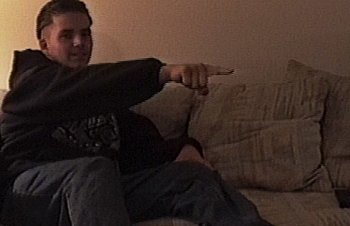 Shane in Safe and Sound
With all that said, the Black films of the 90's (and the music - 2Pac's death really hit me hard) changed me, saved me, defined me, ruined me - I don't really know what exactly but I connected with them more than anything else at that time; they moved me whatever they did. For me, that was my blaxploitation experience and it had a huge effect on my life in about every which way. And that's what Black Cinema means to me; my entire teenage life.
Even though the title Badasssssploitation! is of course a blaxploitation reference, you don't want your entries to be limited to just "blaxploitation" as such, right? Care to elaborate on that point?
Right. I want my Blaxploitation experience included as well. Originally I was going to call it, simply, Blaxploitation, but then I started thinking about my life, the entire last question you asked and my answer to that. I want it all. And this all came, in many ways, due to Melvin's film, which is why I decided to change the title and accept all forms of Black Cinema, in honor of Melvin Van Peebles. The 70's Blaxploitation era might not have happened without Melvin. An without those 70's films, we might not have had groups like N.W.A. in the 80's or filmmakers like Spike Lee, or the 90's street dramas like Boyz n The Hood, etc. Plus the 90's films I talk about, you know, they were just a short run, from around 1991-1997, and then they were gone, just like the 70's Blaxploitation films had their short run. These days, I don't know what we have, just lame comedies starring Ice Cube or Tyler Perry or bad thrillers which look like they should have gone straight to DVD (i.e. No Good Deed). Yet these films are hits because we don't get films like Menace II Society anymore (thank God for Dope and Fruitvale Station). Perhaps it's a good thing, meaning not all films with black stars have to be about ghetto life or drug dealers, but the thing is that those were really good movies. How great do you think Ride Along 2 is going to be? So, why can't James Bond be black? Why can't these indie mumblecore or arthouse movies have a black cast (or any black people for that matter)? Better yet, why can't we all just fucking mix like a goddamn vanilla and chocolate ice cream desert with sprinkles on top??? That'd be the ideal future, for me, at least. No race but the human race. Until that day, what we have is history, and that's what I 'd love for this anthology to celebrate. The history of cinema. Black Cinema. From the 70's to the present.

So how does one submit, and what are some of the submission guidelines?
Anything goes; rap music videos, Pam Grier homages, films about leaders (Martin Luther King, Malcolm X), concept trailers, documentaries. Just keep it between 1-10 minutes in length. View the full run down here http://www.madsincinema.com/badasssssploitation.html - and deadline's May 1st, 2016.
Will you submit a segment to Badasssssploitation! yourself?
You know I tried to find the next Pam Grier for a Coffy type concept trailer for a film that I wanted to make back in 2008. But I just couldn't find the right girl. I actually wanted Laurence Fishburne's daughter, Montana, if I could get her, this is when that porn film she was in came out, so I guess 2010 I was still looking, eventually gave up in 2011. I found a couple girls who looked great but none that could understand my zero budget style. I attempted once again recently for Tony Newton's Grindsploitation anthology and found a girl but then she flaked so I shot something else entirely different. That's what actually gave me the idea to do my own anthology. I figured, if I can't shoot it, I know I can distribute it (go figure, I can easily get distribution for a film but not the actors to be in the film, what the fuck?), so why not do an anthology? I'm not the one directing it but at least I'm producing it, and hopefully at least one person gives me my Pam Grier homage. Unless I can actually get a fucking actress to show up, then I'll definitely do it, if not, I'll probably sit this out and see what everyone else brings. Or maybe I'll do one of these 90's street dramas.
What can you tell us about your co-producer Tony Newton, and what will he bring to the table?
I contacted Tony because I wanted to let him know, "hey, I'm doing this anthology, been dying to do a Blaxploitation homage for 7 years, but because of Grindsploitation, I don't want people to think I'm taking your idea. How bout you join me?" Besides, he seems better at wrangling filmmakers. I had lots of trouble getting the word out. Again, I can get distribution, but I can't get actors for films, or films for anthologies, what the fuck I say?! Tony's really been working the scene, becoming like the anthology go-to guy, so I knew he could really help bring people on board.
The key question probably, how do you plan to make Badasssssploitation! available to the general public, and when (tentatively)?
Initially I had thought of making a deal with a distributor and having it all set up, but when I decided to focus on Black Cinema in general instead of simply the Blaxploitation era, I realized there's a small possibility of this really getting big. It might take time, word-of-mouth, but maybe this will catch on and become something special. So, I don't want to make plans just yet, I want to see what this morphs into. If it's starting to look real special, then we'll see about taking it to festivals, and really making some waves with it before going to distribution.
Some of your personal blaxploitation and black cinema favourites?
Coffy was probably my favorite Blaxploitation film. Honestly, I haven't seen a great many as I was more focused on the 90's films (as well as the birth of the Blaxploitation movement, i.e. Sweetback's Badasssss Song again). As far as those 90's go, I loved them all. Above the Rim, Set it Off and New Jack City were some of my favorites at the time, but Fresh, Clockers and Juice are the ones that held up over time extremely well. Dead Presidents was a masterpiece.
Any future projects beyond Badasssssploitation!?
Samurai Cop 2, which I co-produced and co-star in is now in select theatres and arrives on DVD/Blu-ray Feb 2. I'm acting in a little gig for my friend Aramis Sartorio [Aramis Sartorio interview - click here] next week, prepping to star in/direct Ted Bundy Had a Son, still shooting God Got Ill and still editing The Owl in Echo Park. Waiting for the releases of Grindsploitation (acted in a segment for Jim Towns [Jim Towns interview - click here] and directed a segment), Virus of the Dead (directed and wrote/acted in a segment with Clint Eastwood's daughter, Kathryn Eastwood, and frequent co-star Tommie Vegas [Tommie Vegas interview - click here]), also acting with Tommie in Albert Pyun's latest Cyborg movie, finally and hopefully prepping to shoot a concept trailer for an idea way back from 2001 called The Birmingham Cycle, got some more anthologies, and might be starring in Samurai Cop 2 director Gregory Hatanaka's next film, which is an expansion on a very familiar character for me... oh, also awaiting the soon release (finally, I think) of The Girl Who Wasn't Missing (though I believe the title's been changed to Abandoned at 15), and there's a book being released next month which has an extensive chapter on my Amateur Porn Star Killer creation, Brandon. It's called Snuff: Real Death and Screen Media. Hmmm... and also not making a mutha fuckin' dime, so trying to find actual work which pays, in between these 20 or so films. Ugh, man!

Feeling lucky ?
Want to
search
any of my partnershops yourself
for more, better results ?

The links below
will take you
just there!!!

Find Shane Ryan
at the amazons ...

amazon.com

amazon.co.uk

amazon.de
Looking for imports ?
Find Shane Ryan here ...
Something naughty ?
(Must be over 18 to go there !)

Your/your project's website, Facebook, whatever else?
https://www.facebook.com/shane.ryan.77
https://twitter.com/ShaneRyanFilms
https://www.youtube.com/MadSinCinema
Anyting else you're dying to mention and I have merely forgotten to ask?
Check out Heaven Knows What. Amazing film. Best this year. Needs way, way more attention.
Thanks for the interview!
Thank you.