First of all, could you intrduce yourself to those of my readers who don't already know you?
HAHA! Once there was a little boy with the green hair... No literally, I was a very unusual boy. At 9 I was already taking planes on my own and at 10 started coloring my hair provocatively. I have been an actor since then in Italy and Europe first where I was born and grew up mostly, and then came here about 10 years ago because the scene in Italy was becoming lame and the crisis had killed the industry. Had a US passport (my mom is a citizen) and wanted to give it a try ... but ended up loving LA and the land, the people and the parties … and Hollywood! And here I am even producing movies now, who knew?
I'd like to start the interview with talking about a few of your new and upcoming films.
What can you tell us about Orgy of Blood?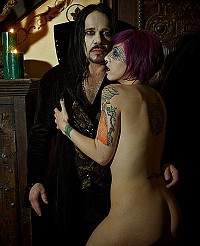 Orgy of Blood
Orgy of Blood is one of the movies I enjoyed doing the most ever! The set was pure creative pleasure, the people all just wonderful, the location is fascinating to say the least, the costumes incredible… most of all I was playing finally a Vampire in an erotic film with a great style part coming from pulps like the classic 70's Euro sleaze Vampirella and more noble literature like Anne Rice's novels. Heaven! I wanted to make that movie, even when I didn't know it was gonna happen. I always wanted to make that film and now it's a reality! I think I'd wanna see more films like this one! :)
A few words about the Final Girl-Trilogy?

Orgy of Blood
Oh… that's a real 70's style giallo with a touch of Fellini and of course a lot of Creepersin [Creep Creepersin interview - click here]!!! You figure! HA!
What about The Brothers Cannibal?
Brothers Cannibal is a very intense, disturbing story which supposedly really happened in Russia. I just have a cameo.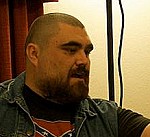 Creep Creepersin
All these films were directed by Creep Creepersin [Creep Creepersin interview - click here]. How did you originally hook up, and what kind of a director is he?
Creep is the most original and at the same time the most down-to-earth director I have ever worked with. I love his sense of style! And the way he likes to create a film! Scripts are important, but the real thing happens on set every day. He is a true visionary! Sometimes you don't even know exactly what's happening but you'd trust him no matter what! He knows what he wants and makes you totally confident that you will be able to give him what he wants!
And as a producer I must say you know he is creating a picture! Not merely filming one!!!
I wanted to meet him because I had heard of his work and my publicist Aine Leicht made it possible and after a few hours we were already talking about making a movie together! Both him and his wife and co-producer, Nikki Wall, are really great to work with!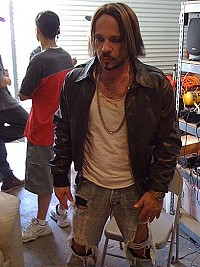 Box of Shadows
A few words about Box of Shadows, a film you also executive produced?
Box of Shadows is an action drama with a touch of horror. It is about some kids getting lost in the world of meth and drugs in general! It was a very difficult production but it turned out so well. There are really great projects for it!
Then there's What a Great Idea, which you not only starred in and executive-produced but also co-wrote. What can you tell us about that one?
It's the same story told in 10 different ways! Basically it shows how reality can change when it's told by a group of 10 friends! Their points of view are so different that at the end you don't even know what to believe anymore or maybe reality does not exist per se, it is all relative. Very interesting concept!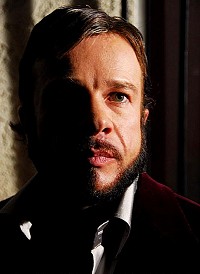 House of Flesh Mannequins
House of Flesh Mannequins is just too great a title for me to not ask about that one. So please tell us about it!
House of Flesh Mannequins is the story of a tormented photographer who lives in a crumbling seedy building and he gets obsessed with his new lovely neighbor, a young bored girl who takes care of her blind father (Italian star Giovanni Lombardo Radice).The story takes a turn when she will start following the photographer into the terrible world of snuff films... It's another extremely stylish film with some horrific scenes where real performers cut themselves for real, or ate glass, swords and more. It really has some frightening moments and it opens in the US at The Santa Fe Film Festival, introduced by Robert Englund [Robert Englund bio - click here]! I am really curious to see how this one will be received! I expect a huge controversy!
You are also in Sean Cain's Silent Night, Zombie Night [Sean Cain interview - click here]. What can you tell us about that movie?
That's a classic zombie film! Bloody, gory and fun. I like Sean Cain. It was fun working with him and Felissa Rose!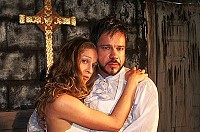 Frankenstein Rising
In Frankenstein Rising, you play the iconic charactrer of Victor Frankenstein himself. What was your take on that role?
Very romantic I guess: A man torn from the love and the hate for his own creature, so well portrayed by the great Randal Malone! And the film stars so many Old Hollywood Glories! For me it was wonderful meeting people like Margaret O'Brien from Meet Me in St. Louis and Little Women! A true legend!
A few words on Lizard Boy?
A Sci Fi movie about a boy who has some very special powers...
What about Samurai Avenger: The Blind Wolf?
A sushi western! It's getting great reviews in the film festivals circuit worldwide! It's shot like a classic Sergio Leone western but it's about Martial Arts! And I play Nathan Flesher, a character that seems to be coming out of Kubrick's Clockwork Orange! What else do you want??? LOL
You also had a small and uncredited role in Sacha Baron Cohen's Brüno. How was it working on that film?
Quite interesting seeing how Sacha Baron Cohen always stays in character. My role will be more visible in the unrated DVD version, the film was cut dramatically by censorship! And Universal could not handle an NC-17 of course! C'est la vie!
Any other new or upcoming films/future projects you'd like to talk about?
Oh my! I should take a vacation! But actually no! I am working on a movie for Syfy Channel called The Occultist and will produce and star in the futuristic thriller H1N1... you know, it's about a virus ... LOL And then I must work with Mr. Creepersin again! There's a new project just in the writing that will be made in the fall! I am very excited about this but I won't tell what it is yet!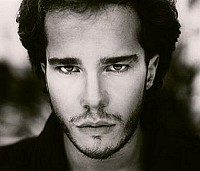 Domiziano Arcangeli, circa 1991
Leaving the present behind for the time being: You got your start in the movies in Italy in the early 1980's when you were still in your early teens. What can you tell us about your early career?
It was a great experience but at the time it was more about working, cashing in and go traveling with my buds. I didn't have much passion for anything. I was a true rebel, living carefree and from bad to worse! Later on I started doing proper work and getting involved with acting coaches and preparation on roles. And then I ended up becoming a cinephile. But as a teen I was totally about my life.
In your teens you also made two films with veteran genre director Antonio Margheriti [Antonio Margheriti bio - click here], I Cacciatori del Cobra d'Oro/Hunters of the Golden Cobra and I Sopravvissuti della Città Morta/The Ark of the Sun God. What are your recollections of Margheriti and your films with him?
The Canary Islands!!! HAHA! Those were really great! They were shot on location, mostly there and in Spain! Margheriti was a perfectionist and a real gentleman! Extremely educated. His sets were very well organized and it was all like a dream.
What can you tell us about your film with Joe D'Amato [Joe D'Amato bio - click here], Il Piacere/The Pleasure?
Uhm… Joe D'Amato was such a character. I don't remember talking to him much. He would refer to me like that blond little boy or bitch, depending on the day, and order some producer what or where I had to stand.
You also had a small, uncredited role in Federico Fellini's Intervista. A few words about Fellini and his film?
There are no few words when it comes to Fellini! I must say: OUSTANDING! The set was so big, one of the biggest I've ever seen!
What can you tell us about Liliana Cavani's Francesco starring Mickey Rourke?
Liliana is still a friend she had directed The Night Porter and was rightly considered one of the best directors of her time! Mickey Rourke was generous and so passionate about playing St. Francis of Assisi. He played him like a hippie! It was a beautiful and a very grand movie. Very, very moving! I had to discipline myself on that set! That's when I started to think: OK, you'd better study or they will fire you!
Your recollections of Tinto Brass and Paprika?
Tinto (who directed also Caligula and Salon Kitty) was a friend and hired me for that! It was another huge success in Europe! Huge! That movie made a fortune! And it is about whorehouses!
You also were in Umberto Lenzi's Demoni 3/Black Demons, right [Umberto Lenzi bio - click here]?
Yes, he was very strict with me. But I was so excited because we went to Rio de Janeiro for five weeks! And the movie is still a really scary one!
With Stelvio Massi, you made L'Urlo della Verità - a few words about that one?
I must tell you I don't remember the story but Massi was another master! That movie gave me a lot of popularity in Italy at the time and I think I was playing a paraplegic getting addicted to drugs.
With the legendary Jess Franco you did Red Silk, Incubus and Flores de Perversión. What can you tell us about the man and your films with him?
Jess Franco: the one and the only! What amazes me about him is his energy! He's a real veteran! I think he's done all genres! I am proud he likes my acting! If he likes it, it must mean something because he has worked with virtually everybody!
You also have to talk about Bruno Mattei and your films with him, Capriccio Veneziano/Venetian Caprice and Mondo Cannibale/Cannibal Holocaust: The Begining [Bruno Mattei bio - click here]!
Bruno Mattei was a true professional. A great genre director. His films were not memorable, but they always sold everywhere and made some producers very rich, I can tell you that!
What about Zalman King's Chromiumblue.com?
Zalman gave me my first big chance in the US! It was one of the leads in the 2 year-series for Showtime Networks. We filmed here and in Spain and Luxembourg! It was a great concept very ahead of its time with an amazing chill soundtrack! I had blast working on that! And everybody was so beautiful on that show it's ridiculous! I know Zalman always had great words about me and he really helped me in the industry here in Hollywood. I will always be very grateful to him!
Are there any other films from your illustruous past you'd like to talk about?
Thanks for the illustrious! I am flattered! Really, no I think we mentioned so many! Maybe just one! My first film as a lead, the beautiful and intense The Boy From Ebalus opposite cult actress Teresa Ann Savoy (of Caligula and Salon Kitty). A true great film and my first breakthrough! I was barely 16!
In the mid-2000's, you have relocated to the USA. Why, and how hard was it to get filmwork there?
I love LA. Like I said I came for a while and I ended up staying! Zalman King cast me in Chromiumblue.com right away and that helped a lot! It's hard to find film work here! But I work all the time, so I cannot complain! I love producing now because it gives me more control over a project and definitely more involvement! I finally became a cinephile, like I said, after all! And a true filmmaker!
Your website, MySpace, whatever else?
www.DomizianoArcangeli.com or www.myspace.com/domizianoarcangeli PLEASE SEND ME AN ADD!!!! haha
Throughout your career you seem to have always come back to horror movies. Is horror a genre especially dear to you?
Yes. I am a big horror fan myself. I think the fact that I was in so many cult films when I was a teenager motivates many directors to hire me today!
Besides acting in movies, you are also an accomplished stage actor. What can you tell us about that aspect of your career, and in what ways does acting on stage differ from acting in front of the camera?
Oh that's all a different world! I toured the world with a show, The Visionary, which lasted 5 hours every night and we had over 40 actors plus dancers, mimes, fire... It was 1995 and I was much younger! The energy that stage requires is unbelievable. I did a few off productions here in LA too! I love when I can be in a play! I feel the moment and you have a completely different relationship with the audience! I just love acting now, I guess, and it is always a very emotional experience for me.

Feeling lucky ?
Want to
search
any of my partnershops yourself
for more, better results ?

The links below
will take you
just there!!!

Find Domiziano Arcangeli
at the amazons ...

amazon.com

amazon.co.uk

amazon.de
Looking for imports ?
Find Domiziano Arcangeli here ...
Something naughty ?
(Must be over 18 to go there !)

Your main influences as an actor?
Daniel Day Lewis, Brando, Klaus Kinski.
Your favourite movies?
So many… Citizen Kane, La Dolce Vita, There Will Be Blood, Doctor Zhivago, Petulia, 2001, The Misfits, Meet Me in St. Louis, Rosemary's Baby... too many!!!
Some movies you have really deplored?
I don't talk about stuff that offends me… I just try to forget!
Anything else you'd like to talk about and I have simply forgotten to ask?
You are extremely well prepared! We covered so much! It's an honor!
Thanks for the interview!
Thank you!