Your upcoming movie Twincarnation - in a few words, what's it going to be about?
Sisters Erika & Elysia Aksos (Jessica Felice in a dual role) were notorious murderers in the 1920's & 30's with over 400 victims falling to their deaths ... when they were sentenced, the sisters said that they will be back. Almost 75 years later, Ron & Melanie (Jason Klingensmith & Melissa Heflin) purchase the Aksos's old house without knowing the history of the Aksos sisters... the Aksos sisters now see their opportunity to come back - to be reborn... surprise, surprise, they are as Ron & Melanie's twin girls - and pick right back up where they left off with the bloodshed.
What were your inspirations when writing Twincarnation?
After writing several adaptation screenplays based off the work from the heavy metal singer King Diamond, I wanted to write an original story. One day while at my mothers, a single word -- twins -- came into my head. Well, what about twins, boys? Girls? Young? Older? I thought... the more I thought of the story line & the more research I did on past films, I noticed that not one featured twin little girls as killers. Sure there have been "killer kid" films - The Good Son, Orphan, Children of the Corn, etc - but none that was just with 2 little girls.
Do talk about your co-writer George Grayshaw for a bit, and what was your collaboration with him like?
George and I have been best buds for almost 15 years so collaboration with him was great. Funny thing is, he is NOT a horror fan -- he finds horror movies "blah" and unrealistic... but that's WHY I wanted him!! He provided a sort of realism into the script... something that makes you think that this could actually happen. While I threw in a ton of supernatural effects, he said "Hold your horses! What is we went in (x) direction on a kill or dialog." When we took a step back and looked at the completed project, we were both happy in the way it came out... very dark & creepy with a touch of realism. We are both extremely proud of this script.
A few words about your movie's approach to horror (as in suspense vs sudden shocks, atmosphere vs all-out gore and the like)?
Originally, before I got George involved, the script was all about the blood & gore. When I gave him the first draft to read, he had an "Eh, it's OK" and so we talked. Now it's more of a thriller based with some blood - but a lot of the kills are done realistically - almost like "accidents" but you KNOW that they aren't accidents - something just isn't right. We removed a few of the "shown kills" and just implied them and the ones that ARE there have this whole "jump scare" feeling - you don't "see" some of the kills coming until it's too late.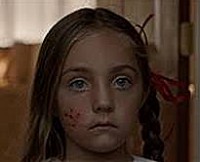 Sailor Holland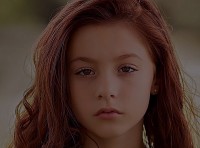 Alexis Arnold
What can you tell us about the overall look and feel of your movie?
Offhand, I would think it has the feel of like an Omen/Rosemary's Baby type movie -- very dark, messes with your head with a touch of gore when needed to move the story along. At least, that's the way we would like it filmed -- or come close to as possible.
You of course have to talk about the girls who play the twins for a bit, and what makes them perfect for their roles?
There are 2 sets of twins -- Jessica Felice as both of the older Aksos sisters and the young (8 years old) Dukane sisters (Erika & Elysia reborn). Jessica has been in several of the "darker" films like Laid to Rest, Blood Loss & her newest feature, The Possessed, so she knows the "attitude" we are looking for. As for the "look" itself --the Aksos sisters, I took the real life sisters Jen & Sylvia Soska [Soska Twins interview - click here] and made them psychopath killers - and Jessica can pull off that physical look perfectly.

The younger Dukane sisters, Angelica (Alexis Arnold) & Lucy (Sailor Holland), have a combination of several personalities: The look of Wednesday Adams, the psychopathic tendencies of Hannibal Lecter, the 'mischievous' way that everything is a "game" of Henry Evans (The Good Son) & the attitude of Jen & Sylvia Soska. Not only do they look like Jessica as a child (which is a huge help) but they understand their characters well - during a live audition for both girls, to hear the way that they delivered some of the lines sent chills up our spines and THAT'S WHY we wanted them.
Other than that, your movie features quite a star-studded cast - so do talk about your actors for a bit, and how did you get them even?
I've been friends with a lot of the cast members on Facebook for quite some time (some over 2 years) so I've talked & interacted with a lot of them before this came along. For me, it was all about the look... i.e. the role of.... 'Natalie' for instance, is sort of like a psychic medium - Genoveva Rossi [Genoveva Rossi interview - click here] just happens to be that - so that role was a "no brainer". The look of 'Krystof' is an older man that looks kinda crazy - Michael Sciabarrasi [Michael Sciabarrasi interview - click here] has that look... the role of 'Ron' - he works in construction - so I needed someone tall & buff - Jason Klingensmith fits that. So it was just a matter of asking them. They all said that they wanted to see the script - so I sent it to them and every one came back with an absolute YES... it was easy to get them since they all loved it and wanted in on this project.

On the creepy side, having Michael Berryman in this, not only would he bring in value to the film but imagine him as an elementary school principal... he adds to the whole "creepiness" feel of the movie and it's a role that you would NOT expect to see him in... but that would be WHY we want him.
You're currently in the process of running a fundraiser for Twincarnation - so what can you tell us about your campaign?
The campaign is for raising funds to get the agents of some of the stars a 'down payment' for their services. Some of the actors are a "pay to play", which means, the agents want the money up front before letting their client take on the role. Now we do have a couple investors who want to be a part of this - but they need a couple months to raise the funds needed... unfortunately, we don't have a couple months - deadlines were imposed on us by the agents -- we don't pay the agents by the deadline, there is a huge chance that they will not allow their client to work on the film. While it wouldn't be a killer if we couldn't get these actors, it would impact it greatly.

Even though we only need (x) amount for these "down payments", we are asking for more than that so we can get some of the "legal stuff" (i.e. contracts), insurance fees, press release costs, etc done... get all this done while we can before it becomes too late and we're running around like chicken's with our heads cut off making sure everything is legal before we turn on the lights & cameras.
Once the budget is in place, what's the schedule? And even if it's probably waaay to early to ask, any idea when your movie might be released onto the general public, however tentatively?
Our schedule is to start filming on June 1, 2017 and doing a straight through shoot to June 25th. If everything goes as planned, we plan on releasing this on Halloween 2017 <<crossing fingers & toes>>.
https://igg.me/at/
twincarnation
Any future projects beyond Twincarnation you'd like to share?
We do have some projects in mind that we would LOVE to do -- working on 2 micro films (about 2 minutes long each) starring Skippy the Evil Clown (known in the Ohio circuit), another full feature that will be based on viking lore but done as a horror movie and depending on how successful Twincarnation becomes, we may do a sequel (since the story is left wide open for one) or even a prequel (showcasing the original Aksos sisters & what really made them into killers).
What got you into filmmaking in the first place, and did you receive any formal training on the subject?
No formal training. However, I've been writing since I was around 8. By the time I was 12, I wrote 3 full horror/mystery/comedy novels - kinda like Stephen King meets Agatha Christie meets Abbott & Costello style -- just wish I saved them all when moving cross country several times back before there were home computers, unfortunately, I lost every one of them.
In 2005, I went through brain surgery and a lot of my overall thinking/thought process was severely impacted. Since I knew how to write stories, I didn't want to go that route - so I looked up and taught myself the formatting of how to write scripts. I took a story I knew (Abigail by King Diamond) and tried to adapt it from an album to screenplay - just to get the brain functioning again - get my thinking down, does this or that part of the brain still work & how well... that project took over 10 years because with me on how I LOVE to expand, I was able to tie every one of King Diamond's solo albums together into 1 very large saga spanning over 2,000 years with each story as another part of the saga. It was those stories that I submitted into the script contests.
What can you tell us about your filmwork prior to Twincarnation?
Outside of writing screenplays, absolutely none. As stated earlier, I wrote several King Diamond adaptations and sent one into a script contest - The International Horror Hotel Film Festival - I won 'honorable mention'. When I went to pick up the award, I met so many great people in indie film and just caught the bug. I submitted a few more screenplays into the following year's contest - and won awards for all 3 scripts. I now work with that film fest - they also have a TV show that they do -- an "Elvira-type" show - they show movies but during the 'commercial breaks' they do comedy skits. Recently, they were able to get an overseas deal for all their episodes to be sold and need someone to do their transcribing -- they got me to do this. I've done 3 shows for them already with plans on doing over 30 more.

Anyways, one of our short film screenplays, we were planning on filming earlier in 2016 but our cinematographer never called us back - kinda hard to make a film with no camera operator. While looking for someone else to do this, one of the stars (my acros- the-street neighbor) of the film got involved in a neighbor dispute and ended up shooting & killing our neighbor that lived next door to him - the victim died in my arms. One of the characters in the short is based off the victim - who ironically was going to be played by the star's cousin. So when this shooting happened, we lost 1/3 of our cast, the victim died with the keys to one of the locations on him (family is not releasing those keys back) and no cinematographer. So we had NO CHOICE but to scrap that script. To this day I can't even open the file without balling like crazy. Luckily though, we had Twincarnation waiting in the wings. So we changed direction and are "rolling" with it.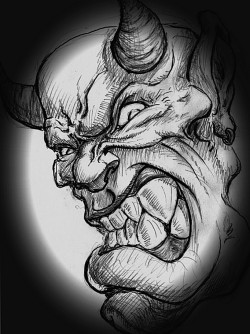 You of course have to talk about your company Angry Demon Productions for a bit, and the philosophy behind it?
LOL Angry Demon... that is actually a combination of 2 of my "nicknames". When I had a day job, they called me 'Angry Doug' because I would get real mad about the simple fixes and the whole "You called me all the way out here, an hour drive for me, just to plug in a cable? WTF?" and the Demon is from Demon Boy (NOT associated with the singer out of New York, Demon Boy) - a name that my wife & one of our friends calls me - because I can growl real low like a demon.
Our philosophy is simple - we just want to make movies -- from 2 minute micros to full features or even a web-series. Whatever story catches our imagination that we want to film - we will do... as long as it fits in the horror genre -- comedy/horror, horror/thriller, slasher, Troma... whatever. If we like it, we'll do it and we don't want to be 'restricted' as to the subgenre.. i.e. known for only the thrillers... if its horror, we're interested but we also want to make the best film we can. It's all about the quality and not the quantity.
How would you describe yourself as a director?
That's a great question because I honestly couldn't tell ya since I haven't directed anything yet. But offhand, I would say that I'm fair, try to have fun but also get the job done & open to suggestions and criticism.
Filmmakers who inspire you?
I'm a HUGE Stephen King, Wes Craven & Clive Barker fan. Love their work. I also recently watched a movie that was directed by the great Debbie Rochon [Debbie Rochon interview - click here] called Model Hunger (with Lynn Lowry & Tiffany Shepis [Tiffany Shepis interview - click here]) - had a chance to meet Debbie when she was a guest at the 2016 Horror Hotel and fell in love with her - not in "that" sense but as a fan sense - she is incredibly sweet & wonderful and looking froward to any future directorial films by her.
Your favourite movies?
Wow, there is just so many that I could say are my "favorite"... but a small list would be: The Rocky Horror Picture Show, The Lost Boys, From Dusk Till Dawn, Hellraiser, Pet Sematary, The Hills Have Eyes, I Spill Your Guts, Phantasm, Shivers, I Drink Your Blood, A Nightmare on Elm Street, Friday the 13th & Toxic Avenger.
... and of course, films you really deplore?
Paranormal Activity, Incidious, Blair Witch Project, Halloween (Rob Zombie's remake) & The Happening.
Your/your movie's website, Facebook, IndieGoGo, whatever else?

Feeling lucky ?
Want to
search
any of my partnershops yourself
for more, better results ?

The links below
will take you
just there!!!


Website: http://www.angrydemonproductions.com/twincarnation
Facebook: https://www.facebook.com/Twincarnation
Twitter: @twincarnation
IndieGoGo: https://igg.me/at/twincarnation
Anything else you're dying to mention and I have merely forgotten to ask?
I can't think of anything but I know the second this ends, I'll be like "Oh I should've mentioned this or said that" as I always do :)
Thanks for the interview!
No, THANK YOU for thinking of us and our film! We REALLY appreciate it!