Your upcoming movie 4/20 Massacre - in a few words, what is it about?
4/20 Massacre is a "stoner slasher" film about a group of women who go camping on April 20th and run afoul of an illegal marijuana growing operation and they must fight to survive the living nightmare.
Why a stoner horror movie - and is any of 4/20 Massacre based on personal experiences or the like?
When I was developing the project I realized that except for a handful of movies like Dazed & Confused the "stoner" sub genre is not really handled in a dramatic/realistic fashion. And in regards to the horror genre - there have been a handful of instances where marijuana has been used as a plot device, Ticks (1993) comes to mind, there are a couple flicks where smoking weed turns people into "zombies with the munchies", and probably most memorably in the film Blood Freak (1971) where a dude smokes pot and turns into a giant killer turkey (!?). My point is that by and large cinema treats "stoners" and marijuana consumption as mostly comic relief or "butts of jokes" and usually in an 'over-the-top' and ridiculous fashion. So my attempt with 4/20 Massacre is to treat marijuana and "pot heads" in at least a somewhat grounded/ realistic manner with actual human beings rather than caricatures.
Though I wouldn't necessarily say that the script was derived from any personal "real life experiences", I did base the concept on some "real world events" and articles I read where unwitting hikers/campers that have come upon a marijuana field in the middle of the forest and are sometimes met with violent confrontations or deadly "booby traps" set up by the farmers who are attempting to "protect" the site. I also derived inspiration from the 4/20 (April 20th) date where besides it being a "stoner holiday" it has also been the date for some awful tragedies and events ranging from being Hitler's birthday to the Columbine massacre. So I figured all these "real world elements" would provide an interesting basis for a "holiday slasher" film.
Other sources of inspiration when writing 4/20 Massacre?
You mean besides the obvious? (lol)
I knew I wanted to direct a horror film for my third feature and I gravitated towards the slasher sub genre because some of my fondest "movie watching" memories from childhood came from late night viewings and VHS rentals of Friday the 13th and Elm Street sequels. But more often than not the slasher sub genre is treated like the "red headed step child" of horror, even among folks who profess to be horror fans. But when watching some of the earlier slasher films (pre '84 or "first wave" slashers) I found them to actually be comprised of some interesting storylines and characters. I'm not saying these are perfect films, but they are far from deserving the automatic dismissal that people have given them as soon as they hear the word "slasher".
So I tried to approach my slasher film 4/20 Massacre with the seriousness and respect I feel the sub genre deserves (or at least should be given more of) by spending some time writing likable characters that you (hopefully) won't be "counting the minutes" until they die. In many ways 4/20 Massacre can be described as a "dramatic indie film… and then a killer shows up and all hell breaks loose."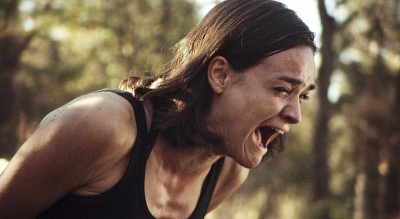 When picking certain films that influenced 4/20 Massacre I would have to start with the "Holy Trinity" of the 70s that laid the groundwork, Black Christmas (1974), Texas Chainsaw Massacre (1974), and Halloween (1978). Then of course there is the movie that perfected the "slasher formula", Friday the 13th (1980), and I would actually throw in the first five "Paramount-produced" films of that series as being influential. There is also the sub/sub genre of slashers that are "backwoods/camping" in nature, namely The Burning (1981), Just Before Dawn (1981), Final Terror (1983), The Prey (1984), The Forest (1982), Madman (1982), Don't Go in the Woods (1982) and Memorial Valley Massacre (1989).
With 4/20 Massacre being mostly an outdoors kind of movie I presume, where was it filmed, actually, and what were the challenges shooting there?
We shot the movie just outside of Big Bear, California. We basically housed the cast/ crew at this "sleepaway camp" that is mainly used for kids and "corporate/church retreats". So we would get up in the morning, go out and shoot the scenes in and around the surrounding forest, then go back and have some "adult beverages" and talk about what we would be shooting the next day. And then we "rinsed and repeated" that process for 10 days straight. So yeah, the whole movie takes place "outdoors" and besides the usual pitfalls of "low budget/short schedule" we had challenges lugging gear and people to most locations, there were bugs/snakes and God knows what else that we had to be mindful of, plus there was a ridiculous amount of dirt/dust that would get into the gear and every orifice of your body, and at times it was challenging to block/stage scenes. You see, usually if you have a set or location like a house or office there's a finite amount of shots you can practically stage. But when you're dealing with a "360 degree" situation you can trip yourself up, it's almost as if having too many options is just as challenging as having "limits" of where you can point the camera.
What can you tell us about 4/20 Massacre's approach to horror?
We tried to make a slasher movie "where you actually care about the people". And like the best examples of the genre I tried to develop a mounting dread/tension, some red herrings/jump scares, and memorable "death sequences". Overall I aimed to take people on a "roller coaster ride of emotions", so you'll laugh, cry, scream, and have an all around good time, and maybe even come away with something more than what you would have expected when watching a movie called 4/20 Massacre.
Do talk about the movie's overall look and feel for a bit!
Kyle Stryker (the director of photography) and I talked during pre production and principal photography- and for color correction we're discussing the "late 70s/ early 80s" look of filmmaking. Now I want to emphasize that we aren't adding grindhouse "film scratches" or whatever but we are going for that vibe in the way we composed scenes and the "unironic" use of zoom lenses, and with the final color correction we are trying to go for the "grainy film stock" look that you would see in Texas Chainsaw Massacre and the first few Friday the 13th movies.
What can you tell us about your cast, and why exactly these people?
The primary cast of the "five women campers" is lead by Jamie Bernadette (I Spit on Your Grave: Déjà vu) [Jamie Bernadette interview - click here] who I've seen in a few independent movies and I've always thought she was a great actor that I wanted to work with and she had the whole "scream queen/ final girl" qualities that I felt were needed for the role of "Jess". Vanessa Rose Parker [Vanessa Rose Parker interview - click here] produced and helped develop the film from script, casting, and production and had the vulnerability and passion necessary for the "Aubrey" character. Stacey Danger came in early in the process to do a script reading and one of the roles she read was "Donna" and I really liked her take on the character. Justine Wachsberger and Marissa Pistone we found during casting and they both contributed a lot of charm and depth to the characters of "Rachel" and "Michelle". And finally, Jim Storm (Dark Shadows) portrayed a grizzled/ gruff junkyard owner in my first film Chain Link - I loved his work and so I wrote the role of "Ranger Rick" with him in mind.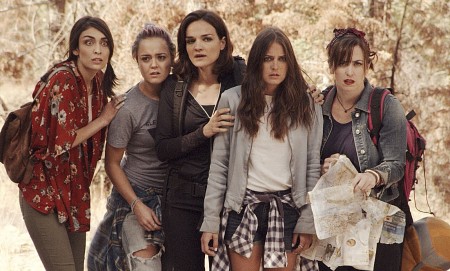 A few words about the shoot as such, and the on-set atmosphere?
Doing a low/no budget shoot in ten days straight has a lot of inherent challenges and invariably every day (and damn near every hour) there was some kind of disaster or threat that could potentially derail our schedule/budget and entire production. But we managed to get it done in no small part due to the solid attitude and dedication of the cast and the very under-staffed but hard working and impressively skilled crew that agreed to go on this crazy journey. It was stressful as hell but still a lot of fun and I would describe it as an "adult summer camp" where we just happened to make a movie.
The $64-question of course, when and where will 4/20 Massacre be released onto the general public?
I don't know but I'm real excited to find out! (lol) Right now we are in the final stages of post production, the edit is done so now it's sound mix/design, color correction, etc. etc. We are aiming to submit it to South by Southwest, which has a deadline in late September. So most likely 4/20 Massacre will be ready to be unleashed unto the world come this fall, I'll then shop it around to a few places and it will eventually be available by late 2017/early 2018 (I think).
Any future projects you'd like to share?
Right now I'm kicking around ideas for a 4/20 Massacre Part 2 which I want to steer into a different direction and make it an urban/ mystery/ thriller with inspiration derived from giallo thrillers (Italian pre-cursors to the slasher genre that are basically "who done its" with a lot of stylish blood letting - i.e. Dario Argento, Mario Bava [Mario Bava bio - click here] etc).
Your/your movie's website, Facebook, whatever else?
You can watch the trailer here: https://www.youtube.com/watch?v=ccDoXK_4fU4
And the Facebook and Twitter pages will of course have updates on the movie - plus I write about my thoughts on slasher and cult cinema in general:
https://www.facebook.com/thehikeproductions
https://twitter.com/Four20Massacre

Feeling lucky ?
Want to
search
any of my partnershops yourself
for more, better results ?

The links below
will take you
just there!!!


If you're into hip hop music you can check out the official 4/20 Massacre mixtape from Brooklyn rapper Jaye Archer: http://www.datpiff.com/JAYE-ARCHER-420-Massacre-The-Soundtrack-Ep-mixtape.837995.html
And here's the music video for the song "D.A.R.E" by Jaye Archer that will be featured during the end credits of the movie: https://www.youtube.com/watch?v=ay81GYql6Gc
Anything else you're dying to mention and I have merely forgotten to ask?
I can't think of anything else… thanks so much for the opportunity!
Thanks for the interview!