Your new movie 4/20 Massacre - in a few words, what is it about, and what can you tell us about your character in it?
Aubrey is a hopeless romantic, who cares deeply about her friends, and tries to make things happen for other people. She can be stubborn and a little rigid, but she means well.
What did you draw upon to bring your character to life, and how much Vanessa Rose Parker can we find in Aubrey, actually?
A lot, really. I am a relationship-oriented person. I connect to so much of her, from the fact that she tries to carry the most gear to make it easier on her friends to the fact that she can't admit when she is lost! That last part is pretty embarrassing.
To what extent could you identify with 4/20 Massacre's slasher and stoner themes?
Well for starters, slasher is the most iconic genre of horror! I really love all genres of horror, but the classic horror movies of our generation are all slashers. Where would we be without Freddy, who haunted my dreams (pun intended) as a kid, or Jason?? I mean, I couldn't even be alone with my brother's My Buddy doll! And stoners…. as a lifelong creative, I have been surrounded by stoners. My family are mostly musicians, I grew up an actor, and most of my friends smoke weed.
Embarrassingly, I am the worst weed smoker. I get paranoid, uncomfortable, then I pass out. There is actually a line in the movie, where Jamie Bernadette's [Jamie Bernadette interview - click here] character, Jess, explains why she doesn't smoke. It is pretty much word for word something I tell people. So I am no fun high and I don't really do it, but my husband smokes. I am always impressed with how productive he is when he smokes. It seems to focus him.
How did the project fall together in the first place, and how did you end up producing it?
My husband Dylan Reynolds [Dylan Reynolds interview - click here] and I were talking about what we wanted our next project to be and he brought out a script he had worked on. We decided to spice it up by changing all the main characters to women and really the ball started rolling from there. Pre-production and production on this movie felt so charmed. So many amazing things just started coming out of the woodwork to make the project special. The casting process was a dream. We saw so many talented people and when people signed on, they all clicked. (It wasn't until post-production that our main challenges really hit us.)
What were the challenges making 4/20 Massacre, especially taking into account that it's a mostly outdoors movie?
We were shooting an outdoor day time movie and for some reason we decided to choose the time of year when there is the least amount of sun. We could have shot in the summer when the sunset would have been 9, but instead we shot in the Fall when the sun was down at 6:00. Shadows from the trees were crazy… it rained a few days off and on. I mean rain, really? California was in a serious drought, we only shot for 10 days and it RAINS during part of it??
Being married to your movie's director, Dylan Reynolds [Dylan Reynolds interview - click here], does this make things easier or actually put more of a strain on you as both actress and producer? And how have the two of you first met even?
We had collaborated before 4/20 Massacre, but that was more me helping Dylan get what he needed done than a true, even footed collaboration. But then a friend of ours asked us to script-doctor a project that he was working on. We basically rewrote and reconfigured the entire thing… and it was so much fun! Dylan and I complement each other. Our strengths are different, but really highlight the other's work, I think. We realized while working on that project that we were a good team professionally. Going into 4/20 Massacre, we had a wonderful working rapport that made things so easy.
We actually met at a bar. I was bar tending and he was drinking. We knew each other for maybe 8 months before we ever went out. He finally made the leap by inviting me to see a screening of his first feature. I remember thinking on my way into it, "Don't be bad! He's so cute… I won't be able to date him if it's bad…" And here we are, ten years later, married and making movies together.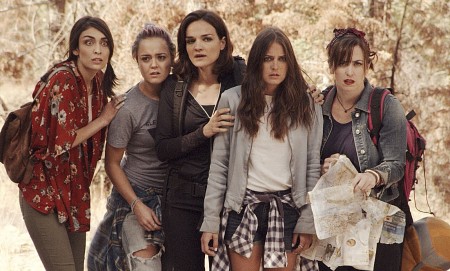 Marissa Pistone, Stacey Danger, Jamie Bernadette, Justine Wachsberger, Vanessa Rose Parker
Do talk about the shoot as such, and the on-set atmosphere?
I tried to create a working atmosphere where everyone felt supported and important, so everyone was able to do their best work and have fun doing it. We were working really fast-paced, we filmed the whole movie in 10 days, and that kind of pressure can bring out the worst in people if you aren't careful. I tried to keep it fun and positive. We were stuck out in the middle of nowhere so I tried to provide all the food, beer, wine, and alcohol I could for the end of the day so everyone could wind down and recharge.
Any future projects you'd like to share?
Right now, we are just focused on getting this one out into the world! But we have been joking about 4/20 Massacre Part 2 …. We'll see. I have a few things I am developing.
What got you into acting in the first place, and did you receive any formal training on the subject?
I got into acting through music. I grew up in a family of musicians. I started doing musical theatre as a child. I ended up getting my degree in Theater with an Acting Emphasis.
4/20 Massacre isn't the first film you've produced - so what made you pick up producing as well eventually?
Working mostly in independent film, everyone has to wear a lot of hats. I love the whole "we all work together to make this happen" aspect of it. At first, I was hesitant because all my training and experience was in theatre. I didn't know enough about the technical aspects or things that needed to happen to get a film off the ground. But the more that I worked on set, the more I wanted to do. I hope to continue doing both.
What can you tell us about your filmwork prior to 4/20 Massacre?
Well, as I said, I have worked in independent film. Most jobs lead to other ones. The interconnectedness of the indie world is inspiring. I have so many wonderful friends making wonderful art and I have been really lucky to have been a part of some of it.
How would you describe yourself as an actress, and some of your techniques to bring your characters to life?
I spent a lot of my life studying different techniques; Uta Hagen, Stella Adler, Michael Chekhov, Method, but I don't religiously hold to any one of them. I find the thing that works best for me is to just throw myself into the moment and focus on my fellow actors and see where it takes me. All I really need is for it logically and emotionally makes sense to me and my scene partner gives me everything else I need.
Actresses, filmmakers, whoever else who inspire you?
Allison Janney!!! I'm so in love with her. She can do no wrong, as far as I'm concerned. I was incredibly inspired by Patty Jenkins and the way that the women warriors were depicted in Wonder Woman. I actually cried during their battle scene. To see women shown in such a strong, badass light and not as an accessory to a male hero…. I am so happy my nieces get to grow up in a world where there is Wonder Woman and Ray from Star Wars!
Your favourite movies?
I feel like you are asking me to choose my favorite child… I love movies… Some of my favorites are Black Christmas, Poltergeist, Monster Squad, The Conjuring, House of the Devil, Adventures in Babysitting…
... and of course, films you really deplore?
AHHGGG! Crash, I really hate that movie. I'm still bitter it won all those awards.

Feeling lucky ?
Want to
search
any of my partnershops yourself
for more, better results ?

The links below
will take you
just there!!!


Your website, Facebook, whatever else?
www.facebook.com/thehikeproductions
Twitter: @FOUR20Massacre
Twitter: @vnessarosep
Instagram: @nessarose23
Anything else you're dying to mention and I have merely forgotten to ask?
The version of the movie that everyone is seeing now is actually the second version edited. I mentioned earlier that post-production was where we ran into problems. We work at home and when we had the original cut ready to send off to sound and color, someone broke into our house and stole the movie and the backup of the edited movie. We had to completely start from scratch; Re-sync the sound and the footage, and start again. It was challenging. Fortunately, I know that the second version is better, but, man, it set us back!
Thanks for the interview!
Thank you! And thank you so much for supporting 4/20 Massacre, I really appreciate it.