First off, could you introduce yourself to those of us unfortunate enough to not already know you?
My name is Elissa Dowling: I like long walks on the beach and to spoon in front of an open fire (laughing). Just kidding, though I really do like to cuddle, and Iím crazy about the ocean. Well, I'm an actress that's been working in film for about three years now and managed to already have about 50 indies under her belt. I'm also a singer, dancer, artist and according to the people that know me best overall... rock star (laughing).
Going through your upcoming films-list, one finds Vaginal Holocaust, Caged Lesbos A-Go-Go, Orgy of Blood, Erection, The Brothers Cannibal, and the Final Girl-films, all directed by Creep Creepersin [Creep Creepersin interview - click here]. Could you maybe talk about each of those for a bit?
The Brothers Cannibal is a dark comedy.
nbsp;
The Final Girl films are more murder mysteries than anything else. As much as I love the horror genre, it's nice to do other genres. Those films have yet to be shot, unfortunately the lead actor broke his leg and we've had to postpone production. But I'm looking forward to doing them, Creep's films are always a blast.
I play a badass backwoods blood sucking vampire in Vaginal Holocaust, the character is actually pretty comical. What was intended to be a four day shoot ended up crammed into 24 hrs when we hit some incredibly bad weather. It was cold and a virtual monsoon but we did manage to pull it off. It helps when youíre working with friends.
In Orgy of Blood, I worked with my new BFF, Miss Phoebe Dollar, the chemistry was great and we were very funny together. We're sort of like the Romy and Michelle of the film. Our characters broke up some of the drama with a little bit of healthy laughter.
In Erection, I have a small part, and even though we didnít shoot together I was stoked to work on the same project as Trent Haaga.
You have worked with Creep Creepersin before on O.C.Babes and the Slasher of Zombietown and Peeping Blog. A few words about these two films?
In OC Babes I play the quintessential bitch that puts others down to feed her own ego; it's the polar opposite of my real personality.
In Peeping Blog, I'm a victim, which is also a rare role for me. Peeping Blog was unique in that it was shot with one take and no cuts -- very experimental. The outcome was petty creepy and somewhat voyeuristic. Actually I just wrapped another film shot the same way called Telephone World, directed by Ramsi Abed, whom I worked with before on In a Spiral State.
How did you hook up with Creep Creepersin in the first place, and what's it like to work with him?
I originally auditioned for a bit part in OC Babes but instead was cast as the lead. The Creeps have been addicted to me ever since -- I mean, can ya blame 'em? (laughing) I enjoy working with Creep. When you work on a small scale and with the same people again and again, you become family. There are times when it can drive you into a state of delirium (laughing). Actually, there are several production companies that I work with regularly. Iím enjoying it, and they know I'm fairly easy going and will deliver. Most of all, I love having the freedom to improvise on set, and smaller movies tend to be more open to that.
You also have a starring role in Shane Ryan's Amateur Porn Star Killer 3D [Shane Ryan interview - clcik here]. How did that come into being, and were you aware of the previous Amateur Porn Star Killer-films?
I think I met Shane at the Poulrtygeist premiere outside the Hustler on Sunset, and we just ended up shooting one night. I hadn't seen the other films, but I read a little about them on some of the horror websites.
One of your upcoming films has just too interesting a title to not ask a question about it, Dahmer vs Gacy. Could you say a few words about that one?
Ford Austin is a super guy with a very magnetic and dynamic personality. The day we shot, my call time was 8 am. I had been up the night before until 3:30 AM shooting Never On Sunday, so I got maybe an hour of sleep. I shot eight films back to back that month -- it was pretty insane. Thankfully Ford was so damn funny that it was easy to keep my energy up. Dahmer vs. Gacy has a stellar cast that includes Felissa Rose [Felissa Rose interview - click here], Guns N' Roses guitarist Steven Adler and Harland Williams. I've also got another project with Ford lined up that I'm very excited about.
You also have role in the new Clive Barker-adaptation Dread?
That was an overall amazing experience and I absolutely fell in love with London. My role is brief, but it's a great character and very funny. Itís really a phenomenal film; I like it because it falls into both the horror and art house genre. Iím also happy to have had a chance to be part of what I call the new The Shining. Anthony Diblase is a brilliant director; he has a bright future ahead of him.
A few words about Tom Savini's The Unleashed?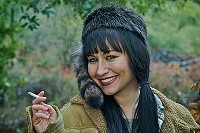 Vaginal Holocaust
The Unleashed was a commercial promo for PBR. I know what youíre thinking and no, not the beer. I was a little disappointed myself (laughing). Actually it was for Professional Bull Riders, and shot for the Verses Network on the Red. Tom and I worked together for about four days prior on a doc that aired on Starz called His Name was Jason. It was about all the Friday the 13th flicks. Anyway, Tom ended up casting me in the promo because he liked my killer scream. Those two were the only real scream queen roles Iíve done so far. For the most part I'm cast as a lead or a villain.
Any other current or future releases you'd like to talk about?
Iím excited about Live Evil. It just scored a theatrical release and will be on 300 screens when it is released on September 18th. It should also be going to DVD in early November. Another exciting future release is Dread which will be out in theaters on January 29, 2010 as part of After Dark Films Horrorfestís 8 Films To Die For.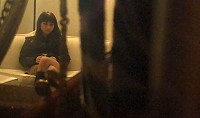 Peeping Blog
Leaving the present behind for a bit: You got your start in performing pretty early in life, and as a dancer I believe. What can you tell us about your very early career?
I was fortunate - I had parents who exposed me to the arts early on in life. That usually works well for kids because those skills become second nature when you're taught them in the early stages of life. It gives you a leg up and lets you focus your abilities on a higher level later on. Because of all the training when I was a kid, the arts come naturally to me now, and I can't say the same about math though (laughing).
Did you ever take acting lessons?
I went through a good amount of theater and improv training. I remember playing Audrey in a small stage production of Little Shop of Horrors. I was very young, but I found that really enjoyed the positive feedback from my teachers, friends and of course the audience. Iíve always been a bit of a rebel... still am (laughing) and Iíve had my share of getting into trouble, so when I was finally appreciated for my talent, it made me feel like I had found my place in life.
You have been a stage actress before hitting the screen. How does acting on the stage differ from acting in films?
Stage is obviously much bigger because you're projecting to a field of audience out there that you can see. Film is a lot more intimate and itís the little things that really matter. The camera reads much more detail, so what you feel inside is what projects.
Your first film I believe was Dracula Rising. What can you tell us about that film and your transition from stage to screen?
Believe it or not, I actually got that gig off Craigslist.com an hour before I had to be on set. It was a heavily featured role but had no dialogue. I showed up around noon along with another actress, but the scene wasnít shot until 2 am. By that time, the other girl had left so they were left with me. I remember being scared shitless; it was my first flick, and the director (who Iíve worked with several times since) wanted me to cry on cue. Amazingly, I managed to pull it off.
You have also worked a lot with director Ulli Lommel pretty much since the start or your movie career. What can you tell us about him and the films you did with him?
Ulli is kind of punk rock when it comes to filmmaking, at least on his smaller ones. We cranked them out fast, and he gave me lots of villain roles, which are hard to come by for women.
You also had a role in The Asylum's borderline notorious Transformers rip-off Transmorphers. A few words about that one?
I was pretty proud of my acting in that one. I played a very serious scientist and I think I even managed to sound somewhat intelligent (laughing). Iím still not quite sure how I pulled that one off. All I can say is thank God I'm an actress and not a rocket scientist (laughing).
Any other past films you'd like to mention?
There's been quite a few so there are times that they all kinda blurred into one chaotic story I call my life. Keep an eye on me though, I'll try to keep you entertained.
Given the fact that you have been in movies for only a relatively short time, you have already been in an amazing number of films. How did you do it, and what keeps you going?
I guess Iím just a driven personality and I really love to work. I had a somewhat complicated life. Iíve dealt with some things most people my age haven't had to. So, I've become pretty resilient... or at least manage to come across that way (laughing). But I always try to use truth in my work, because it provides me a purpose for the experiences I've endured. Each and every day is a gift, and I try to accomplish as much as I can with the time I have.
Almost all of your movies are horror flicks in one way or another. How come, and is horror a genre dear to you?
Well, I canít say the majority of them really scare me, but what I love is the dark drama, that is really why the genre heavily intrigues me and I think it had a lot to do with sending me down the path of the horror realm.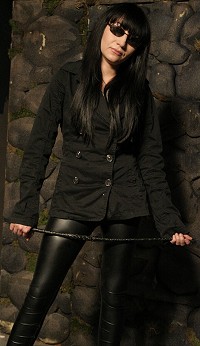 Caged Lesbos A-Go-Go
Women in horror films are usually labelled scream queens. Do you think this is a label that applies in your case, and how happy are you about it?
I don't see myself as a scream queen, more of a scream Cinderella (laughing). No, seriously, I'm usually the one who makes them scream, not the one screaming. Funny, when I started out all I ever wanted was to be a scream queen, but now that Iíve dug into it I realize that what I'm eventually aiming towards is character acting. That of course includes horror films, but I am also open to other genres. A big part of what I have already committed to so far over the next year is not horror. Why would any actor want to limit themselves? I'm not really a fan of labels, period, I think they serve as kind of a crutch. A person should be confident enough within their self to be themselves and not have to call themselves something to feel secure. But that's just my humble opinion (laughing).
Your website, MySpace, whatever else?
www.myspace.com/blackdahlia1947
www.myspace.com/elissadowlingsmusicpage
Actresses who inspire you?
Amanda Plummer, Juliette Lewis, Brittany Murphy, Meryl Streep and Toni Collette.
What many of us out there might not know is that you are also a quite accomplished jazz singer. What can you tell us about that talent of yours?
Hey thanks! I was trained in voice as a kid, but I sort of put it down for a while aside from continuing with the musical theater. Then within the past year or so the muse came back into my life and I felt inspired to cover some songs. Now I'm mostly gravitating towards doing some original work. In all honesty though, I have yet to master the secret to composing and songwriting. I'm still looking for the right people to collaborate with.

Feeling lucky ?
Want to
search
any of my partnershops yourself
for more, better results ?

The links below
will take you
just there!!!

Find Elissa Dowling
at the amazons ...

amazon.com

amazon.co.uk

amazon.de
Looking for imports ?
Find Elissa Dowling here ...
Something naughty ?
(Must be over 18 to go there !)

Any other talents you'd like to talk about?
(laughing) Um, I plead the fifth -- wink wink.
Your favourite movies?
Anything directed by Tarantino or Burton. I'm also a fan of True Romance, Natural Born Killers, The Shining, Carrie, Stay Tuned, Beetlejuice, Death Becomes Her and of course The Big Lebowski, especially after I've consumed a couple of ďCaucasiansĒ.
And of course, some films you really deplored?
Nah, I'm not one for trashing anybody or their films. I think every film has its audience, whether I'm into it or not. If you leave an impression on just one individual, it's all worthwhile.
Anything else you are dying to tell us and I have just forgotten to ask?
I think you covered just about everything (laughing). But here's something pretty random I just learned about my name but itís kinda cool. Elissa was the name of the founder and Queen of Carthage, who fell in love, then killed herself by sword when her lover abandoned her. In the Roman legend, she is known as Dido, which was derived from a Phoenician root meaning the Wanderer.
Thanks for the interview!