You have just released the conclusion to your Amateur Porn Star Killer-series with Amateur Porn Star Killer 3. A few words about that film?
Itís still got lots of "I shouldnít be getting a hard-on while watching these girls being humiliated and murdered but I am any ways because Iím a pig and the world is going to hell but Iíll just call the director sick instead and that makes everything okay". And no blood so people can add "and after all those on and off hard-on moments I didnít even get to see the bitch get bludgeoned because nothingís wrong with me Iím perfectly normal, itís the films these days, who would make such a thing?!Ö.Hmm, whereís that camera my grandma bought me? Come here little sis. No, itís not me. Itís these damn movies. Whereís my crayons and paper, we gotta protest and picket this thing. I donít have any proper wood so weíll just use my thing as a stick since itís popping up right now having nothing to do with the exact movie weíre going to rant bad things about. By the way that director loves his dick, letís talk shit about that too. Heís so lacking in that area and can only get laid by making an entire movie around sex because cruising the Vegas strip just sounded too complicated for him. Those damn Vegas Sting Operation Reality Shows probably spooked the little bitch."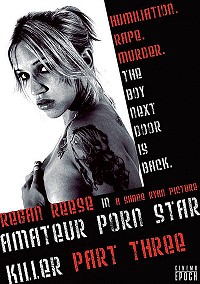 Your main inspirations for Amateur Porn Star Killer 3?
At this point having already done two APSKs Iíd say the biggest inspiration was myself, just playing off of what I already did but trying to change it up a bit. For example, some people liked the idea of the victim in the first film, and some liked the idea of the complete opposite victim in the 2nd, so since Iíve already tried both, this time I tried combining the victims into Regan Reeseís character.
Another thing was trying to do what I had wanted in the first APSK. I wanted everything in one shot but it seemed like it needed to be cut a little bit so it didnít happen in the first film. This time, with Reganís character, we got it. Her entire 1-hour presence is all in one shot. But since that was too short for a movie thereís about 15-20 minutes worth of other scenes as well. But Regan Reese, the main victim/star, is all in one shot.
Visually I was inspired by A Snake of June, although the main reason that that film inspired me was because it felt similar to visual styles I was already working with, so it basically inspired me to keep doing things my way.
The film's website, MySpace, whatever else?
Fuck MySpace, those bitches, Iíll fucking kill you.
Hereís our once again new MySpace I was encouraged and pushed to finally join only for the sake of the film after those bitches deleted our last account for no goddamn reason. Fuck heads.
http://www.myspace.com/amateurpornstarkiller
But better checking out the site
http://alteregocinema.com/Features/AMATEURPART3.html
And APSK 3D:
http://alteregocinema.com/Features/AMATEUR3.html
How is Amateur Porn Star Killer 3 different from the first two films?
Well thereís the thing with the one shot and the victim being like a combo of the first 2 victims. Aside from that thereís no old film effect for once. I know some people will be pleased but I refuse to be sorry for using that effect, I always had a damn good reason for it. This time I just didnít feel the need to use it. All 3 films were shot pretty much the same way, with the main victim being filmed all in one shot, one take, and then later edited in different ways. But with the first I played up the old film look and the music and some title cards. In the second I really pushed the editing and tried to have a different look and feel than most films, and added history and back story to the killing and victims and with this one I pretty much just tried doing the opposite, leaving everything more subtle. The editing is very simple, there are practically no effects, the music is different (no singing just a simple score), and thereís no kind of title cards whatsoever, just the credits.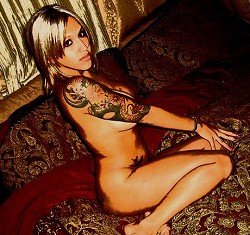 A few words about Amateur Porn Star Killer 3's leading lady, Regan Reese?
Regan was easy to work with and a good sport. We didnít have to rehearse anything for APSK Part 3 aside from how fast she could run while being chased by a car, other than that she had no problem coming up with stuff on the spot. She just has a very chill attitude about everything.
You can check out her personal site here
For the first time, you have actually featured professional porn talent in your film. What's it like to film with actual (as opposed to amateur) porn stars?
In a way itís harder, itís kind of weird. No offense on them but when doing a film like the APSKs with an actual porn star it then starts to feel like Iím making porn, and I donít want to make porn. With actual actors or friends/non actors it feels like weíre doing what I want to be doing, which is making art, pushing boundaries. If it was an action film with no sex and it had a real porn star then it wouldnít matter but sex with a porn star then too closely feels like youíre just making porn and thatís it, so it was a little discomforting. But at the same time itís also easier because you know they probably wonít freak out as much when you first confront them about a movie like this, theyíre more open minded, of course, to sex scenes. If anything theyíre the opposite of actors as far as sex and violence. I met no actors that were afraid of violence, just the sex part. But there were several porn stars who were offended by the violence when I approached them, so it was probably the make love not war attitude, which is cool. For the most part every porn star I spoke with about the film, whether they ended up in it or not was pretty chill, pretty sweet, pretty cool. Sunny Lane I approached on the spot and she easily made up something for the film and did it in a heartbeat and was really cool. So, in many ways, porn stars can be pretty cool, at least the ones I know. I just had the fear of I donít want to be known for porn, so making four APSK films in the first place has made me feel pretty uhh, fucked with my reputation so far.
Both Amateur Porn Star Killer and Amateur Porn Star Killer 2 were shot pretty much in one night each. How long did Amateur Porn Star Killer 3 take to shoot?
5-7 non-consecutive days or 1 night depending upon how you look at it. Regan, as mentioned, was in 1 night. But then I knew I needed more running time on the movie so I took footage from 3 other girls shot 3 separate days and added that in. Originally, those were for segments that were going to be part of an APSK vignette series (or APSK5) but I realized at that point that I was sick of doing them. So, instead of filming several more girls for the vignettes, I used the little bit I already had to complete APSK3. Then I used a bunch of road shots I took on a weekend trip with my girlfriend to fill in the amount of land the killer covered in his quests. And another separate day of shooting in Hollywood which came from my first day of test shooting (originally I was going to have it be in Hollywood instead if in the middle of nowhere).
Wasn't there a story that you actually got arrested (on uncertain charges) while filming Amateur Porn Star Killer 3?
Yeah, you can check out the full story with a couple pictures here
http://pollystaffle.com/specialfeatures/shootingamateurpornstarkiller3d.shtml
You have also recently finished Amateur Porn Star Killer 3D: Inside the Head in 3D. Why 3D, and how does that version differ from your 2D-films?
Donít ask me why 3D, I hate 3D movies, that was the distributorís decision. They wanted APSK3 in 3D but I thought it would ruin the trilogy. I only know of 3D movies being campy horror films, kids movies, full-on porn, etc. But a serious, handheld, dark, gritty, shaky camera mockumentary? I didnít want that. So, I said let me make APSK3 the way I want and then Iíll make a 4th APSK, a parody, which can be in 3D. Itís probably the lowest-budgeted and cheapest shot 3D film ever made, which is part of the reason it isnít finished yet. I wanted a lot of people in it but it just kept getting bigger and bigger and then became a hassle to edit, which has been a whole other mess I wonít go into. But it will be out eventually. The 3D one just highly mocks the trilogy. It was a way of mocking myself and also saying fuck you to everybody I felt like.
You can check out the trailer for it here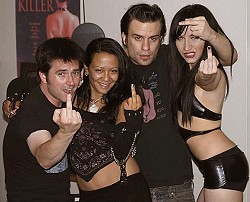 Shane Ryan, Kai Lanette, Dylan Graham, Elissa Dowling on the set of APSK3D
Opposed to the 2D Amateur Porn Star Killer-films, Amateur Porn Star Killer 3D: Inside the Head has quite a large cast. How did filming this one differ from the earlier episodes of the series?
Every time I got somebody to be in it, it was almost always on the fly and I would tell them about Brandon and/or the trilogy (if they didnít already know about it) and have them make fun of it somehow. I spent a year, on and off, doing that. So, it will have a bunch of different segments in it, a bunch of random spoofs and characters.
A few words about Amateur Porn Star Killer 3D: Inside the Head's cast, which is quite stellar (for a no-budget flick at least)?

Feeling lucky ?
Want to
search
any of my partnershops yourself
for more, better results ?

The links below
will take you
just there!!!

Find Shane Ryan
at the amazons ...

amazon.com

amazon.co.uk

amazon.de
Looking for imports ?
Find Shane Ryan here ...
Something naughty ?
(Must be over 18 to go there !)

I got everybody for free up front so thatís how I got some people who normally wouldnít be able to do a non budget flick. Mainly the porn stars had the biggest price tags, actors are more willing to try something new for free, but I would just explain what it was, that in most cases it would take just a few minutes, and it would be fun. A lot of other people I got through meeting other people and working on other films and the more people you know the more you meet and it just kept building basically.
How hard was it to get actual porn talent interested in your film?
Some were really easy, some would apply knowing it was non-paying but then demand money, and some would just flake, but thatís anybody, not just porn stars. One girl who had a bigger part that required full on sex and everything said she worked a minimum of like $400-500 a shoot and I followed with I couldnít pay anything and she just shrugged her shoulders and said thatís fine. So I donít know, it was pretty easy some times, but other times Iíd meet with people several times and then when we go to shoot theyíd change their minds and I just wasted nearly a month (that was equal between porn stars and actors). Itís hard to say. I just ask people and itís yes or no, or maybe, but maybe always means no.
With all the porn talent around, how explicit (in terms of sex and violence) will the movie be?
The joke in the 3D movie is that thereís blood. The APSK Trilogy had not one drop of blood in it because I didnít want it to. It wasnít about that. But, of course, gore hounds who wanted blood and gore were pissed, but it wasnít made for them. So, with the 3D one, it adds blood in the killings only to joke about the fact that the other films have no blood. Kind of a way of spitting in the face of the shit talkers and haters, thatís basically what the whole movie is about, is saying "fuck you" to everybody who slammed the films, and even to some of the people who liked them.
I wonít get into the sex part, youíll just have to see it when it comes out.
When will the film be out?
Basically when Iím finished with it. I was getting overwhelmed with everything so I took a break from the APSKs to make Warning!!! Pedophile Released, which should be done in a few weeks. I only wanted to make one APSK to begin with, I was never a sequel person, so doing four really got to me. Especially when I had no other distributed films to my name. Partly why I believe I havenít finished the 3D one yet is because I was just worn out from it, done with it, I needed something else, to know I could do something else. Well, I know I could do something else because I have multiple times, but do something else that would be distributed.
How sad are you that the Amateur Porn Star Killer-series has (presumably) come to an end?
Not sad at all. Thank goodness itís over, but it was an interesting journey. It will never end though because as the days move on more and more people keeping finding out about the films as if they just came out. I just donít have to make any more, thatís all. I do want to do one thatís like a regular film because my brother had the idea and it wouldnít be anything like the other ones, itíd be like a regular serial killer/detective movie, and it wasnít my idea, so I wouldnít mind that. But no more for me going solo with these, thatís for sure. If anything is for sure.
Do you have any film projects lined up for the future?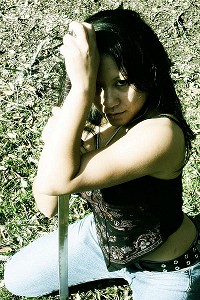 Kai Lanette
Warning!!! Pedophile Released should be next up. Itís told in 3 parts. Hereís the trailer for Part 1
Iím also looking to do a couple films really soon called Loner. Loser. Lover. and StaTICK.
I also, one day, will hopefully finish some old feature films. Sex Kids Party aka The More The Better should be the first.
Trailer: http://vids.myspace.com/index.cfm?fuseaction=
vids.individual&videoid=52568782
Then thereís ill-fated lovers.
Trailer: http://vimeo.com/4996591
And Reality Sucks.
And one day maybe Iíll have a whopping budget of a few measly thousand dollars and get to shoot I Fell in Love with The Devilís Daughter and with a few more bucks Romance Road Killers. We also got a few more films weíre looking to do, wonít say the names yet, I jinx myself enough.
Iíve also acted in several new films along with Kai Lanette (from APSK2) [Kai Lanette interview - click here] including Sean Cainís Silent Night, Zombie Night [Sean Cain interview - click here] , Gregory Hatanakaís No Regrets, Jerell Grayís 999 West Z St. The Movie, and just solo I was in Creep Creepersin's Vaginal Holocaust and Caged Lesbos A-Go-Go [Creep Creepersin interview - click here].
Anything else you are dying to tell us and I have plain forgotten to ask?
Wendy and Lucy was amazing. See it. And even more of a surprise was Weapons with Marc Webber. Wow! Horrible cover caused me to pass it by a hundred times (if it had the IMDB poster I would have bought it in a second). But, wow. I couldnít stop watching it. And a mega big surprise was Fighting. Those are the kinds of films I want to make, if people still think I like gore. Nope. These gritty, hand held, 70ís style character pieces are what get me. See Ďem. The 3 biggest surprises Iíve seen in the past year.
Thanks for the interview.