Your upcoming movie Seize the Night - in a few words, what's it going to be about?
Vampires, werewolves, guns and government conspiracies! A fairly heady blend of horror, sci-fi and action with a strong dose of thriller for good measure.
How did the project come into being, and what were your inspirations when dreaming it up?
Well, I decided I really wanted to make a film of my own after covering FrightFest this year and judging at The British Horror Festival. To do that to the best of my ability I needed a storyline and concept that would really interest me. As I love vampires and werewolves it made sense to me to make a film which included them. The film is influenced by the likes of modern horror / action / sci-fi genre classics Blade, Underworld, Dracula 2001, True Blood and Razor Blade Smile.
What can you tell us about your screenwriter Richard Humphries, and why him, and what's your collaboration like?
Iíve know Richard for a while, through the modern wonder of social media, and worked with him on a couple of other concept projects. I knew that as well as having the skill to translate a story into something workable on screen Richard is himself a huge horror fan, in particular a werewolf mega fan. Heís worked on quite a few indie horrors over in the US and his level of commitment and passion towards what he does is second to none. Even though we are thousands of miles apart we talk almost on a daily basis.
What can you tell us about Seize the Night's approach to horror (as in suspense vs sudden shocks, atmosphere vs all-out gore and the like)?
Itís all about the atmosphere and intrigue for me. Iím not big on gore to be honest, I see it over-used way too much. Horror is not just about gore and rot. Chills, atmosphere and suspense are far more terrifying in my opinion. So for my film Iím only using blood effects where absolutely entirely necessary and in a non-gratuitous way.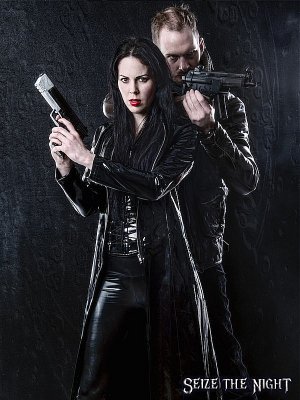 Emma with Carey Thring
You also play the lead in Seize the Night - so did you dream up your character with yourself in mind, and how much Emma Dark can we find in Eva?
Yes, I wear many hats on this project! 100%, there is always something of myself in the creative projects I undertake. I guess you could say Eva is how I might be if Iíd grown up as a fearsome warrior / assassin and then been subjected to 20 years of caged torture. Iíd be keeping my calm as much as I could but when your world is falling down about your ears you never know how you are going to react, which is what I wanted to instil in Eva, sheís progressively become a volatile character.
Anything you can tell us about the rest of your cast yet?
Absolutely! I have up and coming indie actor Carey Thring playing the lead male part of werewolf pack alpha Tobias. Carey is no stranger to horror, playing the lead part of Beaufort Bladamir in indie horror short Audition and even having a part as a crime scene photographer in The Hughes Brothers' From Hell feature with Johnny Depp. Carey was an ideal choice to play the brooding pack alpha with his wolfish looks and ability to transform his emotions with ease.
I also have uber cool monster actor Paul Ewen playing a character breaking part of a human! Paul has played zombies across a wide range of films including Cockneys vs Zombie and indeed and all manner of screen monsters as an industry professional. I really wanted him to have a speaking part in this short though to show how awesome he is as an actor outside of playing a monster. Mark Sears, who I can bet hands down is going to be appearing on the big screen as the next Hollywood baddie, joins playing a part only known as ĎOperative 5í. I canít say too much about that in case I give the game away. We also have some screen newcomers joining the cast including Chris Hampshire and Sharon OíBrien-Lumley who have really blown me away with their level of dedication and they are movie talent that I can see going on to many other things.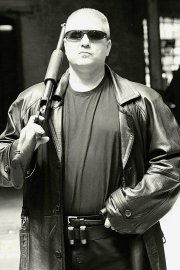 Paul Ewen
As well as some truly awesome cast I have some fantastic crew members, including top Hollywood stuntman of James Bond, Superman and A Clockwork Orange fame Roy Scammell. Roy is providing expert fight co-ordination to our action scenes. I have special makeup effects from Luke Smith FX, prosthetics from Steve Bosworth of Hobby FX and visual post FX from Davy Simmons. Merlyn Roberts of Wyldewood Productions is first assistant director, helping Donato Cinicolo - co-director and Director of Photography. I am really blown away by the expert level of talent involved in this short.
What can you tell us about the intended look and feel of Seize the Night?
Imagine your typical glossy Hollywood sci-fi action film, industrial landscapes, focused lighting and then add a bit of British grittiness. Thatís my vision, until itís filmed, edited and graded of course!
Do talk about your co-director Donato Cinicolo for a bit, and why him?
I met Donato back in 2013 at the London Film and Comic Convention when he was supporting our fight co-ordinator Roy Scammell, who was signing on the day. I worked with Donato a couple of times after that on various film themed photo shoots. He expressed and interest in working on a vampire short back then and knowing heís very well versed in all aspects of filmmaking, including being one of the founders of the St Albans Film Festival, I approached him for a crew role on my film. Having a great eye for cinematography Donato is also director of photography on Seize the Night.
As far as I know, you're currently running a fundraiser for Seize the Night - so what can you tell us about your campaign?
I am yes. As the concept grew I realised that I really needed some backing to help support covering the costs of making the film. From necessary expenses like shoot catering, money towards travel costs, location hire, additional props and costume, equipment hire etc. to promotional costs it all adds up fast and certainly isnít cheap! Having a strong fan base I decided to go down the crowdfunding route and offer my fans and backers of the film some perks for donating that I thought would really grab them. The response has been pretty good so far and will certainly cover some of the very basic costs but Iím really hoping to meet my funding goal of £2,500 to really give this short the wow factor and give it that bit of extra promotion to get everyoneís hard work on the project out there.
https://www.indiegogo.com/projects/seize-the-night
Once your funds are raised, what's the schedule, and even if it might be waaayyy too early to ask, any idea when and where the movie might be released yet?
We are filming the main scenes mid-January actually, so come on funders, get donating! :-) Iíd like the finished product to be ready sometime at the end of Feb to mid March in an ideal world so I can start submitting to festivals. The plan is to get it on the festival circuit first before sending out DVDs or making it publicly viewable anywhere.
Any future projects beyond Seize the Night?
Always! In front of the camera I have a few projects coming up including a cameo on Dani Thompsonís Bad Moon Rising [Dani Thompson interview - click here]. I also have another short film Iíve already made to edit and release but thatís top secret for now. All being well Iíd like to see myself and the team making a sequel to Seize the Night or possibly, with private investment, an adaption of the story into a feature.
Your initial claim to fame was as a model - so what can you tell us about that aspect of your career?
Yes, well, Iíve been a model for around 6 years. I started out with creative and portfolio shoots, mainly in the alternative genre, got published a few times in books, magazine, a calendar etc. I then went on to do some catalogue fashion work, won World Goth Dayís ĎBest Modelí 2013, and then from there went into more of the video related work. Iíve got a strong fan base and am fairly well known on the alternative scene. Iíve worked with some top photographers and have some amazing images to show for all my hard work, and trust me, I have worked very hard indeed over these 6 years. Out of all the fancy glamorous bits and bobs that have come out of that my top moment was appearing in a Dario Argento-related witchcraft spread in Haunted: After Dark magazine, directly on the page before an interview with my absolute favourite horror author Shaun Hutson. That made me very happy indeed! I decided to sideline the modelling though pretty much in pursuit of more creative things, such as filmmaking which I find more rewarding.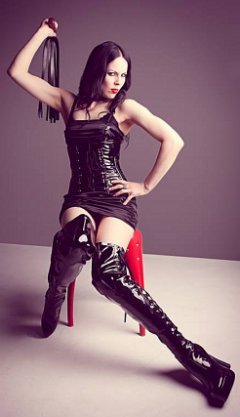 You have also made a name of yourself in horror cycles as a prolific interviewer - care to elaborate?
Indeed I have! I started this partly because modelling just didnít cut it for me anymore, partly because I wanted to prove Iím more than just a face and partly because who wouldnít want to talk to the absolutely wonderful people Iíve interviewed and worked with on those projects. Itís a great opportunity to do something fun with really amazing and interesting people and have something to share back to your fan base at the end of the day.
So what got you into acting and directing, what can you tell us about your film and video work prior to Seize the Night?
The Kim Wilde vamp / ghoul / horror music video I had a lead role in, Everytime I See You I Go Wild, was what really did it for me, acting-wise. Although I really canít say the part was entirely Ďmeí bar the vampiric side, it did open my eyes to what was potentially out there for me. I mean thatís pretty damn neat to have been part of, and to have as much screen time as I didÖ I was pretty gobsmacked by the end result. And I was 33 when we filmed that bear in mind, not a freshfaced young thing just starting out with ten years to Ďmake ití. Then I thought, you know what, Elvira (Cassandra Peterson) was 30 when she started out as a horror actress, stuff it, Iím going to roll with this and see where it goes. And thatís what Iíve been doing since, rolling with things and seeing where they go, pushing myself and testing my creativity.
In all your work, you never seem to stray too far from the horror genre - coincidence, or is horror a genre dear to you and why (not)?
Since as far back as I can remember Iíve always loved horror. I used to have rubber spiders and skeletons as a kid and love anything Halloween like and witchy. My parents used to own a butchers shop and as a small child Iíd often enter the walk-in freezer (which is pretty big when you are tiny) and look at the dead animals, hoping to find a Ďwholeí one to pet. That could have been an influencing factor in my love of horror ;-). Thatís never really changed, I read the local library dry of horror fiction as a teenager and even this year I counted Iíve read 20+ horror novels across 2014. That said I also love sci-fi, particularly dark sci-fi and fantasy and thriller for good measure. I started to properly get into film at around 18 when I could get away with buying as many 18 rated horror films as I liked with valid ID (I looked quite a bit younger than my age).
How would you describe yourself as an actress and director?
I have a creative vision, a vision for myself in the parts I want to play and thatís pretty much the tough woman. Despite my outwardly elfin like appearance I have a pretty tough mind and thatís really where I want to take my acting. I suspect I will never fall into the part of the classic trembling scream queen because it simply isnít me. Give me a Vasquez (Aliens) like role any day of the week! Once upon a time I did actually lift weights and do martial arts and my physique wasnít far off hers. Film direction wise to date Iíve pretty much been a perfectionist, you wonít see much of my creative work out there but Iíve done quite a few corporate videos before. I usually wear many hats on my projects, it would actually be quite nice to Ďjustí be an actress or Ďjustí be a director on someone elseís film, perhaps later in the year.
Actresses, filmmakers, whoever else that inspire you?
As far as actresses go, definitely strong women or at least actresses who play strong women. In no particular order Jessica Lange, Milla Jovovich, Grace Jones, Ali Larter. As far as filmmakers go the list is endless but to name the one person I think is unique, that has made a huge difference on the Hollywood film scene that has to be without a shadow of a doubt Quentin Tarantino. His work is distinctive, hard hitting, uncompromising and on often surprising.
Your favourite movies?

Feeling lucky ?
Want to
search
any of my partnershops yourself
for more, better results ?

The links below
will take you
just there!!!

Find Emma Dark
at the amazons ...

amazon.com

amazon.co.uk

amazon.de
Looking for imports ?
Find Emma Dark here ...
Something naughty ?
(Must be over 18 to go there !)

Oh gosh, there are so many, I wonít be able to list them! I donít have particular favourite films as there are so many I like. Iíll give your readers the name of one film that they probably wonít have heard of but definitely should watch if they like horror - Death Line (a.k.a. Raw Meat). Iím not usually a fan of 70ís films bar the horror classics, but this film is pure genius. The subject matter is relevant if you live in London and will have you watching over your shoulder standing alone on a tube platform late at night. It has one particular long panning shot in it that is absolutely sublime and completely grisly at the same time. Definitely ahead of itís time. Minnnndd the doors!
... and of course, films you really deplore?
Hmm, Iím not sure I have any coming to mind to be honest. Not because there arenít any but because I tend to forget entirely about films I really donít like, and, should I have them on DVD they invariably end up down the local charity shop!
Your/your movie's website, Facebook, IndieGoGo, whatever else?
Facebook - https://www.facebook.com/seizethenightfilm
IndieGoGo - https://www.indiegogo.com/projects/seize-the-night
Twitter - https://twitter.com/EmDarkOfficial, https://twitter.com/SeizeNight
Thanks for the interview!