You are currently busy with post-production of your new film Ratline. In a few phrases, what's the movie about?
The movie is about a man driven to re-open a supernatural floodgate first explored by the Nazi Paranormal Division during the Second World War. The man goes by the name Frank Logan, and due to recent discoveries, he realizes that he may only have a brief period of time to accomplish his vile agenda.
What were your main inspirations for Ratline?
With this movie, I just wanted to do something very strange that would give a fresh twist to the genre.
You kind of understand going into Savage Harvest that you're going to see an Evil Dead style gory b-movie. Going into Scrapbook, you know you're going to see a brutal rape-revenge film. Going into Deadwood Park, you understand you're sitting down to watch something in the style of classic 1960's and '70's horror. But for Ratline, I wanted the first-time viewer to be completely off-balance, not knowing what to expect and not knowing how Ratline would unfold.
I'm very influenced by history. I love writing fiction backed by historical fact. So I did a lot of research on Nazi Germany and especially Heinrich Himmler while writing Ratline. There is a lot of violence, and a lot of horrifying, bizarre shit in that pocket of history, and certainly that influenced Ratline. But I wanted to tap into that without turning Ratline into an over-the-top exploitation movie, like say Ilsa: She-Wolf of the SS. I love those old exploitation movies, but I didn't want Ratline to be like one.
In terms of story texture and characters, the two movies that influenced my development of Ratline the most were Blade Runner and The Third Man.
How explicit in terms of violene will the film be?
Ratline is very violent, and it was important on this project to see as much blood on screen as possible. I am not the kind of director who thinks all movies should be ultra gory. I think the level of violence and gore should be dictated by the story, as well as the tone the director is trying to achieve. For Ratline, the story, and the atmosphere I was trying to generate, dictated we make things as violent and bloody as possible.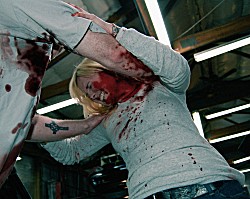 Emily Haack
A few words about your principal cast: There's top-billed Emily Haack, who's something of a regular in your films ...
Emily was a major reason why Scrapbook was such a success for us. Em played one of the leads in that movie. She's a very gifted actor.
For Ratline, she put a tremendous amount of thought into her character and figured the character out on a hundred different levels. That brought great believability to the crazy things that go on in the story.
Em is the best of both worlds - she takes direction very well, so our collaboration not only makes the movie better, it makes our time together on set very enjoyable. But Em also has strong opinions about her character, and if I ask her to do something that she thinks isn't right for her character, she'll talk to me about it, which again, just makes the movie better.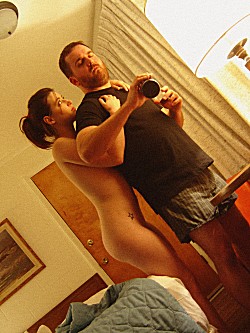 Jason Christ with Amy Rose
... then there's Jason Christ, with whom you've also worked quite frequently in the past and who co-wrote Ratline ...
Well over a decade ago, Jason played a supporting role for me in Ice from the Sun (the first project we worked on together). In the years that followed, Jason and I have worked together on a variety of projects, in a variety of ways.
We've recently started writing together. We wrote a feature script called Seizure (which may or may not ever be produced) and we wrote Ratline together. Jason wasn't too hip to helping me with Ratline at first - he didn't want to be part of a Nazi exploitation movie, like Ilsa: She-Wolf of the SS or something. I convinced him that Nazisploitation wasn't what I was going for with Ratline, and then he was on board.
While Jason can do a bit of everything (writing, producing, editing, directing) his focus seems to be on acting. It is odd to think about, having worked with Jason for so many years, that he's never really played a lead in a movie I directed. Well, I cast him as a lead in Ratline, and he delivered a powerful performance. If the indie film world wasn't aware of Jason as an actor before Ratline, they'll definitely be aware of him after.
I should also point out that Jason is among the most supportive and generous people who work with me. His dedication to Wicked Pixel Cinema is amazing, and his friendship to me is easily one of the things in my life I value most.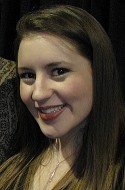 Sarah Swofford
As far as I know, Sarah Swofford is a newcomer to your films ...
I had never worked with Sarah before Ratline. I met her at the Full Moon Horror Convention And Film Fest in Little Rock, Arkansas. Deadwood Park was screening there and Sarah and I were both featured guests at the convention. I could tell right away that I should keep an eye on her as a potential future collaborator. After the convention, I rented Sugar Creek, in which she plays a supporting role, and I discovered that Sarah is an excellent actress in addition to being a cool person.
A few months later, Sarah and I were both featured guests at the Texas Frightmare Weekend horror convention and I took that opportunity to hang out with her some more. She continued to impress me.
Almost exactly one year after meeting Sarah for the first time in Little Rock, she was on set for Ratline, cast in a leading role. She proceeded to impress everyone on the cast and crew. Her level of dedication to the project was incredible, despite the uncomfortable (freezing cold) conditions of the shoot and the long hours she was working. Though she is a much younger actress, her professionalism and her command of her character were on par with veterans Emily Haack and Jason Christ. Sarah did a wonderful job on Ratline and I look forward to working with her again on future projects.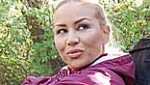 Alex Del Monacco
And then there's of course model Alex Del Monacco ...
Alex and I were both featured guests at a horror convention in Louisville, Kentucky called The Fright Night Film Festival And Horror Convention in 2007. My producer, Jeremy Wallace, ended up talking a lot with Alex and her team. He found out that Alex has built a huge fan base by working tirelessly as a model. She's appeared in various pin-up calendars and several Playboy videos, and she's been a featured guest at tons of comic book, science fiction, pin-up, glamour, and fetish conventions. Jeremy told me that she's been trying to break into the indie horror arena, but the scripts she's been offered have been disappointing. Her hope was to break from her pin-up / Playboy image and branch out by playing against expectations.
As Alex was an incredibly green actress, casting her was a big risk, but her enthusiasm was attractive, and it was actually fun writing a part for someone who was trying to bust out of their typecasting. Alex is used to glamour and maximum sexiness on her photo or video shoots. But her first shots on the Ratline shoot required her to go hysterical, having just witnessed a bloody triple murder. A fun, drastic change of pace for Alex Del Monacco!
Anyone else in the cast you'd like to mention?
I was very lucky in casting Ratline, as all the smaller parts were played by excellent actors as well. DJ Vivona played leading parts in Ice from the Sun and China White Serpentine. He left the acting game for a while, but now he's thinking about getting back into it. He agreed to play a supporting role in Ratline, and he did an excellent job. I've known DJ since the late 80's. It is always a blast to be working on a new and exciting project, but have old friends along for the ride.
Joseph R. Engel played a memorable part in Deadwood Park for me, as Frank, the drive-in theater owner. He kindly agreed to come back and play a part in Ratline. Just like on the last movie, Joe was fun to work with and his performance was outstanding.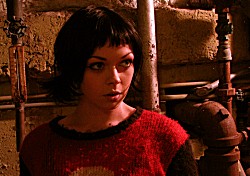 Amanda "Apnea" Pemberton
One of the most interesting casting choices on Ratline was Amanda Pemberton, who plays a supporting role. Mandy is a very successful alternative model who models under the name "Apnea". She was one of the most popular Suicide Girls back in the hey-day of that website. She's been photographed by the top photographers in the field and she's graced the pages of over 70 magazines, appearing on the cover of many. She greatly broadened her fan base by appearing on Playboy.com, and then she broadened it further when she was featured in a program called E-rotic on Playboy TV. Amanda "Apnea" Pemberton was named Top Alternative Model Of The Year by Gothic Beauty Magazine and her most recent accomplishment is appearing in the pages of (and on the cover of) a new book called Bizarre Girls, published by England's popular Bizarre Magazine.
The film's website/mySpace/whatever else?
Updates about Ratline usually show up at wickedpixel.com first.
You can also keep tabs on us via our MySpace pages:
Wicked Pixel Cinema: www.myspace.com/wickedpixel
Ratline: http://www.myspace.com/ratlinewpc
And here are the MySpace pages for some of our wonderful actors:
Emily Haack: http://www.myspace.com/emilyhaack
Jason Christ: http://www.myspace.com/crimsonbeard
Sarah Swofford: http://www.myspace.com/crimsonletters
Alex Del Monacco: http://myspace.com/alexdelmonacco
Amanda "Apnea" Pemberton: http://www.myspace.com/apneatic
Also, check out my weekly celebrity blog at FEARnet.com. It's called Surviving Cinema: Confessions Of A Working Director and it gives you a more intimate and honest look at making a living as an independent filmmaker.
When and where will the film be released?
My aim is to have a first cut of Ratline done by the end of this year. There are no distribution plans in place yet. I'm guessing Ratline will have an early or mid-2010 release.
Leaving the present behind for a while and moving on to the past: What got you into filmmaking in the first place?
I've just always loved movies and I realized at a very early age that I had an interest in making them. I took possession of the family 8mm film camera when I was 12 or 13 and I've been on that path ever since.
In high school, I made lots of shorts, shot on VHS. Then, my senior year of high school, I made a 90 minute feature called The Scare Game. Two years later, I made my only college student film, The Fine Art.
These two terrible student movies were intended as educational exercises. I figured no one would ever see them. But then I was offered a distribution deal for both of these movies, and the next thing I know, they're released on home video all around the world.
While these two student films were never gonna land me a three picture deal at Paramount, it was this first home video distribution contract that pushed me over that line. Suddenly, making movies was no longer my hobby. It was my career.
What can you tell us about your debut feature, which I believe was Savage Harvest from 1994?
Savage Harvest was my first professional movie, in that it had a distribution deal in place before we even started shooting. The project came with the usual indie film problems; specifically, the movie was being financed by outside entities, and that financing fell through right before shooting began. I had a day job in addition to my filmmaking in those days, working for a production company in St. Louis, so I had steady income from that, plus a bit saved up. I decided to finance Savage Harvest myself instead of delay production or abandon the project completely.
It all worked out fine. I don't remember it being much of a hardship, paying for the production myself (it was pretty cheap) and I owned the copyright on the finished movie. After the first two distribution terms were up for Savage Harvest, it was released through Image Entertainment, one of the biggest DVD distributors in North America. We still make money from the Image release of Savage Harvest to this day.
Creatively, the movie is not exactly the highlight of my resume. I was 21 years old when I made it, and I was much more passionate horror fan-boy than experienced filmmaker with a firm grasp of the craft. For years I hated Savage Harvest. But 7 or 8 years after its first release, I realized that it had a substantial fan base who loved it for what it was: a gory, visually frenetic, fun b-movie.
Savage Harvest got a sequel in 2006, Savage Harvest 2: October Blood, directed by Jason Christ. How big was your involvement in this film?
I acted in the movie for Jason. I had script approval. I provided whatever support I could to Jason as he worked his ass off to make the movie he wanted to make. It was a very unique experience, seeing a story I wrote being expanded by another writer into a whole new chapter.
With your film Ice from the Sun from 1999, you were one of the first independent filmmakers to get a DVD-release. A few words about that and the movie as such?
Yes, Ice from the Sun was one of the very first indie films to see DVD release, and it was the very first movie shot on Super 8 film to be released on DVD.
I had done a ton of research about this emerging DVD technology, and I was sure it was a release format I needed to embrace fast. Unfortunately, the people who were hired to author that DVD were not as educated as I was, and their incompetence slowed the whole process down and created a lot of extra work for me. The situation was quite infuriating.
Ice from the Sun was a unique movie for me. I had just done Savage Harvest and I was interested in finding my own voice as a filmmaker (instead of just mimicking my film director heroes). Ice from the Sun took a long time to make - four years. So it is the dominating project of my 20's. Ice from the Sun represents a coming of age period in my life. My youth and lack of experience show up as flaws in that film, but it was good for me to do it. It not only helped me find traction in my creative pursuits as a filmmaker, it also really put me on the map because the movie got a lot of attention for being very unique and fucked up.
A few words about the Severed Head Network anthology movies?
Short films are a way to refine your skills and explore new ways of working, without the burden and responsibility of a feature weighing down on you. But shorts are also a distraction - when what you probably should be doing is advancing your career by making another feature! We had made some short films between Savage Harvest and Scrapbook. We decided to put them together and supplement them with some shorts made by filmmakers outside of the Wicked Pixel Cinema organization. That's how The Severed Head Network came together.
What can you tell us about Scrapbook (2000)?
Scrapbook started as a concept in Tommy Biondo's brain. He played Leonard in Scrapbook, and was also that movie's production designer.
On the first day of shooting, it was obvious how intense Scrapbook was going to be. We shot the first rape scene on the first day and it was very hard to watch. I looked at cast and crew and explained that, if we stay on the path we're on, Scrapbook is likely to be seen by about 10 people and then simply vanish. I asked if everyone wanted to continue and they all said yes.
I was very wrong about how many people would see Scrapbook! It is probably my most seen and best reviewed movie. Ice from the Sun may have put me on the map, but Scrapbook has given me the most positive attention as a filmmaker.
Could you talk for a bit about I Spit on your Corpse, I Piss on your Grave (2001)?
This movie was made during a period in which I put Wicked Pixel Cinema, my own production company, on hold for a while. I was a producer for hire, working for production companies in New York, the UK, and in France. It was for French producers, working in partnership with executive producer Ron Bonk in New York, that I made I Spit on your Corpse, I Piss on your Grave. I was asked to make a 70's style exploitation picture in the vibe of - you guessed it - I Spit on your Grave.
But then the French producers started pushing us to make the movie nastier and nastier. I am a fan of exploitation movies, especially many of Joe D'Amato's films [Joe D'Amato bio - click here], so instead of getting upset by the French producers' demands, I embraced what they were going for and launched my own D'Amato-style sleaze extravaganza.
I decided to go for the throat and make I Spit on your Corpse, I Piss on your Grave the most in-your-face exploitation film I could make. Not only did I think this would be a blast, it was a very healthy way for me to vent a lot of anger that had built up in me at that time. The indie filmmaking game can be extremely cruel, especially if it is your job and not just your hobby. A lot of business associates (all of them were outside of my own team) had stabbed me in the back and greatly impacted my income in the couple of years leading up to Spit. Instead of hunting people down and stabbing them in the throat, or slipping into a bottle of booze, I made I Spit on your Corpse, I Piss on your Grave. It was wonderful therapy!
Surprisingly, all of the cast and crew were enthusiastic about making such a vile movie too. It is odd to say it, but we had a blast making Spit.
The movie was produced under poor circumstances, though, and that impacted the quality of the final product. We had almost no money to make the thing. We had to shoot it in eight days, and I only had Emily Haack - the leading actress in the movie - for three of those eight days!
Worse, my post-production time was incredibly short. For a while, I was editing in 20 hour shifts, trying to meet the deadline. In the end, these things impacted the movie considerably. I was eager to please my new bosses, so I let it go down this way. But today, a bit older and wiser, I would not make the movie under those circumstances. I'd ask for more time or simply not make the movie.
If you want to check this movie out, look for the Official Director's Version-DVD. This re-release version is extended, better edited, and has better music because Ron Bonk let me go back into post-production on Spit and fix a lot of the movie while he was planning this DVD re-release. It ain't like it's an Oscar-worthy movie now, but it's a huge improvement over the initial, shorter, sloppier release.
To date, I Spit on your Corpse, I Piss on your Grave, is the worst reviewed - and most profitable - movie of my career. Quite an experience.
What about China White Serpentine (2003)?
China White Serpentine was another movie I made working for outside producers, while my own production company Wicked Pixel Cinema took a nap. Again, I was working with executive producer Ron Bonk in New York and, if memory serves, producers in the UK, and some of the same people in France who produced Spit.
China White Serpentine was produced in my older and wiser wake of I Spit on your Corpse, I Piss on your Grave. I demanded more time and I worked very hard to make China White Serpentine a much better movie for these outside producers who still seemed impressed by me and eager to work with me.
At the time, my schedule was insane. After the horrors of dealing with the idiots who authored the first Ice from the Sun DVD, I started my own DVD authoring company called Thrill Ride Media, which I co-owned with Lisa Harness, who had been instrumental in coordinating Scrapbook's post-production.
For years, Thrill Ride Media was the top DVD authoring company in America for independent films. Plus, Thrill Ride Media was handling all the post-production and DVD authoring for all these side projects I was producing for Ron Bonk. The same year China White Serpentine was shot, I was also a producer on four additional independent features. Looking back, I have no idea how I carried on that schedule - for more than three years - without putting myself in the grave.
I became very attached to China White Serpentine, partly because I loved the story, and partly because I wanted to prove I could do better than I Spit on your Corpse, I Piss on your Grave. Robin Garrels came to my rescue. She had a lot of live theatre writing and directing experience, and a bit of experience in the indie film trenches, all of which I was impressed by. Robin co-directed China White Serpentine with me, which was a perfect situation. I still got to do what I wanted to do as a director of that movie, and Robin's involvement minimized the pressure on me. Plus, she brought a lot to the movie artistically, making it a much greater creative achievement than if I had tried to do it alone.
In the end, I was very proud of China White Serpentine, but it only saw successful release in Europe. In the States, the distribution machine stumbled a bit and the movie was barely released at all. Twice, China White Serpentine has been released on DVD, and both times problems on the distribution end kept China White Serpentine from gaining any traction in the marketplace or with the fans. It got pretty good reviews, but beyond the film critics, hardly anybody saw it.
A few words about Deadwood Park (2007)?
After working as a producer for Ron Bonk for three or four backbreaking (but profitable) years, I decided to change gears again and dust off my own production company Wicked Pixel Cinema. Thrill Ride Media was now failing financially, so I dissolved that company and returned my focus to being a filmmaker.
Our first movie of this re-launch was Deadwood Park, a creepy, atmospheric horror movie in the style of 60's and 70's horror films. It was a very long shoot and the whole project, from pre-production through post-production was three and a half years. I loved the movie we were making, and I enjoyed the process of making it very much. Upon release, it got great reviews. More importantly, it gave me more credibility as a viable filmmaker. Before Deadwood Park, a lot of industry people considered me no more than a micro-budget exploitation filmmaker (thanks to movies like Scrapbook) or someone who made weirdo experimental art films (thanks to Ice from the Sun). Name actors - and investors looking to sink big bucks into a movie - did not have me on their radar.
After Deadwood Park, that started to change. Before the funding dropped out, my follow-up to Deadwood Park was going to be Seizure. Adrienne King (star of Friday the 13th), Zelda Rubinstein (of the Poltergeist-films), Jim VanBebber (of Deadbeat at Dawn and The Manson Family), and horror icon - and Golden Globe winner - John Saxon (of A Nightmare on Elm Street) all signed on to be in Seizure after seeing Deadwood Park.
Any other films you have directed I have forgotten to mention?
I think you've hit all the features. On The Severed Head Network DVD, there is a surreal short film that I directed called Faith In Nothing and an abstract micro-short (60 seconds long) called Cent that turned out pretty cool.
Once Ratline is done, do you have any future projects down the line?
There are plenty of options as to what might follow Ratline, but nothing is set in stone. Some new interest in Seizure has come to the surface, but I don't know if anything will come of it. We started shooting a project called Flesh for the Devil right after Deadwood Park was done, but Flesh for the Devil was shelved for a variety of reasons, primarily financial - but it may come off the shelf and be completed after Ratline, if the circumstances are right. Also, I have a zombie movie - with a very unique spin - developing in my brain at this time. And I wrote a big post-apocalyptic horror movie called Butcher's Moon that I would love to see enter production.
Mostly, we are interested in gaining new partners on the financing and distribution ends of things. If that happens, I'd be eager to see what projects they'd like me to direct.
You have also produced numerous films, three of which I'd like you to talk about just because I love their titles: Bizarre Lust of a Sexual Deviant (2001), Inbred Redneck Alien Abduction (2004) and Satan's Cannibal Holocaust (2007).
I produced all these movies during that time period that I was working for Ron Bonk. His production and distribution company was called Sub Rosa Studios and he partnered with me to create the Sub Rosa Extreme-line, which includes the movies you mention, plus I Spit on your Corpse, I Piss on your Grave and China White Serpentine, and many more - all of them gems, I assure you! It was this business arrangement with Ron that gave me the workload that nearly killed me between 2001 and 2004.
Bizarre Lust of a Sexual Deviant, a standard exploitation schlocky b-movie, launched the Sub Rosa Extreme line. It was the first title out of the gate, it had a very rocky production, and it primarily survives today because the actors' performances are way better than they need to be for this kind of movie - most notably, Jason Christ plays the lead and he does an outstanding job.
Inbred Redneck Alien Abduction is a goofy science fiction b-movie comedy. Hillbilly humor and anal probe jokes galore. It was written and directed by Patrick Voss and it is actually a very funny, entertaining movie, if you are into that sort of flick. I'd say this is one of the better titles to emerge from Sub Rosa Extreme. It is hard for me to look back on most of these movies, however, with any level of fondness, just because they represent such a stressful time in my life.
By 2005, I was done launching new Sub Rosa Extreme feature productions, but a few projects were still in the works and in need of completion. One such project was in development in 2005 and it slowly worked its way through production and post-production, to be released in 2007 as the final Sub Rosa Extreme movie. This was Satan's Cannibal Holocaust, a ridiculous but very entertaining movie about a cannibal cult infesting subterranean catacombs and emerging at night to abduct homeless people and eat them.
The director of Satan's Cannibal Holocaust is Jim Wayer, who is today my right hand man in Wicked Pixel Cinema's day-to-day operations [Jim Wayer interview - click here].
Any other films you've produced you'd like to talk about?
I was the executive producer on Five, a feature which is now entering post-production. The movie stars Jim VanBebber, Amanda "Apnea" Pemberton, and five-year-old Evie Dodson. Five is set in the early 90's and it is about family and work-related dramas unfolding in a typical blue-collar household in a Midwest factory town - all seen through the eyes of a five year old girl. The movie is directed by Jessie Seitz. Jessie was the production designer and co-story-writer on Deadwood Park, and she is a producer on Ratline.

Feeling lucky ?
Want to
search
any of my partnershops yourself
for more, better results ?

The links below
will take you
just there!!!

Find Eric Stanze
at the amazons ...

amazon.com

amazon.co.uk

amazon.de
Looking for imports ?
Find Eric Stanze here ...
Something naughty ?
(Must be over 18 to go there !)

A few words about your production company, Wicked Pixel Cinema?
I founded Wicked Pixel Cinema in 1995, after finishing Savage Harvest.The first Wicked Pixel Cinema movie was Ice from the Sun.
I want Wicked Pixel Cinema to continue re-inventing itself as the years go on. I don't want Wicked Pixel Cinema to fall into a rut. We make a very different kind of movie each time a project gets the green light. This keeps things exciting for me and my team, and hopefully, this is exciting for our fans. I like the idea of people wondering what the hell Wicked Pixel Cinema is gonna surprise them with next.
You work as director as well as producer, as writer as well as actor. Which part of filmmaking do you like best?
I love all the aspects of making movies, but directing is my top passion.
Some filmmakers who have influenced you?
George Romero, Francis Coppola, Stanley Kubrick, Mario Bava [Mario Bava bio - click here], Terrence Malick, William Friedkin, and David Cronenberg.
Your favourite movies?
Romero's original Dead-trilogy, Apocalypse Now, Paths of Glory, 2001, The Shining, Black Sunday, Days of Heaven, The Thin Red Line, The Exorcist, The French Connection, Videodrome, Don't Look In the Basement, Close Encounters of the Third Kind, Blade Runner, Pi, The Prowler, Two-Lane Blacktop, The Changeling with George C. Scott, and the Band of Brothers miniseries.
And of course, some films you really deplored?
I tend to avoid Hollywood bloated-budget crap, and I tend to cut some slack for low-budget indie films for obvious reasons. So, I don't see many movies that infuriate me. When I do see a really bad movie, it is sometimes because someone told me how terrible it is - and I then see it out of morbid curiosity (for example, Uwe Boll movies). When the reviews are really, really terrible (for example, the recent Day of the Dead-remake, or Creepshow 3) I don't waste my time or money at all.
I'll be honest - I'm not a big fan of what's been hot in genre films of recent years. I can't get into Eli Roth movies, for example. Also, I saw Hatchet because of the glowing critical praise Anchor Bay purchased for the film, but the movie did not live up to the hype for me. However, I hesitate to say I deplore these movies.
Most of the time, when I don't like a movie, I don't crucify it. I just assume that the director was throwin' something out that I didn't care to catch. Just because it wasn't my cup o' tea doesn't mean the director failed.
On the other hand, there have been a few stinkers over the years that made me very angry that I'd spent my hard-earned cash to see them. Gus Van Sant's Even Cowgirls Get the Blues was probably the first film I saw in the theater that was so stupid I complained about it for months. I paid to see Brian De Palma's The Black Dahlia in the theater and I was irate at how bad it was. Rob Zombie followed up his excellent Devil's Rejects film with the terrible Halloween-remake. Romero's most recent zombie flick, Diary of the Dead, was pretty awful, I'm sorry to say. And a decade ago, I got scammed into seeing The Mummy starring Brendan Fraser and I have been pissed off about it ever since.
Anything else you are dying to mention and I've just forgotten to ask?
Yes! I'm a featured guest at the Texas Frightmare Weekend horror convention in Dallas, TX, May 1st through the 3rd 2009. You can go to texasfrightmareweekend.com for info and tickets. It is a great convention - one of the best we've been to. Pick up some tickets and stop by the Wicked Pixel Cinema table to say hi!
And thanks for doing this interview, Mike. It has been a pleasure!
Thanks for the interview!