Your first (and so far only) feature film as a director has been called Satan's Cannibal Holocaust. Can you tell us in a few phrases what this film is about?
The film is my directorial debut feature. The story follows the young journalist Kelly Cauldwell (Sheila Theile) as she is working on her next big article about her father, Mayor Caldwell (Michael Ketcher), and the wonderful things he has done to clean up the city. She slowly starts to reveal the true secrets that lurk in the shadows and the existence of a mysterious, flesh eating society that cannot let her knowledge reach the public's ear.
A few words about your cast and crew?
My cast was made up of actors that I have worked with in the past on short films and actors that auditioned for certain roles. My crew was small, but consisted of solid people in the industry who I had worked with on many different projects and some that I continue to work with even today. I made Satan's Cannibal Holocaust before I was really in full swing of being a member of Wicked Pixel Cinema, so some of the crew were old friends who I started this whole filmmaking journey with and some were also future Wicked Pixel Cinema members as well.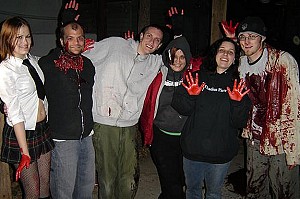 Satan's Cannibal Holocaust's cast and crew
after a bloody shoot
How explicit is the film in terms of gore and violence?
There is a good amount of both! I had helped with the special FX on the film a bit and have always loved the goodness of being soaked in blood after a long shoot. Since then, I have expanded my knowledge of special FX a hundred times over and actually am the Effects Artist on Wicked Pixel Cinema's current film Ratline. If I knew back then what I know now, the gore and violence would have been unstoppable. There are a few moments though in Satan's Cannibal Holocaust that definitely will satisfy any fellow gore hound's appetite. Whether that be a sadistic school girl torturing her victims for pure delight and pleasure, or two naked initiates rolling around, bathed head to toe in blood during a sacrificial ceremony, the amount of blood and gore is delightful!
The film's title is an obvious reference to Ruggero Deodato's masterpiece Cannibal Holocaust [Ruggero Deodato bio - click here]. Was that film at all an inspiration for Satan's Cannibal Holocaust?
This has been one subject of attack on the film itself and let me say I am a huge fan of Deodato's Cannibal Holocaust and enjoy every squirmy moment of that movie. Whereas that was just one of many films that have inspired me in general, the film was not a direct persuasion on Satan's Cannibal Holocaust and my film also was not any attempt to rip off that film. I have caught plenty of grief because the words cannibal holocaust are in the title, however executive producer Ron Bonk is the one who actually titled the movie, not me.
I didn't have any objections to the title either. To me the title was more to the effect of my other love for light hearted, bloody and enjoyable B movies such as Satan's School for Girls, Satan's Cheerleaders, or Satan's Sadist.
Other inspirations for your film?
My inspirations come from every angle of cinema, from the beautiful lighting and color of Suspiria, the amazing FX (for it's time) of The Beyond or Zombie, to the wonderful and memorable characters of Return of teh Living Dead or The Toxic Avenger. Since Satan's Cannibal Holocaust, my inspirations have shifted a bit as I have focused more on the Special FX side of everything.
For Ratline I sat down and watched a lot of movie with FX work done by Greg Nicotero, Stan Winston and Dick Smith. These are my top inspirations for the FX work and I actually had the pleasure of meeting Greg Nicotero at a convention in Dallas last year and got to talking about a lot of the fun and messy aspects of the job. I must also say, not in the FX department, but other recent inspirations for characterization and storytelling have been Firefly and Serenity. If you haven't had the chance to check out these series, do it! It will hook you in and will never let go!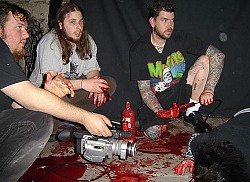 Jim Wayer and crew shooting another
gore scene
The film was produced for the Sub Rosa Extreme label. How did production come into being in the first place, and a few words about the Sub Rosa Extreme line?
This is actually the very last of the Sub Rosa Extreme line, and production first came into place when executive producer Eric Stanze asked if I was interested in directing a feature film [Eric Stanze interview - click here]. Eric had seen some of my short films and believed that I could produce and deliver a film that would fit perfectly into the Sub Rosa Extreme line of films.
I had worked as assistant director on the director's cut of I Spit on Your Corpse, I Piss on Your Grave and felt at home with the fast paced environment of these Sub Rosa Extreme films. I started back in high school shooting short films in one night and won Best Writing in the 48 Hour Film Fest 2004 in St. Louis, so the fact paced, run and gun style of film making was like second nature to me. I gladly agreed to the challenge and developed a screenplay with Scott D.Muck based on a story Ron Bonk tossed our way.
How did you get into the (independent) movie scene and what were your film experiences prior to Satan's Cannibal Holocaust?
I started developing an interest in this field back in high school. I took some video production classes, shooting on VHS and editing on linear deck to deck editing systems. I actually developed such a love for the craft that me and a friend of mine more or less created our own class called Independent studies in Video Production which no student at the high school ever had pursued before. So one of the classes my senior year consisted of us two students, working on various projects and the final exam was that we had to turn in a completed 20 minute short film. That year I also joined a small indie group of film makers and friends called Chuck Dixie Productions.
We produced and created various short films and I had a lot of fun. I quickly started to realize that I wanted to progress and do more and more in this field so within a year I parted ways with Chuck Dixie, and together with close friends who also wanted to do more with it, created my own small company called Thadius Pictures (which is the company name used on Satan's Cannibal Holocaust). After the formation of Thadius Pictures, we set out on doing a few one-night, quick shorts and competed in the 2004 48 Hour Film Fest, then decided to start taking it seriously. So we raised funds, auditioned and set out to create a short film titled Love's Revenge (which appears as a bonus feature on the Satan's Cannibal Holocaust DVD).
From there on I found Wicked Pixel Cinema and joined up with them on the feature film Deadwood Park, where I served as Key Grip and Key Sound Design Assistant. Since then, I have been fully sucked into Wicked Pixel Cinema and work here full time. Currently we are moving into post production on our latest film Ratline.
Since Satan's Cannibal Holocaust has come out, you have hooked up with Eric Stanze (who executive produced your film) and his Wicked Pixel Cinema [Eric Stanze interview - click here]. How did that come into being, and what can you tell us about Stanze and his company?
I first approached producer Jeremy Wallace about helping out on their film Deadwood Park. A friend of mine had shown me the Wicked Pixel Cinema website (which oddly enough I am supervisor of now), and I followed them closely as they were actually doing what I had been trying to do for years: make good movies and continue to better themselves at the craft.
I saw the opportunity to help out and work on Deadwood Park and jumped at this chance to meet the filmmakers that I had been stalking online for months by then. Being on set of an indie film, and especially on a Wicked Pixel Cinema feature, you quickly find that it is a very family type environment and that when a group of people slave together for months, and more or less live together for weeks on end, you develop very deep relationships and feelings of brotherhood that you cannot find in any other facet of life. By the end of production on Deadwood Park, I was fully hooked into Wicked Pixel Cinema and knew that they would have to force me away at gunpoint to get me to leave. So here I am now, working full time at our studio and bugging Eric Stanze on a daily basis!
One of the biggest things I love about Eric Stanze and all of Wicked Pixel Cinema is that there are no egos floating around that would cause drama or slow down the progression of the company. Even though Eric is the boss, he is never controlling or arrogant to the point of thinking he automatically knows more than you since he has been doing this for two decades. Even if he thinks you are wrong on something or he thinks his idea is better, he will always give you the opportunity to state your case and always has an open ear to anything you need to talk to him about or ask him about. This well oiled machine that is Wicked Pixel Cinema continues to amaze me on a daily basis. We always strive to better the company and are constantly trying this or that, and coming up with some amazing ideas and actually executing those ideas. I can honestly say, without bias, that no company in the world who works at the budgetary level that Wicked Pixel Cinema does can boast the accomplishments and levels of quality that we can.
Both your film and Stanze's films are essentially horror films. Is horror a genre especially dear to you?
It is to a point. I have worked on plenty of non-horror films and I can honestly say that not only is horror the most fun genre to work on, but the smell of fake blood brings nothing but happy memories to my brain. Horror sparks some great emotions in people and the feeling of being able to make someone squirm, jump or outright piss themselves from fright is quite interesting.
The whole concept of what the person is seeing is obviously a movie, even if the scary man with the machete was real, he is still trapped in the glass box that is in front of you. Realistically there is no reason for anyone to be frightened by simple images displayed in front of you, but seeing the reactions of people who are generally freaked out and will physically jump at scares in a horror film is amazing. It takes me back to a book I read written by the crazy and amazing Walter Murch, where he explains the human mentality when it comes to movies and, if done correctly, how the movie can actually put the viewer into the film and they will totally forget that they are sitting on a couch wrapped up in a blanket with a big fat bowl of popcorn on their lap.
People will laugh at comedies with their funny jokes or high jinks, or cry during a drama where the story or situation is related to personal experiences in the viewer's own life, but very seldom has a viewer been chased around by a possessed red headed doll or had to refrain from sleeping cause a psychotic child murderer would kill them in their dream world. I enjoy all genres of movies, there are plenty of non-horror films that I would rank up there in my favorites of all times, perhaps more so than a lot of horror films, but when it comes to making the movie, I love to watch the audience react to a person holding up a fake head that I made in complete horror and astonishment, fearing that their head may be the next one this killer decides to take.

Feeling lucky ?
Want to
search
any of my partnershops yourself
for more, better results ?

The links below
will take you
just there!!!

Find Jim Wayer
at the amazons ...

amazon.com

amazon.co.uk

amazon.de
Looking for imports ?
Find Jim Wayer here ...
Something naughty ?
(Must be over 18 to go there !)

What are your thoughts on today's state of horror cinema, both in the mainstream and the independent scene?
Today is pretty simple to sum up. Mainstream horror equals remakes and sequels, where no one really has to put that much effort into the film itself. Marketing can be tricky for these movies, but they already have a good stable foothold in the fact that this title has a name for itself and a fan base that has steadily grown over the years. The movies themselves have been pretty much crap. There have been some refreshing modern day mainstream horror movies (The Descent, Saw, The Strangers, 28 Days Later/28 Weeks Later) and even some good modern remakes/sequels (Dawn of the Dead, Devil's Rejects, The Ring), but for the most part it's either a crappy remake of an awesome original movie or a crappy, water downed original movie.
On the other side in the independent realm, you have a broader degree of crappiness and amazing originals. If I had to lean towards a favorite side of the two, I would definitely swing to the independent side. The strides that serious independent horror film makers have made have been very inspiring. I am very annoyed when I see great modern day horror films like Frontieres or Dog Soldiers that don't get the respect or push they deserve.
I am constantly finding some of the most amazingly modern original horror flicks that I have never even heard of because they are passed over by the press so that the latest big budget crap fest starring some glorified douche bag can have a giant spread trying to make the movie seem so awesome. That is another thing I truly respect about the independent world of film making in general. When a group of people are motivated to produce and create a movie by their love for the craft and genre and not by the goal of breaking box office numbers, you can see the passion behind the movie. When you watch a movie like FearDotCom or Gothika, all you see is an over budgeted piece of crap trying to make money off horror fans. Now when you see a movie like Severence, or Pi you can see and feel the passion and determination behind the flick to make it the best that it can be.
Do you have any plans to ever direct another movie?
If the opportunity comes up and I actually have the time to do such a thing, I would not turn it down. I have written a feature length script that I would someday love to direct, but as of now, I have way too much on my plate as it is. Directing a feature film was a dream I always had and one that I have accomplished with pride. I have found also that directing a movie is an enjoyable experience, but being able to focus down on a single area such as lighting or special FX allows me to accomplish much greater outcomes and in the end, whatever project it is, benefits from that a lot more than me trying to control everything. Right now, I would much rather focus on lighting (something I have an unnatural lust for) or special FX during production and then marketing and graphic design work between projects.
Film directors who have influenced you?
I would have to say some of the greater influences have come from people like Dario Argento, Alfred Hitchcock, Lucio Fulci [Lucio Fulci bio - click here], George Romero, George Lucas, and even Sam Wood. These are the greats who in their own ways have influenced not only my cinematic experience but the mentality and view I have on the process itself. I also continue to be influenced and inspired by modern day directors like Darren Aronofsky, Robert Rodriguez, Zach Snyder, Joss Whedon, Lloyd Kaufmann, and Trey Parker. These all are directors who continue to pump out great movies and are nonstop with their pursuit of bettering themselves and their art.
Your favourite films?
There are too many to really list. I enjoy movies in general, and enjoy that feeling of being sucked into a film and its universe and having that feel of really being there. Any movie that has me still imagining myself in that universe hours or sometimes days after watching it is on my list of favorites. Watching a movie is the best way to really settle my brain down and relax sometimes and so my favorite movie changes from hour to hour depending on what my mood is. Sometimes I want to sit down and watch a movie like I am Legend to get that really thoughtful and isolation feeling. Other times I would want to pop in Hot Shots and just laugh my ass off at ridiculous humor and not think about anything. A lot of times I want to dive into Firefly and Serenity, because being aboard Firefly with her crew would be amazing.
And films you really hated?
As many films as I love to watch and indulge myself into, there are probably just as many ones as I hate with a fiery passion. I am open minded to a lot of movies, even ones that are not the best quality, but have full heart behind them. I understand that there are people out there who desire to get into film making and everyone starts out with making bad movies and progress with each project getting better and better (just an example my first short outside of school was a short called The Killer Vagina, yes, a classy picture!).
I actually love seeing these first few films, knowing that this is where this filmmaker started. At the same time, when the cast and crew of a no budget film obviously put no effort into the movie at all, or spent more of the budget and time partying and being fucked up than actually working on something, it makes me want to find something metal, heat it up till red hot and shove it into their eyeballs. There are many filmmakers out there who put no effort into the movie and pull together a big feature length pile of crap and then expect to be showered with praise. These types of film makers and their films are as bad as the ones who have hundreds of millions to make a movie and wind up with an expensive turd. That is my rant for this section.
Anything else you are dieing to tell us and I have simply forgotten to ask?
Go to wickedpixel.com! Make sure you stay up to date on our current film Ratline. When that thing comes out, the world will never be the same and trust me…the bar shall be raised again!
Thanks for the interview!
Thank you!