Your character Super Inga - in a few words, how would you describe her and the adventures she tends to have?
Super Inga is strong and self-possessed. She's a blast for me to draw and for readers to look at... AND she's a total magnet for weirdos! She constantly gets herself into and out of bizarre situations... as if they were skimpy costumes.
Super Inga first saw the light of day in Caleb Emerson's movie Die You Zombie Bastards! [Caleb Emerson interview - click here] - was she initially created specifically for this movie, or did you have her in mind as a series-character from square one?
She was one of the smorgasbord of colorful characters Caleb and I created for the world's first ever serial-killer superhero rock'n'roll zombie road movie romance Die You Zombie Bastards!.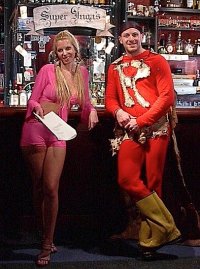 Super Inga (Sandra Kennedy) with Red Toole (Tim Gerstmar)
Your sources of inspiration for Super Inga, the character?
Well, the character of Super Inga in the all-female Swedish village that we encountered in Die You Zombie Bastards! was conceived as a tribute to Russ Meyer. Caleb and I share a deep admiration for Meyer's individualistic vision and maverick sensibilities. Super Inga was intended as a tip-of-the-hat (or brassiere) to the tremendously powerful, hyper-sexualized female characters that populated Russ Meyer's larger-than-life universe.

My comic book Super Inga is another iteration of the character from Die You Zombie Bastards!, emphasizing different aspects of this archetypal female force of nature. When we met her in the movie she was in her element, in charge - the alpha female. In the comic there's no doubt that she's the top dog, but everything hinges on the fact that she is OUT of her element, like a female Flash Gordon. And like Flash, we all know that she will prevail no matter how the odds are stacked against her.
Let's return to Die You Zombie Bastards! for a bit - how did that project come into being in the first place, what can you tell us about your writing partner/director Caleb Emerson [Caleb Emerson interview - click here], and what was your collaboration like?
Caleb is a genius. Fortunately, so am I - and somehow we work totally naturally together. We share a lot of the same obsessions but he and I each have enough diversity in our own interests that can allow for somewhat disparate ideas to pile up nonsensically but still ultimately make sense. Does that make sense? I think we both come up with things that the other never would have, while at times it's like we are thinking with only one big, throbbing brain between us. Wait, would that count as genius or a mental disability? Sometimes it's hard to tell.
I have described Die You Zombie Bastards! as "Troma on speed" - a comment you can at all live with?
Absolutely. Your comment is great because it acknowledges that we are born from the same toxic sludge as Troma, but we don't make "Troma-movies". Only Troma can make Troma-movies. Although we are inspired by Troma, we also draw inspiration from a lot of other areas, so ultimately what we make is our own - it may be loaded to the gills with hommages, but we don't manufacture imitations. We only put the Zombastic label on products that are 100% genuinely authentically ours.
Anyone who does a little bit of digging will find that our connections to Troma are too many to explain in a single interview, but we certainly love, respect and owe a lot to Uncle Lloyd. If you can imagine, for a moment, a planet of Truly Independent Filmmaking, Lloyd Kaufman would actually BE its white-hot, sizzling core that most people on the surface are content to ignore. If he were to then take the form of a human living in that volcanic core, he would be a sulphurous, shirtless god-beast like Hephaestus at the center of it all, sweating bullets, screaming fiery vengeance and forging armor and hammers for our demon-horde of staunchly original cinematic visionaries.
A few words about Sandra Kennedy, who played Super Inga in Die You Zombie Bastards!?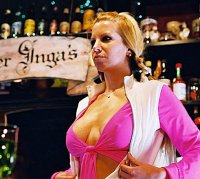 Sandra Kennedy
What a gal. Thank you, again, Troma. When Caleb was working on Citizen Toxie back in 1999 with Joe James (Officer Konash), we had just finished up the script for Die You Zombie Bastards! and Joe had just finished working on Wet Hot American Summer with Sandy Kennedy. So that's how we found her, and were we ever lucky that we did. She was a consummate pro and committed pages and pages of our ridiculous monologues to memory. We were on SUCH a tight shooting schedule... if she hadn't been able to run through almost everything in a single take we would never have gotten that scene. If I remember correctly, after Die You Zombie Bastards! she went on to be an arena football cheerleader, a TV sportscaster, some kind of high-end celebrity stewardess, had her own radio show and god knows what else. Oh, and she was on Blind Date once.
You have turned Super Inga into a comicbook only now, some seven years after Die You Zombie Bastards! - to put it bluntly, why the gap?
We've always had spin-off and sequel ideas... I actually have a full script for Die You Zombie Bastards! 2 that's a wilder, hairier ride than the original - I mean, half of it takes place at SEA! We really would love to make it, but the thing that has been holding back sequels, comic books, etc. is one very, very mundane thing, that root of all evil: money.
Frankly, independent creativity - be it film-making, music, art, whatever - tends to not generate a lot of income. Without a lot of income, it's hard to keep making what you want to make. So this slows down the output. Since we made Die You Zombie Bastards!, Caleb has managed to make another, TERRIFIC film (on a shoestring), Frankie In Blunderland. You do what you can and it is what it is. When you get down to it, do Caleb and I wish we could make, say, a film every year? Sure. And I think Caleb is probably heading in that direction [Caleb Emerson interview - click here]. But time and money are always in short supply.
People ask all the time how come there hasn't yet been a sequel. It will be a tough one to pull off, on a number of levels. But with the right amount of moohlah, we could do it. In fact, we've done an awful lot with the WRONG amount of moohlah. So, if anyone wants to fund the sequel, get ahold of me or Caleb. I guarantee that it will be amazing.
How did the Super Inga-comicbook come about?
A former student of mine, Adam Miller, played a zombie in Die You Zombie Bastards! - he's the one who kills Stavros in the woods of West Virginia. Well, Adam got infected with this zombie thing. He went on to become Creative Director for an indie comic company and he co-created this really top-notch, dynamite comic anthology called ZombieBomb!. Anyway, given my zombie background, he asked me to write a 3 to 5 page story for it and that's when I started to develop this Super Inga-story. They were knocked out by it and said they wanted to do it as a stand-alone book - which I never expected. But what a dream-come-true... the opportunity to completely write and draw whatever I wanted, from the ground up, and know that it would be professionally lettered and colored and treated to a lavishly printed format? Hell, yeah! So with Adam's encouragement, I plunged headlong into Super Inga's past, present and future.
Give us a quick lowdown, what is the Super Inga-comicbook about?
ZombieBomb Presents: The NEW Adventures of SUPER INGA is basically one wild-ass day in the life of a sci-fi comicbook heroine... it ties into the Die You Zombie Bastards! mythos and should give fans of the movie some morsels to sink their fangs into, but it's also an old-school sci-fi comic book romp with elements of horror and superhero comics. It should entertain anyone into this kind of stuff; it's got a bit of everything.
To me at least, Super Inga is among other things a loving hommage to vintage pulp entertainment with its wild mix of semi-naked voluptuous women, zombified batmen, Aztec mummies, wormholes, spaceships, dinosaurs and the classic Batmobile. Is there any truth in that assumption, and would you like to talk about your love for pulp fiction in general for a bit?
You get it, Mike. As in Die You Zombie Bastards!, I'm interested in drawing on lots of familiar motifs... almost like comfort food, stuff that you can just really enjoy... while at the same time twisting it around a little, sprinkling it with irreverence, and coming up with some new inventions in the process - like the Zombatmen. You've never seen anything QUITE like that before: FLYING ZOMBIES that are part zombie, part bat and part man, right!?!?
Your art on Super Inga reminds me first and foremost of European (especially French) genre comics of the 1960's and 70's. Is that at least vaguely accurate, and some comicbook artists who have influenced the look of your comicbook?
Growing up, I read comics from the 1960s, 70s and early 80s. All of that influenced me deeply, as did reprinted 1930s and 40s comics. I can't point to any one or two artists who were a specific influence - I feel like over the years I've absorbed bits and pieces of tons of artists, from Moebius to Frank Miller, Herb Trimpe to Walt Simonson, Barry Winsor-Smith to Dick Giordano, and the list could go on and on and on. Kirby and Ditko are the giants to whose altars I always return.
Regardless of who, what, when, I am always impressed by clear, dynamic storytelling and powerful graphic delineation. That's what makes comic books really rock for me. When there's too much "noodling" I just get bored and feel like the authors are avoiding something... like how all those Yngwie Malmsteen-types never really wrote any memorable songs, but could solo the pants off of Satan himself. Give me Motorhead or the Ramones any day - straight-ahead, hard-as-hell and smart enough to know how to keep it stupid, balls-out and locked-on-target. That's what I have in mind, pretty much all the time.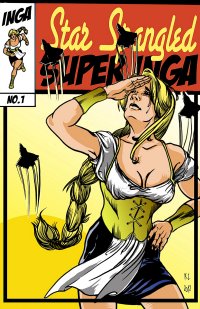 art by Kevin Ilacqua
Besides the comic itself, Super Inga the comicbook also includes a hilarious "history" of Super Inga-comics from the Great Depression to the 1950's. How did you come up with that, and could you talk about the retro-art that comes with this story for a bit?
Anyway, this is going to sound pretentious, but it's true: no matter how silly the subject matter, the characters, the situations, I have to GET TOTALLY INTO IT. I can't help it - if I don't, then I just can't produce anything. So my mind was always churning about Super Inga... creating context, creating background. In the comic itself are references to past comic book appearances (that never existed), in order to put us right into the action that's unfolding. This first comic book isn't an origin story, it isn't a first chapter - we are dropped in the middle of things.
So the 2nd feature in the book is a history of the character and the people behind the legend of Super Inga, especially her creator, Hack Derby. Hack Derby was a pseudonym I had used a few times on some poster art for Die You Zombie Bastards!. The art had a bit of Jack Kirby to it and Hack Derby and I share the same initials, so I thought of him as something of an alter-ego. Secret identities are always fun, right? Now I got to create his story, Spinal Tap-like.
As for the art intended to be from the 1930s, 40s and 50s... I contributed to some of that, but I wanted to get some other peoples' hands on it too. Adam rounded up some great artists to ghost for Hack and the result is totally gangbusters. I love how it turned out.
Oh, and there's a pin-up section at the back of the book. Die You Zombie Bastards! fans will positively drool at the pin-up by Tim Gerstmar, the multi-talented star of Die You Zombie Bastards!.
Super Inga the comicbook seems to almost demand a sequel - so, is there anything planned down the road?
There's PLENTY of material, that's for sure. But, ZombieBomb Presents: The NEW Adventures of SUPER INGA was planned as a one-off. I would love to keep going, but we'll have to see.
The $64 question of course: When and where will Super Inga be available?
Well, the book is set for a big debut at Boston ComicCon April 21 & 22. I'll be there along with Adam Miller and the ZombieBomb team to do the whole signing ballyhoo. Super Inga will be there as well, leaping straight out of the comic book to round up fans old and new.
You're actually the first to get this breaking news: right now we're putting together a very special Deluxe Premiere Edition to be sold at the Con. I'm really excited about this because people will be treated to a very unique collectors item package. Of course it includes the full-color 32-page book containing 2 stories and a pin-up section. The inimitable Adam Miller has created a stunning, exclusive signed print especially for this edition. And finally, every Deluxe Premiere Edition will include a unique hand-drawn sketchcard by me. This is not a print, but an actual signed, india ink drawing by the guy who wrote and drew the comic book. I think that's pretty cool. There will only be 75 of the Deluxe Premiere Edition, so when they're gone, they're gone.
Sometime soon after the ComicCon debut, we'll be launching the online SuperIngaMarket. You'll be able to purchase the book there as well as Die You Zombie Bastards! T-shirts and who knows what else.
Connect with us at http://www.facebook.com/SuperIngaComic in order to be kept abreast (ahem) of any and all developments.
Since Super Inga has already made the jump from film to comicbooks - will the character ever return in another movie?
Officially, there hasn't been an announcement, but Caleb and I are planning to make something happen before the end of this year. It will probably have something to do with Super Inga.
Any (other) future projects (both in film- and comicbook-format) you'd like to talk about?
There are tons, for sure. But let's focus. For now, please go like http://www.facebook.com/SuperIngaComic and http://www.facebook.com/artofhaig and you'll be on the leading edge... the first to know about my future projects.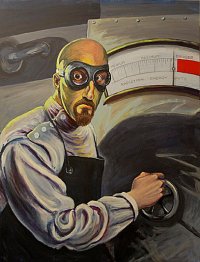 Maker of Monsters
from the Castle Ambras-series
Even besides Super Inga and comicbooks, you have built yourself quite a reputation as an artist. How would you describe your art, and artists who inspire you?
I was trained primarily as a printmaker, but I rove between media - I do what I want to do and am inspired by artists who follow their vision. I'm not into complacency, I'm not into predictability - I like art that challenges. Hopefully, my art does that. The downside is that I am hard to pidgeonhole and so, hard to market. I have been OK with that for the past 20 years or so, since I got into art because I want to make what I want to make, regardless of whether or not anyone else needs it. If anyone else does, I am thrilled and grateful, but that's all just bonus.
I've read somewhere that you're also an art teacher, right? Any one-sentence-advice you can give aspiring artists?
Keep working and be true to yourself. If you wait to be inspired, you're screwed. Inspiration comes while you're working. Matisse said something to that effect.
Do you at all follow current comicbook-series, and some (present and/or past) comicbook favourites of yours?
Lately I've been really engrossed in the 2 volumes of Fletcher Hanks. I always go back to my EC reprints... Tales from the Crypt, Vault of Horror and all that business.
Currently, I love what Dr. Muerte has been doing. He posts a daily comic that is absolutely positively inane with no apologies. They're really quite sublime. Better than Family Circle or even Marmaduke - http://www.muertelabs.com.
Dr. Muerte is an alter-ego of Geoff Mosher who is the true identity of none-other than Baron Vaclev Mummyhead von Nefarious. All of which is pretty darned super-duper. I'm not sure that I was supposed to reveal any of that. Oops!
And since this is a movie site - your favourite movies?
There are so many, but... The Old Dark House, Nosferatu, Jaws, Faster Pussycat Kill! Kill!, Beneath the Valley of the Ultra-Vixens, Spiderbaby, Die You Zombie Bastards!, The Black Cat (1934), Plan 9 From Outer Space... those are some of the movies that, if they were to somehow disappear from the planet, I would turn to dust and blow away like Chris Lee at the end of Horror of Dracula.

Feeling lucky ?
Want to
search
any of my partnershops yourself
for more, better results ?

The links below
will take you
just there!!!

Find Haig Demarjian
at the amazons ...

amazon.com

amazon.co.uk

amazon.de
Looking for imports ?
Find Haig Demarjian here ...
Something naughty ?
(Must be over 18 to go there !)

... and of course, films you really deplored?
Van Helsing made me crazy. Such a waste of everything.
Your website, Facebook, whatever else?
Updates, etc.: http://www.facebook.com/SuperIngaComic
See my art at: http://www.artofhaig.com
The movie: http://www.dieyouzombiebastards.com
&nbsp
Anything else you are dying to mention and I have merely forgotten to ask?
No. You hit everything.
Thanks for the interview!
Thank YOU, Mike.
It's sites like yours and your authentic enthusiasm for offbeat visions such as Die You Zombie Bastards!, Frankie In Blunderland and ZombieBomb Presents: The NEW Adventures of SUPER INGA that is truly encouraging to those of us working outside the mainstream. Thanks for getting the word out there!
Viva Zombastica!