Your movie Frankie in Blunderland - in a few words, what is it about?
Frankie in Blunderland is about a guy named Frank who has a completely miserable life. He can't get anything right and everyone hates him. His wife disappears (which one would think is a solution, not a problem), sending him on a journey to find her. Along the way he encounters a bunch of misfits; some helpful, some not so much. The movie is kind of like a nightmare. It's full of recognizable images and situations, yet somehow it's all a little off. Things that shouldn't make sense start to make sense, and things that should make sense stop doing so. Or, that was the intent!
How did the project come into being in the first place, I mean what convinced you to bring to the screen a story as trippy as Frankie in Blunderland? And what can you tell us about your screenwriter Marta Estirado, and your collaboration with her?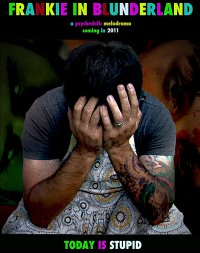 In 2005 I was working as First Assistant Director on a movie called Poultryeist: Night of the Chicken Dead, which was produced by Troma Entertainment and directed by Lloyd Kaufman. Marta was a Troma fan and came out to Buffalo, NY, where we were shooting for a short while to work on the film. We didn't really become close friends but we met and were friendly and we kept in touch online for a while after that. 2 years after that, my first film Die You Zombie Bastards! came out and I guess Marta became a fan of that one and she sent me a script she wrote called Frankie in Blunderland. I wasn't totally sure why she sent it - not sure if she was looking for me to make it, give her criticism, pass it around or what. She just asked me to read it. Well... I read it and I loved it. It was very long, very confusing and totally entertaining. There were things about Frankie that I related to a lot, and I knew so many people that reminded me of other characters in the film. It takes a lot of talent to write a story that is so surreal and crazy yet is still totally human and relatable. I had to read it a few times to try to make sense of it (which I never totally did) but it stuck with me. Maybe a year or so later I was working as an editor in reality TV and I was looking looking for a new personal project. I wanted something I could make with my own money just on weekends here and there, so I remembered Frankie. I got in touch with Marta and asked if she had ever done anything with that script. She hadn't, and she gave it to me. I did some editing and a little rewriting and I started shooting in August or September of 2009.
Some of the stuff in Frankie in Blunderland feels as if it was made up on the spot during filming (but in a good way). Is there any truth to this, and what can you tell us about the on-set atmosphere?
There was very little improvising if I remember correctly. I mean... little lines here and there, sure. But for the most part it was shot from the last draft of the script. I think the on-set atmosphere was fun though. I don't think there was much downtime. I directed and shot the movie. For about 1/2 of it I took sound as well. We moved very quickly, I think everyone was having a good time. But everyone was also working very hard. I learned to make movies at Troma, and one misconception that a lot of people have about movies like that is that because they're goofy and wild that the sets must be goofy and wild. Actually, quite the opposite. It's a lot of people working really hard and taking it very seriously. I didn't have crowd scenes and big stunts or anything, but for the most part people were there working... having fun, but working.
Frankie in Blunderland has a triplike, "anything goes"-feel to it. Was there actually ever any line you refused to cross, something you deemed "too weird" (or too whatever) else for even your film?
Well... not in the sense that I WOULDN'T go certain places, but there are some places that I chose not to. There were some things in the script that just didn't make sense to me that I STILL don't understand. There were times when characters would say lines two or 3 times... or scenes where lines were being said by the wrong characters. Also a few times a scene that just happened would happen again but just a little bit different. I didn't know if these were mistakes in the script or if she was just making it all the more weird. I would ask her and she would never tell me. She would just tell me to do whatever I wanted. So I rewrote a few things. Mystery is great - flat out confusion could be bad. There's still some flat out confusion in movie; I tried to find a good balance.
Interestingly, the two (arguably) biggest names in your cast, porn legend Evan Stone and horror legend Debbie Rochon, appear in Frankie in Blunderland as a butterfly and a spider, respectively. Why is that, and what can you tell us about working with them?
I love Debbie and she has been a friend since we met working on Citizen Toxie: The Toxic Avenger part 4. I've worked with her on a few projects over the years and I have massive respect and admiration for her. She was out in LA (making an appearance on the reality show Scream Queens that I was actually working on at the time) anyway and I asked if she'd make a little appearance. She graciously accepted and we shot her scene in her hotel room in the middle of the night after she had just done probably 12 or 14 hours on another set. She's a total pro and I can't say enough good things about her.
Evan Stone I had never met. Aramis Sartorio [Aramis Sartorio interview - click here] and I were doing a script read through and we actually made up the butterfly scene. It wasn't in the script (neither was Debbie's spider scene actually). We were talking about having a little talking butterfly and how great that would be. He asked who I thought should play the butterfly. The night before my wife and I were watching some Skinemax movie that had Evan Stone in it... so I just blurted out "I don't know... Evan Stone?" We both cracked up and Aramis told me that he knew Evan and had worked with him before. He called him for me and a few weeks later there I was, shooting Evan and his massive ding-a-ling in front of a green screen. He was great and a joy to work with!
Your leading man Aramis Sartorio [Aramis Sartorio interview - click here] - how did you first meet, and what made him perfect for the role? And is it true that you shot Frankie in Blunderland pretty much at the same time as Aramis' feature The Gruesome Death of Tommy Pistol - a film you also starred in and edited?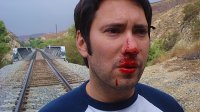 Aramis Sartorio
I met Aramis working on a movie that was never finished called Halfway to Hell. He was acting in it and I was doing camera. I knew him as Tommy Pistol from some of his adult films and I always though he was really funny. We became friends and he knew that I was an editor as my day job so he asked me to help him out with a project he had been working on. He had just shot Attack of the Staph Spider, which was a short film that he hoped would be part of an anthology... he asked me to edit it and I said sure - if he returned the favor and acted in whatever my next movie was. I think he was mostly finished shooting The Gruesome Death of Tommy Pistol by the time I started Frankie in Blunderland. I'm not sure... but I think so. There may have been some overlap but I think he shot mostly in the spring and summer of '09 and I started Frankie in Blunderland in the fall. I was editing them simultaneously throughout 2010. I finished The Gruesome Death of Tommy Pistol first, then a few months later I finished Frankie in Blunderland. I thought he would make a great Frankie cause the character just reminded me of him. He's kind of goofy and he's got an "aw shucks"-quality to him... but a definite dark side. It just fit.
A few words about the rest of your cast?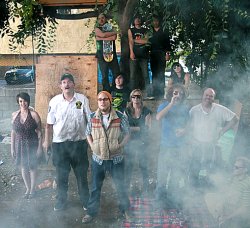 Geez.... a few words? I got some really excellent folks in this film. Thea Martin is one of my favorite human beings on the planet. She was the programmer of the first film festival to screen Die You Zombie Bastards! We became friends online and then met in person while both working for Troma in Cannes. She always said that whenever I made another movie that she was going to come work on it (she is from England). So... when I told her about this she said she was going to come help. Pippi Zornoza (who played Violet in Die You Zombie Bastards!) was going to play the part of Katie, but a short time before filming she had a terrible accident (she's okay now) and couldn't do it. Since Thea was coming anyway I though I'd see if she wanted to do it. I sure am glad she did because she was fantastic! Who else? Brett I met on a movie called Creek which is the same place I met Dave Reynolds. Legendary weirdo John Karyus, John Morton is an old friend from back on the East Coast. Sadie Blades from Die You Zombie Bastards! Aramis' wife Karen did an excellent job as Maggie Remote the robot. I had a wonderful cast. Except for that asshole that played Peanutch.
The special effects in Frankie in Blunderland were handled by the ubiquitous Tom Devlin. What can you tell us about working with him and the effects he created?
Tom is a great friend. We me on the set of Poultrygeist as well. We've worked on all sorts of stuff over the years. He's a huge talent. On Frankie in Blunderland, I think the only special effects he did were making the puppet kid and the part where he stabs himself as the motel clerk. The only reason I say that is because I did most of the other effects and mostly they aren't very good and I don't want to stick his name to them! He also did the voice of the puppet kid. He's great to work with and he and his wife are close friends of me and my wife.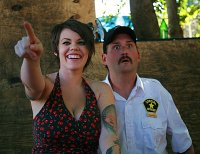 Karen Sartorio, Caleb Emerson
What can you tell us about audience reception of Frankie in Blunderland so far?
Both people who saw it claim that they liked it. Kidding... the reception has been great. It has only played a few festivals and I've sent out a few screeners so the reception has been very small, but a lot of people seem to like if for the right reasons. We only have one bad review so far and that review isn't even awful... the guy just didn't like ME. He lists things that he didn't like and also the things that he DID like about the movie. Then he said that the things that worked in the film must have been accidents because I'm not a good filmmaker and in the Q&A after the screening I didn't answer questions well. I'll take it.
Let's go back to your first feature Die You Zombie Bastards! for a bit. In a few words, what is that one about, and how did it come into being?
Jeez, that's a long story. I'll give you the short version. It's based on a series of short films that I made in college with my friend Tim Gerstmar. I wrote it with my brother in law Haig Demarjian [Haig Demarjian interview - click here] in 1999 and 2000. We started a production company, raised the money and made the film together in 2001-2003. Everyone involved was working a day job and it was fucking impossible to schedule around that many people... so some times months would go by in between weekends that we could all come shoot. Also, we raised money as we went. AND we shot on film so everything takes 3 times as long as it does now. I don't regret shooting on film for a second though. It's beautiful and given the budget I would do it again in a heartbeat.
I have described Die You Zombie Bastards! as "Troma on speed" - a comment you can at all live with, and has Troma, a company you have worked for from time to time, at all influenced your filmmaking style?
Sure it has. I've loved Troma since I was child. There are lots of films and film making styles that influence me but Troma is probably the least subtle of those influences so it's the most obvious. If you look you'll see a lot more going on than just Troma-style... that just stands out the most. I'm flattered by the comparison though.
Die You Zombie Bastards! features the last movie performances of porn legend Jamie Gillis and rockabilly legend Hasil Adkins. Why them, and what was it like working with them?
They are both absolute legends and I feel honored to have worked with them both. I had been a fan of Jamie's for years and he was on my short list of people I'd love to work with some day. The character of Stavros was written with him in mind (not thinking we'd actually be ale to track him down). But then when the time came to shoot I did a little bit of research, found him, made him an offer and he said yes. He was great to work with. I was so sad to hear of his death a few years ago.
Hasil was a character as well. I made a music video for one of his songs in college and I wrote to his record label asking for his address so I could send him a copy. I did and he started calling me at odd hours leaving me long answering machine messages. My girlfriend at the time and I drove down to meet him in West Virginia to have him narrate the short version of Die You Zombie Bastards! - that must have been...1997 or 1998. We kept in touch and then we wrote a part for him in the feature length script. He was really supportive and a lot of fun to work with. In addition to the money we paid him he also requested a loaf of baloney, 2 gallons of milk and a couple cartons of cigarettes. The world will never see another Hasil Adkins.
One character in Die You Zombie Bastards!, Super Inga, has developed a life of her own, right? Could you talk about her for a bit?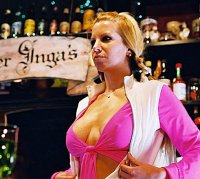 Well, she's inspired from our love of Russ Meyer-films. In Supervixens, all of the women have "Super" before their name. She's also a big tall woman with giant boobs. I thought it would be fun to have this scene take place in a land filled with big sexy blonde women who are all trying to get with Red cause they've never seen a man, but he's so driven to find Violet that he can't be distracted. A good opportunity to have some more lovely ladies and beautiful New England scenery appear in the movie. Fun character. Sandy Kennedy was great. I haven't seen or heard from her in years so I couldn't tell you what she's up to now. I don't think she pursued acting. As for the comic book I have nothing to do with it... that's all Haig [Haig Demarjian interview - click here]. I've never been a comic book reader or fan. He just said he wanted to do this other project and I was happy for him to do it!
As far as I know, the main characters of Die You Zombie Bastards!, Red and Violet, originally appeared in your short Red's Breakfast. What can you tell us about that movie, and how did it come into being?
It just started my sophomore year in art school with a 7 minute short called Red's Breakfast. I was a film major, and Tim who was studying illustration was my best friend. We were both into horror movies and fascinated by serial killers and the strange culture surrounding both. So we made up this character and kept adding to him and making his world stranger and stranger. By our senior year we made Red's Breakfast 3: Die You Zombie Bastards!, which was essentially the prototype for Die You Zombie Bastards! the feature. Haig co-wrote that script with me so that's when he became part of the Red-universe. Troma actually distributes Red's Breakfast 2: Dawn of the Red on the Best of Tromadance Volume 1-collection. There are some other excellent shorts on that as well.
Anything you can tell us about your upcoming Ollo De Nollo yet? And any other future projects you'd like to talk about?
Not really. The great Thea Martin who played Katie in Frankie in Blunderland wrote it. We had such a great time making Frankie in Blunderland that I wanted to work with her again. She's a writer so I gave her a few very basic ideas of what I wanted a story about and asked her to write a script. She did and it was great! It's about a couple who are members of a cult who are out on an initiation rite for their cult. We shot it over a few weeks this past December while I was on hiatus from my job and we had a blast. Immediately after shooting it I went back to work full time and was offered a night job as well which I took... and then I was offered a short directing gig (that I'm in the middle of now) - so sadly, Ollo de Nollo has been sitting on my hard drive since we shot it! As soon as I have some time I'm going to edit it and unleash it on the world. It stars Thea and Vince Cusimano (who played Mucous in Frankie in Blunderland) along with Dave Reynolds, Trent Haaga, Victoria DeMare and Khris Kaneff.
What got you into filmmaking in the first place, and did you receive any formal training on the subject?
I've just loved movies since I was a little kid. By the time I was in high school the only things I liked doing were making art and watching movies. That led me to art school where I studied filmmaking. It's all I really know how to do. I now live in Los Angeles and I'm a television editor as my day job.
A few words about your career as an editor, and how does your experience as a director influence your work as an editor on films by other people - and vice versa?
I just sort of fell into editing. I learned a little bit of everything in school. When I moved to LA I just figured I'd see what happened. I shot a few films, worked production on a few films, did some acting. I took one assistant editing job which I enjoyed... that immediately led to another which lead to another and before I knew if I was an editor! I co-edited a feature film called Pretty Dead Things which I also shot. That was my first time working with Richard Griffin [Richard Griffin interview - click here] who I had a blast working with (I also shot his next film after that, Splatter Disco). I also edited a movie that I don't think ever came out called Oh Snap! I'm Trapped in the House With a Crazy Lunatic Serial Killer. I like editing. I like that it's low stress and gives you a lot of room for creativity. However, I don't like that you hardly ever get credit especially when you're spending alot of time correcting other people's mistakes. People tell me how much they loved Die You Zombie Bastards!, but they don't tell Daniel Strange who took the mess that Haig and I made and made it into something watchable. Those are the only kind words you'll ever hear me utter about Daniel Strange.
But anyway, the editing career is going well and it has led to some other great things.
As an actor, you have worked on such indie gems as Citizen Toxie: The Toxic Avenger IV, Poultrygeist: Night of the Chicken Dead, Splatter Disco, and of course above-mentioned The Gruesome Death of Tommy Pistol - how would you describe Caleb Emerson, the actor?
I'm not an actor. I'm just a goofball who takes direction and has no problem acting like an ass on screen. I just do it for fun and I've only appeared in friends' projects or projects that I'm otherwise working on. I'll fuck a chicken or yell and throw things 'till I'm red in the face. It's fun to do but I've never pursued it and I have no intention of doing so.
When it comes to filmmaking you have pretty much done it all, writing, directing, producing, acting, editing and cinematography, to name a few. What do you enjoy the most, what could you do without?
I could do without "producing". I hate organizing shoots and calling everyone to make sure they know where to go and having to remember to get lunch on time. It's no fun and it gets in the way of being creative. I also don't like to write. Die You Zombie Bastards! was the last thing I wrote. I've started a million things since then and I just never get more than halfway done. I like directing because there is an instant creative gratification. And I like editing because you're there, usually alone and you're calling the final shots. You can take your time, experiment and you're not wasting other people's time. Sometimes I like shooting, but I'm not very good at it and there are too many technical things that can go wrong. I don't have the attention span for it.
Filmmakers who inspire you?
Russ Meyer, Lloyd Kaufman, John Waters, Tom DiCillo, Jerry Lewis, Frank Henenlotter... lots.
Your favourite movies?
Jaws, Clash of the Titans, The Texas Chainsaw Massacre, Revenge of the Nerds, Brain Damage, Beneath the Valley of the Ultravixens!, Supervixens!, The Toxic Avenger... lots.
... and of course, films you really deplore?

Feeling lucky ?
Want to
search
any of my partnershops yourself
for more, better results ?

The links below
will take you
just there!!!

Find Caleb Emerson
at the amazons ...

amazon.com

amazon.co.uk

amazon.de
Looking for imports ?
Find Caleb Emerson here ...
Something naughty ?
(Must be over 18 to go there !)

There aren't many movies I hate. I love movies too much to hate them. When I see an awful movie I usually just kind of shrug and say "eh...not for me". The only times I get upset are when I see people wasting resources. Like having lots of money and some great actors and really talented technicians and then they come up with something lame. Then I get annoyed. But I don't get too worked up about bad movies. Every movie is a bad movie to someone.
Your website, Facebook, whatever else?
https://www.facebook.com/caleb.emerson1
I'm easy to find.
Anything else you are dying to mention and I have merely forgotten to ask?
I'm directing an amazing episode of a web series called Written By a Kid for the Geek & Sundry channel right now. I shoot it next weekend. There are going to be some fantastic people in it. 10 episodes all by different directors. So happy to be a part of it. Watch for it!
Thanks for the interview!
It was a pleasure. Thanks for being interested in my films!