Your new movie The Hit - in a few words, what is it about, and what can you tell us about your character in it?
The Hit is about a hit woman who's great at her job but bad at love. When she falls for her mark (who also happens to be suicidal), she's forced to make a decision - career or love? Incidentally, a choice a lot of women eventually make. My character Marcy Frumpkin (still so fun to say) is awesome because she's so layered. Tough on the outside, gooey on the inside. She's got a lot of walls up from past heartbreaks, and I think we can all relate to that. She's a complicated woman - no one-dimensional, broad strokes here.
What did you draw upon to bring your character to life, and how much Hilary Barraford can we actually find in Marcy Frumpkin?
Oh man, I drew on a lot. I took a look at this 7-page script and was like, "Um, how much happens!?" I was very lucky that writer/director Jason A. White [Jason A. White interview - click here] wrote this part with me in mind, because it was easy to assume all the different aspects of her personality since they were all based in what he knew of me. I'm originally from Boston, so that tough-girl thing comes from there (plus I might have channeled my Sicilian-born great-grandfather a bit). Once I had that part down - that was sort of the pea under the mattresses in The Princess and the Pea - and I kind of layered everything else on top. But we all get tough for a reason, so I had to dig a little into her vulnerability too. So yeah, you could say the kernel of Marcy is very much based on me.
To put the last question somewhat on its head, to what extent could you personally identify with Marcy Frumpkin?
She's like the ridiculous, Saturday Night Live-sketch version of me, so actually quite a bit. I think all comedy is rooted in truth, so to show a multi-dimensional woman who is very much a badass, but also has deeply guarded feelings is relatable to every woman, really. And man, for that matter. So I could definitely personally identify with Marcy. Not so much the killing part, but the killing it in life part, sure - lol!
How did you get involved with the project in the first place?
I've been friends with Jason for years through our dear friends Syd Sidner and David Handelman. Amazing writers, both. Jason and I are actually neighbors in LA, so over the years we've met up for drinks or lunch or whatnot. And then about a year or two ago, he started telling me he had this project he was going to direct and he was writing the lead for me. He'd talk about it from time to time until one day he handed me an actual script. I was thrilled.
To what extent could you identify with The Hit's brand of humour?
The Hit's humor is right up my alley. I'm the biggest fan of the classic screwball comedies - Bringing Up Baby, His Girl Friday. In fact, I still want to be Rosalind Russell when I grow up. So getting to do something straight out of a classic genre playbook was an actual dream-come-true for me.
Do talk about The Hit's director Jason A. White [Jason A. White interview - click here], and what was your collaboration like?
Oh, I shall! Because we're friends, we work incredibly well together. The collaboration is definitely there. On set of The Hit, the push and pull was always about how big to make the comedy. I was pretty insistent on grounding everything, no matter how cartoonish the moment. And Jason was always pushing me to not be afraid to be bigger. I reference The Princess and the Pea a ton (even just in this interview!), and I always think if you can keep that kernel of emotion raw and real then no matter how silly you make it, it'll still ring true. I think our two instincts dovetailed nicely together. In fact, I believe you even remarked on it in your review!
What can you tell us about the shoot as such, and the on-set atmosphere?
The on-set atmo was just awesome. Jason had a crew that had worked together a ton, so it was like stepping in to work with a bunch of friends. And my co-stars were equally cool. Matthew Rocheleau was the easiest guy in the world to get along with, and working with improviser Craig Cackowski was incredible too. I really loved the experience of being on set with these people.
Any future projects you'd like to share?
Always! The ensemble dramedy The Way We Talk will be released soon - a film by Matthew Aaaron that follows a group of friends gathering for a divorce party and explores their relationships. And I have several shorts that are gearing up to hit the festival circuit this year - plus I just wrapped this week on the sci-fi short Assimilated. Also have a few things that came out during quarantine - the social justice drama Equal Standard with Ice-T and the comedy series Bulge Bracket on Amazon Prime. Both worth checking out! And on the producing side, I'm developing a slate for film and TV with Matthew Aaron that I'm really excited about - right now we're working on a comedy series with Beacon Pictures.
What got you into acting in the first place, and did you receive any formal education on the subject?
I fell into acting completely by accident. Back in college, my childhood friend Beth talked me into going to a model call with her at a Boston agency. They signed us both and sent us on an open call for a film called Moonlight Mile with Dustin Hoffman, Susan Sarandon and Jake Gyllenhaal. Not only did I get cast as a featured extra in that film, but I won a free membership to a brand-new online casting site (definitely dating myself with that one). I started showing up for auditions and asked them what to do - "Just read it," they said. So I did, and started booking local stuff. I kept challenging myself to book bigger roles in bigger projects until I finally just challenged myself to move to LA to pursue it professionally. I did take a handful of scene study classes out in LA once I got here, but I've mostly learned by doing.
What can you tell us about your filmwork prior to The Hit?
I've done a ton of work in the indie space, which I love and will always love. The highlight of my career no question was working on both sides of the camera with Oscar-nominee John Sayles on Go For Sisters with Yolonda Ross, LisaGay Hamilton and Edward James Olmos. I got to play a new parole officer who lived and died by the rules, which was a really fun experience. I also worked on a horror film called The Ice Cream Truck, playing nosy neighbor Jessica and executive producing. It's a great psychological thriller about what's scary to women, and what happens when we're isolated, alone and bored. In fact, you covered it when it came out in 2017 - and we thank you for that! You were one of a very elite group of reviewers who really got it on a deep level.
How would you describe yourself as an actress, and some of your techniques to bring your characters to life?
Very recently, one of my co-stars from Assimilated called me a "chameleon". First of all, beyond flattered. Second of all, pretty apt. I love shifting from light to dark, comedy to drama. I've never been able to pick just one genre when asked. I also love to bring comedy to the dark stuff, and drama to the light stuff. My friend and director Patricia Chica [Patricia Chica interview - click here] also told me I'm like "the girl next door… who's hiding in the basement." So if I had to describe myself, I'm going with that because it's awesome, haha!
Actresses (and indeed actors) who inspire you?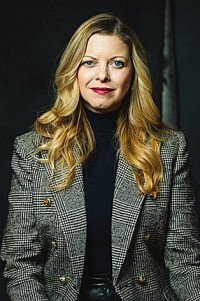 Feeling lucky ?
Want to
search
any of my partnershops yourself
for more, better results ?

The links below
will take you
just there!!!


I'm an old soul, so I'm in love with legends like Rosalind Russell on the comedy side and Angela Lansbury à la Manchurian Candidate on the drama side. I also love chameleon character women like Ann Dowd, Margo Martindale and Robin Weigert. And yes, of course, Meryl. I'm a fan of actors' actors, I suppose! On the male side, I just saw Wendell Pierce in the West End's Death of a Salesman and he straight-up blew me away. He's on my list of people I want to work with someday.
Your favourite movies?
I've mentioned His Girl Friday (first-ever movie with overlapping dialogue, fun fact) and Manchurian Candidate. Two all-time faves. I also adore Christopher Guest's Best In Show, because it's the only movie I can watch over and over and still discover hilarious things I never noticed.
... and of course films you really deplore?
I'm one of those weirdos who likes to find something good about everyone. And having made films myself, I know how difficult that can be. So deplore is a strong word. Definitely films I didn't super connect with, but I'm usually able to find something redeeming in the filmmaking. And I know that's a cop-out, but there ya have it. A good example of this is Lars von Trier's Antichrist, which I very much appreciated but did not necessarily "enjoy". If you look up the Horror Soup podcast, there's a whole episode I did as a guest exploring this movie.
Your website, social media, whatever else?
Yes! Website is hilarybarraford.com and all my socials are the same: @hilarybarraford!
Anything else you're dying to mention and I have merely forgotten to ask?
Just dying to say thank you for featuring indie films and supporting up-and-coming actors! We appreciate it!
Thanks for the interview!