Your upcoming movie Morning After - in a few words, what is it going to be about?
">Morning After (https://www.facebook.com/
MorningAfterMovie/) is a story of five friends who spend the night playing a cheeky, explorative game where they pick a chocolate, put it in their mouth, and French kiss someone else in the group. The person who is kissed is also blindfolded and must guess what the flavor of chocolate is.
This game is the storyís catalyst, causing the five characters to explore their own intentions and desires, particularly the character of Michael, who has to acknowledge his feelings and learn to embrace them.
How did the project fall together in the first place, and what got you interested in it actually?
This project came to me through Kristian Hodko (http://www.imdb.com/name/nm3579885/) [Kristian Hodko interview - click here], my dear friend and close collaborator. We were at the Female Eye Film Festival in Toronto when he told me about his latest story Ė five friends who play a game of French kissing with chocolate. I said, ďYou had me at French kissing. Iím in!Ē - he he! The next day he handed me the script and I knew it was exactly the type of material I wanted to get involved with. Itís been an interesting experience for both of us, as Iím used to collaborating with Kristian as an actor and acting coach, but the transition is working out well for us! We have the feature in development and we will be moving the short film into production this summer, as a prequel or proof of concept if you will.
Do talk about the film's intended look and feel for a bit?
The film will be colorful with rich textures and deep, earthy colors. Weíll integrate this palette into every aspect of the film from the costumes and makeup to the color of the walls in the decor so that at the end the apartment, where the story unfolds, will feel cozy, welcoming, and intimate.
We also want the film to mimic the sensuality of the kissing game, so the movie is set during a humid, summer night that leaves droplets of sweat to trace over skin. Danaís red lipstick against her cigarette as she smokes. Close shots of hands running over one another, smooth and sensual. Iím working with my DP, Martin Bouchard (http://www.martinboucharddop.com/demo-reel/), to make this film an experience that engages all the senses so you can feel the tension and sensuality. Smell the cigarette smoke and taste the wine and feel the weight of damp skin during a sweet kiss.
Morning After has been written by one of its stars, Kristian Hodko [Kristian Hodko interview - click here] - so what's your collaboration like, both in preparations and on set, and how did you two first meet even?
The first time I heard about Kristian Hodko, I was blown away. It was back in 2011 and I was casting a film when I received Kristianís audition video. The intelligence, sensibility, and depth that he brought to the role proved how talented he was and completely impressed me. I requested a meeting with him, and when I found out he spoke Spanish (like a Mexican) after growing up in Mexico, I was intrigued even more!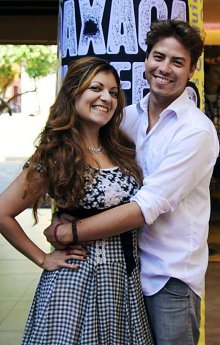 Patricia with Kristian Hodko
We started collaborating on Ceramic Tango (https://vimeo.com/61140188) and I offered him the lead role of Riley, which he refused. I was devastated. But he explained to me that he had to embody the character and didnít think he was the right person to play Riley. I respect him for being truth to himself and for being honest with me. It shows that he has integrity. Instead he became the acting coach for the two non-actors I ended up casting in the film, so we bonded behind-the-scenes and became very good friends during that shoot.
By the time he told me about Morning After, it felt natural for us to work together and itís made the preparation process very pleasant because we see eye-to-eye. Kristian and I have the same vision of what makes a good movie and what a message should be about and there is always a higher purpose behind everything we create, which makes collaborating with Kristian a treat!
What can you tell us about the rest of your cast, and why exactly these people?
Rather than go through the normal audition process, we prioritized making sure the actors had chemistry with each other Ė both as a group and in pairs Ė and so casting was approached more like going on a date. We wanted to have that instant connection between the characters and actors.
Thomas ValliŤres (http://www.imdb.com/name/nm4866802/) and Luca Asselin (http://www.imdb.com/name/nm3023926/) were picked first as Kristian felt artistically seduced by them. When casting Dana we had two women in mind and decided on Cristina Rosato (http://www.imdb.com/name/nm2171480/) for her strong acting skills, and she played an incredible version of the perfumist. Zoť De Grand Maison (http://www.imdb.com/name/nm5046516/) as Teegan was my idea, as I had just met her and she was bubbly, talented, and charismatic. Kristian then also met Zoť for lunch and knew instantly that she was meant to play Teegan.
All of the actors in our cast are professional, working actors in either Montrťal, Toronto or Los Angeles, who are so incredibly talented and wonderful to work with.
In my last two films, Ceramic Tango (https://www.facebook.com/
CeramicTango/) and Serpentís Lullaby (https://www.facebook.com/
SerpentsLullaby/), I had first time actors and I had to coach them for 4 to 8 weeks before filming. On Morning After, the five actors showed up the day of the production, with no preparation. We just did a table read and then we were shooting immediately after. We didnít have time for rehearsals, but they are so perfectly cast that I had to do very little directing to achieve amazing raw footage.
As far as I know, only a teaser for Morning After has been shot so far - so what can you tell us about that shoot?
We shot the teaser of Morning After in one long night because it just so happened that Kristian and I were both in Montreal at the end of the summer, just before I came back to Los Angeles. We decided we wanted to shoot something and try out the characters as an experiment, so we shot the second draft of the script to see how it would land on camera. It was really more of a screen-test that gave us material we could use for the Indiegogo campaign teaser (http://igg.me/at/MorningAfter) while also allowing us to get to know one another.
The teaser was also great for Kristian and me on a creative level because it inspired the direction of subsequent script drafts and now the story has evolved and the characters have become more profound and fleshed out. So the teaser was great chance to polish the project even more.
You're currently running a fundraiser for Morning After - so do talk about your campaign for a bit!
Our Indiegogo campaign (http://igg.me/at/MorningAfter) is running until my birthday on May 28th, and all the funds that we collect will go to the production and post-production of the short film version of Morning After, as well as to help us develop the feature even further. We are excited and welcome the support from readers and fans who want to get involved in the creation of this film and our creative process. You can be part of our team by becoming an associate or executive producer Ė the executive producers have access to the set, will be able to interact with cast and crew, and get an inside look at how I direct actors with energy. I also offer ďdatesĒ with me as an acting coach in private sessions, or as a PR and marketing consultant.
You can also meet the actors and go on individual ďdatesĒ with Kristian Hodko, Zoe de Grand Maison, or Thomas Vallieres. Have a coffee, go to a museum, or take a walk in the park with any of these actors and get a chance to know them.
Once your funds are raised, what's the schedule ... and any idea when and where the film might be released yet?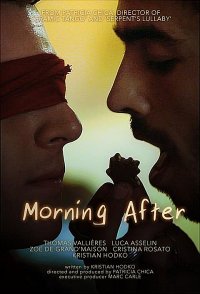 Feeling lucky ?
Want to
search
any of my partnershops yourself
for more, better results ?

The links below
will take you
just there!!!

Find Patricia Chica
at the amazons ...

amazon.com

amazon.co.uk

amazon.de
Looking for imports ?
Find Patricia Chica here ...
Something naughty ?
(Must be over 18 to go there !)

Once the funds are raised we will be in pre-production for June and July, then we will film in August in Montrťal so that by the fall weíll be in post-production. My goal is to send Morning After to the Sundance Film Festival for its world premiere, but we are also considering SXSW, Berlin, Cannes, TIFF and my favorite festival, the Oaxaca FilmFest (http://www.OaxacaFilmFest.com).

Any future projects beyond Morning After you'd like to share?

Iím also developing a feature called Montrťal Girls (https://www.facebook.com/Montr√©al-GIRLS-1066416686718668/) with my friend and collaborator, Kamal John Iskander (http://www.KamalJohnIskander.com) [Patricia Chica and Kamal John Iskander interview - click here]. It has some of the same cast from Morning After and itís in the same vein of dark comedy, so Iím thrilled to be working on it. The film is being produced by Samuel Gagnon and Bahija Essoussi of Objectif 9 (https://www.facebook.com/objtf9/), and Iím actually on my way to the Cannes Film Festival right now to have some meetings for this particular film.

Your/your movie's website, Facebook, IndieGoGo, whatever else?

Website: www.PatriciaChica.com

Patricia Chica Facebook: https://www.facebook.com/Patricia-Chica-185993898124050/

">Morning After Facebook: https://www.facebook.com/MorningAfterMovie

Twitter: @PatriciaChica

Instagram: @Chicatronica

Indiegogo: http://igg.me/at/MorningAfter

Anything else you're dying to mention and I have merely forgotten to ask?

I want to say thank you to all the readers out there for connecting with me through social media and getting excited about Morning After with us. If you want to discover more about my work and process, I invite you to contribute to the campaign (http://igg.me/at/MorningAfter) (even for $1) as itís the best way to stay in the loop of whatís coming next. We want to get great collaborators involved and make this film the best it can be!

Thanks for the interview!