Your PPV-website IBleedIndie.com - in a few words, what is it about and what's the philosophy behind it?
IBleedIndie is a PPV site for indie horror movies. The idea behind it is to provide a VOD platform for filmmakers who prefer to self-distribute their films. We do also have films from indie-friendly distributors.
What inspired you to create IBleedIndie in the first place? And how do you think it differs from other PPV-websites?
Well, it is was just an idea I had. I have been trying to bring attention to indie horror for years now. I own indie-friendly horror news site theblood-shed.com, created an annual indie horror award show called The Golden Rake Awards, and I have helped fund several films so far.
IBleedIndie differs from other ppv sites in several ways. We focus on indie, filmmakers get 90% of revenue and keep all rights to their films, some of the films are available for digital download in addition to rent, and we also carry short films in addition to features.
Basic question, why horror, is that a genre at all dear to you, and why (not)? And what do you find especially fascinating about the indie side of things?
My entire focus is horror. It is my favorite genre and I have been working in it for 4 years now. I like the indie side of things because that is where all of the creativity is. Big budget films are all just squeezing every last dime out of the success of Paranormal Activity at this point. It is getting very, very tiring.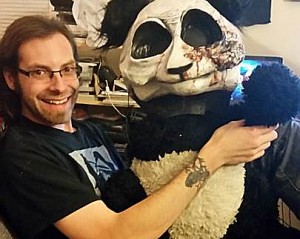 John with panda
So do talk about some of the filmmakers and distributors who provide content for your site!
We we have Shawn Burkett [Shawn Burkett interview - click here] who has films Don't Fuck in the Woods, Watch This, The Sleeping Soul, and Midsummer Nightmares 1+2 on the site with his next film, Betsy, already pre-confirmed, Dave Williams [David R. Williams interview - click here] with a slew of films like FrightWorld and Prison of the Psychotic Damned, a Danish filmmaker named Kim Sonderholm [Kim Sonderholm interview - click here] has a ton of great films up, Daniel Murphy has his House of Whores films, Night of the Dolls, and And Then You Die, Scott Schirmer [Scott Schirmer interview - click here] has Plank Face and Harvest Lake, and those are just a few.
As far as distributors, we currently have deals with SGL, Artsploitation, Wild Eye, BrinkVision, Self Destruct, and Cinema Epoch.

What sort of quality are you looking for in films you would run on IBleedIndie, and how does one apply even?
We are looking for enjoyable low budget films. I would consider "quality" to be a misnomer when it comes to what we are looking for. I don't care if you have the best equipment. Some films can be very charming with grainy footage or other elements of being technically subpar. I am looking for, simply, enjoyability. Isn't that what it's about? If I can sit through the movie and at the end be glad that I did, then that's a good film.
Any filmmakers interested in putting their films on the site can contact us through the site's contact form.
You have only very recently launched IBleedIndie - so anything you can tell us about audience response yet?
Things are slow but steadily building. We get a few rentals and/or purchases everyday. We are close to 1000 likes on FB already. Three more distributors are in talks with us and we are looking into cross-promoting with three horror subscription crate services.
Any future plans for IBleedIndie?
Currently we are website only. Eventually we plan to look into a mobile app and a Roku channel.
As far as I know, you (very much like me) entered the filmworld running a film website - so do talk about TheBlood-Shed.com for a bit, and to what extent has it laid the groundwork for I Bleed Indie?
TheBlood-Shed is a site I took ownership of two years back. We focus on indie horror news primarily. We also act as a production studio and comic book publisher, with projects I am involved in being released under our label. As of this year, we are also a partner to Eli Roth's Crypt TV viral media company.
The site has been a huge help with IBleedIndie as it has helped me to build the network that I need. Also, it brings more people to me as we get screeners sent to us to review and if I like them I can then bring up IBleedIndie.
Only recently, you've also gone into film production, producing films from all over the world it seems - so do talk about that aspect of your career for a bit, and how do you choose the films you intend to produce?
Actually the film producing has been going on longer than any other of my endeavors. I got my first executive producer credit while still in college back in 2013. I enjoy working behind the scenes to help these movies get made. I want to be the Jason Blum of indie. I choose films by looking at several factors like the creativity of the idea, the prior work of the filmmakers, etc.
Any other aspects of your career we need to cover, any future projects outside of I Bleed Indie?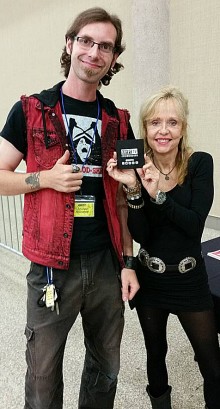 John with Linnea Quigley
I am also an actor, screenwriter, SFX artist, comic book writer, and paranormal investigator. My current comic project is a horror comic called We Kill The Dead which is a love letter to the slasher genre setting a world record for most separately owned characters crossing over in a comic. We have 24 horror villains from all different slasher movies cameoing in the book with owner permission, like Leslie Vernon, Porkchop, and BBK. The first issue is out now and issue two of this four issue series will be out early next year.
As far as paranormal investigating, my first documentary, involving a local legend for a place called Pigman Rd, is currently in post production.
Filmmakers who inspire you?
As mentioned, Jason Blum would definitely be one. There is just something very fulfilling to be working be working behind the scenes to help the films get made.
Your favourite movies?
I enjoy slasher films, military horror, and underground art horror the most.
... and of course, films you really deplore?
Shocking for the sake of shocking is just so boring. I have a great distaste for Rob Zombie's entire cinematography as a result. And as I have said, I am sick to death of the many paranormal/demon possession films out right now. I have actually gone out of my way to avoid most films along those lines for IBleedIndie.
Your/your company's website, Facebook, whatever else?
www.facebook.com/TheBloodShedHorrorNews
www.facebook.com/IBleedIndieVOD
www.facebook.com/WeKillTheDeadtheComic/
Anything else you're dying to mention and I have merely forgotten to ask?
Anyone reading, support indie horror.
Thanks for the interview!