Your new movie Postpartum - in a few words, what is it about?
Good intentions lead to murderous results when a woman visits a new mom. Uh oh, spaghetti-os! But seriously, it's weird.
Your sources of inspiration when dreaming up Postpartum, and to what extent can you relate to postpartum depression as such?
As I've never had children, I can't, but I believe the women who experience it. The biggest problem in our culture is sexism and that we discount women's experiences. I certainly have had depression and have struggled with anxiety, however. The logline for the film is "Not Everyone is Meant to Be a Mother." We need to stop telling women what to do with their own bodies. It's disgusting. Everyone should have their own agency.
What can you tell us about your co-writer Christopher Hallock, and what was your collaboration like?
I've known Chris for awhile. We have very similar tastes and he's a fantastic, kind guy and a great writer who also does film programming here in Boston. We would talk online or in cafés and trade the script back and forth, much like we do for the feature script we're working on now. The funning thing is, I originally intended for Postpartum to be an absurdist horror comedy, but when I began writing, the script didn't want to be that, but something much more grim. It was an easy process, particularly because the film is only six minutes long.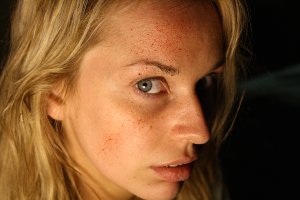 Kasey Lansdale - photo by Bryan McKay
Do talk about Postpartum's very unique brand of horror for a bit!
It definitely comes from a different point of view. I'm trying to recall a film that's close to the feel of this... Maybe Grace for theme. I love great lighting and collaborate with my DP Bryan McKay on that when I light to see what looks good on camera. I like weird, weird stories and wanted to mess with the audience's perception of what happens at the end. Is Kasey's character okay? Is it in her mind? Or is she relieved now that the baby has stopped screaming and that happens after a kill? I love making things somewhat ambiguous so that the audience takes from my films what they will.
How would you describe your directorial approach to your story at hand?
Collaborative, experimental, and adaptive to what comes up. I sometimes like to have my actors read a scene "wrong" to see what happens. For instance, when Kasey says "HE NEVER STOPS SCREAMING!", I had her do it in a very intentionally "crazy" way, and then in a laughing, happy way. The result is what you see in Postpartum and it's much more unsettling.
Your two actresses Kasey Lansdale [Kasey Lansdale interview - click here] and Diana Porter - what made them perfect for their roles?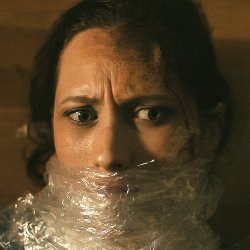 Diana Porter - photo by Bryan McKay
Kasey is a very talented country singer with great presence. I've only seen her onstage and in Christmas with the Dead, in which she had a small part. I'm known for casting singers and burlesque dancers because of their innate abilities to convey emotion, like Karin Webb in Legitimate and Shaun Callaghan in A Favor. I met Kasey after a Christmas with the Dead screening here in Boston and then went to her show here the next night; she asked if we could collaborate on something the next time she was in town, and that sounded fun. So our mutual friend Chris Hallock and I co-wrote something to showcase what Kasey is capable of; I'm vocal about my love of complex female characters, and I wanted to bring out something in Kasey that would show the world another side of her talents.
And Diana Porter is just fantastic. We met in 2013 on the set of Skip Shea's Ave Maria [Skip Shea interview - click here], both as actresses, and we really hit it off when I cast her in Picket. We've been nicknamed "the female Scorsese and DiCaprio of Boston indie film" because we work together so much. Diana is multi-talented. This time around, I gave her the "straight" role, meaning a normal character of sorts, who has to react to the madness around her. She's great and she always lets me kill her in films, which is fun. Sometimes, she doesn't die, though. I did a music video for the anthology Bring Us Your Women, in which I painted her white, put yellow eye blood in her eyes, and had her crawling around tormenting the suicidal Tristan Risk [Tristan Risk interview - click here]. Diana's a really good sport. In A Favor, she gets to have a small role as a sociopathic killer who gets men to clean up her dirty work. Heh.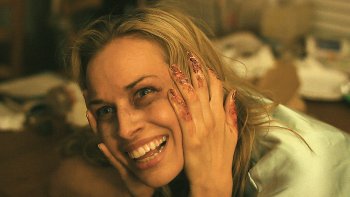 Kasey Lansdale - photo by Bryan McKay
What can you tell us about the shoot as such, and the on-screen atmosphere?
It was a very easy shoot; we shot it over two afternoons/nights in my apartment in July 2014, before Diana and I went up to Fantasia where Picket screened. That was a very exciting week. We rehearsed and we shot. I do have to say that the second night when we shot with all those corpses in my bedroom was one of the happiest nights of my life. A bunch of friends and other filmmakers (Michael J. Epstein, who was on crew; Bryan McKay, my kickass DP; Stee McMorris, who let me paint her up as a corpse and shove her under my bed; and Warren Lynch, the greatest closet corpse) came out and had fun and just did weird shit with me. I felt really grateful and supportive. The indie horror scene in Boston is fantastic.
A few words about audience and critical reception so far?
At the world premiere at the Nacogdoches Film Festival, I sat with Joe, Karen, and Kasey Lansdale [Joe R. Lansdale interview - click here; Kasey Lansdale interview - click here] for the screening; a sweet little old lady turned to me after the film finished and giggled. She told me that I was sick. MISSION ACCOMPLISHED! A woman sitting next to Kasey gasped and stared at her in horror during the film with a look that asked, "Is that really you?!" It was great.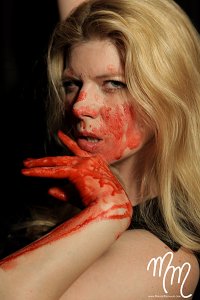 Izzy - photo by Maude Michaud


Feeling lucky ?
Want to
search
any of my partnershops yourself
for more, better results ?

The links below
will take you
just there!!!

Find Izzy Lee
at the amazons ...

amazon.com

amazon.co.uk

amazon.de
Looking for imports ?
Find Izzy Lee here ...
Something naughty ?
(Must be over 18 to go there !)

Postpartum just had its second festival screening at the Boston Underground Film Festival, too, where it played with Olivia Saperstein's rad Recipe and the fresh-from-SXSW horror feature, Excess Flesh - a nasty night of women behaving very, very badly toward each other. The reaction at BUFF was very strong. A fan even came up and asked for a photo with him! It was something I'm not used to, but great. My mom came out for the screening and was covering her face during a pivotal scene, and that was really funny.
The $64-question of course, when and where will Postpartum be released onto the general public?
Great question; it's only begun its festival run, so I'm not sure yet.
Any future projects you'd like to share?
A bumper that I made in 2013 is going to turn up on an anthology called Grindsploitation; I'm writing a feature-length script with friend and Postpartum co-writer Chris Hallock; I'm in post for a horror comedy short called A Favor; in post for another short that's part of a horror anthology I can't name yet; in pre-production for yet another anthology (an intense, international one) called Danza Macabra, starring Tristan Risk [Tristan Risk interview - click here] and Diana Porter, and co-writing/producing with Francesco Massaccesi; and it looks very likely that I'll adapt one of Joe R. Lansdale's short stories into a short film [Joe R. Lansdale interview - click here].
Your/your movie's website, Facebook, whatever else?
Website: www.nihilnoctem.com
Facebook: https://www.facebook.com/nihilnoctemfilm
Twitter: @nihilnoctemfilm
Anything else you are dying to mention and I have merely forgotten to ask?
Keep horror strong; if you love a film or book, tell the world about it so we can have a future of bizarre and fascinating stories in our lives!!
Thanks for the interview!
Thank YOU!!