Your new movie Strange Nature - in a few words, what is it about?
Strange Nature is an ecological thriller revolving around the real life unsolved mystery of deformed frog outbreaks that began in Minnesota and spread across the nation. Seen through the eyes of a single mother and her young son, the story examines how a small town in Minnesota deals with the outbreaks when the deadly mutations move beyond the ponds.
Strange Nature claims to be inspired by true events - do you want to elaborate on that, and what did actually draw you to this particular set of facts?
In 1995, large numbers of wildly deformed frogs (extra or missing limbs, misplaced eyes, etc.) began turning up in Minnesota and quickly spread to surrounding states and then across the entire nation in subsequent years. I'm from Minnesota so this left an indelible mark on me. When I began researching where the cases were at in the early 2000s and found that it is still happening and spreading without concrete consensus on what is causing it, I thought "This is the movie I need to make."
(Other) sources of inspiration when writing Strange Nature?
We were super fortunate to have one of the leading U.S. ecologists as our consultant, Dr. Pieter Johnson. He had a wealth of knowledge on these cases, some of which is available on his site www.deformedfrogs.org. There are also some fantastic books that I read during the period including the two main published books of information regarding the deformed frog phenomenon, A Plague of Frogs by William Souder and Peril In the Ponds by Judy Helgen. Additional inspirations were the landmark environmental protection whistle blower Silent Spring by Rachel Carson and a cool freaky book on horrifying parasites Parasite Rex by Carl Zimmer.
To what extent could you actually identify with Kim of Troy in Strange Nature - or any of the other characters in your movie for that matter?
I can identify with Kim in the way that an everyday person could and should care about big things that are seemingly out of their control and immediate knowledge. For instance, homelessness in Los Angeles is horrendously out of control and it's something uncomfortable that people don't want to deal with or even talk about. A friend and I got involved last year with a group called Homeward LA where everyone took a lot of personal time and effort to bring homeless stories from the streets to the theater stage to raise money and awareness for the Midnight Mission, one of the biggest shelters on Skid Row that gets people back on their feet. My point is, this was essentially just a few people that cared an extraordinary amount about an issue that affected their community and made a helluva good dent in that issue.
Strange Nature is first and foremost an eco-thriller ... but also a creature feature - so do talk about your creature effects for a bit, and how were they achieved?
Yes, I wanted to make sure we told a compelling story with solid performances but at same time we need to show the dramatic and horrifying places these malformations could go. Cue my background in special makeup/creature effects. With my incredible FX team, we spent a massive amount of time creating everything from deformity prosthetic makeups to deformed puppy, human baby and wolf puppets. In addition to using our FX to drive home the point of dangers, we could also use this opportunity to really show some of the cool things we can do. Interestingly enough, the first hurdle was figuring out how to create tiny deformed frog puppets. Then I had a moment of clarity; it's a real thing... maybe we can get the real thing! So yes, thanks to friends in the scientific community, all of the deformed frogs in the movie are ABSOLUTELY REAL!
What can you tell us about your overall directorial approach to your story at hand?
My biggest thing was to not let the sensationalism or the special effects lead the story. To make this an effective film with something to say, the most important aspect to me was to tell a compelling story with good characters and really solid performances. The FX just compliments all of that but does not lead it. That's the biggest reason why I think this film succeeds.
Do talk about your key cast, and why exactly these people?
We auditioned SO many actors in Los Angeles for the roles of Kim and Brody. One of those two characters are in pretty much every scene of the film. At the end of the day, Lisa Sheridan and Jonah Beres were literally the only two actors that we believed could carry this picture. They were just so solid, believable and looked right together as a family. Once we cast the incredible Bruce Bohne we knew we had our screen family. I already had personal working relationships with John Hennigan, Carlos Alazraqui, Angela Duffy, Faust Checho and David Mattey, so basically wrote the roles for them because they're such fantastic, trusted actors. For our Mayor, our casting director, Jeff Passero knew Stephen Tobolowsky. I thought he'd make such a knockout Mayor Paulson - we sent him over the script, luckily he loved it and he was in.
A few words about the shoot as such, and the on-set atmosphere?
Our outstanding Minnesota based producer, Jessica Bergren found most of our shooting locations ahead of time which was a life saver. Mosquitos in Minnesota are huge and relentless. LA actors weren't ready for those. It was a super hectic schedule to get a film this ambitious with this many characters and location shoots in 18 days, that was quite difficult. Some days we had 3 major moves in one day! We lost our assistant director on day 4. Some people started to believe it wasn't possible to get this film completed in this time frame on a limited budget. Thanks to our group's resilience and refusal to give in to panic we made it happen.
Anything you can tell us about audience and critical reception of Strange Nature?
Overall the response has been quite positive. One of my favorite review headlines, "It's like Evil Dead, I Heart Huckabees, Erin Brockovich, and Slither all got together in a hoe-down and kicked Strange Nature into existence. Rearing a grotesque roller coaster of non-stop absurdity all their own." - Ain't It Cool News. We had a great theatrical run in Los Angeles and Minnesota. In fact, we sold out our premiere at the Twin Cities Film Fest and Duluth, MN. Especially in Minnesota this film means so much to so many people... I cannot tell you what an incredible feeling that is. A lot of critics get it and lot don't. We cross genres quite a bit in the film which some critics don't like. I knew that might be an issue but it's just much more interesting to me that way. Life is cross genre.
Any future projects you'd like to share?
I have a fun new music video out that I just directed for LA's The Radioactive Chicken Heads. It's our homage to Michael Jackson's Thriller, called Cluck At the Moon - https://www.youtube.com/watch?v=oKUtT4fznto
Also, I just wrapped up a shoot with Strange Nature's John Hennigan called The Iron Sheik Massacre. I can't say anything more right now but it will be out early next year and yes, it is as awesome as it sounds.
If you have the horror channel Shudder, check out The Core! It's the most amazing horror talk show ever. I co-produce the show as well as co-host and take you behind the scenes of famous special effects and show you how they are done with killer guests like Elijah Wood, Soska Sisters [Soska Sisters interview - click here], Glenn Danzig and many more.
On top of that, I'm pitching a sci-fi thriller TV series, Uncanny Valley, I created as well as a couple features I'm working on.
What got you into filmmaking in the first place, and did you receive any formal training on the subject?
I was filing medical records at a hospital in Duluth, MN when along with my friends, I discovered the power of public access television. For like $100 I took the courses on how to use the cameras and editing equipment and from there we created a bizarre horror/comedy sitcom called My Three Scums. Monsters, killers and misfits that all live together and get through and get back at a society that rejects them. Basically it was a punk rock Munsters on crack. Through those rough episodes I discovered my undying love of creating visual stories. Based on one of our episodes, Lloyd Kaufman of Troma in New York City offered me an intern position on Citizen Toxie: The Toxic Avenger IV. That started everything.
What can you tell us about your filmwork prior to Strange Nature?
After My Three Scums, I moved to NYC then LA and carved out a niche in special makeup/creature effects on films and TV shows. In between all of that I continued writing and directing short films and music videos until I finally was able to get Strange Nature going.
How would you describe yourself as a director?
Special effects, art direction, cinematography, stunts... all of that is incredibly important but I'm absolutely fascinated with talented actors. To get an actor to deliver what you want... or even better, deliver something you didn't expect but like even more than what you wanted is the most satisfying feeling I can describe. The actors are first, the most important aspect to me to work with. Without solid actors, the rest won't hold up. As an independent filmmaker, a lot of your job is spent worrying, apologizing and freaking out. One of the skills that I try to put forward is not letting any of that show too much. Losing confidence in your cast or crew is deadly.
Filmmakers who inspire you?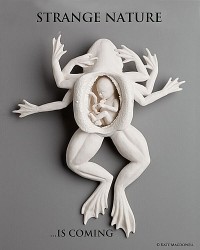 Feeling lucky ?
Want to
search
any of my partnershops yourself
for more, better results ?

The links below
will take you
just there!!!


The moving cinematography and natural performances captured by Martin Scorsese and John Carpenter. The bonkers uncompromising qualities of Lloyd Kaufman and Buddy Giovinazzo. The intriguing mix of horror, comedy and pathos from James Whale. Currently, Nicholas Winding Refn blows my mind in all of those areas.
Your favourite movies?
Favorite of all time is Taxi Driver. In horror, it's everything from original The Texas Chainsaw Massacre and Dawn of the Dead to The Toxic Avenger, Bride of Frankenstein and Freaks. At the end of the day, Cinema Paradiso might be the most beautiful film I've ever experienced.
... and of course, films you really deplore?
Knowing what a struggle it is to make a film, I don't really like talking smack on other films. That being said, Van Helsing is probably the worst movie I've ever seen in the theater. Completely offensive in how dumb, cliche and predictable it was. Also, how is Hotel Transylvania not a better film? On paper, it should be the greatest thing ever. I just felt it was phoned in. Didn't really do anything fun, original or actually funny with any of these amazing characters... but gets several sequels anyway.
Your/your movie's website, Facebook, whatever else?
http://www.strangenaturemovie.com
Facebook: http://www.facebook.com/strangenaturemovie
Instagram: @strangenaturemovie, @ojalafx, @ojalavision
Twitter: @strangenature1, @JimOjala
Anything else you're dying to mention and I have merely forgotten to ask?
Strange Nature is available now at Walmart, Amazon, Redbox and iTunes!
Thanks for the interview!