Your upcoming film Axeman at Cutter's Creek - in a few words, what is it about?
Nine vacationing twenty-somethings travel to a posh timeshare cabin in Big Bear for a hedonistic weekend. But their weekend of drinking and debauchery soon turns to horror when an axe-wielding local legend comes to life! Desperately clawing for any chance at survival, these once estranged friends must band together to take on the bloody beast that's kept these woods desolate and the townspeople terrified. This weekend will be one to be dismembered. Because this weekend, these friends will meet the terror that is ... the Axeman at Cutter's Creek!
How did the project come together in the first place?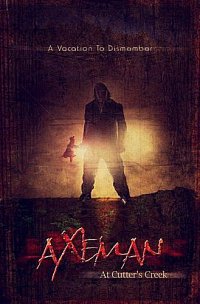 I was originally setting this project up with another producer a couple of years ago when the script was still just more fodder for the slasher genre. At that time, the film took place in Belize, was soooo by-the-numbers - but was what that production company wanted. Well that deal fell apart. Time passed. I wrote and directed the no-budget web series UnCut and in a fluke meeting, ran into Dr. Christopher Otiko at a healthcare center-sponsored event. As I went over to shake his hand, I swear to God he said, "Don't say anything about healthcare or patients. Not interested in your sales pitch." I asked what he was interested in and he responded, "Making movies." He was building quite a resume as an author and wanted to be a screenwriter and producer. I told him about my idea for Axeman at Cutter's Creek, showed him my no-budget web series and said, "This is what I did for no money - imagine what I could do with some funding." And now we're heading into production!
What were your inspirations when writing Axeman at Cutter's Creek, and what can you tell us about your collaboration with co-writer Christopher Otiko, who's also executive-producing the movie?
Axeman at Cutter's Creek originally was simply modern slasher fodder. But Christopher, who was unfamiliar with the genre at the time, asked me to share some of the genre must-sees. Among the ones I listed were the original Nightmare on Elm Street, Halloween, I Spit on your Grave, The Mutilator, The Kindred, The Dorm that Dripped Blood, Happy Birthday to Me and many, many more. His response after seeing the list was to ask why were we making a modern slasher when my influences were all '80s slashers. Good question, lol. With his notes on the script, I set out to make an '80s style slasher in a modern setting without falling into goofiness or being too self-aware. It was tough, but what we ended up with was a very lean, gruesome, visceral roller-coaster of terror and dark humor. Christopher as a collaborator has been a dream to work with. He's truly the first producer I've worked with that allows you to be completely creative as a writer. Literally, everything I've written, we're shooting. And I assure you, where we go with some of the language, situations and kills, MOST producers would've had me change about half my movie to suit broader audiences, but Christopher got the genre and what the fans of the genre wanted to see.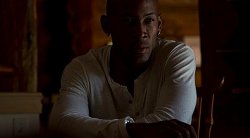 The film is described as an 1980's style slasher - a genre at all dear to you, and some of your genre favourites?
You know what? I don't want to leave anybody out so I'll just name some of my many favorites that I watched repeatedly for this film, lol. The original Halloween, Nightmare on Elm Street, Prom Night, The Dorm that Dripped Blood, Nightmare on Elm Street 3: Dream Warriors, Happy Birthday to Me, Hell High, Hell Night, Friday the 13th 1 and 2, The Mutilator and The Kindred.
How do you plan to approach your story from a directorial point of view?
It's been very important to me along the way to stay away from the hokiness that became the staple of the '80s horror films. Because of that hokiness, whenever I sit back and watch films today that are supposed to be throwbacks, I'm always disappointed with what I see. Those weren't the kinds of films I appreciated growing up. For me it was the dark, unapologetic films with disturbing imagery. From the onset, we've aimed to deliver a dark, gruesome, gore-filled story with black humor and modern twists and turns. We approach a very '80s style mad-man-hunting-teens in the woods story with modern style storytelling.
No slasher film without gore, right? So how far are you planning to go in terms of blood and guts, and is there a line you refuse to cross, for whatever reason?
In case you can't see, I'm grinning like a Chesire cat right now, lol. There are no lines when it comes to blood and guts with The Axeman. He literally kills EVERYTHING, anyway he can! To put him in a box would probably get ME killed, lol.
Also, no slasher film without scream queens - and with Brinke Stevens, Tiffany Shepis [Tiffany Shepis interview - click here] and Elissa Dowling [Elissa Dowling interview - click here], I think you got this front pretty well covered. So how did you get all of them, and what can you tell us about their characters?
Brinke and Tiffany and I worked together on the horror/action Bleed 4 Me a few years ago. And anyone who has ever worked with either woman will tell you how wonderful they are to work with and collaborate with, how talented they are, and also how knowledgeable they are about the genre. A few months after we wrapped, Tiffany was at a party and called me over, where I met the lovely Elissa Dowling. I'd seen her in a few movies, thought she was incredible and made sure we stayed in contact. Then the stars aligned, bringing this project to fruition. I had the role of a kick-ass, tough-as-nails SHERIFF CHARLENE WOPUZER that doesn't know the meaning of the word "surrender", and it had to go to Brinke. The role of gun-toting, trigger-happy bank robber DENISE came around and I couldn't think of anyone other than Tiffany. She brings the right amount of fire and zest, but she's also this reserved, keen observer of things that waits for her opportunity to pounce. And when the role of former track-star and hot-blooded STACY came around, I knew this was the role for ELISSA. She is equal parts sugar, spice and everything highly combustible, lol.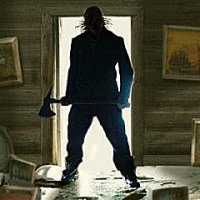 Your title character, the Axeman, is played by NBA-superstar Scot Pollard - so what does he bring to his role, what can you tell us about his character, and how did you get him?
Bottom line - it was beginning to seem impossible to find the Axeman character. Number one, the guy is supposed to be seven feet tall, extremely agile and embodies this incredible amount of rage that he keeps bottled up until he's butchering you to bits. Every person we auditioned was 6'4, out of shape and played it "cool". I wanted fire behind their eyes, I wanted to feel uncomfortable making eye contact - I wanted to feel threatened the way your boogeyman should make you feel. And I just wasn't getting it. Then in steps Scot Pollard. He nailed it on the first audition He made that room seem so small - like the walls were closing in around you. He was truly captivating to watch and you could see the intelligence that the Axeman possessed as well as the bubbling rage. Scary guy.
So what can you tell us about the rest of your principal cast/key characters?
I feel like I've assembled Voltron or something, lol. I literally have the most talented bunch of beautiful people you will ever see on screen! Arielle Brachfeld as the party girl daughter of the Mayor kills it! Eliza Kiss as the snotty, vane princess is hilarious in a mean-spirited way. Jamie Bernadette [Jamie Bernadette interview - click here] and Erin Marie Hogan's burgeoning lesbian relationship ignites the screen. Dylan Hobbs is the jock of jocks but plays it with grounded sensitivity that slashers never explore. Stephen Eith plays the rich kid caught in the middle of a crazy love triangle with Elissa Dowling and Chantelle Albers' sibling-like rivalry. J. Scott lands as the sex-obsessed, comic relief. Carlos Javier Castillo, Ray Trickitt and Tiffany Shepis round out the cast of survivor-hopefuls as a crew of hard-nose criminals looking for a big score and a place to lay low. Paula Tracey Wilson plays Arielle's irritating, former teacher's aide who now works behind the desk at the local Sheriff's office, and Dave Hernandez is a lowly local tour-guide trying to make a buck but ends up caught in the legend of Scot Pollard's Axeman.
It's probably waaay too early to ask, but any idea when and where the film will be released onto the general public?
We don't have a distributor just yet, however we are planning a limited release on Valentine's Day 2013. This is, as you know, the date movie of 2013! Keep tabs on which cities and showtimes via the official Facebook page.
Let's go back to the beginnings of your career: What got you into making movies in the first place, and did you receive any formal training on the subject?
I am a student of genre films. I grew up a bit awkward and different than most kids in the inner city of Atlanta. My friends were films and I spent every penny I had to visit them as often as possible. My earliest memories of film were Evil Dead 2, Fright Night, Night of the Living Dead, The Mutilator, The Kindred, and so many other gems that I found while raiding my aunt's closet. Everything I've learned about filmmaking has come from watching films and reading literature by great filmmakers. I have a Masters Degree in T&E - Trial and Error, and that has taught me more about filmmaking that any school could.
Only recently, you made the horror film Bleed 4 Me - what can you tell us about that one, also in relation to Axeman at Cutter's Creek?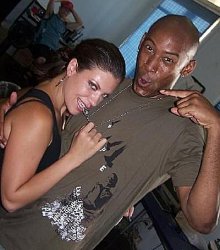 Joston Theney and Tiffany Shepis
filming Bleed 4 Me
Bleed 4 Me was my first attempt at genre filmmaking. It was loved by the audiences that had a chance to see it, but I was never really that happy with it. It was the first time I'd dealt with a producer's rep and distributor before a movie had been shot. And it ultimately became a film made by committee and wasn't necessarily my style of filmmaking. I'd spent my own money to make someone else's film.
It did eventually find a home with a local distributor who folded right after acquiring it so I bought back my rights and shelved my own work. An expensive lesson, but a lesson nonetheless. But it was how I met Brinke and Tiffany [Tiffany Shepis interview - click here], so two wonderful friendships were formed out of it!
Any other films of yours you'd like to talk about, any future projects?
I'm in development on my horror opus simply titled Satanica. It breathes new life into the revenge/day of the woman slasher genre but with a supernatural slant.
How would you describe yourself as a director?
As a writer, I get to lay the framework and skeleton for the body we're about to build. And as a director I like to pick talented, skillful performers and technicians to bring their own creativity to the table and help flesh out this body. I love to give people the space and freedom to play and give me the best they have to offer. Then I take what's created and give it shape. And give it life.
Filmmakers who inspire you?
David Mamet, Wes Craven, Kinji Fukasaku [Kinji Fukasaku bio - click here], P.T. Anderson, George Romero, Quentin Tarantino and Jean-Pierre Jeunet. All very different, I know, but they each bring an element to the table to I absolutely adore.
Your favourite movies?
Favorites? Uh-oh, you might get me in trouble here. My two all-time favs aren't horror. Amelie and 44 Inch Chest. They're both so masterfully executed, intimate and incredibly moving. My ties for third are Opera and Suspiria by Argento and Deep in the Woods by Lionel Delplanque. Battle Royale, Evil Dead Trap, the Scream-trilogy, Hard Eight, Death Proof and Dawn of the Dead all deserve honorable mentions - odd little gems that produce the appropriate amounts of oohs and gasps, lol.
... and of course, films you really deplore?

Feeling lucky ?
Want to
search
any of my partnershops yourself
for more, better results ?

The links below
will take you
just there!!!

Find Joston Theney
at the amazons ...

amazon.com

amazon.co.uk

amazon.de
Looking for imports ?
Find Joston Theney here ...
Something naughty ?
(Must be over 18 to go there !)

I believe filmmaking is an artform no matter what the genre is, and you don't judge anyone's art. You either appreciate it or you don't. That being said, I detest films that are shoved down my throat just because the producers and/or filmmakers needed to make a quick buck.
Your/your movie's website, Facebook, whatever else?
The official facebook and twitter pages are www.Facebook.com/AxemanAtCuttersCreek and www.Twitter.com/AxemanTheMovie. And anyone's invited to join me on my facebook and twitter at www.Facebook.com/JostonTheney and www.Twitter.com/JostonTheney.
Anything else you are dying to mention that I have merely forgotten to ask?
After the script for Axeman at Cutter's Creek was handed in to Blood Red Films, I mentioned to Christopher Otiko that inside the rewrite I'd found a through-line for a trilogy. Given the ending, he wanted to know where we'd go from there. So, I sat down with him, gave him an outline of each film, examples of how we'd amp up the intensity and give each film it's own legs to stand on. But most importantly, how we'd execute a trilogy - not a series of diluted films like most slashers, but an honest to goodness trilogy. The first film is the set-up. The second is the big reveal. And the third is the over the top finale. He laughed and cringed for the next few hours and said, "Let's do it!"
Thanks for the interview!
Anytime, Mike. Anytime.