Your upcoming movie Krampus: The Devil Returns - in a few words, what's it going to be about?
Krampus: The Devil Returns takes place several years after the ending of Krampus: The Christmas Devil. Krampus is now on an uncontrollable and unexplainable rampage taking children, and Jeremy Duffin (from Krampus: The Christmas Devil) is brought back to help find and capture him. We will have a bunch of crazy subplots, and a superbly twisted ending.
To what extent is Krampus: The Devil Returns a direct continuation of your earlier Krampus: The Christmas Devil - and when you did that one, did you ever picture it as a potential franchise starter?
It is a continuation, yes, but the story will stand on it's own. You won't need to see Krampus: The Christmas Devil before seeing this one, and we are being very meticulous on the script to make sure that is the case.
We have always loosely felt that Krampus is "our" monster, so I've always thought, and we've always talked that there might be a part 2. I've always wanted to do a sequel, and this just seemed logical, especially while it's still fresh and fun. I regret that we didn't maybe do Krampus: The Christmas Devil a year or so sooner as there's a few more films popping up this year, but he's definitely becoming more mainstream, which is fun. I love the character, and love being a part of "holiday horror".
Other than Krampus: The Christmas Devil, what were your main inspirations for dreaming up Krampus: The Devil Returns?
Not sure I could name any one thing or any one film in particular, but as we have progressed in making better films, I'm trying to watch more and be more of a sponge on the things that I like. I have a lot of directors, writers, actors that I admire, and I'm trying to learn from them all just WHAT it is that I admire about their work. Take all of that, and throw it into a pot, and hope we come out with something that's fun for the audience, and moreso something that my cast and crew are proud to be a part of.
Krampus: The Christmas Devil did feature quite a few gruesome effects - so what will Krampus: The Devil Returns have in store, and will you try to push things further? And are you still sticking to practical effects?
Without question, we will for once have a full force make-up and FX crew. All effects, at least in theory at this point, will be in-camera. There may be some digital enhancements in post, but we will be doing everything in camera. We are hiring a very talented gentleman, Jon Thornton, to do a prosthetic for Krampus. He did the mask for a movie called The Devil's Hand, which when I saw that, I was super excited to have him to help us with making Krampus more camera friendly this time. He'll be able to move his mouth more, and look exactly the way I've envisioned him! There's more blood, gore, etc. Let's just say, we're going to have to get some clearance from some children's parents for this one! Ha ha.
What can you tell us about the film's intended overall look and feel?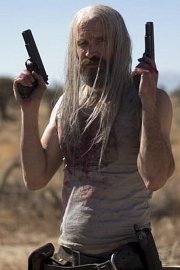 Bill Moseley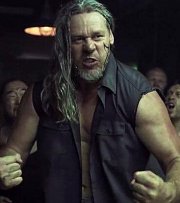 Robert Mukes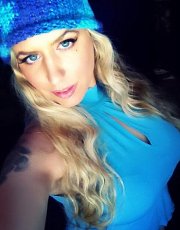 Melantha Blackthorne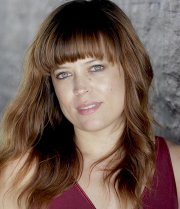 Tiffani Fest
Dark and cold. Get that feeling like when you watch the beginning of Carpenter's The Thing, or 30 Days of Night. I have some ideas of how I want to adjust color depending on the scene to help make the audience "feel" cold. We will be getting an updated camera for this one, and have a great DP, Daniel James, that will be handling the camera work for us on the heavy workload days.
Do talk about your projected key cast and crew for a bit, and why exactly these people?
We'll be bringing back Rich Goteri, Mike Mili [Michael Mili interview - click here], A.J. Leslie, and Darin Foltz for this one. Paul Ferm will still be our ornery Santa Claus, and Brad Weaver will be our Krampus again.
After that, attached to the film at this point are Bill Moseley, Kane Hodder, and Robert Mukes. Bill will be the brother of Bill Oberst jr's character [Bill Oberst jr interview - click here]. I've been a fan of his since the Texas Chainsaw Massacre 2 days, so I've always wanted to work with him. Oberst played such a wacko in Krampus: The Christmas Devil, we needed someone that could pull that off, too. Anyone that's seen Devil's Rejects knows he's fully capable, ha ha. We met Mukes at the Fantastic Horror Film Fest in San Diego last year, and we hit it off pretty good. He's like 6'10", which completely fills my favorite character I wrote in Krampus: The Devil Returns. Kane is just a super cool guy, and has the look that we wanted.
We're also bringing in some other known names, too. Melantha Blackthorne [Melantha Blackthorne interview - click here] will be playing a bad ass henchwoman, and Tiffani Fest, who was just in Billy Pon's Circus of the Dead, will be also joining us as another police officer in search of Krampus.
There's a lot of folks that are also talking with us at this point, so there might be another cool name or two added as we move forward!
While we're talking, Krampus: The Devil Returns is still in its fundraising stages - so what can you tell us about your fundraising campaign?
We decided to go through fanbacked.com for our crowd funding. They are the company that was in charge of Rob Zombie's 31 campaign. I liked their look and feel, and Jay and Dario that are in charge of the company are super to work with. I liked that they deal with film, and it wasn't so much of a "give me money", as in the fans get something - a product - in return. It's my first venture in fundraising, as I've always tried to front the money myself or with a few select other people, but we had to take a step back and realize that what we can scavenge isn't sadly enough to make what we envision, and likely a limitation. I'm really hoping that people will help support us - be a part of our production - and help us to make a killer film. We can stretch a dollar, and a lot of our actors and crew are signing on well below their normal rate, as they want to be a part of this film. There's a cool VIP site that's on their website, that we will be adding behind the scenes stuff with very soon. With that being said, please take a look at www.krampusreturns.com
Once your funds are raised, what's the schedule - and any idea when and where the film might be released yet (and I do realize it's waaay too early to ask)?
Not too early! We will begin filming December 2015-Feb 2016, with some inserts I'd imagine in March and April. I typically edit as we film, but will be sending it out to Ryan Clapp that edited Circus of the Dead, for a final edit. We will tentatively premiere it in November 2016 in Erie, PA.
Any future projects beyond Krampus: The Devil Returns?
Yep! After Krampus: The Devil Returns, I really want to step back and do a comedy that I wrote a while back. It'll need to be rewritten, and be updated, but it's still funny and relevant. It's called Sex Ed, and is about a recently divorced man, Ed, and his college pals that are trying to "get him back into the game". Everyone that's read it loved it. If we fill roles with character actors, it'll be even better. Think Sex and the City, but with four late 30's college pals.
Past Sex Ed, I have another horror movie that's brewing in the brain. I've always wanted to do a straight up "slasher" film, but not without somehow being a little different. There's a local Erie, PA "legend/lore" that I've stumbled upon that I would like to make into a story. I've set that back in the back burner, as I don't want to interfere with anything Krampus-related, but it's something that's definitely on my mind.
Past that, who knows!

Feeling lucky ?
Want to
search
any of my partnershops yourself
for more, better results ?

The links below
will take you
just there!!!

Find Jason Hull
at the amazons ...

amazon.com

amazon.co.uk

amazon.de
Looking for imports ?
Find Jason Hull here ...
Something naughty ?
(Must be over 18 to go there !)

Your/your movie's website, Facebook, FanBacked-profile, whatever else?
Facebook: /krampusreturns, /krampusdevil, /Snowdogstudio,
/lazysnowdog
Twitter: @snowdogstudio, @Krampusreturns
Instagram: @krampusreturns
Fanbacked: www.krampusreturns.com
Anything else you are dying to mention and I have merely forgotten to ask?
I really want to thank everyone that has supported us, watched our films, commented on us, taken the time to blog, post, interview us, etc (including you, Mike)! It means a ton to be a smaller guy in a "non-traditional" market to have so many people that care about what we do. I'm truly humbled. It's all of you that drives us to improve every time we begin a new project, and I think we are doing that with this one as well. Please follow us on social media and keep up with us!
Thanks for the interview!