Your new movie Black Wake - in a few words, what is it about?
It's essentially an HP Lovecraft inspired story told in a found footage epistolary style. Elder Gods, parasites, sea zombies, conspiracy, detective work, horror and science fiction converge in a bizarre story centered on a scientist (played by Nana Gouvea) investigating a series of bizarre murders.
How did the project fall together in the first place?
Writer Jerry Janda [Jerry Janda interview - click here], who I worked with previously on the body horror movie Painkiller, heard me answer an interview question about the type of genre film I would NEVER want to do. I said found footage. In his impish perversity, Jerry immediately wrote a found footage movie but one that was completely off the wall and bizarre.
I was reminded that HP Lovecraft stories and Bram Stoker's Dracula are essentially "found footage" fiction comprised of diary entries and newspaper articles. I was sufficiently intrigued. So once we hooked up with producer Carlos Keyes, off we ran.
You're right! Thematically, Black Wake has a bit of a Lovecraftean tinge to it - so how much of that was intended?
I frequently bent the rules of found footage movies but was emboldened by Lovecraft who would end stories with characters writing their own deaths in a completely non-naturalistic way: "The creature is at the door... it is breaking through... it is here... I can see its 1000 eyes... NOOOOOOO!" We are asked to believe the guy wrote that, but we embrace it because of the gleefully fun narrative storytelling at the end of the day.
(Other) sources of inspiration when writing Black Wake? And how did you come up with such a delicious (sub-)genre mix?
I watched a lot of Errol Morris documentaries. The Thin Blue Line is a classic talking head documentary that weaves in a lot of Hitchcock-style staged scenes recreating a murder in a Rashomon style. Black Wake is pulp entertainment more like Robert Bloch or Theodore Sturgeon than Errol Morris, but if I stole from any documentary style it was definitely from him. I stole the idea of punching in on shots from the Errol Morris doc The Fog of War. But again, he is a genius and I'm just being a B-movie thief.
What can you tell us about your writing partners Jerry Janda [Jerry Janda interview - click here] and Carlos Keyes, and what was your collaboration like?
There were frequent rewrites and it was a very long shoot. The script took on a slightly loopy and bizarre "what is my actual reality" vibe, which makes it appropriate for our NYC premiere at the Philip K. Dick Science Fiction Festival. Carlos's revisions make the movie a bit of a mind-fuck for the viewers, but thus far critics seem to enjoy those weird twists and turns.
Do talk about Black Wake's approach to the horror genre!
The biggest terror is losing your sense of self. When the parasites overtake their victims, they become a part of a great hive mind. I can't think of anything scarier than losing my sense of personal self or realizing my entire life was some kind of cosmic lie. Philip K. Dick and HP Lovecraft delved into those kinds of terrors, where the balance of our everyday life is fragile and can get ripped apart any second.
A few words about the effects work in your movie, and how were they achieved?
We had practical effects with the blood and black goo of our particular zombies. Beatrice Sniper created the special effects in New York (she also made a practical woodland creature in my monster movie Slapface) and Phil "Skippy" Adams finished our shoot in Connecticut. They're both terrific artists, creative and fast and unafraid of making bold choices with the gore and grue.
From there, we had visual effects in post. HP Lovecraft style monsters burrowing up from out of the ground were made by StratoStorm, an amazing company run by Helena Hilario and artist Mario Pece. The parasites that infect people were a combination of practical gore and post effects, pretty seamlessly done from one team to another.
What can you tell us about your overall directorial approach to your story at hand?
Our approach was to keep it simple and naturalistic, since the story is so bonkers and off the wall and crazy. We used a few different shooting formats and cameras, which seemed appropriate for found footage.
Do talk about your key cast, and why exactly these people?
It's an ensemble film with a big cast for a low budget indie, but at the center of it all was Nana Gouvea [Nana Gouvea interview - click here] as Luiza. She has an almost feral intensity, very method in her approach. Drawing from incredibly personal resources, she fearlessly delved right into extreme rage or madness. She was with us the entire time, and most everybody else parachuted in to play their part of the story and disappear back into the ether.
I guess I identified closest with Jonny Beauchamp who plays the homeless man Tommy, a sort of nomadic character who takes rides an arc from weakest to strongest. Jonny is such an incredible professional and lovely person, very different from this seemingly mad character who is a little like a cat, a little like a wraith, vulnerable until pushed into being lethal. He had zero tolerance when other actors were unprepared or hadn't learned their lines. "Difficult" actors are usually actors who care and I always felt protected working with him.
I've had the opportunity to direct Jeremy Fernandez (Lucas) and Kelly Rae LeGault (The Specimen) [Kelly Rae LeGault interview - click here] a few times. They're like thoroughbred horses at the gate who unleash in frightening ways when you call action. I know Jeremy impressed Tom Sizemore in their interrogation scene, when Tom realized this kid was not going to give him the scene. He made Tom work for it, which Tom immediately used as fuel.
What were the name actors like to work with?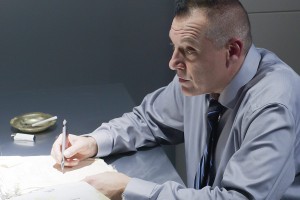 Tom Sizemore showed up not knowing anyone and very protective of his space. But we gradually earned his trust and what I especially admired about him was his sheer generosity and professional courtesy to all the day players. I was reminded that Tom was not an instant star and paid his dues for years before Natural Born Killers and his amazing run with a series of great directors. He still has that pride in his craft; he loves acting, his fellow actors, and understands how to navigate a scene and a set. I know he can be tough, but the Tom I worked with was resourceful, dedicated, and cared. I had a great experience with him and hope we can collaborate again sometime. He has a gift, and he has his demons. I love that he just did superb work on Twin Peaks and feel like Hollywood can be a forgiving place. Like Dennis Hopper, I think Tom will have a career revitalizing role someday soon that puts him back on the map in a big way. He's too talented not to.
Vincent Pastore is a very experienced actor but we didn't get along. He didn't care for me and I didn't care for him. But we're both professionals and did our jobs. When he wrapped, we shook hands and went our separate ways. Look, at the end of the day its show business not show friends. But it could also simply be bad chemistry. My frequent director of photography and dear friend Dominick Sivilli (who wasn't on Black Wake) shot Vincent in another movie and they got on very well, so who knows?
A few words about the shoot as such, and the on-set atmosphere?
As you can guess it was a pretty colorful environment. Found footage is a pain to do, with a lot of very limiting rules. I'll never do it again, if I can help it! I'm grateful for all the resourcefulness of our directors of photography, Kenneth Kotowski in New York and Christopher Bye in Connecticut.
The $64-question of course, where can Black Wake be seen?
We premiere next month at the Philip K. Dick Science Fiction Film Festival in New York and then will have a festival run while we field distribution offers.
Anything you can tell us about audience and critical reception of Black Wake yet?
So far critics have enjoyed this bizarre story structure, which spirals deeper and deeper into madness. I'm curious to see how audiences go along for the wild ride. The movie belongs to them now.
Any future projects you'd like to share?
We're in the middle of our festival run for the monster movie short Slapface, which was truly a labor of love. There's a feature length version I'd love to kick into high gear. In the meantime, I'm shooting an absurd comedy called Fizzle starring one of my favorite actors, Peter Friedman, who was just terrifying opposite Julianne Moore as the lethal self help guru Peter Dunning in the classic 1990s Todd Haynes movie Safe.

Feeling lucky ?
Want to
search
any of my partnershops yourself
for more, better results ?

The links below
will take you
just there!!!


Your/your movie's website, Facebook, whatever else?
http://www.blackwakemovie.com/
http://kippfilms.com/main.html
http://imdb.com/title/tt4839118/
https://www.facebook.com/blackwakemovie/
Anything else you're dying to mention and I have merely forgotten to ask?
Thanks as always for being so thorough.
Thanks for the interview!