You have only recently written, produced and starred in the short Candy.. In a few words, what is the film about?
First off, I was the creator and I wrote the original story, Jenny Beres was the writer of the short film.
The film is about a simple Mother and son bond and how his attempt to break away from her does not go so well. It's an age old story with a twist.
What were your main inspirations for writing Candy.?
My idea for the film came straight from my love of 50's & 60's TV series like Bewitched and I Dream of Jeannie and above all the feel of The Twilight Zone and films from Alfred Hitchcock.
I love the 1950's style. Giving the character of Candy. a very Marilyn Monroe feel was always majorly important to me and I'm happy that Sage Hall was willing to go there with her. I know a way I would explain this short to people was, What if Marilyn Monroe worked with Hitchcock? or What if Monroe was in a Twilight Zone episode? I felt like we could create that and Sage could play the role in a way that worked and was never over the top.
Since Candy. is basically about a hopeless momma's boy you probably wouldn't admit this even if it was ;), but is the story in any way autobiographical?
Absolutely not. I do not have a good relationship with my mother.
In structure, Candy. reminds me of these old-fashioned yet effective short stories with twist endings. Are these anything you harbour a love for?
Yes, of course. I know those type of stories ring true to Jenny as well and it would be interesting for you to get her opinion on this. The twist to me is what gives a good story a way of staying with the audience. I believe there wasn't anything predictable about Candy. and I feel that every audience that has seen would agree.
What can you tell us about audience reaction to Candy.?
It's been amazing. The first screening in Sacramento at the SAC Sci-Fi/Horror Convention blew us away. Director Sage Hall, Composer Grady Reingle, Writer Jenny Beres and I were all there and spoke about the different jobs on this film. After the screening the audience was quite responsive and had so many wonderful things to say. We screened at the Hallowscreen Film Festival in Sarasota and again, the audience was very happy with the film. In the coming weeks we have been asked to have Candy. screen at the Screen Actor's Guild offices in NYC. It's for the SAG FOUNDATIONS Short film Showcase. We are honored they have accepted our film. It remains to be seen if Candy. has a life in the Film Festival circuit outside the horror festivals. You can watch and learn more about Candy. here: http://www.Candy.StarFruitProductions.com
You have currently another short film in post-production, The Couch. A few words about that one?
The Couch is Sage Hall's labor of love. I'm honored to have been a producer and actor on the project because it has so much heart. This is not, in any way, a horror film, it's a urban drama and it is a very artistic piece. Sage brought this idea up to me over 5 years ago and I'm truly happy to be a part of it. Amazing Writers, Amazing Actors, Amazing Crew, this is a very heart felt piece and I have no doubt it will do wonderful in the coming year on the festival circuit. You can learn more about it on the official website http://www.TheCouch.StarFruitProductions.com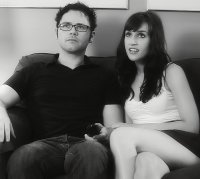 with Jenny Beres in Candy.
Besides yourself, Candy. and The Couch also share Sage Hall (star, director) and Jenny Beres (star, screenwriter). What can you tell us about these two women?
They're both amazing. I've already gushed about them above, but truly they have been artist saviors in my life. Sage introduced me to Jenny when she asked me to work in a performance of two one act plays Jenny had written. It was a wonderful experience because I had not done theatre in such a long time and it really reinvigorated my love for live performance. Having them both partake in the world of Candy. was a wonderful experience and then re-uniting to work on The Couch just reinforces a combination of talents I believe could wake this industry up a bit. Sage Hall is not only a talented actress and director but she is also a very talented Editor and producer, and Jenny Beres is a very talented writer of both theatre and film, but she has also become a good actress and it's wonderful that she stepped into Candy. and discovered that new talent.
I can't say enough good things about the two them and I value their friendship. I hope to continue working with both of them on many projects in the future.
You are also currently pre-producing the feature film Hellstorm, which you will also star in. A few words about this project of yours, and how far advanced is it at present?
We are in the Pre-Production stages and being a producer on this project means I'm extremely busy. We're searching for investors at the moment, which is taking up a lot of time, as well as doing some script revisions. I will be in Huston and Galveston, TX for meetings regarding the film for most of February and hopefully quite soon we should have an announcement regarding the Hellstorm.
As I understand, you already have a quite stellar cast rounded up for Hellstorm. Could you please elaborate?
We have an incredible cast of actors signed on to the film at this time including Kane Hodder, Debbie Rochon, Regan Deal, Natacha Itzel, Devanny Pinn [Devanny Pinn interview - click here], Sage Hall, Tara Cardinal [Tara Cardinal interview - click here], Erik Preston and many more.
Another upcoming film you not only star in but had your hands in production is For Christ's Sake. What can you tell us about that one?
For Christ's Sake was filmed in 2007. I do hope that the film eventually sees the light of day, but I can not tell you anything regarding the film at this point. It's out of my hands and left to the director/writer Dustin Hubbard [Dustin Hubbard interview - click here].
In For Christ's Sake, your character is labelled The Clone of Jesus Christ. How do you approach/prepare for such a role?
I remember getting to set and telling Dustin Hubbard that I wanted to really talk about the character. I knew that if I dare to approach it as Jesus then I would automatically fall into a stereotype caricature and be attacked by religious fanatics over that portrayal in a horror film. Mind you, I still ended up with a lot of hate mail, even though the trailers on Youtube you only see my silhouette and my eyes. But over all, I wanted to give him a Robotic quality rather then make him the nurturing Jesus everyone knows, it wouldn't work in a horror film setting. I basically looked to movies like American Psycho and oddly enough A.I. for inspiration. I think it worked, but until it's seen by people, I really won't know.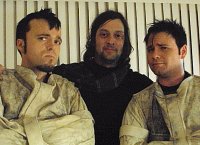 Cut
You are also in Joe Hollow's [Joe Hollow interview - click here] upcoming Cut. Anything you can reveal about that film yet?
I have no authority to speak about Cut other then to say it's an amazing cast and crew. I enjoyed playing Jeff and I can't wait to see the final version.
Let's talk about Ripped Memories for a bit, another film you didn't only star in but you also produced?
Ripped Memories stars Debbie Rochon and I as stepmother and son who have a very odd relationship. Again, it's not finished and I have not seen any final footage on the film so I can't say too much about it. But I can tell you there are some great appearances by Elina Madison, Tara Cardinal [Tara Cardinal interview - click here], Jose Rosete and Bill Oberst, Jr. who plays my father. It's basically a suspenseful drama with a few twists. A very ambitions project by Writer/Director Marc Fortin who is out of Holland and came over to Los Angeles just to shoot this film.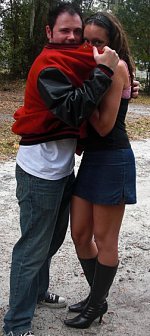 on the set of Alien Vengeance with Christine Daoust
What can you tell us about Alien Vengeance?
I can tell you it's available for purchase on Amazon and on the website http://www.AlienVengeance.com.
This is an homage to the Sci-Fi late night B-Movies of the 70's and 80's. Director/Writer Jason Liquori brought together a great team for this film and I had an absolute blast filming it. You've got to go into the film knowing that this a b-movie and just have fun with it.
Any other films you want to talk about, any future projects you want to reveal?
I will be going over to Phoenix, AZ and directing segments for the webseries A Six Gun for Lobo, which is a spin off of the successful Western X. Writer/Director Michael Flores asked me to join their team for this project and I'm extremely happy to take part in this world You can watch Western X exclusively on KoldCast.TV: http://www.koldcast.tv/video/western_x_introduction_eps_1_3
Going through your filmography, one can't help but notice that quite a few of your films also star Debbie Rochon. A few words about her?
Debbie is amazing. I have so much respect for her and I'm so glad that a working relationship has grown into a friendship with her. I value her opinion and her knowledge of this business. She is a delight to be around and I honestly don't know where I'd be without her support over the last few years. Everyone should aspire to be as thoughtful, honest and straight forward as she is.
Concerning filmmaking, you have pretty much done it all, acting, writing, producing. Why, which do you prefer, what could you do without, and were you never tempted to put yourself into the director's chair?
Well, I'm tempted all the time to want to be the director, but it has to be the right project. Again, I'm honored to work with Michael Flores on A Six Gun for Lobo but as far as my own project, I don't know when that will be. I don't know if I prefer anything over another. I love the freedom you have as an actor to develop a character and really find a new approach to the situations in a script. As a Producer I love building a project from the ground up and having my hands in everything. Hellstorm has been a great learning experience with such a large cast and with Keith Smith directing, I feel confident the film will turn out to be a truly memorable horror film for the fans out there.
I really think that you can focus your energy on one aspect of filmmaking and really hone the skills needed for that job, but I've always believed it's better to know how Everything works and that makes you stronger in every area on the film set. I've run coffee, sat in the background for days on end, been the lead, been a supporting character, written a bit, produced and yet I know there are a ton of jobs I have no idea how to do. I think I still have a lot of learning to go through before I will ever feel comfortable in any one role on a film set.
Before you started making films, you already had quite a stage career, which I understand is still ongoing. A few words about your theatre work, and how does acting on stage differ from acting in front of a camera?
I talked about the two one act plays I was in with Sage Hall that were written by Jenny Beres last year, that was my return to theatre. I missed it but didn't really know how much until I was acting in front of people again. There really is nothing like an immediate laugh from a joke you've just told or a gasp when something dramatic has happened. Though I miss it, Theatre does not offer the flexibility filmmaking does or the intricacy that I absolutely love about acting on camera. I've always thought that subtlety goes such a long way when you're on camera and I love that.
But I expect, that if the right role came up and my schedule allowed, I would jump at the chance to to stage work again. We'll see what happens.
Before making a name of yourself in indie movies, you did quite a bit of extra and uncredited supporting work on studio films from Ocean's 11 to Beethoven's Big Break and Ace Ventura: Pet Detective jr. What can you tell us about that aspect of your career and how does work on a studio flick differ from work on an indie film?
This was a tremendous help in my growth as a film actor. I love being on set, it doesn't matter what I'm doing so being a background actor for those huge moves, was all training and I'm very thankful to the company Background Entertainment in Orlando for giving me work in Beethoven's Big Break, Ace Ventura: Pet Detective jr, Never Back Down and Bait Shop. My time on those sets was amazing and it was some of the best time I've had as an actor to date, no kidding.
As far as the difference between Studio and Indie projects, the obvious is true, money. On a studio film the sets are larger, the trailers are bigger and the food is abundant. Some studio films can give you that element of family, but for the most part it's all about the bottom line and I can respect that to a point. It's a business and you've got to get the work done in order to reap the benefits. With Indie films, you're all working together to make shots happen. You might be the star of the film, but that doesn't mean you won't be holding the boom in the next shot if you have to. You do an indie film because you Love it, you don't do for the money. There are experiences and friendships that I've made through doing indie films that I could have never made or had on a larger set.
Most of the films you have done so far are in some way or another horror movies. Do you have a special love for the genre?
I do love horror films from the campy to the creepy. I love to be frightened and love practical, onset FX. There's nothing better then a real artist making you bleed! I can't stand watching horror films that utilize CGI in such a way that it takes you out of the story.
I want to do other genres, but there is nothing like the love of horror to bring people together. People unite at conventions, travel across the globe to be scared at an event like Universal's Halloween Horror Nights (which I've worked at many years) and for that alone it's worth doing these films. The fans are great and being one myself I know what it's like to meet a fellow actor that you've admired or been terrified by, it's thrilling.

Feeling lucky ?
Want to
search
any of my partnershops yourself
for more, better results ?

The links below
will take you
just there!!!

Find Jesse Kozel
at the amazons ...

amazon.com

amazon.co.uk

amazon.de
Looking for imports ?
Find Jesse Kozel here ...
Something naughty ?
(Must be over 18 to go there !)

Actors who inspire you?
My list is long but I'll condense a bit and I'll only mention actors working today. Gary Oldman, Kevin Spacey, Betty White, Beth Grant, Jamie Lee Curtis, Cate Blanchett and Leonardo DiCaprio. Honestly, these are a few of the actors gracing the mainstream big screens that I absolutely admire and am inspired by.
Your favourite movies?
The Color Purple, Requiem for a Dream, Halloween (1978), Moulin Rouge, A Nightmare on Elm Street, Star Wars, Boogie Nights, Gremlins and Jaws.
... and of course, movies you have really deplored?
I don't know, there are tons of films I dislike, but others find them entertaining, that's why there are so many movies made every year.
Your website, Facebook, whatever else?
Official website: http://www.JesseKozel.com
Facebook: http://www.Facebook.com/JesseKozel
Twitter: http://www.twitter.com/JesseKozel
IMDb.com: http://www.IMDb.me/JesseKozel
Anything else you are dying to mention and I have merely forgotten to ask?
Not that I can think of, but thank you for doing this interview and thanks to Tara Cardinal [Tara Cardinal interview - click here] for mentioning me to you! I appreciate it.
Thanks for the interview!