Your upcoming movie The Clowns Are Coming - in a few words, what is it going to be about?
A young man (played by Kurt Wylde) has a fear of clowns. This is his worst nightmare, come true! He has nothing to fear... except his sanity.
Judging from your title and the fact that The Clowns Are Coming is a horror film, I guess this one is playing with the rather common fear of clowns - is that something you can at all relate to on a personal level?
I guess it might be a old cliche, but Poltergeist as a child did it for me as in a young type of fear? Stephen King's It, Killer Klowns from Outer Space and Clownhouse were also to blame.
(Other) sources of inspiration when conceiving The Clowns Are Coming?
I like seeing people's talents and seeing them do well, even early starters in horror and film-making! Avant-Macabre inspired me to go a more ghoulish, colorful direction. I just want to produce better shorts that I want to see! And touch wood, others, too.
What can you tell us about The Clowns Are Coming's approach to horror?
I am looking to creep people out and tease poor Kurt Wylde in The Clowns Are Coming. So, I'm hoping those fears are there and add some humor via the clown-actors who all seem up for the task and bring their own gimmicks and ideas.
Do talk about the overall look and feel of The Clowns Are Coming!
I feel that it should play with madness, a fear and a genre! I like the silent horror approach like in Avant-Macabre. This time around, Emma Dark (Seize The Night) [Emma Dark interview - click here] and others are all going to be in the same room together to make the best clown horror short that we can on a low budget!
Anything you can tell us about The Clowns Are Coming's projected key cast and crew now, and why exactly these people?
Kurt Wylde likes to film and act, and was a great friend to the late Richard Gladman. I felt as though his presence should be given a chance and Gladman said that, himself. Emma Dark - who is helping me film - is award-winning and a sweetheart to work with, too. I look forward to it! Bryanna-Angel Allen and Georgy Ragazza have been very lovely too as make-up artists and have given me their time and love! I appreciate them all, so much!
As far as I know, you are running a fundraiser for The Clowns Are Coming as we speak - so what can you tell me about your fundraising efforts?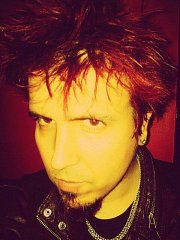 Kurt Wylde
I've got downloads of Avant-Macabre, The Clowns Are Coming, mini-posters and producer credits as perks. It would be nice to give back and this is a trial and error for me as a first funder for me. I hope to give back and donate some to an animal cause - in Richard Gladman's name. That's the plan, anyway.
https://www.indiegogo.com/projects/the-clowns-are-coming/x/78888#/
Once the budget is raised, what's the schedule, and any idea when the movie might be out yet (even if it might be waaay to early to ask)?
I want The Clowns Are Coming out for Halloween and perks honored. Keep checking for updates (see links below)
The Clowns Are Coming is dedicated to Richard Gladman - care to elaborate?
Richard Gladman was the brain-child behind Space Monsters Magazine. It was a publication dedicated to all things horror and B-Movies. He also was behind a horror anthology called Fragments of Fear with Georgy Ragazza - a make-up artist.
I just thought it might be nice to work with friends and faces he knew on one project in his memory.
Any future projects you'd like to share?
Nothing at the present, but I hope to do a follow up to Avant-Macabre and a few more shorts to entertain people.
Your/your movie's website, Facebook, IndieGoGo, whatever else?
Indiegogo: https://www.indiegogo.com/projects/the-clowns-are-coming/x/78888#/
Facebook page: https://www.facebook.com/The-Clowns-Are-Coming-2016-1616943718624298/
Thanks for the interview!