I know we have talked about this before [click here], but do bring us up to speed: Your movie Axeman 2: Overkill - in a few words, what's it going to be about?
It is the continuation to the original Axeman film I wrote and directed a few years back that picks up the final night of the first film - precisely the moment that Tammy (played by Kailena Mai) is having her face chewed up and spit out! We find that Tammy and her lover Liz (played by Whitney Nielsen) actually survive their attack but are separated during the battle. Believing each other have died, the two embark on separate journeys that have them joining forces with crazed Evangelicals, murderous bank robbers, small town vigilantes spearheaded by returning character Deputy Darlene (played again by Arielle Brachfeld [Arielle Brachfeld interview - click here]) - ultimately confronting the big man with the axe - The Axeman at Cutter's Creek!
Axeman 2: Overkill is a rather wild genre mix - so how did that come about?
First time around, I didn't get to make the film I wanted. I know that I have lots of fans who truly love the first film and I'm grateful for that but there was quite a bit of "insanity" that never made it to the screen because the executive producer wanted to play it safe. This time around I convinced him to let me go for it and I really went for it, lol - balls to the wall. It's hilarious when it's supposed to be, gruesome when it's supposed to be and intense when it's supposed to be. I think I leaned a little too far in certain directions at times, but overall it's what I wanted - a wild, insane ride! Something that gore hounds and lovers of 80s horror flicks will dig.
You of course have to talk about the violent bits in Axeman 2: Overkill for a bit, and how were they achieved? And how important do you think are blood and guts for a film like yours?
For this film, blood and guts were an absolute necessity. I skimped on it the first time around, in my opinion, and I didn't make people squirm enough. This time, between the blood masturbation scene, the machete through the asshole, the "worst head I ever had" scene and the testicles being pulled out of a character's mouth - we delivered in spades! And to answer the question of how it was achieved - I'd have to put my wonderful SFX master Eli G. on the horn for that. She is a wizard in that department and did everything practically, in an age where CGI is the go-to. We'd originally hired another SFX artist but couldn't use a single effect she created - I take that back, she lumped a terrible mass of stuff on Arielle Brachfeld's neck to create the wound in the final scene which had to be cut to hell in order to make it work because it was so bad. I'm so lucky to have discovered Eli G.'s SFX talent while onset and in the clutch - she really saved the day!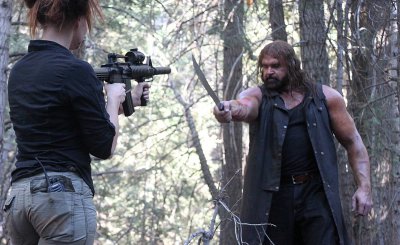 Do talk about your overall directorial approach to your story at hand?
I just try to keep everything loose and keep the actors nimble. I took the time to hire very talented actors, a skilled DP with an incredible team and made sure we all understood the ins and outs of the journey we were embarking on. Once we were all on the same page, I wound them up and let them go. I just guided them along to make sure the train didn't go off the tracks, but what you see on the screen is everyone relaxed, at their best, giving me the best possible version of Axeman 2: Overkill that can possibly be rendered.
Axeman 2: Overkill stars pro-wrestler Bryan Clark [Bryan Clark interview - click here] in the title role - so why him, and what was it like working with him?
Scott Pollard was great in the original and delivered exactly what we wanted. But when schedules didn't work for the sequel, and the executive producer allowed me to go in whatever direction I chose, I decided I wanted someone who was larger than life - who really came off as true threat no matter how well-equipped you thought someone might be to deal with the Axeman at Cutter's Creek. He's bigger, faster, stronger and more deadly. Hell, if someone was going to kick a guy so hard in the nuts that it causes the guy's testicles to erupt from his mouth, who's better to sell that? And Bryan was a dream to work with. He was another guy who left it all in the ring. Even gave me a concussion during our fight scene, lol. But I'd be a jackass if I didn't mention "Iron" Mike Foster as well, who plays the Axeman's father Polk Talbert. He also turned in an incredibly rabid performance as "hate" personified! He was a total beast in the film, cutting a woman in half with a chainsaw and being even more terrifying with an axe!

Jacqui Holland
Now at least in my eyes, probably the most memorable performance was Jacqui Holland's bat-shit crazy Sunshine [Jacqui Holland interview - click here] - so you just have to talk about Jacqui and her character for a bit, and how much of the madness was actually in the script, how much made up on the spot?
That was all in the script but I have to say - she went for it! I told her like I told everyone, leave it all in the ring, lol. Go for broke! And she did. I've created a lot of characters, but Sunshine and Kesha (played by Hannah Landberg) are two of my favorites from the new installment. One could argue that she isn't bat-shit crazy at all but rather very astute and in-tune with the world she exists in. When she tells the character David Manly she is "Satan's Whore," I think that's exactly who and what she is in a nutshell. That "insanity" she displays is her complete and utter glee in the most horrifying and hellish of situations, lol.
What can you tell us about the rest of your cast, and why exactly these people?
This is the first film where I can look back on the experience and say this is where I met some of the most awesome people still currently in my life! I work with a lot of people and rarely keep in contact due to... life, hahaha, but the incredibly cast and crew of this film are still my buds 3 years later. Arielle Brachfeld [Arielle Brachfeld interview - click here], Eli G., Michael Foster, Linda Wong, Phil Foster, Monique Parent, Joe Floccari and last but not least, Farrah Abraham [Farrah Abraham interview - click here] - just some of the coolest, hard-working and loyal people I know. Arielle was fantastic returning to the role of the put-upon Deputy Darlene Whitfield and taking a performance that could've become derivative and making it a total tour de force. Powerhouse actress Monique Parent as Darlene's mother Marla Whitfield turned in an outstanding performance. Michael Foster was terrifying as a rage-filled, revenge-seeking, axe-wielding local legend. Eli G. was a pillar of strength that held together so many departments and had a workload of 28 actors to do make-up for one morning ALL BY HERSELF!!! Handled it like a champ and the crew never missed a beat. Linda Wong, Phil Foster and Joe Floccari were awesome as supporting cast members and always a dream to work with. And Farrah - what would the experience have been like without her? She was a total blast to work with, hard-working and gave it her all - all reasons I look forward to working with her again. All of these people and their passion, skill and loyalty are why they were chosen and why I'd work with them on anything.
With Axeman 2: Overkill being mostly an "outdoors"-movie - where was it filmed, actually, and what was it like filming there?
We filmed in Frazier Park, just a couple hours outside of Los Angeles. Great place. Quiet place and perfect for filmmaking. I will say though, being in the valley of mountains means you get fewer hours of daylight shooting and much of our shooting was during the day. So it made things very tough with regard to available light. We had to make up for it by scheduling our interior scenes during sunset or before sunrise so that we maximized available light for exterior shots. And the weather - it looks hot and we make constant references to the heat, but it was pretty damn cold most of the time. The original Axeman was shot just outside of Big Bear during the same time of year and was hot, but not Frazier Park. Not sure why, maybe higher elevation? But whew, it got chilly at times.
As far as I know, apart from a short festival run, Axeman 2: Overkill won't be released to the general public due to rights issues - care to elaborate?
No problem. It's all really simple. The executive producer signed paperwork as if he was the legal copyright holder when he wasn't. The executive producer even went as far as having his attorney alert me to the fact that he was filing his own fraudulent copyright to try and deceive distributors into believing he owned the film. So, I just issued a cease and desist letter to stop everything publicly and legally from moving forward. This left everything at a stalemate. No one could commercially do anything with it - until now! I've been given the go ahead from my lawyer to release the film and will be announcing the release date soon. I have the film back in my possession and am making some final tweaks to beef up the film. That's one of the benefits to having completed the film 2 years ago - it gave me time to look upon it with fresh eyes and see things I didn't previously. And this will be the best version yet! Release date announcement coming soon for Fall 2017.
Any future projects you'd like to share?
Getting set for the release of Adam K, which features a lot of familiar faces: "Iron" Mike Foster, Farrah Abraham [Farrah Abraham interview - click here], Arielle Brachfeld [Arielle Brachfeld interview - click here], Mindy Robinson [Mindy Robinson interview - click here], Brinke Stevens [Brinke Stevens interview - click here], Sarah Nicklin [Sarah Nicklin interview - click here], Emii and many more. It stars Kristin Wall as a hard-boiled detective who may or may-not be "on the take" as she and her partner (played by Nihilist Gelo) track down an elusive serial killer. It'll see a release in August. And I'm currently finishing the script and getting ready for pre-production on Axeman 3: Absolution, which starts filming next year.
Your/your movie's website, Facebook, whatever else?

Feeling lucky ?
Want to
search
any of my partnershops yourself
for more, better results ?

The links below
will take you
just there!!!


You can find all things Axeman related on Facebook at @AxemanAtCuttersCreek. Any other #SinningWorks production related information can be found at @SinningWorks.
Anything else you're dying to mention and I have merely forgotten to ask?
We are wrapping production soon on a new thriller titled Watch Us Kill. We've stayed "mum" on it for a while but will start promoting soon. It's a new take on the serial slasher and documentary genres. The dailies have been phenomenal and I can't wait to share it with the world! Constance Brenneman, Sarah Nicklin, Alisha Seaton and Rick Williamson have been exceptional and unconventionally terrifying - you guys are gonna love it.
Thanks for the interview!