Your upcoming movie Back Road - in a few words, what is it about, and what can you tell us about your character in it?
I play the character deputy Mike Riley, originally the character was supposed to be this overweight out of shape dude. I'm a FAT kid at heart, all kidding aside there was a take on set where I must have eaten at least 10 donuts in a matter of 25 minutes for one scene. The director Andrew Pizzo changed the overview of this character for me. The movie is about 5 kids in their early 20's who decided to take a road trip. One tragic event makes their lives spiral out of control. It's a game changer in the movie. It's one family seeking revenge. Honestly it's the perfect balance between new age and old school horror that many of us grew up on.
What did you draw upon to bring your character to life, and how natural does it come to you to play a man of the law?
I've been in handcuffs a few times, lol. I did some research. Talked to a few people in the field. Watchtg a ton of police documentaries. I break the script down through script analysis. I run lines with someone. I film myself reading the lines. I go through it and critique my performance. I run lines in my car. I run lines while I am doing cardio in at the gym. I lock out the outside world and whatever is on that page starts to become my life. I keep my personal life out of my acting world. It's like turning on a light switch for me - whatever is on the page, I bring to life.
How did you get involved with the project in the first place?
Through a friend. I auditioned, contacted Drew. He sent me a full version of the script. After reading it, I was like I definitely want to be part of this project.
What can you tell us about Back Road's director Andrew Pizzo, and what was your collaboration like?
Sick and twisted. LOL! Once this movie is released it will send shock waves through the horror genre community. 2018. I honestly believe this film will be a big success. It could be the defining moment in Drew's film career along with all the others who worked on this project.
Do talk about the shoot as such, and the on-set atmosphere!
It's something you always talk about. It becomes a big part of your life. You build a lot of relationships. You're always rehearsing, running lines, taking direction, making yourself better during the down time on set.
You'll also be in the upcoming A Wish for Giants, which is both a Bigfoot movie and a charity project - so how do these two go together?
This may upset some people ... but I do not personally believe in Bigfoot. I auditioned for this project. I was sent over the full script. Once again after reading A Wish For Giants I committed to this project. Reading the full script is a big part of my decision process. When I was younger it was not the case. I want to be a part of quality projects now. This project is based on a book by Arron Dumbar. It's about a little girl who has a brain tumor and her wish is to find Bigfoot. Anytime you can be a part of a project and help a charity at the same time, it's a big deal for me. I have a little girl, so things like this bring out my sensitive side. I watched Collateral Beauty last night till 3 AM. Man, that movie had my heart in my throat. I still got up at 4:30 to go to the gym. The gym is a place for me to have alone time. I place where I can clear my head. It's a place I do a lot of thinking. Like I mentioned it's also the place where I run my lines while doing cardio. I am happy to try and make a difference, and more than happy to have the proceeds for this project go to Make A Wish Foundation.
Any other future projects you'd like to share?
There's a few more projects on the burner. I will not comment on them at this time.
What got you into acting in the first place, and did you receive any formal training on the subject? And what can you tell us about your acting work prior to A Wish for Giants?
It's funny. It was 2002 and I was living in Buffalo NY. It was a cold-ass day in Feb, tons of snow. I had a college friend who was already living in LA. He said dude, you got to get out here. I packed my car, borrowed 3,000 Dollars from my mother, and drove to LA. I had no idea that I would fall in love with acting. It's like being a child all the time, you get to bring characters and things to life. It's never been about money for me, it's about the passion I have to entertain.
I was working at a restaurant in West Hollywood. I was in the weeds, as far as tables go. I had a 3 top. The lady asked for a soda, I got it for her, she said it was flat, asked for a diet, said it was flat, asked for ice tea, said it was flat ... well, that was Ferne Cassele, casting director, she was there with Steven Leve of Frame Works Entertainment, and well that's how it started for me. At the time I had no idea who they were. Steven asked if I was an actor, I said no. I told him I work construction in the daytime and at a restaurant at night. The whole time I was busting balls, having fun with them because I don't believe ice tea can go flat, especially when it is brewed fresh before we start the shift. Steven asked if we could give him a bid on building him a pool side cabana at his home. Gave me a business card, and well, a relationship was born. He kind of nurtured me in the beginning. I took acting class with Ellen Gerstein and Brian Reise. There was a lot of rejection at first. Got my first independent film in 2006, with David Stearling, and been at the grind stone ever since. I got to work with the NBA in Las Vegas All Star Jams, Did some other independent films, worked with the Legend Ted V. Mikles who recently passed, worked on a pilot show with Woody Brown. I met and made an instant connection with Lombardo Boyar - he is killing it right now. He is someone I one day hope to have an acting resume like. Dustin Ferguson [Dustin Ferguson interview - click here], Tales from the Campfire 2. Len Kabasinski [Len Kabasinski interview - click here] at KillerWolf. Thomsas Dickens, is another guy I still talk to today.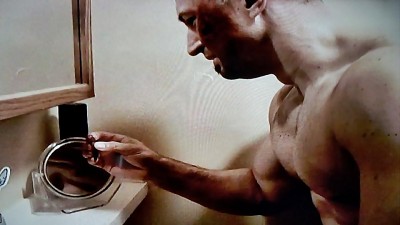 Tales from the Campfire 2
How would you describe yourself as an actor, and some of your techniques to bring your characters to life?
Over the years I have learned not to pull from my real life experiences to get me into character because it eventually heals that underlying raw emotion. It's all about breaking the script down and creating life for someone who doesn't quite yet exist - well I mean other than the person who wrote the script. That's the fun part for me, it's about chasing a dream. I dream that I love. I took time off when Eda was born, my daughter, and last year I said it was time. No matter how big or small the role is, when it's time, bring that character to life...
Your favourite movies?
Some of my top movies are, in no specific order: Braveheart, Glory, Man on Fire, A Fourth Kind, Passion of Christ, Hancock, Deadpool, Collateral Beauty, Pete's Dragon.
There was a time before my daughter was born, I used to watch a movie every night. Now I try to watch at least 4 to five a week. Once again if I don't have lines to run, I am watching a movie while doing cardio at the gym. You can always take something from a movie, even if it's not a movie that you may enjoy. I look at movies from every aspect, not just acting...
Your website, Facebook, whatever else?

Feeling lucky ?
Want to
search
any of my partnershops yourself
for more, better results ?

The links below
will take you
just there!!!


Jason Paul Edwards, credits are under Jason Paul, or J.P. Edwards IMDb: www.Imdb.me/jasonpaul
Facebook: https://www.facebook.com/jason.paul.180
Thanks for the interview!