Your new movie The Incantation - in a few words, what is it about?
It's a gothic fairy tale about a young American girl who travels to France for her Great Uncle's passing. While there, she starts to uncover her family's dark secrets.
What were your sources of inspiration when writing The Incantation?
Well there were several. My brother's 10 years older than me, so I grew up on a heavy helping of Hammer films as well as classics like Rosemary's Baby, The Shining, and staples like the original The Exorcist, The Amityville Horror and The Omen, and many more.
To what extent could you actually identify with your film's lead character Lucy?
Well I have traveled a lot. So I know that feeling of general discomfort upon arriving in a completely new culture. But it's also intriguing. everything from food, to mannerisms to language is literally foreign to you, but the more you immerse yourself, the more curious you become. It's simultaneously daunting and exciting. Also, like Lucy, when you are somewhere where there's is no chance of meeting someone you know, you can let your proverbial hair down and stop pretending to be something you are not.
A few words about your movie's approach to horror?
Well it's very polarizing, especially as a first venture into original content. People tend to love it or hate it. But rather than blood and guts and sex, we tend to treat the audience as adults. We have a smattering of those things, but it's more of a slow burn with a great pay off, and is riddled with clues throughout that aid the backstory. But if you truly immerse yourself in the story, there is quite a "herstory" being told. Perhaps one that insists on a second viewing.
You filmed The Incantation on location in France - why there (even if that's obvious upon viewing the film), and what were the challenges filming there?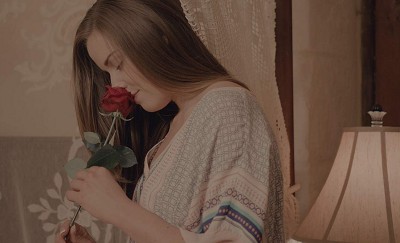 Sam Valentine
Filming in France was one of those serendipitous happenstances. The main location, Castle Borley (known as Dunderry Castle in the real world) fell into our laps. That was a huge piece of the puzzle to getting the film made. Filming in France was a challenge, but ultimately a blessing in disguise. In addition to normal things like language barriers and travel, as well as the occasional flood or union strike, the French tend to be way more laid back than Americans. So for example shops would not post hours, or just not stick to them at all, or people would take two hour lunch breaks with their favorite wine. A very pleasant and laid back lifestyle, but not necessarily a production-friendly one. That being said, they were extremely generous and entire communities offered their time and resources. It was an incredible experience and next time I will be more prepared for the cultural differences.
Do talk about your overall directorial approach to your story at hand!
My approach was to have a strong story out the gate. It was important to me to have the full setting of a believable world. Real life locations was part of it, but creating an atmosphere steeped in part historical accuracy and part folklore, and then to couple that with amazing production design and the tropes of classic horror films, was imperative.
You also play one of the key roles in The Incantation - so do talk about your character, and have you written him with yourself in mind from the get-go?
Well I have been an actor since my adolescence. So I knew I could pull it off. I just didn't know in what capacity I would be needed in the script. I also knew I would have my hands full with directing, so I wanted it to be a meaty role, but one that wouldn't require all of my time on set. What most people don't know about me is that I had a long history in the Catholic Seminary. I actually studied to be a priest for a huge portion of my formative years. So that meant I could fall back on my theological upbringing and classical literature background. Throw in a dash of Rasputin and a smidge of Christopher Lee and voila!, The Vicar of Borley was born. There's a reason his speech pattern is antiquated and his vocabulary archaic. If you take that at face value, it might be a turn off, but the ending reveals some reasons why he's an "old school" villain.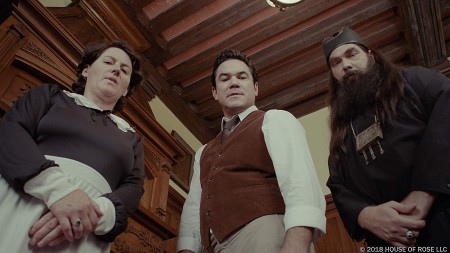 Beatrice Orro, Dean Cain, Jude S. Walko
What can you tell us about the rest of your cast, and why exactly these people?
Dean Cain, Superman! What can I say. He's brilliant, congenial and a consummate professional. I had done Dean a scheduling favor about 10 years earlier, on a film we shot in Texas. I thought he'd never remember me. But much to my surprise, not only did he remember, but he agreed to help me out. Dean is a very polarizing person as he is very vocal about his political beliefs. That means we get an equal amount of supporters and haters. But that being said, he's a wonderful person, and a joy to have on any set. He would truly give you the shirt off his back. I'll say as I was writing the character, I couldn't picture anyone but Dean, but he didn't fully commit until about 10 days before shooting. I think I willed him into the project.
Sam Valentine was a diamond in a haystack. (If that's not a saying it should be!) My great friend Valerie McCaffrey agreed to help me with casting. Her resume is longer than mine and she's responsible for gems like American History X and Hard Candy. We had a hard time finding the right person, as there was a lot of big shows casting at the time, and lets face it who wants to spend a month in a castle with a bunch of dudes she's never met? Isn't that horror movies usually start? But Sam, like her character, was independent, adventurous and willing to take a chance. When Dan Campbell, my producing partner at Blue Falcon Productions, saw her tape we immediately called each other. I think the call lasted all of about 30 seconds. We had found our Lucy.
Dylan Kellogg came out of Paris. Originally I had searched everywhere for the handsome Brom Bones to her Katrina Van Tassle. But once Dylan arrived in the pile of auditions I started to rethink it. Being that the movie climaxes as it does, it started to make much more sense as the likable everyman, as opposed to the strapping super hero. I think Dylan grew the most throughout the duration of the film and I really am proud of how he opened up. I'm looking forward to big things from him, and definitely want to use him in the future, as he hones his craft.
I'm convinced Beatrice Orro is a real life witch. She has a very holistic approach to life and anyone who knows her can tell you she immediately casts a spell on you. She is delightfully bewitching in all the right ways and was an extreme joy to work with.
A few words about the shoot as such, and the on-set atmosphere?
Work hard. Play hard. Dan and I spent over two months in that castle and everyone else at least a month. That meant we became family over the course of the pre-production and filming. I personally didn't have a lot of time to fraternize as I would go over the shotlist at night as well as watch the footage twice a day, to make sure we got everything. Then it was up early every morning to walk the sets with the DP, and rehearse the actors. God forbid, I was shooting as an actor that day, then that would mean an additional level of lines, backstory and character development.
But everyone else bonded immensely. We would go to Brocantes (French flea markets), concerts on the river, shopping trips and the occasional amusement park or laser tag. It was great. The castle is huge. So you could either get lost for some much needed quiet time or go find the common areas for imbibing of your favorite beer or spirit, play pool, read books or eat. Being rural France, the internet wasn't great, so that forced us into good old fashioned entertainment like archery and ghost tales by the fireplace. I loved it. It helped is also develop our most endearing hashtag; #ThanksFrance
The $64-question of course, where can your movie be seen?
Everywhere in the USA & Canada and soon the world! (INSERT MANIACAL EVIL GENIUS LAUGH.) It's available to rent or buy on DVD or Blu-ray on Amazon Prime Video and iTunes, as well as several outlets on-line like Target, Fandango, YouTube movies, Barnes & Noble, Walmart and Best Buy and over 35 other platforms. It's also available to rent in Redbox kiosks or Family Videos. Yes they still exists.
Anything you can tell us about audience and critical reception of The Incantation yet?
As I mentioned before it's very polarizing. I think kids find it too slow for their taste. Not enough dismemberment and lady parts to keep them focused. But a mature audience loves it. It's definitely a thinking film and requires you to take it for more than face value. True fans of the genre are willing to focus on the details and appreciate the subtle references and Easter eggs throughout. They love the homages to classic horror films and everyone seems to like the payoff. Don't forget to continue watching through the credits for another nod to a classic, and a continuation of Lucy's story.
Any future projects you'd like to share?
Yes. We have several scripts in development. But one that seems to continue to get A++ coverage is The Unhallowed Horseman. It's a contemporary retelling of The Legend of Sleepy Hollow with a story that has yet to be told. It is also extremely marketable and can perhaps prove to lead to a franchise. But we also have other stories of differing genres like To Protect & To Serve that revolves around a Waco-esque standoff type situation, and The Racketeer, which is a Scorcese-style mafia film. There are many to explore, if investors are interested.
You started out as an actor - so what got oyu into acting in the first place, and did you receive any formal education on the subject?
Oddly enough I started out training to be a priest. So public speaking in front of large groups of people came as second nature. Ever since I was a child, I was always the guy making skits, singing songs or shooting home videos. Therefore, acting became a natural progression for me. When I left the Seminary, I ended up getting a degree in drama from the University of Georgia (Go Dawgs!) and then moved out to Los Angeles to do extra work and bit parts. The rest is history, as they say, and now I have built up quite an acting resume.
Of late you have also moved behind the camera more and more - what prompted that move, and of all the positions you've filled, what did you enjoy most, what could you do without?
I can tell you one thing. I was built for the film industry. I have been on over 100 sets in my 25+ year career and go to sleep dreaming about c-stands and duvetyne in cramped spaces. I can't even picture myself doing anything but. However, I honestly love acting. There's something to be said about immersing yourself in a character and bringing it to life off the page. But to answer your question, my bread and butter has been producing. I've got decades of grey hairs that came from giving my all to help other people's dreams and passion projects get made. And although I have done well at that, I'm a bit over it. I, too, as a creative have had stories to tell my entire life. And as I told my business partner, Dan, you can do others people's bidding your entire life. Once you develop a skill set like producing, you are in high demand. But there is no end to giving another piece of your soul, for someone else's project. So we finally decided to focus more on our own creative content. I love writing and directing as well, but they are much more intense. As a result. I'm careful to commit to projects I really want to get behind, because they can take a very long time to come to fruition. Now you should know I sometimes grip to get in shape or be a background to humble myself. I'm not joking. And if a friend needs help over the weekend on their short, count me in. Stay humble, stay hungry.
What can you tell us about your filmwork prior to The Incantation?
You name it, I've done it. I have close to 100 films on my resume. The majority are Producing followed closely by acting and various Production-oriented jobs. Check out my IMDb page for a taste (https://www.imdb.com/name/nm0908351/). But I have worked on every scale possible. 125 million Dollar plus studio films to indies shot for $30K over a summer. I've met scores of celebrities, directors and Oscar winners and have seen every possible personality ranging from shady to arrogant to the better side of congenial and downright humble. But to me, in our business, you always have to keep learning your craft. The landscape is ever changing, the politics are an ever deeper quagmire and the speed of technology is mind numbing. So stay relevant. Change your skillset to fit the current state of affairs, but keep your core values and ebullient personality, because in the end that's what keeps you working. Oh, and never give up on your dreams. Two years ago I might have said that me having a film, that the entire world has access to, might be an impossibility. That's obviously not the case.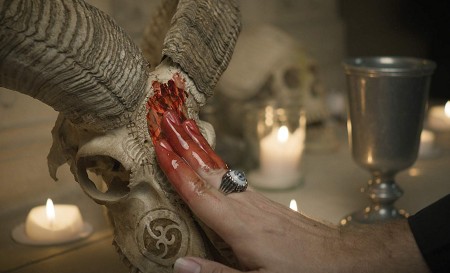 Actors, filmmakers, whoever else who inspire you?
Tim Burton is a genius. But I lean heavily on classic literature as well. Washington Irving, Edgar Alan Poe, and Charles Dickens to name a few. Industry vets, like my buddies The Chiodo Brothers. Standards like Kubrick, Danny Elfman and Guillermo Del Toro also come to mind. Innovators like Ray Harryhausen, Walt Disney, Charlie Chaplin and Stan Lee also hold a soft spot in my heart. Any one, regardless of fame or position, who has lasted in this crazy business of ours, deserves my respect.
Your favourite movies?
Hammer films, 70-80s horror classics. The Exorcist, The Car, Duel, Christine, Rosemary's Baby, The Omen, The Amityville Horror, The Fearless Vampire Killers, anything Tim Burton has ever done. Corpse Bride, The Nightmare Before Christmas and Sleepy Hollow if I have to chose the best of Tim's. Tons of animation. In fact, I'm a member of ASIFA-Hollywood. Monster House, Polar Express and all things Pixar. Put me on record as saying Snowpiercer is a brilliant indie film. Amadeus is my G.O.A.T. on every level.
... and of course, films you really deplore?
Original Solaris. I. Can't. Even. Ironically, I was an extra in the second one, and actually in a scene with George Clooney. Anything by Tyler Perry is a trainwreck. Anything Twilight makes me want to live on Mars with no breathing apparatus à la Total Recall.
Your/your movie's website, Facebook, whatever else?

Feeling lucky ?
Want to
search
any of my partnershops yourself
for more, better results ?

The links below
will take you
just there!!!


VISIT us at http://theincantationmovie.com
FOLLOW us on FACEBOOK https://www.facebook.com/TheIncantation/
FOLLOW us on TWITTER https://twitter.com/The_Incantation
FOLLOW us on INSTAGRAM https://www.instagram.com/the_incantation/
SUBSCRIBE to us on YouTube https://www.youtube.com/channel/UCwyR4q9xcQ3zMJVbyHoOFRA
#TheIncantation #ThanksFrance #DoNotDenyYourTrueNature
Anything else you're dying to mention and I have merely forgotten to ask?
Thanks to my wife, Pranom Walko and my kids Orion Joseph and Preeya Marie for letting Daddy pursue his dreams, and yes the cheetah is the fastest land mammal.
Thanks for the interview!
Thank you so much MIKE!