Your movie Kinks - in a few words, what is it about?
Kinks is a mockumentary style feature film. The movie takes a cynical but nevertheless humorous look at two inter-racial sisters who appear far from alike. Inside and outside. One is white and one is dark.
Split up as children, because their parents divorced, the film starts when they finally meet again after years growing up on separate continents. On meeting it is obvious their agendas are as different as their looks. The fiercely competitive, western educated Caucasian looking Jay wants international success for her cross cultural dating show. She returns to Malaysia to produce her dream, a reality show for the American market. To succeed she needs it to be as outrageous as possible. Jay's Malaysian sister, Joythi, the Indian looking darker one, happens to work for Ministry of Culture. She is more introverted and has to learn to stand up to her sister while desperately trying to keep her job, while in charge to establish some decency in Jay's misguided production. Clashes are inevitable.
How did the project fall together in the first place?
Virginia: Julie, the main actress, and Nina Sharil Khan, the actress playing the censor in the movie had the crazy idea to make a movie about two twins where one is white, like Julie, and one is brown like Nina. They shared this crazy idea with me and for some crazy reason I cannot remember, I jumped on board. I think I am attracted to anything silly.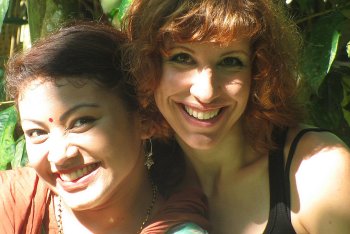 Nina Sharil Khan, Juliane Block
Juliane: I met Nina when taking acting classes in Kuala Lumpur, Malaysia. We look so different that the story was born: 'What if we were twins?' Kinks was my second feature film. I had done almost anything working at film sets besides acting and the easiest to get a lead role in a feature is to write and produce it yourself. I had seen some of Virginia's work and because she had made similar experiences as expatriate in Asia as I and I loved her work, Nina and I asked her to come on board.
I think it's a fair assumption that Kinks has been inspired by TV "reality" shows like The Bachelor - so your own thoughts about shows like this?
Juliane: I believe it's pretty obvious that none of us is a huge fan of the whole TV "reality" show culture. I personally believe shows like this are selling human beings rather cheaply and by doing that are creating a fake sense of reality. That might even be dangerous for people who can't distinguish between what's real and what's fake. Therefore we pushed it quite a bit in Kinks to make a point.
Virginia: I think reality shows are frighteningly addictive. I stopped watching them because I thought it was crazy to watch other people live their lives cos it is a terrible excuse not to go out and make the most of mine.
Kinks other "theme" if you may is the culture clash between Eastern and Western culture - so in what way did that mirror your own experiences filming in Malaysia?
Virginia: All of it mirrored our experience. Every aspect of the censorship is from my experience as a commercial director in Malaysia where we cannot show armpits, bottoms of feet or belly buttons and definitely no kissing or touching. I remember one commercial for a soap she lathered up in her clothes!
Juliane: It's actually quite funny if you take out the single incidents. On the other hands it's important to note as well that we foreigners also often behave in a very disrespectful way - simply not knowing the proper way to do things. It's a two way street.
The third big theme of Kinks is probably sibling rivalry - something either of you have experienced, and to what extent is it mirrored in the movie?
Virginia: I have two sisters so I made sure I was the victor always, and they suffered so. Ha!
Juliane: My brother and I had some sibling rivalry but by far not as strong as in the film. I think I'm drawing more from experiences within my family than with my brother. I've witnessed first hand how a silly argument evolved into something huge because family members weren't talking and each party was just sitting on their own viewpoint for so long, that their perspective shifted. The entire conflict could have been avoided with a single meeting to clear the air.
(Other) sources of inspiration when writing Kinks - and what can you tell us about the writing process as such?
Virginia: The writing process was intense until we actually started writing the script. Julie and I would meet regularly and got lots of feedback from others during the structuring stage. The actual writing for me was the fun part.
Juliane: I think the process before Virginia actually started the screenplay took us a year. We were writing and revising the treatment a lot. The actual writing process then just took her about two or three months.
I have to ask here, was everything in the movie rigidly scripted, or was it mostly improvisation?
Juliane: Everything was scripted but we did leave room on set to modify and eventually start improvising instead. The interviews for example were done rather freely.
How would you describe your directorial approach to your story at hand - and what was your collaboration with one another like when shooting Kinks? And how did you two first meet even?
Virginia: Julie had to wear a lot of hats during the shoot. Apart from being the co-director and writer she had the most experience as producer and is damn good at it. For me directing Kinks it was about surviving and laughing under extreme circumstances. Like for example whether any crew would turn up or not. I was absolutely not used to guerrilla shooting. Julie was calm as a cucumber but I was not. Coming from directing commercials, I'm used to complaining if my Starbucks is cold. On Kinks we were lucky to get one.
Juliane: I think Virginia and I actually met during a screening of my first short film Unsecured Loan. Kinks came a couple of years later. For me it was great to collaborate with her, because sometimes you tend to lose focus coming out of the low budget guerrilla world, wearing too many hats. Virginia made sure we stayed on track and did a fantastic job on pushing the film as far as we can in terms of quality within our means.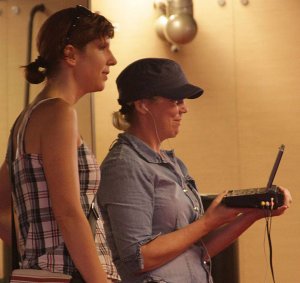 Juliane and Virginia
Juliane, you also play a key role in Kinks - so what did you draw upon to bring your character to life, and how much or Juliane Block can we find in Jay? And was that role written with you in mind from the get-go?
Juliane: We wrote the entire movie having in mind that Nina and I will play the twins. I believe that Jay is a good mix from experiences Virginia and I made. However, for me, seeing the movie, Jay is a different character. I sat through the editing process and saw the footage in so many different ways... and one point I actually started seeing a different person.
What can you tell us about the shoot as such, and the atmosphere?
Virginia: I was stressed. Julie was the peacekeeper. On most days we had a laugh but underneath I was nervous. I really loved working with Julie and the cast. They were amazing.
Juliane: There was certainly tension on set. But imagine that: it's incredibly hot, you are in a jungle camp, there are mosquitos everywhere and paintball guns are going off. And you are going on for days and days. But, I have to say that the entire crew really made a huge effort to make this movie great and I believe the dedication shows.
Any future projects you'd like to share?
Juliane: I am working right now on my next feature film 3 Lives, a psychological thriller with Thora Birch in the lead role (www.3LivesMovie.com). I am in the middle of a crowdinvesting campaign and that's as hard as making the actual movie itself ;) [Juliane's 3 Lives interview - click here].

Feeling lucky ?
Want to
search
any of my partnershops yourself
for more, better results ?

The links below
will take you
just there!!!

Find Kinks
at the amazons ...

amazon.com

amazon.co.uk

amazon.de
Looking for imports ?
Find Kinks here ...
Something naughty ?
(Must be over 18 to go there !)

Virginia: I have a feature film releasing in cinemas in Malaysia in September that I wrote and directed. My short film Thread won at Clermont Ferrand Film Festival.
Your/your movie's website, Facebook, whatever else?
https://www.facebook.com/kinksthemovie
For US customers: http://www.amazon.com/Kinks-Nina-Sharil-Khan/dp/B00YI292Z0
http://www.imdb.com/title/tt1884335
Anything else you're dying to mention and I have merely forgotten to ask?
Juliane: For everyone who likes the film: We'd really appreciate if you can give us an Amazon or IMDb review. Without a huge marketing budget behind us we are relying on all of you to help us get our film out there. Thank you... and enjoy the film!
Virginia: Ditto!
Thanks for the interview!