Your movie Bleeding Hearts - in a few words, what is it about?
A doctor. A lawyer. A pharmacist. An architect. And a shoe model. Five super intelligent (except maybe the model) - and super hot - sisters. Without the darling Van Houten sisters, the small 5,000 population town of Mansionville would have trouble existing. With them, however, some of the population can't exist.
Every year, these gorgeous blondes go on a month-long vacation. At the same time each year, coincidentally, five men from Mansionville disappear. The town people, all backwards and in denial, never put "two and two together." More concerned that the town is on a 30-day hold without their professional backbone (the sisters), they write off the disappearances as men who left their wives for the big city or exciting locations. The truth, however, is much more sinister.
The Van Houtens are sadistic lunatics. Through a deranged pact to "capture the hearts" of five men every year, they kidnap, rape, torture and kill their victims with systematic gory success. Their maniacal rampage may be in jeopardy, however, through an ironic twist of fate: a documentary filmmaker's car breaks down in Mansionville. While stranded and waiting for parts in the non-functioning town, he learns of the sisters, their secretive month-long vacation, and the many men who have disappeared. As the fresh meat are being brutalized and murdered, the filmmaker starts asking questions--and he begins making the connection. Is he on the road to an Oscar? Or an untimely, horrific death?
Bleeding Hearts is a heart-jumping, heart-crushing - truly demented - roller coaster ride of mystery, violence, sex and gore. With a raging, climatic twist, all hearts end up in one place. And it's not where they're supposed to be...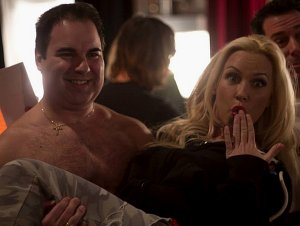 Ken with Rachael Robbins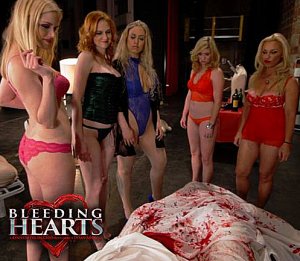 Suzi Lorraine, Seregon O'Dassey, Melantha Blackthorne, Jamie White, Rachael Robbins
What were your sources of inspiration for writing Bleeding Hearts?
I just woke up one day and thought of the story. I had never before watched a movie where five – intelligent and professional - sisters were mastermind, sadistic serial killers. I hadn't seen this movie, and I suspected many others (except perhaps my wife) would like to as well. So, I came up with the entire story and then called Rachael Robbins [Rachael Robbins interview - click here] and told her about it. I asked her to write the screenplay with me, and we were off to the races. We finished the insane script in less than ten days, laughing much of the way—the same as we had done with Scavenger Killers.
Rachael Robbins [Rachael Robbins interview - click here], your co-writer on Bleeding Hearts, told me in an interview "When we were writing it, even when we were filming it, I'd often get the feeling like maybe we finally went too far. I thought this film was going to face plant." A feeling you at all shared, and your thoughts on this statement? And when it comes to violence and perversion, was there at all a line you refused to cross on Bleeding Hearts?
No... and no... at one point in the movie, a lead male character gets anally-raped with a wrought iron brush by one of the sisters. He's on his knees in a dog cage, which is sitting on the stage of one of the most beautiful theaters in the country. Now that's art... and justice... or maybe neither. But it's funny as hell—I guess depending upon your sense of humor.
In Bleeding Hearts, you play a judge, former attorney and prosecutor who has also written a few books on law - someone not at all far removed from your real self - so you just have to talk about creating this character and playing him quite as arrogantly as you did for a bit!

I am a critically acclaimed filmmaker who has written, produced and directed over 20 feature films that star 100+ film and TV stars, including multiple Academy Award and Emmy winners and nominees. My films are distributed through industry leaders such as NBC/Universal, Anchor Bay, Millennium Entertainment, Cinedigm, Screen Media Films, Vivendi Entertainment, Midnight Releasing, Cardinal XD, Green Apple Entertainment, Fabrication Films, and E-1 Entertainment. I have starred in numerous movies, as well. I am the founder and chairman of Hoboken International Film Festival, called by FOX, MY and other major media "One of the 10 Biggest Film Festivals in the World." I am also the author of some of the nation's best-selling legal books, including criminal codebooks published by Prentice Hall and ALM. A best-selling criminal suspense novelist, I wrote my first published novel at only 24-years-old. In addition, I am the owner of the Criminal Law Learning Center, where I have taught thousands of police officers and lawyers… and I am a former judge, who also has tried over 400 cases as a practicing criminal attorney... not to mention, I have won about 50 bench press competitions (at my height, I was bench pressing 450 pounds, while weighing only 175 pounds, which put me as one the strongest pound-for-pound people in the world – and I never did steroids)... accordingly, I have a GIGANTIC – well-deserved ego. (: (:
You might want to check out this teaser trailer for a network judge show set to be produced, with me as the lead: https://www.youtube.com/watch?v=schWQw1B-f0
What can you tell us about the rest of the cast of Bleeding Hearts, and why exactly these people?
Bleeding Hearts stars: CHARLES DURNING (2-time Academy Award/4-time Golden Globe/9-time Emmy winner and nominee; Tootsie; O' Brother Where Art Thou); ROBERT LOGGIA (Academy Award & Emmy nominee; Scarface; Big); TONY TODD (Candyman; Final Destination); DUSTIN DIAMOND (Saved by the Bell); SUZI LORRAINE (Won Ton Baby; Chiller TV's Can You Survive a Horror Movie) [Suzi Lorraine interview - click here]; RACHAEL ROBBINS (An Affirmative Act; Screaming Dead) [Rachael Robbins interview - click here]; WILSON JERMAINE HEREDIA (Tony winner; Rent); MELANTHA BLACKTHORNE (Sinners and Saints) [Melantha Blackthorne interview - click here]; DENNIS WHITE (Notorious); and ROBERT BOGUE (The Good Guy; Guiding Light).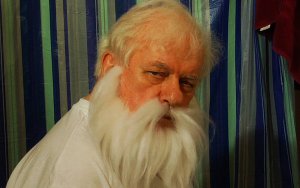 Charles Durning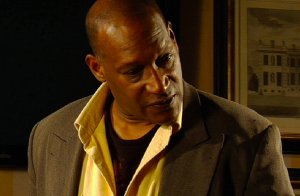 Tony Todd

Robert Loggia, Dustin Diamond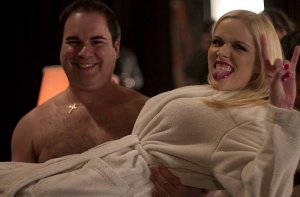 Ken with Suzi Lorraine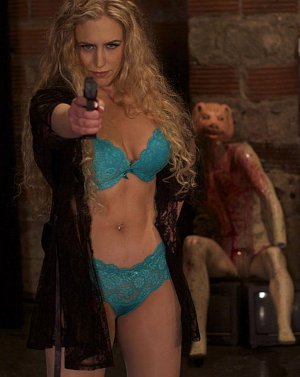 Melantha Blackthorne
I'll talk about a few of the actors in the cast:
CHARLES DURNING – Bleeding Hearts was Charles Durning's last film. Charlie acted in about 10 of my movies, and although he was more than twice my age, there has been no person in the film business who I was closer with. Yes, he was a 2-time Academy Award/4-time Golden Globe/9-time Emmy winner and nominee – but there was much more to this man. The greatest honor in my career was when Charlie was honored. When Charlie received his Star on Hollywood Boulevard, there was a Hollywood "who's who" in attendance at the ceremony, yet I was the one person he selected to say the words about him at the luncheon that followed the ceremony. when he received the Screen Actors Guild Lifetime Achievement Award, he was provided a table of 12 (the best table in the house); the only non-family members at his table were my wife and I and Charlie's agent (who is now also my agent) and her husband. I had great pride in watching this man receive that award, as everyone from Brad Pitt to George Clooney to Sally Field (and dozens of the same starpower ilk) visited our table that night to congratulate Charlie. Why? Because he was a genuine man's man – and and a genuine good guy – and a genuine hero (he won the Silver Star for carrying a wounded soldier on his back for 100 miles after they escaped from the March to Malmedy where the Nazis were randomly killing Allied soldiers; he also was shot twice and bayonetted during WWII). He would thank me, with great gratitude, for every movie I cast him in, but I would always tell him, "No, it's you I thank, not the other way around"... To the end, Charlie would say, "Tell me where to stand, and what to say, and I'll do it." And the man would do it with absolute perfection every time. I wish I could say that about every actor (or even the majority of actors)... Now, how fucking funny is it that he lobbied me to play this role in Bleeding Hearts – an angry Santa Claus who has a candy cane penis and Christmas tree balls?! Charlie was just tremendous in this role!
A few one-liners about some of the other actors:
DUSTIN DIAMOND – surprise, surprise. The guy is much more than "Screech" from Saved by the Bell. He turned in back-to-back superior performances in Scavenger Killers and Bleeding Hearts. The dude has a lot of range.
SUZI LORRAINE [Suzi Lorraine interview - click here] – one of my best friends in the business. Not only an outstanding actress who killed it as a the one "dumb" Van Houten Sister in Bleeding Hearts, but in real life this is one super smart chick. Our political views are in lock synch: Liberty and freedom all the way, following the true doctrine of the U.S. Constitution. Government get the fuck out of faces. Capitalism all the way. Communism and socialism suck... Pro-life, pro-2nd amendment, pro-gay marriage.
ROBERT LOGGIA – no actor has a greater presence. A man who has been nominated for an Academy Award and won Emmys, his acting talents are obviously outstanding. I've been fortunate enough to have Bob act in about ten of my films, just like Charlie. He always delivers and has become a close personal friend, simply because he's a truly honorable man.
ROBERT BOGUE – watch this man's work in Scavenger Killers as "Judge Limone". truly, there's no actor in his age range in Hollywood who has greater talent. Bogue is at the absolute highest talent level – period. And you see it again in Bleeding Hearts and in several other of my movies, including Rock Story and the upcoming Joker's Wild and Price For Freedom (where he plays Ronald Reagan).
What can you tell us about the shoot as such, and the on-set atmorphere?
Bleeding Hearts was one of those movies where everyone had a lot of fun. It was loose, with a bevy of laughs on and off set. I had many memorable moments with Bogue and Rich Lounello and Scotty Decker (a couple of the other male leads who, btw, also turned in great performances) in the men's hang-out area; a lot of practical jokes.
Having mentioned Scavenger Killers already - in a few words, what is that one about?
Here's the newest trailer and cover art for Scavenger Killers: http://www.justiceforallproductions.com/#!scavenger-killers/c1tq8
Scavenger Killers has basically made cult-hit status. It was released last July and has garnered over 50 legitimate critical reviews (almost all aren't just great reviews, but fanatical). You can find all the reviews in the "Critical Reviews" or "Opinion" section on IMDb, here's a short synopsis:
Bonnie and Clyde are reinvented in Scavenger Killers, where a charming judge and a hot criminal defense attorney go on a maniacal killing rampage. With bizarre, yet somehow believable, FBI agents in the hunt, the deranged duo amp up their rampage, never murdering with the same method but always with untamed ferocity.
Scavenger Killers stars: ERIC ROBERTS (Academy Award & Emmy nominee; The Pope of Greenwich Village; The Expendables); ROBERT LOGGIA (Academy Award nominee; Scarface; Big); CHARLES DURNING (2-time Academy Award/4-time Golden Globe/9-time Emmy winner & nominee; Tootsie; O' Brother Where Art Thou); RACHAEL ROBBINS (An Affirmative Act; Screaming Dead) [Rachael Robbins interview - click here]; ROBERT BOGUE (The Good Guy; Guiding Light); SUZI LORRAINE (Won Ton Baby; Chiller TV's Can You Survive a Horror Movie) [Suzi Lorraine interview - click here]; ANGELA LITTLE (American Pie Bandcamp; My Boss's Daughter), and DUSTIN DIAMOND (Saved by the Bell).
Having been a judge yourself, what inspired you to make a judge the villain of your movie? And honestly, how much of yourself can be found in Judge Limone? And other sources of inspiration when writing Scavenger Killers?
Is "Judge Limone" really a villain? Haha ...
Your co-writer (and co-star) Rachael Robbins [Rachael Robbins interview - click here] on both Bleeding Hearts and Scavenger Killers - what can you tell us about her, and what was your collaboration like? And who did the two of you hook up in the first place?
Rachael worked very well with me in the writing of both films, as well as in the production of the flicks. She followed my lead, fulfilling her positions in the manners that I directed—and her contributions were quite valubale to the successes of these movies. The writing went as follows: In each movie, I created the story from "a - z". I explained the story to Rachael, and then sent her the first few scenes that I had written. Then, I would tell her to write a specific scene (letting her know the elements that I wanted in said specific scene) and I would simultaneously write a scene. Rachael would then deliver the scene to me – sometimes I would would perform very minimal re-writes to a scene she sent; other times I would completely re-write the scene. This is how the entire process went. Rachael, however, came up with multiple great, innovative and original ideas of her own for each of these scripts. As an actress in Bleeding Hearts, she played the leader of the Van Houten Sisters and served in that leadership role on set as well (among the actresses). Like her performance in Scavenger Killers, she was skilled and totally believable in her character's maniacal behavior.
Also, do talk about Bleeding Hearts and Scavenger Killers' director Dylan Bank [Dylan Bank interview - click here] and your collaboration with him for a bit!
Dylan Bank is an absolutely amazing filmmaking talent. Where I lack, he excels. He has an exceptional technical mind; I don't know shit about the technical end of filmmaking (I have no idea how to light a scene or even how to turn on the camera). Accordingly, he takes my writing and makes it even better through creative and clever shot set-ups. Dylan creates a visual mood that ranks with the best of the business... He's also a total fucking psychopath when it comes to horror. If I didn't make it sick enough, he'll find a way to make it 'sicker' (not a word, but it makes sense here)... This guy is also one hell of a writer himself. He co-wrote the scripts with me for two of my most recent movies, Price For Freedom and Joker's Wild... And he directs, with great precision, more than just horror: He's also my director on Price For Freedom and Rock Story.
Here's the trailer for Price For Freedom: http://www.justiceforallproductions.com/#!price-for-freedom/cv3k
Here's the trailer for Rock Story: http://www.justiceforallproductions.com/#!rock-story/c1sfg
In Scavenger Killers, you also play one of the key characters - so what can you tell us about Agent Truman, what did you draw upon to bring him to life, and have you written him with yourself in mind from the get-go?
I did write the role for myself! I thought it would be a blast, but I never realized the critical acclaim I would get for acting. Perhaps these critical quotes will tell it best:
"The best horror comedy I've seen in years… Agent Truman [Kenneth Del Vecchio] is a mute cripple and his character is hilarious. The dialogue that Del Vecchio is saying is gut-busting funny, both by his delivery and the dialogue itself…Definitely top 10 of the year material."
--Horrorphilia
"The Truman/Templeton tandem (Del Vecchio & Allen) deliver some of the funniest exchanges ever set to screen in a horror film."
--Mid-Hudson News
"Agent Truman, played by Ken Del Vecchio, is something else. He could easily have his own comedy show."
--Horror Movies Uncut
"Del Vecchio, so removed from law that he has already written/produced over 20 movies and penned several best-selling books, turns in one of those outstanding acting performances himself."
--Empire State News
"There's also a really great FBI agent character [Kenneth Del Vecchio] who's in a wheelchair. And he's super strong and super smart. And he uses sign language and he just such a chauvinistic asshole, but he's also really entertaining as well… Check this one out - for a wild thrill ride of insanity, for dark humor and horror, and for lots and lots of fun."
--Beneath the Underground Films [MrParka]
"Agent Truman was another one that was really well acted. All of his dialogue was done purely through hand gestures and facial expressions. That's a pretty hard character to pull off, and Del Vecchio did an excellent job… Also, not moving his legs at all. A lot of people who play quadriplegics can't grasp that they're not allowed to move their legs. Del Vecchio did an excellent job by not forgetting to do that."
--B Is For Best
"Del Vecchio and Allen are a hoot and know how to feed off of one another well"
--Modern Day Horror
What can you tell us about the critical reception of both Bleeding Hearts and Scavenger Killers?
Bleeding Hearts has just been released, so the critical reviews are now just coming in – thus far, they have been outstanding (in the same vein as Scavenger Killers). Here are some review quotes from Scavenger Killers:
"Scavenger Killers wins the hunt as craziest horror-comedy… The brainchild of a former judge and criminal lawyer Kenneth Del Vecchio, Scavenger Killers lets loose two of the most demented fictional serial killers in recent memory. Anyone who loves Natural Born Killers, Scarface, or a good National Lampoon flick - in addition to those who love their slasher and fright fest films - will love Scavenger Killers. It's just one hell of an entertaining movie."
-- Empire State News
"Here's a trivia question for you: what do you get when you combine the surrealism of Twin Peaks with the hardcore bloodshed and ruthlessness of Natural Born Killers? The answer is Scavenger Killers… If you're a fan of either title I mentioned, I will wager this film will be next on your list of Must See Movies. And it should be… it's a crazy, twisted fun-ride of mayhem and massacres!"
--Shattered Ravings
"Scavenger Killers is definitely an instant cult classic… The prose has Kenneth Del Vecchio and Rachael Robbins coming off like the super-hetero-bastard-children, of some twisted love affair between Quentin Tarantino and John Waters… Scavenger Killers creates a wicked, modern spin on the Bonnie & Clyde concept with total homicidal depravity."
--A Southern Life In Scandalous Times.com
"Scavenger Killers - one of my favorites of the year… I dare anyone to watch this movie and not be entertained… I thought it was wildly entertaining… This movie's loads of fun… Just a complete wild insanity, Natural Born Killers-style thing."
--Beneath the Underground Films [MrParka]
"[Scavenger Killers] blew me away. It is twisted, brutal, hilarious and down right demented… Robert Bogue and Rachael Robbins are sensational as the crooked judge and the just as demented attorney. Their idea of bringing "criminals" to justice has to be seen to be believed… Scavenger Killers reminded me of 'Bonnie and Clydemeets The Star Chamber', with its main characters serving up justice the craziest way they know how."
--Video Views
"Scavenger Killersrocks with the best of them with just the right amount of nastiness!... Director Dylan Bank combined with Ken Del Vecchio and Rachael Robbins writing style makes for a perfect cult-horror-centric product… Robert Bogue is one crazy ass acting talent that seems almost inspired by the same fountain that Bruce Campbell and Jim Carey drink from… Ken Del Vecchio seems to be the main brainchild of this whole project who also does a bang up job as an eccentric mute FBI agent."
--HorrorNews.net
"Scavenger Killers could turn into a franchise for sure… It is a hilarious little slasher film created by director Dylan Bank and writer Kenneth Del Vecchio… The gore here was pretty damn on key. One scene in particular, using garden shears, actually made me sick to my stomach and I'm a seasoned professional as far as horror is concerned. Bravo to these guys for that!... I'm really looking to seeing what else these filmmakers bring to the table."
--B Is For Best
"Del Vecchio, an indie film veteran often known for controversial crime thriller and political flicks, is also a bestselling author and was once the youngest judge in the state of New Jersey, inked a marvelously fun and likely unforgettable horror gem."
--Mid-Hudson News
"A no-holds-barred, wickedly modern spin on the Bonnie and Clyde legend, Scavenger Killers features a stellar line-up of classic character and veteran genre actors including Eric Roberts (In Cold Blood, The Dark Knight), Charles Durning (The Sting, North Dallas Forty), and Robert Loggia (Scarface, Independence Day) along with a quirky appearance by Dustin Diamond (Saved by the Bell), among others."
--Dread Central
"Screw that watered down take of Bonnie and Clyde that recently aired on Lifetime and get ready for a full throttle attack of the senses in Scavenger Killers, a new kind of crazy that takes a dark, twisted, macabre approach to reimaging Bonnie and Clyde."
--Indiebration
"Psychotic couple? check. Good supporting characters and beautiful women? check. A good story? check. The right amount of gore? check. What more do you need?... While I have to admit I haven't seen some of Ken Del Vecchio's other work, I'll be putting it on my to do list."
--Dead, Buried, and Back!
"Scavenger Killers is an outrageous exploitation picture that takes all sorts of controversial liberties and never shows an ounce of fear… Everyone involved in this production cut loose. Few quite like Robert Bogue though, I've got to say. Talk about giving it 110-percent, well, Bogue doubles up on that, clearly having a major blast as one unruly, untamed freak of nature."
--Best Horror Movies
"Scavenger Killers is crass. But, it's crass in a way that all great B-Cinema aspires to be. Whether it's Robert Loggia getting carved up or Dustin Diamond playing a federal agent with Tourette's, I appreciate it when a creative team plays for real with their crazy setups."
--AndersonVision.com
"The movie follows Judge Taylor Limone and attorney Clara Lovering who are about as sick, twisted and perverted as you've ever seen anyone on film before. These two characters are a mixture of a modern day Bonnie and Clyde and long lost relatives of the Firefly clan from The Devil's Rejects."
--Alien Bee Entertainment News
"Dylan Bank's Scavenger Killers is an insane film in every regard. It's over the top with gore, sex and violence, with barely any elements of true calm."
--Film Threat
Any future projects you'd like to share?
Rock Story will be released in August by Green Apple Entertainment... I listed it earlier, but here is the trailer for Rock Story: http://www.justiceforallproductions.com/#!rock-story/c1sfg
My most recent films are Price for Freedom, 12 Angry Men and Women, and Joker's Wild – all three will have their worldwide premieres at Hoboken international Film Festival at the end of May. Here's the trailer for Price for Freedom, which will be the Opening Night Movie at Hoboken international Film Festival on May 29: http://www.justiceforallproductions.com/#!price-for-freedom/cv3k
**Each one of these movies are totally different, in every manner, though they all have great casts, including multiple Academy Award and Emmy winners and nominees in each film.
What got you into the filmworld to begin with, and did you receive any formal training on the subject?
No training whatsoever – except in the real world... I went to law school, seeking to be a criminal defense attorney. I wrote a novel in my second year of law school, and got lucky: It got published soon after I graduated and became a little best-seller, wherein I was getting publicity as the "Young John Grisham". I capitalized off this and began making movies that same year (1997)... I'm not much for the "school film" types, nor do I have any empathy for the whiny/complaining actor/filmmaker types. "This is fantasy world," I tell those idiots. Go lay bricks for 60 hours a week or be a lawyer for 60 hours a week, then tell me hard it is making movies. Though we may have long, tedious hours while making movies, this shit is fun. It's what everyone dreams of, so those who complain how "tough" the work is, my response is clear as: "SHUT THE FUCK UP!" That's what my training – in the real world – renders.
What can you tell us about your filmwork prior to Scavenger Killers?
**Here's the link to my Filmmaker Highlights Reel (which has clips from all of my movies): www.justiceforallproductions.com
Besides making movies, you have also written quite a number of both fiction and non-fiction books - so what can you tell us about Kenneth Del Vecchio, the writer?
See my response to #4 above, where I describe – with great ego – my writing (and other) accomplishments (: (:
Writers, filmmakers, whoever else who inspire you?
God and the Bible.
Your favourite movies?

Feeling lucky ?
Want to
search
any of my partnershops yourself
for more, better results ?

The links below
will take you
just there!!!

Find Ken Del Vecchio
at the amazons ...

amazon.com

amazon.co.uk

amazon.de
Looking for imports ?
Find Ken Del Vecchio here ...
Something naughty ?
(Must be over 18 to go there !)

Here are some of my all-time favorite movies (not in any particular order): Ben-Hur, Last of the Mohicans, Planet of the Apes (original), The Seventh Sign, Burn After Reading, Blazing Saddles, 12 Years a Slave, All the Right Moves, Schindler's List, Angel Heart, Gone With the Wind, The Man Who Shot Liberty Valance, Nixon, The Aviator, The Good, the Bad and the Ugly, All the President's Men, Enchanted, Star Wars, The Godfather, Raiders of the Lost Arc, The Firm, Rocky, Lethal Weapon, Troy, Dirty Harry, The Usual Suspects, Clueless, Pulp Fiction, It's a Wonderful Life, The Contender, A Time to Kill, Good Will Hunting, Legally Blond, True Romance, Year of the Dragon, A Beautiful Mind, The Shawshank Redemption, The Devil's Advocate, Apocalypto, Things to Do in Denver When You're Dead, The Fugitive, Donnie Brasco, The Outlaw Josey Wales, LA Confidential, Les Miserables (1979 version), Jerry Maguire, and The Passion of the Christ.
... and of course, films you really deplore
Her, Requiem For a Dream, Trainspotting – any movies that are bout losers, and most ultra-liberal movies... most studio films made in the last five years or so.
Thanks for the interview!