Your movie Scavenger Killers - what is it about, and what can you tell us about your character in it?
Scavenger Killers is basically a demented love story about two incredible intelligent deranged psychopaths. My character is a criminal defense attorney who is the type of girl who enjoys a good slap in the face once in a while. Her favorite type of fore play is a mixture of fear, blood and sociopath rants. Her hair and make-up are always on point, even when she's slitting some dumb idiots neck. So basically your typical modern day broad.
Always assuming you're not a psychopathic serial killer in real life (and if you were, you wouldn't tell me), what did you even draw upon to bring your character to life - and honestly, how much of Rachael Robbins can we find in Clara?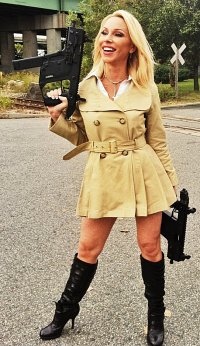 There's more of Rachael in Clara then I'd like to admit. I drew on so many examples form my child hood for inspiration. Of course, most of the time, I put a bizarre twist things. My life has been anything but typical, so it wasn't hard. To get to Clara's level of out of control insanity, I just let myself go completely and trusted the process. It was really scary on a number of occasions during shooting. I would go home and weep uncontrollably for hours before I could shake off the crazy enough to settle down. Honestly there's not enough xanax in the world to get Clara out of your head. Also, my partner in crime, Rob Bogue who plays Judge Limone is such and incredible actor, I had to up my game 1,000% to keep up with him. Doing that allowed me the freedom to spin out of control. Which is what I needed. Also, being directed by Dylan Bank [Dylan Bank interview - click here] was great. He trusted me and allowed me to be part of the creative process, while at the same time heading the project with competence above and beyond. That combo made me feel secure enough to let go.
How did you get involved with the movie in the first place?
Kenneth Del Vecchio [Ken Del Veccio interview - click here], who has had me work on numerous projects with him, asked me to co-write the film. He came up with the story and we just went to town! We banged out the script in less then a week. It was a crazy writing process. Ken is very demanding, often calling me at 2am telling me I needed to write 3 scenes before noon the next day. It sounds terrible, and I guess in the moment it was. But honestly, I needed to be driven like that. I can be a bad self motivator.
With you also being the co-writer of Scavenger Killers, what were your inspirations when writing the movie?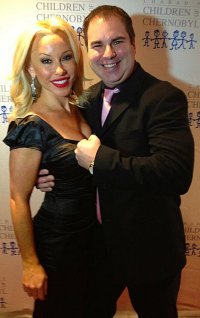 Rachael with Kenneth Del Vecchio
My inspirations/influences for writing Scavenger Killers were House of 1,000 Corpses and The Devil's Rejects. The bizarro characters and the murderous Firefly family are some of the most horrifying and creative I've ever seen in films. I LOVE Rob Zombie. Also, Natural Born Killers had some wonderfully twisted characters. And Kalifornia. I love the dynamic of the fragile murderous woman and her controlling maniac lover. It's such a sexy dynamic. Right? No? Everyone doesn't feel that way (haha). Also The Human Centipede inspired me because it was one of te most shocking films I've ever seen (and I'm hard to shock). I hated it , yet I told everyone that they HAD to see it. I was very insistent that we make a film that either horrified people and they loved it OR it horrified people and they hated it. I knew if we made a film that was described as "good" or "fine" that it would be an epic fail for me. At every screening we've had a large number of people walk out, usually during the chainsaw scene, so I think we accomplished my goal.
Do talk about your director Dylan Bank [Dylan Bank interview - click here] for a bit, and especially since you were also one of the writers, how easy/difficult was it for you to reamain hands-off and let him direct you in your own story? Or, to put the question on its head, how much creative input did you have when it came to directorial decisions?
As I mentioned before, Dylan was amazing about hearing my suggestions while filming. I was allowed to have a great deal of creative input. But that being said, Dylan was the perfect guy to fulfill our vision. He took our script and made it really come to vibrant life with his cool, off kilter camera angles, great lighting, and over all vision. It was unbelievable: He worked without a shot list, or story boards, everything was in his tortured-genius brain! He brought his A game every day. He had energy abound (even though he slept the least of anyone) and was SO passionate about the our project, which makes for a great mood on set. Don't get me wrong, there were fights, arguments, times he hated me, times I hated him. And that's because the amount of passion that went into making this film. I have since shot another film with Dylan and I hope to collaborate or be directed by him soon!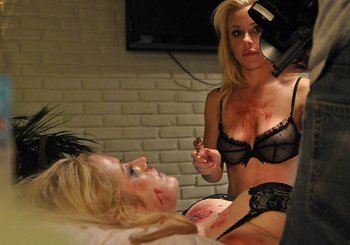 Rachael with Suzi Lorraine
A few words about the shoot as such, and the on-set atmosphere?
I loved mostly everyone that worked on this film and have remained in close contact with a bunch of people. For me, it was the best experience I had ever had on a horror set. Plus it was very emotional seeing my creative work come to life at the hands of such talented people. I feel blessed. I FELT blessed every day of the shoot.
What can you tell us about critical and audience reception of your movie so far?
I feel like the press we've got so far is spot on. People are responding favorably to the dark humor and "spaghetti western" inspired characters. The humor element was very important to me because I feel like the viewer needs a moment to breath. Like a roller coaster, you need those moments of clicking up the hill in anticipation of the next free fall. And the horror reviews of the gore are also positive. Look, I knew we weren't making a movie that was going to premiere at Cannes. Our goal was to make something that at the very least would get distribution but with hopes of becoming a cult classic. I'm just really glad people ARE writing about it at all!!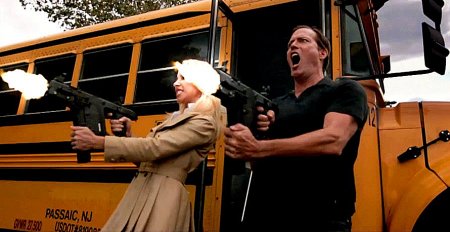 Rachael with Robert Bogue
With quite a few of the people you have made Scavenger Killers with, you have recently also shot Bleeding Hearts - so obviously you also have to talk about that movie for a bit!
Ah, Bleeding Hearts! To me this film is the dark horse. When we were writing it, even when we were filming it, I'd often get the feeling like maybe we finally went too far. I thought this film was going to face plant. But it's being received AMAZINGLY!! It was harder for me to write than Scavenger Killers. So Ken ended up writing the lion's share. Dylan likes to say that the 3 of us were in a competition to out-gross each other. So, I guess I really got into it once we were shooting it. It was hard not to because we were all staying in the middle of nowhere in this po-dunk town, living 2-3 people a room at the Ho-Jo. So we were all really "in it". I'm really excited for this film to get released, It's a fun romp thru crazy-ville. Or Mansonville, in this case.
Any other future projects/releases of yours you'd like to share?

Feeling lucky ?
Want to
search
any of my partnershops yourself
for more, better results ?

The links below
will take you
just there!!!

Find Rachael Robbins
at the amazons ...

amazon.com

amazon.co.uk

amazon.de
Looking for imports ?
Find Rachael Robbins here ...
Something naughty ?
(Must be over 18 to go there !)

A film I did a couple years back, Snapshot, just came out. It's a really great film produced by Ron & Joyce Borneman and directed by Eric Ettebari (an actor I've worked on a bunch of stuff with). It stars Zack McGowen (from Shameless). I'm thrilled to be a part of this film. I also just shot a music video with Michael Mongillo for the band Trans Am. That should be out really soon. I'm always doing tons of Pin-up photoshoots. That's one of my loves! I post a ton of fun pics on my instagram account (blondezilla2000) and my facebook page as well as my twitter account (@exploitme). I'm also in pre-production for a short that I'm producing called Post Coital. So far we've cast Erika Smith and Suzi Lorraine [Suzi Lorraine interview - click here]. I'll most likely play a small part in it. We want to make it a real Jersey City-centric project and premiere it at the Jersey City International Television and Film Festival in October. It's one of the most amazing scripts I ever read by this first time director Travis Jones.
Thanks for the interview!