Your new movie She Rises - in a few words, what is it about?
The official synopsis is: "A director and her lead actor get a vacation rental while filming a movie. Their host who initially comes off sweet and caring becomes their worst nightmare." I would also say it is a descent into madness via the mind of a tortured actor whose greatest dreams have become his wildest nightmares.
How did you get involved with the project in the first place, and to what extent could you identify with its horror theme?
I was in a Halloween store with my daughter when I got a phone call from Jennifer Blanc-Biehn, she said she had a project that they had been developing, at the time it was called "Nightmare", she told me a bit about it and asked me if I would be interested in directing, to which I said YES because I love working with Jennifer and Michael. They sent over what was already a pretty solid script and I could see what they were going for. I asked Jennifer if I could have a go at the script , I had a few ideas I wanted explore to take the story to the next level and make it my own. Jennifer agreed, I did a rewrite, then we started casting and then Angus came onboard. Angus who is a genius writer, did a rewrite and it was insanely brilliant and that is what we shot!
As She Rises' writer Angus Macfadyen was also on set at least most of the times, being one of the movie's leads, what was your collaboration with him like both in pre-production and during the shoot?
Working with Angus was amazing. On our first day of shooting, Angus had his first monologue, this eight-page speech, literally, where he comes in and really establishes who his character is and what he's about. And he just nailed this thing in one take, and even improv'd some stuff that wasn't in the script, and I was literally moved to tears by his performance. As soon as it was acceptable to cut, I leaped up out of my chair, ran onto set and told him how amazing that was. I was like, 'Oh, so you want to make a movie?' And he was like, 'Yeah!' I think it was in that moment we quickly learned that we shared a passion to tell this story. And we did all the way through to the end, he stayed involved through the edit and in fact Angus even provided some original music for the movie. He is an incredible musician as well! A true artist in every sense of the word.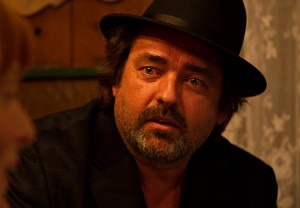 Angus Macfadyen
She Rises is rather non-linear and allegorical in approach - so how hard was it to not just lose the plot during the shoot?
It was not hard at all because of the amount of prep that I had done. I had a very detailed shot list. I came into town 2 weeks early and went out to the locations, I blocked out all of my shots ahead of time, I mean I was ready. There was not any question that anyone in the cast or crew could have come up with that I did not have an answer for. In fact we even finished shooting one day ahead of schedule.
What can you tell us about your overall directorial approach to your story at hand?
When you are working with a cast like that it is really about giving them the space they need to do what they need to do. We would get on the set and block out the scene and run through it a few times. I would work with my DP Steve Romano on adjusting the lighting and getting the shots I wanted framed up, then I would just go out to the monitors and made sure we were getting what I wanted.
When I last interviewed you [click here], you said your favourite actor was Michael Biehn - so what was it like working with him on She Rises?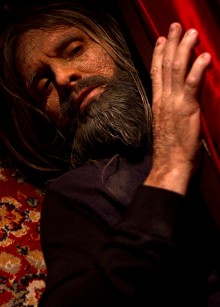 Michael Biehn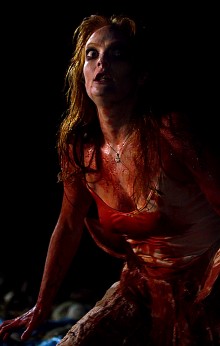 Daisy McCrackin
I have been blessed enough to have had the pleasure of working with Michael several times. I think we have been on 6 movies together, 2 of them I directed, She Rises and Jacob. It never gets old. One one side of it, he's a performer, he just kills it every time he is on screen. His instincts are unbelievable, and even when he is not on camera, when he is producing he is amazing. He can walk onto a film set and instantly know exactly what is going on everywhere. If something is not working he always knows how to fix it. I have learned so much from him. Then on the other side of it, Michael is an amazing person, he is a warm, caring and kind man. He takes care of his family and friends and he is the first one to step up when things get rough. I feel very honored that I am able to call him friend.
You also have a cameo in She Rises - so do talk about your performance for a bit!
Yeah, Jennifer thought we needed more sex appeal to be able to sell the movie so I stepped up! I kid, I kid. I don't know, didn't really have much to do, it was a small piece, and I had so much to do that day, it was just a quick little pick up, then we moved on.
What can you tell us about the rest of your cast, and why exactly these people?
They were the perfect trio, I can not imagine anyone else in any of those parts. It's chemistry. They each one complement each other perfectly. Jennifer Blanc-Biehn is amazing in this. This is my favorite thing that she has done, and I am a fan. She is good in everything she does, but in She Rises we see sides of her we have not seen anywhere else. Brilliant! And Daisy McCrackin was suggested by Angus and he was right. She is Rosebud. She took that performance to a level I could never had imagined. The thing is that everyone on this shoot, and I mean everyone, shared a real passion for this movie we were making. We knew it was something different. What was supposed to be a simple low brow horror movie became more than that. It became a story with heart.
Do talk about the shoot as such, and the on-set atmosphere?
It was great, everyone was bringing their very best. There was a great energy. Every person on set was really happy to be there, and it seemed special. I think like on day one everyone realized this was not going to be your typical shoot, this movie was going to be weird and we embraced the weird. I think everyone appreciated that.
The $64-question of course, when and where will the film be released onto the general public?
All I can say at this time it that we can't say just yet! But soon as we get the okay we will share the news with everyone!
Anything you can tell us about audience and critical reception of She Rises?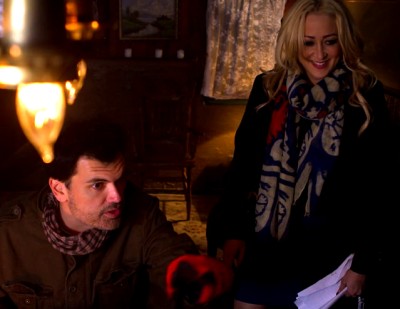 Larry directing Jennifer Blanc-Biehn
I always knew that She Rises is not going to be for everyone, I see it as more of an arthouse film. However, for those people that do "get It" I believe they are going to be in for a real treat. The movie is layered and crafted in such a way that there is so much there you could watch it 50 times and still find something that you missed on every go. For all of its flaws it has one saving grace and that is that the performances ring true, it is honest and pure and was crafted with love and passion. She Rises has heart and I believe people will connect with it on a very intimate level.
Any future projects you'd like to share?
I have a new sci-fi thriller that I can not say too much about just yet, but very soon… A few movies I acted in are out or coming out soon, including 200 Degrees from director Giorgio Serafini, Vlad's Legacy from Patricio Valladares and Blanc/Biehn Productions' Altered Perceptions by director Kate Rees Davies.
Your/your movie's website, Facebook, whatever else?

Feeling lucky ?
Want to
search
any of my partnershops yourself
for more, better results ?

The links below
will take you
just there!!!


You can find out more about She Rises and all Blanc/Biehn Productions on Facebook, and at www.thebbbasement.com
And you can find out more about me and my stuff over at www.larrywadecarrell.com
Anything else you're trying to mention that I've merely forgotten to ask?
Nope ;)
Thanks for the interview!
photos by Mike Skillsky