Your new movie Book of Monsters - in a few words, what is it about, and what can you tell us about your character?
Book of Monsters is a gory practical effects coming-of-age horror-comedy about six monsters crashing a teenage birthday party. I play one of three main female leads Ė Beth, an introverted 17 year-old goth, and yes, without giving away too much itís a really fun part in a crazy whirlwind of a story.
What did you draw upon to bring your character to life, and how much of Lizzie Aaryn-Stanton can we find in Beth?
Beth is actually very different to me - which was great as an actress, as I love the challenge of changing myself for a role. Itís funny because both Lyndsey Craine [Lyndsey Craine interview - click here] and Michaela Longden [Michaela Longden interview - click here] (the other leads) look and (sort-of) act exactly like their characters Sophie and Mona, and they instantly get recognized at the festivals weíve been to - but nobody realizes (even if Iím with them) that I played Beth. Even (the writer) Paul Butlerís [Paul Butler interview - click here] parents whoíd seen the film 3 times didnít recognize me in person at first! Obviously the different hair and makeup contributes enormously to this, but I think itís also an energetic thing. Iím quite bubbly and loud spoken as a person but Beth is definitely the quiet thinker. I was a very solemn and serious baby though so I imagine Iím using some of that.
How did you get involved with the project in the first place?
This is a great story and I hope itís testament to all the actresses out there that persistence and near-misses do actually pay off. I sent a self-tape for their first film (The Creature Below) and made it to a callback round in York (I was in London at the time). In the end I made it to the last two for that role, but didnít get it (actually Michaela did!), but I stayed in touch with the occasional update email. Anyway - three years later I get a Facebook message form Paul telling me he was writing a script with me as a lead in it - would I like the opportunity? Er, Hell yes! By the way Michaela is a great friend now. I can see why she got the role for their first film. Just goes to show donít let a ďnoĒ turn you away.
To what extent could you identify with the film's horror theme, and is horror a genre at all dear to you?
Honestly I am the worst at watching horror. Sparkie (the director) loves sitting next to me at the festivals because as such a long-term horror fan heís immune to the fear and knows all the tropes. Me literally jumping a foot out of my seat with a scream brings him back to his earlier experiences of it I guess. Itís not that I donít love watching it - Iím just not good at it. Which is why if I watch a horror Iíd prefer be a horror comedy. What I will say though is that Iíve learnt thereís a really lovely and loyal community of horror fans. You have people picking up references from films shot in the 80s who see everything every year, which is lovely as an actress. It can be a lonely profession sometimes, so having a home in horror is something no-one can take away from you.
What can you tell us about Book of Monsters' director Stewart Sparke, and what was your collaboration like?
Sparkie is brilliant. Heís not one of those heady directors who gets stressed and canít be spoken to on set. He completely trusts his actors - and often my performance more than I do myself sometimes (it was me asking to go for another take over him more often than not). Plus he works his butt off - dedicating more hours of the day to his films than most people are awake - I literally canít stress that enough. Iím glad heís getting the recognition he deserves, already having picked up a lifetime-achievement award towards the horror genre - I think heís only just turned 30!
Do talk about the shoot as such, and the on-set atmosphere?
I can honestly say it was the most fun Iíve had on any project Iíve ever done. Iím more of a dramatic actress actually, so maybe itís just the vibe of being on set of a comedy (in which case gimme more please?!), but it was just this sense of a really lovely, dedicated and fun-loving community of people coming together to make something. Iíve made friends for life.
Any future projecs you'd like to share?
Yes! Iím in two other films; I play a Russian farmer in The Good Neighbour, directed by upcoming director Jon Reid-Edwards, and a really damaged but juicy role in a film called Faith, which is a true story written and directed by Ashley Chin. Both are dramas, although The Good Neighbour has sci-fi elements.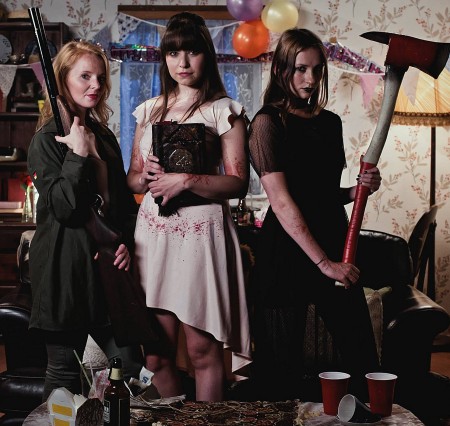 Lizzie (right) with co-stars Michaela Longden, Lindsey Craine
What got you into acting in the first place and did you receive any formal training on the subject?
I think I sort of fell into it by default. I did a 4 year BA in Theatre Arts at Brown University in the States - originally a Development Studies major, I realized I was rewarding myself with acting classes for getting through ones like Economics 101. Then I had this epiphany - why am I forcing myself to do what I donít love, when I clearly have something that I do? I declared my new major, fully committed, came back to the UK and did a MA in Acting for Screen at Royal Central School Speech and Drama. Havenít looked back.
What can you tell us about your filmwork prior to Book of Monsters?
A dozen short films or so, a music video, and a two-line part in one film. I was relatively fresh!
Besides making movies, you've also done your fair share of stagework - so how does performing on stage compare to acting in front of a camera, and which do you prefer, actually?
So so different. In film you donít film in chronological order. And even such things as starting and finishing your day at different times from everyone else has its effects. And of course with theatre you have the instant feedback of an audience - you can generally feel how youíre being received and adapt accordingly. Whereas with film the only audience you have is a tiny circular lens, and perhaps someone in an adjacent room with headphones on looking at the screen. But film is an intensely personal process, when you nail a take itís beautiful, just for you and a select few people. But I generally dislike watching myself back - like many actors. Glad to say I usually prefer which ever Iíve done most recently, but itís been a couple of films in a row now so Iíd love to now go back to the community experience of being on stage every night!
How would you describe yourself as an actress, and some of your techniques to bring your characters to life?
I consider myself a dramatic actress - be it for stage or screen, and my strengths are in creating a strong emotional connection to the character. I often play broken characters, or ones who are fighters getting through what they have to get through. The process differs for each project and role but I do a lot of work finding the specific memories and understanding the relationships each character has - often to people who arenít even in the film/play. The work happens before you get on set.
Actresses (and indeed actors) who inspire you?
Actresses: Shailene Woodley, Patsy Ferran, Sarah Lancashire, Frances McDormand, Zarima McDermott, Alejandra Rivera-Flavia.
Actors: Philip Seymour-Hoffman (one of the true chameleons, which I strive to be), Rob Ostlere, Ray Bethley, Jack Archer.
Your favourite movies?
Biutiful (which has some horror elements right?!), Capernaum, Eternal Sunshine of the Spotless Mind, Jellyfish, True Romance, Hunt for the Wilderpeople, it goes onÖ
... and of course, films you really deplore?
Oh God. I think Iíve successfully erased them from my memory. Maybe the latest Cinderella?

Feeling lucky ?
Want to
search
any of my partnershops yourself
for more, better results ?

The links below
will take you
just there!!!


Your website, Facebook, whatever else?
Instagram: lizzieaarynstanton
Twitter: LizzAarynStants
Anything else you're dying to mention and I have merely forgotten to ask?
YES! The industry needs to employ more female directors working at a higher level, which will also create more (equal please?!) and better female parts in film. Please check out my pinned tweet which is a speech by dir. Susanna White which blew my mind in a painful way. Letís incorporate inclusion riders in all contracts (Yes Frances!) and also if anyone has any money or notoriety please consider donating or advocating for ERA (Equal Representation for Actresses). Thank you for asking.
Thanks for the interview!
Thank you!