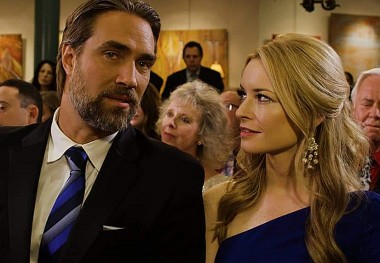 with Jessica Morris
Your new movie Art of the Dead - in a few words, what is it about, and what can you tell us about your character in it?
I play the patriarch of the Wilson family. A family who has a nice cushy existence in the hills outside Las Vegas. My wife and I like to support the arts and we are invested in spending our good fortune with causes that speak to us. At an auction led by an auctioneer played by Tara Reid, we decide to buy seven paintings by an obscure painter. They depict animals, each representing one of the deadly seven sins. Once hung in our home, the sin of each painting attach themselves to family members, changing personalities and urges. Mayhem ensues. Itís a funny, horrifying and colorful take on family and loyalties.
What did you draw upon to bring your character to life, and how much Lukas Hassel can we actually find in Dylan?
Dylan is someone who actively likes to be involved in making changes. Something that I do too. Passively letting life go by is not my thing. Proactively, Dylan and his wife (played by the prolific Jessica Morris) get down and dirty. Personally, I too, speak up about things that matter to me. And in the end, protecting loved ones, is something we can all tap into. When everything goes haywire, Dylan gathers strength to try to save the family. Of course, it isnít always easy and there are casualties along the way. As an actor, taking on a role like this, the main thing is finding a truth in everything Dylan does. Whether good or bad. When the toad painting gets into my system, I accessed a darker side. A fun challenge.
In Art of the Dead you become the personification of greed - but honestly, in your private life, which deadly sin could you fall prey to the easiest?
Ha, thatís a fun question. Arenít we all guilty of a little of each? Lust, Gluttony, Greed, Pride, Envy, Sloth and Wrath. If I had to pick one, itíd pride. I tend to think Iím always right - even when sometimes Iím wrong. I try to catch myself when this happens.
In Art of the Dead, some quite impressive makeup effects work has been done on you to turn you into a toad - so what was it like to act under all the prosthetics, and did it at all influence/hamper your acting?
Vincent Guastini is an incredible SFX artist and he and his team were a pleasure to work with. They came up with a super effective way of giving me a toad tongue (cream cheese - donít ask) and pulsating neck (condom - donít ask). I have worked on SFX makeup-driven movies before, most recently Mike Fontaine in the short film Nest, so Iím comfortable sitting in the makeup chair for great lengths at a time. I had the pleasure of doing The Black Room (on Netflix) with Natasha Henstridge and Lin Shaye under the helm of Rolfe Kanefsky [Rolfe Kanefsky interview - click here], and Vincent also did the makeup on that feature. As an actor, itís wonderful when youíre surrounded by uber talented people. In the end, acting with prosthetics can be exhausting, but since I always act from inside out - as opposed from outside in - it doesnít bother me much. If my head is filled with the right thoughts, whatever comes across on the outside will be right.
How did you get involved with the project in the first place?
I did a film (7th Secret by Bridget Smith) with Natasha Henstridge and when she came on board Rolfe Kaneskyís film The Black Room, she recommended me as the male lead opposite her. Very grateful for the opportunity, I got introduced to Rolfeís team of trusted insiders, including the wonderful producer Esther Goodstein. It was a natural fit. They like actors and give us freedom to collaborate. Art of the Dead was a great followup to The Black Room, and Iím grateful to the Mahal brothers for trusting me with Dylan Wilson.
What can you tell us about Art of the Dead's director Rolfe Kanefsky [Rolfe Kanefsky interview - click here] and what was your collaboration like?
Rolfe is brilliant. Not just as a writer with a million ideas, but his unique comedic skills mixed in with a gift of the macabre, is a real talent. The fact that he is present, kind and visionary on set helps to set him apart from to so many others. He is open to collaboration, which is key to me. He works similarly to me. We are detail-oriented and I respect that. This is my second film with him, and I would welcome many more opportunities to help interpret his dark visions. An actorís director.
Do talk about the shoot as such, and the on-set atmosphere?
The location was Las Vegas and the exec producers Michael and Sonny Mahal took good care of everyone. The actors stayed in a lovely house together which added to the comradery in the cast. I had the pleasure of having already worked with the amazing Robert Donovan, and chatting about the world over a coffee in the mornings at the cast house with him was fabulous. Also, Alex Rinehart was someone I had worked with before, and being greeted by a shriek and hug on the first day on set by her set off the shoot beautifully. Michael Su was our DP and his presence and expertise put everyone at ease. As an actor, sensing that each shot has been carefully set up gives that extra level of confidence. The set was busy, intense and productive. Working with Tara Reid was a blast, and she was very generous with her time and talent. Of course, Richard Grieco is the consummate professional and the film was lucky to have him.
Any future projects you'd like to share?
Iím about to start shooting Jeremiah Kippís feature [Jeremiah Kipp interview - click here], which he also write the script for, and Iím thrilled to be on board. Shooting upstate NY, itís based on his successful short film Slapface. I play the monster - go figure. Here I was thinking I was a nice guy :) It should be a blast. So many great people on board. Dominick Sivili is the DP and with Jeremiah at the helm, you know itíll be spectacular.

Feeling lucky ?
Want to
search
any of my partnershops yourself
for more, better results ?

The links below
will take you
just there!!!


Your website, Facebook, whatever else?
Yeah, anyone can follow me on social media:
Instagram: LukasHassel
Facebook: LukasHassel
Twitter: Lukashassel
Anything else you're dying to mention and I have merely forgotten to ask?
My own film The Son, the Father is having one of its final screenings - after a successful festival run of over 60 festivals - at the NYC Horror Film Festival this December. Come check it out and say hi. Iím also slowly gearing up to direct my own feature, a drama I wrote called Halfway - a take on codependent relationships. Watch this space :)
Thanks for the interview!