Your new movie Evolution War - in a few words, what is it about, and what can you tell us about your character in it?
To be honest, I never received the full script, only the parts needed to do my dialog and scenes. Lol. Neil Johnson [Neil Johnson interview - click here], the director, did mention the overall aspect of the film to me that the earth was taken over. I play MedBot386 in Evolution War. Which was fun to do, because I essentially am the voice of a medical robot helping AngelD on her fight against certain creatures.
What did you draw upon to bring your character to life, and how much of Marilyn Ghigliotti can we find in MedBot386?
Well I did ask Neil what exactly he was looking for in this character and he really didn't want anything that resembled a robot. He did want the character to basically have character. Which helped me, because when I first started to voice her, I didn't like where it was going and feeling a little stiff. Then Neil mentioned that he didn't mind if I played with her a bit and that he would add after effects to the voice anyway. So it gave me room to play with her. As for how much of me is in MedBot386, probably some of my playful and sarcastic side. For me, when I do read the character that I will be playing, there will always be something that I can find that I can relate to in some way, to then make the character my own. And when not sitting down memorizing lines, I will think about that character and what it is they are thinking and going through. All the who, what, where and whys of the character.
How did you get involved with the project in the first place?
Neil contacted me, and that he would be working on another film that he would like to have me involved and I of course immediately said yes. I always love working with him and with Tracey [Tracey Birdsall interview - click here]. I've now worked on 3 films with Neil, this being #4 and this will be the second with Tracey and actually working opposite Tracey. I always have fun on the set working with Neil. I get to do things on his films that I don't think I would have gotten a chance to do otherwise. And working with Tracey has always been such deep scenes. The scene she and I did in Rogue Warrior: Robot Fighter is one of my favorite scenes I have ever done.
To what extent can you actually identify with Evolution War's science fiction content, and is that a genre at all dear to you?
I do love science fiction. It's hard to explain for me, but it's this larger than life dream that takes you in so many directions. It can be a dramatic, funny, action packed voyage in almost any situation from sea, land and outer space. And even with this, it still doesn't put into proper words for me. Although, as much as I love science fiction and movies in general, I'm not one of those people that can repeat every word in films or remember every scene like some deep fans out there do. I do admire that though. Lol.
What can you tell us about your director Neil Johnson [Neil Johnson interview - click here], and what was your collaboration with him like? And since this wasn't the first film you did with the man, what can you tell us about your previous collaborations, and how did you two first meet even?
I don't know why some big studio hasn't hired Neil to work on big studio films. I'm honest in saying that. I mean, I guess in some respects I'm glad that he hasn't yet, so that I keep having the opportunity to work with him, but if it does happen, I do hope I still get to work with him. I think he really has great vision when it comes to the films that he's made. Especially with the budget that he's been able to make them with. I know that having worked with him, that we trust each other enough to know that if I have a question, he'll be able to answer it for me and if I have any insight, or if I feel that I can do it better, I can tell him so and we do it again.
Do talk about the shoot as such, and the on-set atmosphere?
Well for this shoot, it was pretty simple as I was putting voice to recording. Lol. And for many of the other characters that I've done in past films, I was either blindly laying down on a board, and I was literally blind with contacts in. In another, it was green screen work, which some find difficult, but I just think of it as black box theater since I've got a theater background and also when in a class, we have to imagine all the instances that we are doing for the scene in class. Another shoot was out in Mojave on an amazing location laying down shooting imaginary bots. All such fun. I would love to get to go on more location shoots with him though. He finds the most amazing locations.
Any future projects you'd like to share?
Yes, hopefully very very soon, Shooting Clerks will be making a bit of a tour to be screened in cities throughout the states. I'm hoping to get some news within the next month on that. I myself can now add filmmaker and director to my name after joining up with other creatives and we'll be making our own short films, where I wrote my first script that I'll be directing and also directing another script written by a member of our group and we will be launching a crowdfunding very soon, hopefully a matter of a week or two. Also, back in January I was in a short film titled Laidover, where I got to do double duty on with some hair and makeup as well as playing a character in the film which was shot in St. George, Utah.
What got you into acting in the first place, and did you receive any formal training on the subject?
Funny story too that is, I always say a divorce and although it's not exactly totally the reason, but it was the starting point of me looking for an outlet after the divorce to find myself and figure out my life. But it also was after going through some other transitions that eventually led me to an acting class in New Jersey and after training for at least 2 years to finally go out and start auditioning and using the skills I learned. Through the years, I have also taken many different classes out here in LA with many coaches to see the many approaches that are out there and basically use what works for me.
You might have long gotten tired of talking about this movie right now, but since it's just a cult favourite and my readers would never forgive me if I just omitted this question, I just have to ask you to talk about your work on Clerks for a bit!
LOL, no I don't think that I have a right to be tired of talking about Clerks. It's what has gotten me to where I am and to be known at least, to the degree that I am. I mean, I may not be exactly where I want to be at in my career. I still have to have a day job in order to be able to live as I don't make a living as an actor. But I'm am extremely grateful to Kevin and for having Clerks in my life. I got to work with some amazing people that I will always consider family in my life. It was a wonderful time and I enjoy when I get to join up with those family members, when we go to conventions and spend time and catch up.
Other past films of yours you'd like to talk about?
Going off the previous question, this will lead up into Shooting Clerks, which is basically Kevin's story, written by a fan from Scotland, how Clerks was made. It's a bio-pic. And many of the Clerks cast have cameos in the film. I play Ali Thomlyn, which is the Village Voice journalist that called Kevin to be able to get a copy of Clerks to write an article about it after hearing about the film from Bob Hawk. Originally, they wanted me to play Kevin's mom with Scott who did play Kevin's dad, but certain logistics made it difficult. But I'm happy that I was able to be cameo'd. But I'm still wrapping my head around the fact that someone is actually playing me in a film. And I've not seen the film to know if she has actually done me justice, or will make me cringe. Quite frightening actually. Lol.
How would you describe yourself as an actress, and some of your techniques to bring your characters to life?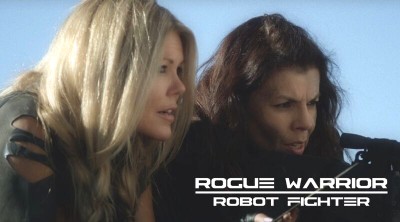 Ooo, to describe oneself as an actress. Well, I worry about memorizing my lines, all the time, but I'm also very critical about my performances. And if it didn't feel right, I have to do it again. For me, it'd be pretty hard to give you exactly what techniques I use, as what I've learned through out the years I feel have morphed themselves together. I've learned Meisner, Adler, Stanislavsky, Method, and so many others from other coaches, but after a while, you instinctually just find your own rhythm, and I have to find my truth in all the characters that I play. And if I haven't found the truth in the character, I don't believe it. And if I don't believe it, no one else will. I have to really believe and feel what it is that I'm saying, or else I will keep doing it over and over. And as I previously mentioned, if I'm not with script in hand memorizing, I will be constantly be thinking about the character's life to help me in the process of knowing who she is, which in turn helps in memorization of the lines.
Actresses (and indeed actors) who inspire you?
Wow, always hard for me to think of names when asked. lol. But truly it's whoever challenges themselves to give a performance in a role that no one would think to see them in because it keeps me engaged in the story. I know, sorry it's not exactly names, but it's what I got.
Your favourite movies?
Ok, wow again. Gone with the Wind and West Side Story, for classics. These days, I'm in the seat for as close to first days of release for any Marvel, DC and Star Wars movies. But I'm a lover of film.
... and of course, films you really deplore?

Feeling lucky ?
Want to
search
any of my partnershops yourself
for more, better results ?

The links below
will take you
just there!!!


Gosh, there was a movie recently that I didn't like, but can't remember the name of it. Usually I don't hate movies. I have different levels of loves and likes.
Your website, Facebook, whatever else?
My website is www.marilynghigliotti.com.
www.facebook.com/marilynghigliottifanpage, www.twitter.com/thatclerksgirl and www.instagram.com/marilynghigliotti
Anything else you're dying to mention and I have merely forgotten to ask?
OMG, YES, but I can't. I'm sworn to secrecy. But you'll find out when Evolution War comes out in theaters ;)
Thanks for the interview!
THANK YOU!!!!