Your new movie Evolution War - in a few words, what is it about, and what can you tell us about your character in it?
In Evolution War, my character is a disgraced war criminal forced to raise an army of machines to battle mysterious creatures taking over the earth. There is, of course, some surprises we arenít revealing yet in the story, but itís sci-fi adrenaline at itís best! Angel-D is a prior musician with quite an attitude, but the vulnerabilities become more evident as the plot unfolds and the true enemies are evident. With very few humans scattered throughout, in order to fight a battle against the creatures that have taken over the planet from the underworld, the only possible solution is to reprogram the machines to form an army. Sometimes, however, things donít go exactly as according to plansÖ
What did you draw upon to bring your character to life, and how much of Tracey Birdsall can we find in Angel-D?
I like to leave Tracey Birdsall at home when I create my characters! Again, she looks like me for the most part, but sheís much more coarse in her thoughts and actions.
I donít draw from other things (method) like I did in the early days. I like to imagine how they think, move, talk, right down to which facial muscles they favor - and let them evolve. I like to think of it as more of a birthing process. When my character feels something, Iím not replacing it with another experience, Iím feeling what theyíre feeling and living in the moment. Itís a much more raw way to go about things, to just live it in real time.
From what I've seen, Evolution War is a quite action heavy movie - so how did you prepare for that aspect of the film? That said, how much fun is it to act in such energetic movies?
So much fun! I always like to make a joke about the lack of competition. Not because most actors donít ďthinkĒ they want to do what I do, moreso because itís so grueling I believe many would quit - I mean, this is tough stuff. To go through the physical activity, battles, running for your life on a daily basisÖ itís really physically demanding. Add on top of that the emotional turmoil of living it, the tons of dialogue that has to roll off your tongue, and the extreme heat or cold in which youíre shooting. The reality would really clear the room of most actors, yet I enjoy it more than anything in the world.
I prepared for that aspect with heavy training (I wanted her to be leaner and stronger than Sienna in Rogue Warrior: Robot Fighter), a more restrictive diet to also help lean up (basically cut dairy out of my already very restrictive vegetarian diet), and upping my protein intake almost excessively.
How did you get involved with the project in the first place?
Iím not exactly sure, but Neil Johnson (the director) [Neil Johnson interview - click here] basically put a script in front of me that I couldnít refuse and told me we were going to be shooting soon (i.e.: I wasnít going to have the same ample prep-time I was used to). That aspect of it was a bit frightening as I like to prep for at least 6 months - but I trusted him. He said to me that although I like to prep that long that he didnít think I needed to - that thought was stressfulÖ but he was right. At least now I know. I think you train your brain to create a character so many times over and over, and it remembers the process and itís automatic.
To what extent could you identify with Evolution War's sci-fi theme, is that at all a genre especially dear to you? And do you have any explanation why your career seems to gravitate towards that genre of late?
Itís actually really nice that a comedy I did was released several weeks ago (Whoís JennaÖ?) because I aim not to get pigeonholed. That said, science fiction is my love, and action goes hand in hand with that love. My child self is extremely happy with what I get to do each day :) Besides, when youíre shooting action, you donít have to go to the gym on shoot days (besides dropping for 100 pushups now and then). The guns and weapons are upwards of 30 pounds, and youíre constantly sprinting/climbing/jumping/etc.
What can you tell us about your director Neil Johnson [Neil Johnson interview - click here]? And since this isn't the first time you have worked with him, also do talk about your former collaborations a bit!
Besides being one of the best directors out there, Neil is extremely brutal in pushing you to get just the right shot/emotion. He likes to wear you down until you just canít take anymore and then he gets exactly what he wants. You see, when youíre doing end of the world extremes, thatís exactly how the character would feel and look. So although itís brutal to get run down on a daily bases (and heíll conduct my emotions like Iím a whole orchestra), the whole purpose of doing the shoot is to get it right. We are both so extreme in our work that we will do whatever it takes.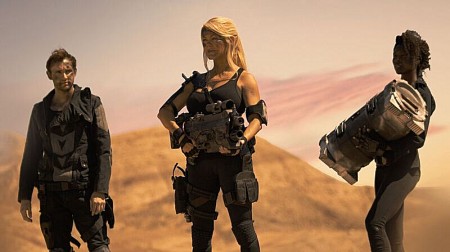 I do believe that although we had worked together on several productions before, that what we did before Rogue Warrior: Robot Fighter was to earn each otherís trust and respect. Itís quite difficult in this industry to find others with such extreme passion for our work. Now when we work together we know that the sky is the limit. I know that thereís no end to his brilliant ideas and unique perspective, and he knows that he can write whatever he wants and I can deliver it. Itís not just about skill, itís also about a lack of ego. We both genuinely love what we do and take it before all else.
Since Rogue Warrior: Robot Fighter, and prior to shooting Evolution War, we also shot over 220 days on The Time War together. Itís extreme dedication at itís finest.
What can you tell us about the shoot as such, and the on-set atmosphere?
Neilís sets have really morphed over the years that Iíve worked with him. They used to resemble other sets I had worked on in attitude and ďwhat to expect.Ē There used to be the expected loose canons and the expected princesses and several large egos. Not anymore.
Whatís changed over the years is the seriousness and professionalism. I mean, sure we have fun but itís very intense. Everybody is always so happy to be there as heís developed a reputation, so thereís very little chatter, no cell phones until the shoot day is over, and my pet peeve - no scripts in hand. I think Iíve scared other actors in my interviews as I always point out that I expect everyone else to be overly preparedÖ It is a career and a job. Basically, everyone whoís super professional (crew and cast), drama free and ego free - gets to maybe come back and play next time.
The $64-question of course, when and where will Evolution War be released onto the general public?
Evolution War is due to be completed by late summer of 2018! I will definitely send you an update when I have itÖ
Any future projects you'd like to share?
Between Evolution War and The Time War, thatís taken up most of my last couple of years! The Time War, due to itís sheer length and complexity, will take a while to complete - but itís going to be worth the wait!

Feeling lucky ?
Want to
search
any of my partnershops yourself
for more, better results ?

The links below
will take you
just there!!!


Your/your movie's website, Facebook, whatever else?
Website is www.traceybirdsall.com, Twitter is @traceybirdsall1, Facebook is www.facebook.com/traceybirdsallofficial, and Instagram is @traceybirdsall1
Anything else you're dying to mention and I have merely forgotten to ask?
Where was it shot? Probably the most interesting question of the whole film! Iíll let you ask Neil that one so that I donít give away classified information!
Thanks for the interview!