You are currently working on the comicbook Legend of the Red Reaper. Could you fill us in on the story?
Our book tells some of the backstory of the lead character, Aella, the Red Reaper, when she was a child, and reveals some of the machinations of the demon Ganesh that have spanned several years, and that have a major impact in the movie.
Your comicbook is of course a prequel to Tara Cardinal's epic fantasy movie, incidently also called Legend of the Red Reaper. What can you tell us about the (as of yet unreleased) movie, and how close did you stick to it, art-wise?
Legend of the Red Reaper chronicles the tale of Aella, a Reaper, one of a select group of warriors specifically trained to combat the demons that walk the earth, and her ongoing battle with her lifelong adversary, the demon Ganesh. One of the things that we really wanted to do was have the characters in the book resemble the actors who portray them, so that was a challenge. I'm proud of how that's turned out, though; when you see a character like Kreios in the book (one of my favorite characters to draw), he LOOKS like the actor Cal Simmons, who plays him in the movie. As to the settings and everything else you see in the book, since those were specific to our project (with the exception of one setting), I was able to let my imagination run wild on those scenes, especially in the Demon's Lair scenes. We unleash some crazy visuals in the Demon's Lair!
What were your sources of inspiration for the looks and design of the comicbook away from the movie?
I think that one of the ways to make a fantasy story seem believable is to ground it in reality. So aside from the designs from the movie, I've tried to maintain a practical, historically realistic look to things. That way the FANTASTICAL will seem even more special. And when it comes to the fantasy elements that are unique to the book, primarily I try to avoid anything that's stereotypical to fantasy. For instance, for our demons, we wanted to avoid the stereotypical goat horned bat winged variety, and wanted to portray them more as fallen angels. So I looked to Michaelangelo's art (one of my favorite artists since childhood) for inspiration on our portrayal of beautiful, but powerful creatures that can be alluring to mortals, yet terrifying when provoked.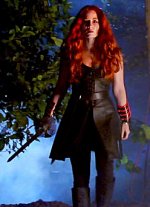 Tara Cardinal
How would you describe your collaboration with Red Reaper-creator (and star) Tara Cardinal [Tara Cardinal interview - click here]?
I've worked exclusively with Tara on this project, and it's been great. I think that being an actress, Tara understands the need for a creative person to take a little ownership of a project and make it their own, without being micromanaged on every pen stroke. Much like a good director allowing an actor or actress to take ownership of a film role and make it their own. Granted, at the end of the day, she's the boss and it's her vision that we're putting on the page here, but if there's something that I think may play out better visually, she lets me present my case and is very receptive to ideas that she thinks will result in a better quality product.
How did you get chosen to do the comic in the first place, and what made you want to do it?
Lee Rodriquez, one of the co-founders of panelsonpages.com, had worked with both of us in the past on different projects, and Tara approached him about helping her find an artist for her book. Lee hit me with the stellar sales pitch of "'it's drawing chicks with swords; I immediately thought of you!" That was pretty much all the arm twisting I needed! Tara and I talked, and I sent her some test pages that I made up of Aella and Kreios sparring, as well as a pinup page. Fortunately they impressed her enough to give me the job. Big thanks to Lee for making this happen!
Legend of the Red Reaper the movie also stars comicbook legend George Pérez [George Pérez interview - click here] ... and I don't know how to turn this into a proper question, but would you like to comment on this fact anyways?
Having any involvement with a legend like George is a real treat. I consider it a great honor to be able to draw him in the book, and hope he approves of my rendition of him (yeah, drawing George Pérez… no pressure, there). :)
The $64-question of course: When and where will the comicbook be available?
We just premiered a limited edition preview issue of the comic and the movie at the San Diego Comic Con, and will have the final book ready to go to press in August. We have a couple of appearances that we're working on in September out in California, so I imagine Tara will want to unveil the finished book then, if not sooner. You can watch for news of it's availability on my website or on Tara's.
Besides Legend of the Red Reaper, you are presently also working on Zombies of Sherwood - a few words about that one?
Zombies of Sherwood… I'm so proud of that title cause it sells itself! Probably the darkest work I've done in the sense that I'm finding myself constantly pushing the boundary of what I would normally put on the page, both in the form of artwork and content. I want to achieve a horrific and terrifying story, that still lends itself to the adventure you'd expect to see in a Robin Hood-tale.
Robin Hood and the undead - how do the two go together?
"Someone is killing the king's deer in Sherwood Forest"
That's how the tale of Robin Hood typically starts. But in this case, it's not poachers who are slaying the king's deer! The High Lord Sheriff of Nottinghamshire is called upon to investigate the recent criminal activity, and makes a gruesome discovery in the secluded countryside. Meanwhile, town drunk and troublemaker John Little struggles to maintain a dark secret that involves fresh corpses, and Sherwood Forest. And finally, Robert, the newly titled Earl of Loxley, has returned from the Crusade to lay claim to his lands, only to find himself in contention with the sickly Guy of Gisbourne, who holds the legal claim. But it's these same lands that harbor the dark secret to the swarm of undead slowly spreading across the countryside! These aren't the Merry Men you're used to seeing, and they're facing a foe more fearsome that the Sheriff's men! With swords, and arrows, and body parts and gore! (but no tights!)
What were your inspirations for Zombies of Sherwood, and how would you describe your artistic approach?
The inspiration for this story is twofold. I was commissioned by a fellow in England to draw a piece of art. He wasn't particular, he knew I enjoyed drawing medieval history, and at the time I was getting a lot of zombie requests. So we figured with him being in England and all, that a zombie Robin Hood would be kind of cool. During that time, I was reading a fantastic book about the battle of Agincourt, where English archers overwhelmingly turned the tide of battle against the French, and one night those two concepts were spinning around in my head, and I had this vision of a line of English Archers shooting volleys of arrows into a horde of zombies shambling out of the woods… and those zombies plucking the arrows from their bodies and firing them back! That visual gave me no end of amusement, and I felt there could be a story there. And thus, Zombies of Sherwood was born! This story is a chase story, there's a need for the characters to get from point A to point B, so I need to keep that energy going artistically, while still showing some slower paced dramatic scenes. I'm really challenging myself on this one to do something new for me in terms of layout and pacing. It's a fine line to walk between slow building suspense and balls to the wall action, while still providing a story that has real substance to it.
Over the years, there have been numerous depictions of Robin Hood in popular culture. Which depictions would you liken your incarnation to the most?
Well, physically, the Russell Crowe version is the closest. English archers possessed amazing upper body strength that came from a lifetime of using the English longbow. It's one of the quirks of cultural advancement, English boys were trained at an early age to hunt with those bows, and their bodies developed accordingly. It was impossible for an adult who wasn't raised that way to draw one of those bows. So Crowe, I think, came closest to depicting the physique that these guys had. But I'm also an old school Errol Flynn fan, and I think a lot of his running and leaping translates well to the page, plus, his look is the iconic portrayal of the character, so there's a little bit of that in there, too. But as to his character… English archers came from the commoners, the nobility looked down on it because it was the great equalizer; a peasant with a longbow could take down a fully armored knight on horseback. So my Robin is a soldier, an archer in King Richard's Crusade, much like Crowe and Costner's versions, which makes a lot of sense historically. But he's also a thug. He's used to fighting in the trenches, carousing in the back alleys, slitting the throats of armored men on the battlefield that he's unhorsed with his bow. He isn't a savory character at all. So in THAT respect, he's going to be very different from the versions of Robin Hood that we're used to seeing. But then, that can be said for most of the characters in this book! I'm really trying to turn the Robin Hood mythology on it's ear and do something different with these characters.
Likewise, zombies have been portrayed in all sorts of ways in recent years, from the traditional voodoo zombie to the flesh-eating variety, from the classic slow-moving hulking creature to the long distance runner of more recent times. How would you describe your access to the subject at hand?
I've got a little bit of them all in here! I came up with a line that I liked early on that explains how my zombies behave - "They remember violence." So individuals that had skills of violence in life, or those who had violence committed on them, remember that in their un-life. A zombie knight will retain an instinctive memory of his fighting skills, a wife who was the victim of abuse will be drawn to her abuser for vengeance, and so on. Common peasants who did nothing but tend the crops, are more of your mindless variety. So this gives me the freedom to portray all manner of zombie activity as it suits my storytelling needs, and will cause all manner of mayhem for our lead characters.
Another $64-question: When and where will this comicbook be available?
I'm shooting for this October, to coincide with Halloween. I keep having to push this one back due to personal and professional commitments, but it looks like October is when it will happen. Thematically, that month is just a great fit for this story! It will be available on my website and at public appearances. Eventually, I may shop it around to a publisher like Image or Dark Horse, but in the meantime you can order it from me directly.
Besides these two comicbooks you also work on what I've read you consider your magnum opus, The Crusade. A few words about that one?
The Crusade is a historic fiction tale of the First Crusade, from the standpoint of a few of the key leaders. It ranges from several years prior to the calling of the Crusade, to it's penultimate conclusion in Jerusalem. I'm going on about 10 years of research on this one, trying to be as true to the history as possible while still telling an entertaining story. The big challenge with it is to NOT tell an encyclopedic history lesson, but be true to that history while engaging the reader in interesting characters and plotlines.
What fascinates you about the crusades to begin with?
At the end of it all, I think the strongest part of any story is the characters, who they are, what motivates them, the choices they make. We have some really fantastic, real life characters that I think will make for a great tale in this often mischaracterized period of history. Godfrey, the descendant of Charlemange; Bohemund, a hulking Conan-like figure who was one of the Crusader's most brilliant tacticians; Raymond, a one eyed prince who had been excommunicated from the church, twice, for marrying his cousins; Tancred and Baldwin, young knights who were raised in a seemingly conflicting atmosphere of violence and faith. As amazing as it was that a significant portion of the Western European population just packed up and travelled halfway across the known world under very little to no centralized leadership, it's the personal stories of those involved that really grabbed my interest when I started reading about this. Plus, I just dig stories about knights, and the First Crusade was the greatest real life tale of knights ever!
Any other comicbooks of yours (past and present) you'd like to talk about, and future projects?
These three have my plate pretty full at the moment! If I experience any degree of success with these, I'd love to see about doing comic book adaptions of some of Bernard Cornwell's historic fiction books, especially his Warlord Chronicles, which are a more historical accounting of the tales of King Arthur. That would probably be a dream come true! I also have this burning desire to do a comic book re-imagining of the movie Zardoz. Don't ask… :P
Many of your comicbooks seem to have historical backgrounds - why is that, and is it true that you're a bit of a history buff?
I LOVE history! I can thank my old man for that! When I was a kid, he just really nurtured a respect and admiration in me for those who have come before us. We used to build WWII models and watch old war movies, or movies like Spartacus and Ben Hur. I come from a military family, and Dad was fascinated with military history. When I was in elementary school, I could probably have told you the proper battle formations of Roman Legionnaires before I could recite my multiplication tables! In my adult years, that love of history focused in specifically on the late 11th Century, the time of the First Crusades, though I greatly enjoy just about any period of history. Er… as long as it involves battle of some sort!
How would you describe your drawing style?
I hate using the word gritty because it's thrown around so much… rough? Raw? No straight lines, definitely! Something that leans more towards a realistic look, but with beat up, dented edges! I like to draw really rough and sketchy, and then block everything in with blacks. So yeah, since I've used that word twice now, I'll describe it as ROUGH! GRRRR!!!
What got you into drawing comicbooks in the first place, and did you recieve any formal education on the subject?
No formal education, all self-taught. When I was little, my folks got me the Spiderman Easy Reader comics, kind of like Dick and Jane books but with Spidey, to encourage me to read. Instead, I would trace the pictures, and then eventually learned to copy them by looking at them. Throughout school, it was something that I always did for fun, and never really considered that I could make a living doing it. A few years back, I started hitting the convention circuit, and realized that I could actually make money doing what I love.
Your views about the current comicbook-scene, both mainstream and independent?
I think there are some great mainstream characters out there, characters who, at their core, give us something that we can't seem to get enough of; that's certainly evidenced by their longevity. But I think that those characters have become such a corporate brand that creative decisions are fueled more by the need to increase the profit margin than the desire to tell a good story. I get that these books are products that need to turn a profit in order to exist, but too many stunts are pulled that result in mediocre stories in order to grab a quick headline or fuel an immediate boost in sales. Contrast that with books like The Walking Dead or Invincible, that just focus on telling consistently good stories. That's what the goal should be. So while I have a healthy respect for many of the mainstream characters, I find myself gravitating towards more and more towards the independent scene. I think you find more love for the work there.
Your favourite comics and comicbook artists?
As previously mentioned, The Walking Dead and Invincible, Northlanders, the original 12 issue run of the Micronauts. Conan and John Carter, Warlord of Mars. Kazar.
As far as artists go, Michael Golden, John Buscema, Barry Windsor-Smith and Frank Frazetta are some of my earliest influences. More recently Bryan Hitch and Timothy Bradstreet. Old school Alex Raymond.
And since this is a filmsite, your favourite movies?
Lord of the Rings, Spartacus (both the Kirk Douglas and AMC versions), Excalibur, the first Conan movie, Kingdom of Heaven (director's cut), The Quiet Man, The Warlord (with Charleston Heston), Planet of the Apes (the original), The Dark Knight.

Feeling lucky ?
Want to
search
any of my partnershops yourself
for more, better results ?

The links below
will take you
just there!!!

Find Michael Champion
at the amazons ...

amazon.com

amazon.co.uk

amazon.de
Looking for imports ?
Find Michael Champion here ...
Something naughty ?
(Must be over 18 to go there !)

... and of course, films you really deplore?
Transformers (hated the robot designs, and too many humans!), Avatar (too preachy, and I wasn't impressed by the design work on the aliens here, either). Those are the only two that come to mind that I really loath, primarily because the money was obviously there to go all out, and somewhere the focus was lost on telling a good story, or on giving the audience what they wanted to see (GIANT ROBOTS FIGHTING!), or on pushing someone's personal agenda (I get it… play nice with the environment. Now get back to giant robots blowing up aliens!). But then, what do I know? These movies were the biggest money makers in recent years!
Your website, Facebook, whatever else?
Anything else you are dying to mention that I have merely forgotten to ask?
Be sure to check my convention schedule on my website and see if I'm coming to a show near you! And again, lots of love to Tara [Tara Cardinal interview - click here] for all she does to promote my work, and to my colorist, William Anderson, who makes my chicken scratches look fantastic.
Thanks for the interview!
Thanks, Michael!!!