Your new movie Eminence Hill - in a few words, what is it about, and what can you tell us about your character in it?
Eminence Hill is almost an homage to Sam Peckinpah's The Wild Bunch, it's about the West as it probably was in the sense that there are no white hat good guys or black hat bad guys, the characters are very human, being good, bad ,and in some cases indifferent, much like real life no one's all good or all bad, everyone in the film is a mixture of both but leaning more to the bad. My character Mordicai is a snakeoil salesman traveling with his black man servant/bodyguard, Jonah, a mute former slave Mordicai picked up in his travels. Their relationship is almost father and son as opposed to master and slave. Mordicai is very fond of Jonah and they are dependent on one another, in fact they are probably equally yoked, Mordicai being the brains and Jonah being the brawns, Mordicai doesn't carry a gun, he doesn't need to he has Jonah.
What did you draw upon to bring your character to life, and how much Michael Harrelson can we find in Mordicai?
Good question, lol ,more than most would imagine unless you've known me for years - first Mordicai prefers to charm and bedazzle you with bullshit, rather blind you with brilliance, he is a conman thru and thru, and something of a showman/thespian in the PT Barnum mold, his motto is a lie is as good as the truth if you can get someone to believe it, he isn't evil he is just self-serving, kind of like the Wizard in the Wizard of Oz, not a malicious bone in his body, very little truth in his claims, what he lacks in character he embellished with guile and cunning, he's very crafty and fox-like. As to how much of me is in him, first I'd have to give Rob Conway [Robert Conway interview - click here] most of the credit for his creation, BUT most people don't know this, in my youth I used to be a barker at strip clubs in New Orleans. If you don't know what a barker is, he's the guy at the door loudly talking about how beautiful and talented the girls inside the club are, lot of fast talk and exaggeration used to entice unknowing marks and their money into the club, much like a barker at the carnival lure you into the freak show tent.
How did you get involved with the project in the first place?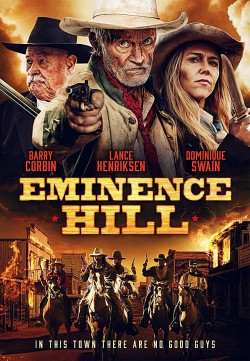 As you might know Rob and Owen Conway, his brother, have been friends of mine for several years going back to Exit To Hell, Rob's second film, with Kane Hodder and Tiffany Shepis [Tiffany Shepis interview - click here]. Anyway he sent me the script saying he had written the character with me in mind, and as I read it Mordicai began taking shape in my mind's eye - now I still had to audition for the part, we are very good friends, but nothing is granted. Based on that alone, I have read for Rob and not gotten the role on a couple of other films so it's never a slam dunk, however I began seeing Mordicai as a man meticulously dressed in somewhat shabby clothes, which in his mind are the finest fashion even if somewhat the worse from wear from traveling the West in a broken down old medicine show wagon. I'd just wrapped doing Krampus Origins where I'm the drunken priest and a short role in Batlefield 2025 where I play Big Buck who runs Big Bucks Brake's, and could be the great grandson of Mordicai, but that's another story, anyway I started growing a beard for the part, and I went down to Tombstone for the anniversary of the film Tombstone and found the grey top hat in one of the stores there, and Mordicai came to life. I submitted a self-taped audition and got the part.
What can you tell us about Eminence Hill's director Robert Conway [Robert Conway interview - click here], and what was your collaboration like?
Robert is probably the most prolific director I've ever worked with, he writes, directs, acts and often shoots his own films or at least parts of them, he is a quadruple treat! And he's good at anything he does, both the Conways are very driven to not only succeed but to be better every time they step up, and they always are, having done six films with them I've seen the growth, and I'd say we aren't too different to John Ford and his repertory company of actors who show up in every film. Usually on any of Robert's films you see very familiar faces you've worked with before, behind the scenes as well, so it has a very family-like atmosphere. As for collaboration, Robert is very easy to work with, he pretty much trusts your judgement once you're on set and filming begins, he's very approachable with ideas on things a character might say or do that wasn't written in the script.
Do talk about the shoot as such, and the on-set atmosphere!
This shoot was amazing I mean Lance Henriksen and Barry Corbin, my God they are icons! Just incredible to be on set with, both gentlemen are surprisingly genuine and humble, considering their stature as actors. I've always admired both of them tremendously, based simply on their bodies of work. Most people don't know it but Buck Taylor was originally cast as Noah, but we sidelined due to Illness, and Barry Corbin was brought in as his replacement, but he is so outstanding in the part it's hard to imagine anyone else playing Noah. Everyone really did an exceptional job on this film, Clint James as Royce Tullis is nothing short of amazing, Charlie Motley as Garrett blows me away with the naturalness of his performance, of course Owen Conway owns his role of Quincey Hollis Foster, the psychopathic marshall tracking down Royce Tullis and his band of outlaws. Wonderful supporting roles by Anna Harr, Dominique Swain, Augie Duke, Maria Olsen [Maria Olsen interview - click here], Brinke Stevens [Brinke Stevens interview - click here], Tori Osborne, Bill Connor, Greg Lutz, Jeff Yazzie, Victorio Pope, just to name a few! Hair and make up by Victoria Sandoval, set design and wardrobe by Lori Haberman, make it look like a several million Dollar production. A phenomenal sound track featuring songs by Charley Motley and the immensely talented Amelia Haberman add so much to the production. The real star of the movie is the State of Arizona, captured in all her glory by Barry Cohen and Norm Davis!! Man, their camerawork is magnificent, they really make this movie look as good as anything Tarantino shot in 70 mm, seriously those guys are unbelieveable.
Any future projects you'd like to share?
I'm blessed! Starting a faith-based film where I play a reformed alcoholic cop Bill Randall in Someday, and Copper Town after that and hopefully whatever Robert Conway shoots next, hint, hint ...

Feeling lucky ?
Want to
search
any of my partnershops yourself
for more, better results ?

The links below
will take you
just there!!!


Your website, Facebook, whatever else?
https://www.imdb.com/name/nm2204540/
@Michael Harrelson Actor on Facebook.
Anything else you're dying to mention and I have merely forgotten to ask?
Watch for the movie's premier Nov 1 in LA and available on DVD and VOD Nov 5. Also check out Room for Rent with Lin Shaye also on Uncork'd.
Thanks for the interview!
Thank you !!!! See ya in the movies.