Your new movie The Covenant - in a few words, what is it about?
The Covenant is a film that explores the internal consequences of difficult life choices. How doubt and regret can sadly turn internal struggles into external threats. Thatís basically the story of Monica Engesserís [Monica Engesser interview - click here] character Sarah. For Richard, my brother Owen [Owen Conway interview - click here], itís about the hazards of unconditional love. And with Father Frank, Clint James, itís about confronting pure evil.
With The Covenant being about demonic possession, exorcism and the like, did you do any actual research on that aspect of your movie?
Yes, I was raised Roman Catholic so that was the basis of my knowledge of the spiritual world but in addition to that, my fellow writers and I did some general research on demonology. According to Judeo-Christian myth, demons are supernatural beings; Once angels of heaven who have fallen from grace and now serve Lucifer. Very interesting characters to write. A demon is pure concentrated evil but can appear in many forms. In The Covenant, we have a demon that reveals itís self in several different manifestations from horrific to seductive.
(Other) sources of inspiration when writing The Covenant?
Some came from films such as The Exorcist or The Exorcism of Emily Rose but also Faust and other classical sources.
What can you tell us about your co-writers Owen Conway [Owen Conway interview - click here] and Christopher R. Smith, and what was your collaboration like?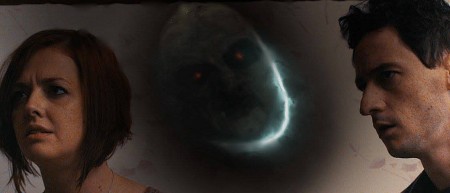 Monica Engesser, Jon Alexander, Owen Conway
It was great to work with Chris and Owen and I would love to collaborate with them again. I usually write my scrips alone but involving other people can be very rewarding. Both of these guys brought a lot to the script and helped shape it into something I was very happy with. Iím doing this again as my next project is a collaboration with writer Paul Shrimpton. Film by nature is a collaborative art form and itís a great benefit to a project if youíre lucky enough to have others helping you with what is often a solitary phase of production.
For all the gorehounds among my audience, you just have to talk about the bloody bits in your movie for a bit, and how were they achieved?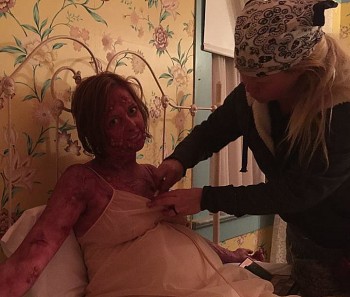 Monica Engesser with Cat Bernier
Most of what you see is the work of the amazingly awesome Cat Bernier. This was our third movie together and she always brings so much to the projects. Cat and I agreed that the gore should be minimal in this story so that we could maximize its effectiveness. What you do see is disturbing but used carefully and only after we have built up enough tension to warrant a graphic reveal. Also, when speaking of effects, I have to thank Jon Alexander of Alexander Designs who crafted the horrific demon birthing scene and Cory VandenBos for his efforts as well. There was a lot more to the birthing scene but we cut it down as it was incredibly graphic and we worried that some outlets might not take the film in its entirety if we left it in but someday, if we do a special edition, that could be a cool thing to show. Lastly, I was lucky to have the very cool visual effects of Joseph Mbah and Kyle Sschlosser.
What can you tell us about your overall directorial approach to your story at hand?
For me itís always about the people. Even when weíre doing a straight up monster flick like Krampus Unleashed, I try and make it about the characters as much as possible. With The Covenant this was easy as the story is more intimate than a lot of my other films and as a filmmaker, it was an incredibly rewarding experience. But my approach when dealing with my actors is always the same. I create the characters but then hire actors who want to develop them further than whatís in the written word. I only work with actors who want to be my creative partners in bringing their characters to life. I listen to what they are saying and what they are feeling and this produces the best result.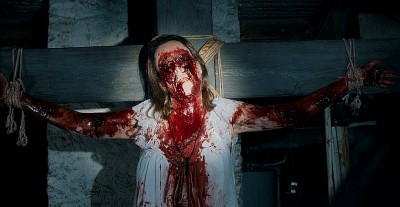 Maria Olsen
Do talk about your key cast, and why exactly these people?
An advantage of making several films with people is I get a strong feeling of who they are and what they can bring to a role. When I started writing the parts of Richard and Sarah, I knew I wanted Owen [Owen Conway interview - click here] and Monica [Monica Engesser interview - click here] to play them. Clint, who Iíve also worked with a lot was a later addition to the cast as initially the part of Father Frank was written for a much older man. But then in the re-write I wanted someone younger to create a contrast to Father Burke (Sanford Gibbons) so I went with Clint and he and I did a lot to shape Frank together. Clint really should have gotten a writing credit as we basically replaced most of Franks initial dialogue to make it a better fit for a young priest. It was a lot of fun as heís a great talent and a close friend. Then there were some new additions who really impressed me. Maria Olsen [Maria Olsen interview - click here] and Richard Lippert were amazing and they were both basically cast on the spot.
A few words about the shoot as such, and the on-set atmosphere?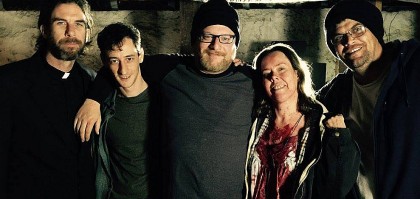 Clint James, Owen Conway, Robert Conway, Maria Olsen, Travis Amery
It was really fun. We shot the film in the town of Globe Arizona and they were some of the nicest people you could hope to meet. They were very helpful and thatís very important when working on a small budget. But for me the best part of filming this movie, is that we were able to take our time. Most of the film takes place in one location but we had something like thirty-five shoot days. Not a lot for a Hollywood film but for us, itís quite a bit longer than we usually have. Having the time to get it right was a real treat. I was able to get the coverage I actually wanted instead of having to settle for a couple of angles. Another fun aspect was that rather than get hotels, I rented a large house for us all to stay in and it didnít take long for everyone to feel like family. The Covenant was rare in that there was very little drama behind the scenes as everyone genuinely seemed to like each other.
The $64-question of course, when and where will your movie be released on to the general public?
On VOD everywhere on February 7th and DVD later but I donít have a date for that yet.
Anything you can tell us about audience and critical reception of The Covenant?
So far so good. Itís always nice when your work is appreciated and Iím very happy with how the film has been received thus far by critics and fans.
Any future projects you'd like to share?
Iím working on a new script with Paul Shrimpton. Just a working title so far but itís kind of got the aesthetic of my second film, Exit to Hell, with the dramatic tone of The Covenant. All I can say now is it should be quite a gore fest.
Your/your movie's website, Facebook, whatever else?

Feeling lucky ?
Want to
search
any of my partnershops yourself
for more, better results ?

The links below
will take you
just there!!!


Please like and follow us on Facebook at @thecovenantmovie2017. We will be posting a lot of cool BTS and other content as we get closer to release.
Anything else you're dying to mention and I have merely forgotten to ask?
Just that I hope people check out the movie. Itís a project Iím very proud of and have been anticipating itís release for a while now.
Thanks for the interview!