Your new movie Chopping Block - in a few words, what is it about, and what can you tell us about your character in it?
Chopping Block is a really fun film about a group of slackers that get fired and try and find a way to get enough money to never work again. Typical slacker plot haha. I play "the leader" of those slackers. Donnie always seems to have a plan... never a good one, but that doesn't matter because his sarcasm and bullying seem to somehow hypnotize the others into going along with his terrible ideas.
What did you draw upon to bring the character to life, and how much Michael Malone can we find in Donnie the slacker?
Take away Donnie's drinking problem and it's pretty much me haha. I think we share the same quick wit and sarcasm... and plus, he ain't too bad on the eyes either ;-)
How did you get involved with Chopping Block to begin with?
Joshua Hull [Joshua Hull interview - click here] reached out to me, said he had been a fan of my stand up and would love to do a project together. I read the script and loved it. I felt like it was the perfect mix of Horrible Bosses and a classic slasher film.
You eventually also did some writing for Chopping Block - so how did that come about, and what can you tell us about your contribution?
I actually got tagged in last minute like a back up quarter back haha. We ended up a little behind on the shooting schedule and had about 15 pages left to shoot in less than a day. So we had to put some pages on the "Chopping Block" haha Boom! Comedy. Get it, cause the name... Never mind. Josh and I worked together moving stuff around, cutting stuff, adding a few things. We ended up shooting from 9am til about 5am that next morning. It was intense and crazy but full of amazing creativity and persistence. By that time, the whole cast and crew felt like a family. We knew each other's strengths and everyone stepped up and worked double time. Josh did a great job keeping everyone motivated and working towards a common goal.
What can you tell us about your director Joshua Hull [Joshua Hull interview - click here], and what was your collaboration like?
Josh and I clicked from day one. We hit it off immediately. Before the camera's were even rolling we were already ball busting like brothers. I had never worked on a film set before, so I didn't know what to expect. I loved how laid back and approachable Josh was for ideas. He created such a great environment for all us to add our own spin to the characters and scenes. I think most of the film ended up being takes from what we called "Third Take". Haha, we would shoot two scripted takes and then Josh would turn us loose for the third take and we would improv most of it or exaggerate the dialogue. We had so many inside jokes, fake movie pitches and yo momma type burns going by the end of it, we actually all had plans to work together again on another project before we wrapped.
Do talk about the shoot as such, and the on-set atmosphere!
Like I said, the whole cast and crew were more like a family by the time it was all over. Not only were we shooting all day but afterwards we would hang out at the hotel and read over our scenes for the next day, joke around, and just flat out hang until 2 or 3 in the morning. We all bonded. I think it shows on screen.
Any future projects you'd like to share?
Josh and I and well, most of the cast from Chopping Block shot another film last year named Bethlehem. I co-wrote it with Josh and I ended up directing and starring in it. It's a film about a family who is falling apart as they come together for Christmas. It's shot and colored to mimic those classic 90's holiday films. It ended up winning a few awards in the festival circuit last year including Best Picture, Best Ensemble Cast and was named of the top indie films of 2015 by NUVO magazine. We had it up for a limited time only around the holidays last year, but I recently broke it up into a four part series and starting this Thanksgiving I'm making it available on YouTube for free, forever. So hopefully people will dig it and pass it around this holiday season.
What got you into acting in the first place, and did you receive any formal training on the subject?
I have always loved acting. As a child, my friends and I would do parody sketches of the SNL characters we watched on the weekends. I even had a public access television show in Ohio called Citizen's Arrest when I was in my early twenties. So I've always been in front of the camera just never on an official film set prior to Chopping Block. I haven't had any formal training but have been on stage doing stand-up and improv work since I was nineteen years old.
For the past five years, I have toured around 46 weeks a year on the road doing stand-up. It's made me very comfortable and flexible in most settings and situations, so acting on film was just a matter of adding the camera.
How would you describe yourself as an actor, and some of your techniques to bring your characters to life?
I think my improv background both helps and hurts me as an actor. It helps me a great deal because I can easily adapt and transform into a character literally on the spot. But It also hurts because in improv you are trained to take an idea and multiple it by 100, make it bigger than life on stage. So I have to be careful not to go overboard and really ground the character for film.
Actors, comedians, whoever else who inspire you?
I tend to like actors and comedians who can do things I can't do. Admiring strengths and trying to work towards but being careful not to copy them. Bill Burr is a great example. I wish I had that biting sense of humor he has. He has raw, unfiltered anger towards day to day life, in which I share similar views within my own head. I could never figure out how to express them. I admire that and work towards sharing more raw and unfiltered views on stage without directly copying his vibe. I think that's how you eventually find your own voice. You go, "That guy thinks/feels just like I do... And he's getting away with it. Now how can I find that same freedom in my own mind?"
Acting wise, I could sit and watch Kevin Spacey read the phone book. American Beauty is in my top five films. He is masterful in that movie. He just always comes across so honest and pure. He is one of those guys that transform on film. Anything you place him in you feel like you are peeking in the window of that person's actual life. I strive for that level of purity.
Your favourite movies?
Anything John Hughes. I believe that Planes, Trains and Automobiles is the perfect film. It's so funny but also drops you on your face a few times. I love the dynamics between Steve Martin and John Candy's characters. Their comedic timing in that film is legendary. The twist is fantastic and it's over the top without letting you know it. John Hughes was a master at making you laugh, think and sometimes cry all in one film.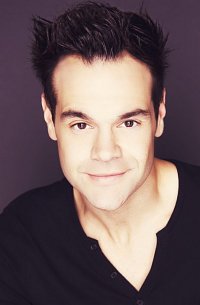 Feeling lucky ?
Want to
search
any of my partnershops yourself
for more, better results ?

The links below
will take you
just there!!!

Find Michael Malone
at the amazons ...

amazon.com

amazon.co.uk

amazon.de
Looking for imports ?
Find Michael Malone here ...
Something naughty ?
(Must be over 18 to go there !)

I also have recently become kind of a super fan of Tim Burton. I love those dark undertones and wild worlds he builds. I would love to do something like that one day. I want to create a world that seems so real that you just accept it, no matter how colorful the characters are. I absolutely love The Nightmare Before Christmas and Beetlejuice. Those films are so iconic, not only because they are creative storylines but also because he transplants you to that world. He does an exceptional job at taking you to the great beyond.
... and of course, films you really deplore?
I could write a college thesis on Superman: Man of Steel. It's absolutely some of the worst cinema I've seen in a long time. They ignored almost everything that makes Superman super. I don't think any of the writers have even read a Superman comic book. I think they wrote the entire movie based on hear-say. "Oh he's strong? Cool. Let's have him get angry at a customer and wrap a truck around a telephone pole." Superman would NEVER do that. I could pick that movie apart frame by frame. "Oh he's from another planet? Cool. Let's have his secret layer his father built for him to learn about his home planet be a UFO in Alaska." THE FORTRESS OF SOLITUDE IS NOT A ROCKET SHIP LAYING OUT ON DISPLAY ON A SHEET OF ICE! Read a book! Lois Lane (or any human) can't just walk right into the Fortress of Solitude!!! Sorry... I get a little worked up over it. It's so bad. It's beyond bad. It was like watching the longest Join the Marines commercial.
Your website, Facebook, whatever else?
Facebook.com/MichaelMaloneComedy
I also host a series called Punched Up on iTunes: www.PunchedUpPodcast.com
Thanks for the interview!