Your new movie Chopping Block - in a few words, what is it about?
In short: Itís about really, really bad choices. Itís about what happens when desperation takes over in your ďday to day lifeĒ and what youíre willing to do to get out of it. Sidney Lumet has probably made a really dramatic movie based around that concept. I took the concept and threw in blood, F-bombs and acid.
You have dreamed up the story for Chopping Block together with John Taylor and Michael Malone [Michael Malone interview - click here] - so what was that process like, and how did you come up with the idea of combining a kidnapping comedy with a slasher flick?
Iím a huge fan of Seth Rogen, Danny McBride and that Apatow style of comedy. The loveable loser slacker who finds himself in these comedic situations. I wanted to tell a story about that sort of character who accidentally stumbles into a horror film. I had been kicking around a few concepts but hadnít really been able to lock anything down. John & I were working together at the time and we would just spend our mornings pitching concepts back and forth. I threw the idea of "Horrible Bosses meets Friday the 13thĒ at him and he was all about it. It took me a month or 2 to write a draft I was happy with sharing. I sent it off to John and he gave some heavy feedback on it. From there, I did a few more drafts and we were good to go.
Michaelís contribution came LATE in the game. Of course he had ideas and feedback throughout pre-production and production but the real genius of Michaelís storytelling came on day 8 of shooting. We had a few issues during filming that impacted our schedule pretty heavily. Because of this, we lost a few days of filming and unfortunately had to wrap the film on day 8 (of a 10-day shoot). We went into day 8 with an impossible number of pages to shoot. Michael stepped up to the plate and really helped me rework the final 20 pages of the film ON set, an hour before filming. It was chaos but it was the good kind of chaos. Without his story contributions, we might not have been able to finish this film.
What were your sources of inspiration when scripting Chopping Block?
Iíd say the main sources would be those R-rated studio comedies (Horrible Bosses/40-Year-Old Virgin/Neighbors) mixed with the slasher films I grew up with. ďHow would Jason Bateman do against Michael Myers?Ē-type questions. I was inspired by stuff like that but I also took a lot from real life. Iím a dad and that monologue Steve delivers late in the film is 100% all my fears. So I littered it with personal stuff throughout to give the film the heart it would need.
You of course have to talk about Chopping Block's very own brand of humour for a bit!
Well, I have a ďbrandĒ of comedy that has followed me for 3 features now. I like to call it ďchaotic comedyĒ where you put regular people in INSANE situations and see what happens. Thereís a lot of comedy in that but also a lot of messed up stuff that can happen. I think it shows in Chopping Block how different people act when thrown into that sort of thing. Donnie and Steve are calm as can be but Richie isnít exactly suited for high stress situations. Itís all in the setup of the idea of the execution of the characters.
Despite being a comedy, Chopping Block doesn't shy away from quite a bit of gruesomeness - so for the sake of all the gorehounds among my readers, do talk about the blood and guts in your movie!
Well I knew going in the focus of the movie was COMEDY but I wanted to make sure when things got bloody, everyone got bloody. We had a great effects team made up of Mike Dobrzelecki and Matt Scott. They spent the majority of the shoot prepping for the final 3 days of shooting. I remember telling Mike over the phone ďWhen we get into the effects stuff, I want to be covered in blood at the end of the day. I want everybody covered in blood!Ē They delivered BIG time. Those guys did an incredible job with a small amount of time and small budget. We couldnít have made this film without them!
What can you tell us about your overall directorial approach to your story at hand?
Iím very loose. My main focus on set is to make sure everyone is having fun and that everyone is happy and taken care of. Iím not big into storyboarding or shot listing beforehand. Not everyone agrees with that kind of approach and believe me, it costs time but I really like to get on set with everyone and see what works best instead of trying to be some kind of demanding auteur. Filmmaking has to be collaborative and I donít limit that collaboration to just the key members of my crew. I open the floor to everyone. If an actor has a shot idea, I listen. Iíd rather try something once then make people feel like they are walking on eggshells. This is supposed to be fun and there HAS to be collaboration.
Do talk about your cast, and why exactly these people?
Sure! Iíll try and break it down best I can.
Michael Malone [Michael Malone interview - click here] was someone I had been trying to work with for a while. He was supposed to pop up in my 2nd feature but it never happened. When I locked down the concept and script, he was the 1st person I went to. Heís very talented and charming. He took over the role of Donnie and ran with it. We were extremely lucky to have him.
Raymond Kester is someone I consider my good luck charm. Heís been in all 3 of my films and will continue to be in my films. Very early on, the role of ďSteveĒ was actually written for Bill Moseley. Raymond was going to play another member of the group but more in the supporting role. Bill was attached for a few months but the more I looked at it, the more I realized I would rather have Raymond play the role of Steve. Some people will look at that as a hard decision but for me, it was no question. I wanted to put Raymond front and center. We were good friends and we are both fathers sharing a lot of the same concerns. It was a no-brainer early in the process and he knocked Steve out of the park.
Jas Sams popped up briefly in my 2nd film but I was instantly stuck in the ďdevelop everything for herĒ mode. I wanted her to be a main focus in whatever my next film was. She was initially cast as the ďfinal girlĒ but I decided to rewrite it and make her one of the main kidnappers. She brings such a unique presence to set and she is so funny and talented. She had to play this character in 2 different styles and that had to be challenging on such a short schedule. Sheís on her way to a special career and Iím lucky to have been a small part of it.
Bryan Wilson [Bryan Wilson interview - click here] produced the film but is also a very talented actor. Heís been someone Iíve been dying to cast for years and it finally worked out to have him in the role of ďWillĒ. It was impossible to keep a serious face whenever he would deliver a line or a simple expression. Heís a comedic gem that more people should (and will) utilize down the road.
Alex Raaen was also a producer on the film but he fit the role of Richie perfectly. This is Alexís 1st acting role and he was such a pleasure to have. Thereís a certain youthful innocence to that character that Alex was able to nail. And he only cusses one time in the film. Thatís an incredible feat in itself!
Haley Jay Madison came on late BUT man was she a blessing. It was very important to me to cast the right actress in that role. I came across her via Dustin Mills' [Dustin Mills interview - click here] Facebook and was struck by her look and commitment. I immediately sent her a message offering her the role and she accepted. She was on set the least amount of anybody but we had a blast. She is so talented and dedicated to the genre. It shows in everything she does! #boyset
Cliff Edens was in my second film and was always attached to the role of Sadie. Heís a killing machine in this film BUT Cliff is the nicest, most supportive person out there. I really hope this role leads to some more stuff for this guy. Heís the next Kane Hodder. MAKE IT SO OTHER FILMMAKERS.
What can you tell us about the shoot as such, and the on-set atmosphere?
It was a special shoot that Iíll never forget. We had 8 days to make this thing and we all banded together in tough situations to finish it. It brought us closer and made us a family. Iíd go to bat for any of them and I hope they would do the same for me. I was incredibly lucky to have every single person on set helping make this silly little slasher comedy.
Iíd almost compare the on-set atmosphere to a frat or clubhouse of some kind. We were always taking jabs at each other. Someone was ALWAYS the butt of the joke. I think we would compare it to a summer camp with your best friends. You know, a summer camp where someone is spraying you with blood, cussing at you and making you repeat lines 20 times.
Anything you can tell us about audience and critical reception of Chopping Block yet?
The reaction has been incredible. My biggest fear was people not understanding that it is a comedy first and foremost. I wanted that to be clear and thankfully, it has been so far. We sold out our premiere and weíve gone on to screen at a number of festivals and unique screening events.
The film is now getting out there in a MUCH bigger scope and people really seem to understand what we were trying to do. The biggest takeaway has been the number of nice things said about the cast. There is not a Chopping Block without the chemistry of those main 5. Without them, Cliff doesnít work. Melissa doesnít work. Tia doesnít work. The script doesnít work. Those 5 give our film a solid ground to stand on.
Any future projects you'd like to share?
The most immediate: My 2nd film, The Impersonators, will be out later this year. I co-wrote and produced a web series with Michael Malone [Michael Malone interview - click here] called Bethlehem that will be hitting YouTube in November.
Other than that, Iím weighing my options. We have A LOT of them. Iím adapting the new book from Todd Rigney (Found) and weíre just trying to figure that out right now. Iíve done 5 drafts of the script so itís about as ready as it can be. Itís called Mírth and itís sort of A Nightmare on Elm Street meets Trainspotting. So itís just figuring out HOW and WHEN to do it. Iíd love to do it next year, so weíll see.
Iím working on multiple scripts and looking at multiple options. I was just sent a unique script Iíll describe as ďif 1980ís Spielberg made Blue ValentineĒ. Itís something SO different from what Iíve done and something that really has my attention. And it might be the perfect ďnextĒ project. My biggest thing right now is growing as a filmmaker and not sticking to the same stuff over and over. Iíve made 3 genre comedies and Iím hungry to do something different. Mírth and this script are VERY different so weíll see.
What got you into filmmaking in the first place, and did you receive any formal training on the subject?
Filmmaking wasnít always my focus. I used to want to be in the NBA until my grandpa (and everyone else) told me I sucked at basketball. They were 100% right so I focused on writing. I mainly wanted to be a screenwriter. That goal (and quite honestly) the effort took me absolutely nowhere. I decided to just make my own films in high school but unfortunately that never happened. I finally made my 1st film in 2010. So, I would say the desire to just do it myself got me into filmmaking.
I didnít go to film school or anything like that. I grew up on movies and spent most of my youth renting movies from a video store. I read screenplays and acted out scenes with action figures. That was my ďtrainingĒ. Some might say it shows haha.
What can you tell us about your filmwork prior to Chopping Block?
I made my 1st film in 2010. It was a micro MICRO budget zombie comedy called Beverly Lane. We self-financed it and self-released it and it received incredible reviews and won some awards. It was the film that truly opened the doors for me.
After that, I made a segment for the popular horror anthology The Collective which was well received. I directed my 2nd feature in 2013. Itís a superhero comedy called The Impersonators, that will be released later this year on a limited Blu-ray run. That film went on a festival run and received great reviews. It features an incredible cast including Josh Arnold, Ellie Church, Jas Sams, Raymond Kester and more.
After that I was brought on by Horrorhound and Cedar Point to direct a music video for Harley Poe for their Halloween celebration. That video has racked up over 30k views.
How would you describe yourself as a director?
Iím very laid back and VERY collaborative. Like I said before, Iím very loose with my cast. I always make sure to do what I call a ďthird takeĒ. We do the 1st 2 takes BY script and then the 3rd take is all improv. I let the actors take the scene wherever they want to take it. Iíve learned by doing this that they aim to nail the 1st 2 takes perfectly so they have more time to play around on the 3rd take and more. Some of our best stuff comes out of those takes because the pressure is off at that point.
Filmmakers who inspire you?
This is a BIG question. Iím inspired by a ton of filmmakers. I grew up wanting to be Spielberg, Carpenter and Lucas. Iím a huge Edgar Wright fan and I think that shows in my work. I adore Guillermo Del Toro. I love Spike Jonze, James Wan and David Cronenberg. I worship Stanley Kubrick but I could never make movies like him (good haha). I love Paul Thomas Anderson and Judd Apatow. I love what Gareth Edwards and Rian Johnson are doing. Iíd say my biggest inspirations RIGHT NOW would be Jeff Nichols and Jeremy Saulnier. Saulnier made a silly horror comedy with Murder Party and followed that up with 2 incredibly different dramatic revenge films. Iíd love to follow that route. I could go on and on. I think you can find inspiration in every filmmaker out there because itís not an easy thing to do. Every person who has made a film as accomplished something incredible.
Your favourite movies?
Another answer that could go on and on. The ones that have had the biggest impact on me? The Star Wars-trilogy (and now new films that continue to inspire), Halloween, Adaptation, Jaws, Poltergeist, E.T., A Clockwork Orange, Shaun of the Dead, Fight Club, Alien, The Foot Fist Way, Pan's Labyrinth, Mememto, There Will Be Blood, No Country for Old Men, The Shining, Taxi Driver, The Conjuring and Eternal Sunshine of the Spotless Mind.
The films that have made a huge impact on me recently? Spring, The Invitation, Swiss Army Man, The Neon Demon, The Witch, Hellion and The Force Awakens. And even though itís not a film, Iím obsessed with Stranger Things at the moment. I just love how it is such a HUGE nod to Spielberg, Amblin, Carpenter, King and more. You can clearly see the inspiration and the best part about that is Stranger Things will influence the younger generation so weíll hopefully see a whole new cycle of Amblin-esque horror/sci-fi films.
... and of course, films you really deplore?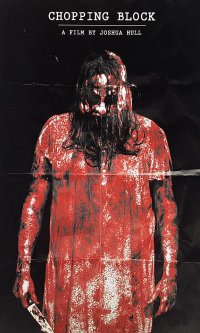 Feeling lucky ?
Want to
search
any of my partnershops yourself
for more, better results ?

The links below
will take you
just there!!!

Find Joshua Hull
at the amazons ...

amazon.com

amazon.co.uk

amazon.de
Looking for imports ?
Find Joshua Hull here ...
Something naughty ?
(Must be over 18 to go there !)

Haha! I try not to focus too much on things I donít like. I canít get into the Transformers, Lord of the Rings and The Fast and the Furious franchises. And I really dislike movies that TRY to be bad.
Your/your movie's website, Facebook, whatever else?
You can find me on Facebook and Twitter (@joshuathehull).
My production company is here: http://1019pictures.com/ as well as Facebook (https://www.facebook.com/1019pictures/) and Twitter (@1019_pictures).
Chopping Block is on Facebook (https://www.facebook.com/ChoppingBlockMovie/) and Twitter (@ChoppBlockMovie).
The Impersonators is on Facebook (https://www.facebook.com/ImpersonatorsMovie/) and Twitter (@IMPsMovie)
Iím a pretty easy guy to get in touch with haha.
Anything else you're dying to mention and I have merely forgotten to ask?
You know, Iím just looking forward to seeing what happens with everything. Iím excited to get Chopping Block out everywhere. Our distributor, LC Films, is doing a killer job getting the film out. Iím excited for people to finally have a chance at owning The Impersonators. And Iím eager to get the next project going.
Iím looking at doing a sort of career reboot at this point. Iíve been doing comedy stuff for 7 years. Iím older (not any wiser) and looking at telling stories that more people can connect to. Iím trying to be a better filmmaker and with that, a better husband and father. I donít want to make microbudget horror comedies for the rest of my life. I want to make a Star Wars movie 1 day (hey, theyíre making 1 every year for the rest of forever Ė donít laugh) I WANT to make big studio movies. I want to make small studio movies. I just want to make movies. So thatís what Iím going to do!
Thanks for the interview!