Your new movie Intrigue - in a few words, what is it about?
Intrigue is a comedy about two spies who have arranged a secret meeting to make an exchange, diamonds for a high-tech weapon. But quickly, we begin to gather that these two spies are not quite everything they are trying to present themselves as. I could say more, but it might be worth it for readers to just take a quick look at this 6-minute film: https://vimeo.com/129987226
Intrigue is chock-full with espionage movie clichés - a genre at all dear to you? And honestly, how much fun was it to play with all those genre mainstays?
Spy movies are a lot of fun, and I definitely enjoy them. It's such a rich genre with broad appeal. It's also a genre with a lot of clichés that are enjoyable to poke a little fun at. Making such a short film like this means that there is very little time for exposition. Because of this, I made the conscious choice to embrace a lot of the spy movie clichés (exotic character names, suit for him, sexy dress for her, accents, high-tech weapon, diamonds, so forth) as a shorthand for dropping the audience right into the plot.
As a matter of fact, I am just completing the writing of a book called Short Films 2.0: Getting Noticed in the YouTube Age (which I hope to publish later this year). In the book, I talk about how relying on deeply embedded concepts and charter types within our global culture is one way new short films have been able to become even shorter today and almost instantaneously drop the audience right into the story. So this idea has been on my mind and was something I specifically wanted to experiment with in writing Intrigue. It also serves the purpose of setting up the comedic tone of the story, which is ultimately flipped on its head by the twist. And of course, once the twist in the plot is revealed, the reason these characters are relying so heavily on spy movie clichés becomes rather evident.
Other sources of inspiration when writing Intrigue?
I'm a sucker for a really good romantic comedy. So the second half of this movie is definitely influenced by the romantic comedy genre. It is a humorous look at a couple trying to work out the realities of being in a long-term relationship. In large part, that's why the second half of the movie has a completely different look than the first half. It's a bit of a genre hop.
And in that sense, I would say that Kiyoshi Kurosawa's movie Doppelgänger is probably the other strongest influence on this film outside of spy movies. It starts as a genuinely creepy thriller and then morphs into a slapstick comedy. It's absolutely brilliant!
Do talk about Intrigue's special brand of comedy for a bit, and to what extent does it correspond with your own sense of humour?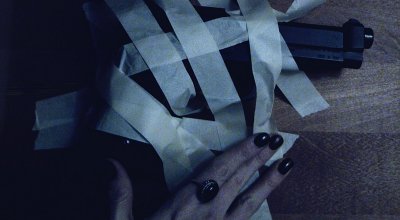 Well, the whole project came about because I was sitting at my dining room table and the picture popped into my head of someone taping a handgun to the underside of the table. It was just a random thought. I often brainstorm ideas this way, but generally stories don't come so naturally and quickly out of a single picture. But I chuckled at the idea of someone haphazardly taping up a gun under the table and had to ask myself, "why the hell would somebody do that?" The stories just naturally then flowed out of my quick funny explanation of why someone might do that and I wrote the first draft right there on the spot in a matter of minutes. And in that sense it really is born out of my sense of humor. I tend to write serious stories, but I also joke around a lot and this is exactly the type of scenario: switching genres abruptly in the middle of a movie and really having some fun with audience expectations. Of course, most of my stories don't ultimately lend themselves to these kinds of shenanigans as it would be a violation of the audience's trust in me as a storyteller and would ruin the whole experience I'm trying to create in those cases. But with Intrigue I finally found the perfect story to pull this off. So in that sense it really is an excuse for my silly sense the humor to make it to the screen.
What can you tell us about your directorial approach to your story at hand?
Knowing that I was going to switch genres halfway through the film guided the kinds of conversations I had with my cinematographer and editor, Trevor C. Duke. We wanted to give each half of the film it's own aesthetic that felt authentic to each genre. I thought this might be a great project to experiment with multiple aspect ratios. The first half of the film was shot in 2.35:1 Cinescope, which is quite wide and often used in big action movies. We also kept the camera either fluid or steady for the entire first half of the film and made sure the lighting was moody. Finally, we color graded the footage in the first half of the film to be very high contrast and very cold, mimicking the look of many action and spy thriller movies. To do this, we emulated a particular Kodak film stock and really pushed our lows into blues.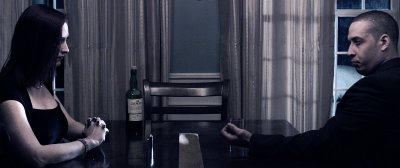 Once the genre flip happens, instantly three big changes happen to the film's aesthetic. First, the aspect ration suddenly becomes a more standard 1.85:1 (almost 16:9). We also lit the scene a little more naturally for the second half. Secondly, the color grading completely changes (we drop the film stock emulation completely and go for a more neutral color balance—which was a challenge with all the exceptionally warm light that chandelier gave off). And finally, from that point forward, the entire rest of the film was shot hand-held.
In essence, I wanted to allow the audience to be part of the fantasy the two characters are crafting together. But once that fantasy is abruptly shattered, I wanted the film to feel a lot more real. I'm a big fan on selective hand-held shooting. I think it is often overused in indie films, but if you dig through my films, you'll find I tend to have a lest one or two key moments in my stories that are hand-held. I try to always be extremely deliberate with hand-held shooting because it has a very different subconscious effect on the viewer.
Do talk about your cast, and why exactly these two?
This being a small project, I wanted to find people I trusted to run with the characters and make them their own. I do a lot of cinematography work and I have been the cinematographer on several project which Diana Porter has been in. So I was already quite familiar with her acting. I had this project on the back burner as I developed a much more complicated short film called Parallel. So while I was working as the DP for a film Diana was in, we got to talking about needing to work together sometime on a project I directed. So I told her about Intrigue and gave her the script. She was instantly on board.
On a later project I was shooting for a director friend of mine, I met Aaron Andrade. I was a big fan of his sense of humor and professionalism as he had to deal with a lot of prosthetic make-up and other factors on that particular project and still gave every take absolutely everything he had. So I thought it would be fun to team Diana and Aaron up and make Intrigue. I knew I would need a very skilled cast because the whole film takes place in one room and there are no other characters. Not only that, but the actors have to switch so abruptly from one performance to another, not to mention needing to appropriately be a little hammy with the first half of the film, which is harder than it sounds.
We had one rehearsal and it was a blast! I knew right away my gut feeling was right that these two would nail it. We spent time talking about the characters and I asked them questions and let them run with creating the backstory of how the characters got into this situation in the first place.
What can you tell us about the shoot as such, and the on-set atmosphere?
This film was shot in one night. I am a big believer in thorough pre-production, so my producer/AD Kristina Stone Kaiser and my DP and I had already been over the shot list and created a schedule for the night (which we live tracked with Shot Lister on my iPad). We shot in February in one of the worst winters to hit New England, so the fact that my gaffer, Patric Hines, trudged through waist-deep snow to set up the light outside that gave us the "moonlight" streaming through the window the DP and I wanted is really a testament to the guy's dedication to the craft!
The atmosphere on the set was a lot of fun. This is one reason I love planning ahead as much as possible. I feel more relaxed, and as a result, the set just runs more smoothly. We have the ability to enjoy ourselves as we shoot, joking around and still doing very professional work all at the same time. This is also always helped by the amazing food Kaiser provides on these projects. Can't help but be in a good mood when you're so well fed. Nearly everyone on the crew had worked on other Stories by the River (the company I produced this with) projects, and so there's a natural shorthand and familiarity there that makes communication and quick work rather easy.
Anything you can tell us about audience and critical reception of Intrigue yet?
Well, so far, people are really responding positively to Intrigue, which is exciting. It's always satisfying to see the film with an audience and hear the laughter. We also had a great Q&A time following the film's premiere and people were quite enthusiastic about the film and expressed how pleasantly surprised by the twist they were.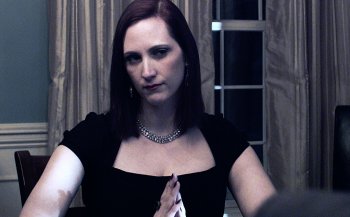 I think one of the most fascinating things to me as a director is to hear people talk about the film and hear them express how much they became wrapped up in the story (which is always my ultimate goal). When I ask people if they noticed the aesthetics of the film and how they change, the vast majority don't register this consciously on a first viewing. The fact that they are so wrapped up in the story and so surprised by the twist tells me we pulled off the aesthetics correctly as they should be operating really on a subconscious level as people experience the film the first time. In that sense, I feel like the film is proving to be a successful filmmaking experiment for our team.
Any future projects you'd like to share?
Absolutely! I've got a big project called Unidentified I am currently hard at work developing. It is both my first feature film and novel. On July 21st I will be publishing the novel to Amazon Kindle. I am also currently meeting with potential investors for the feature film. It is a sci-fi/horror blend along the lines of many of the darker episodes of The X-Files or movies like The Fourth Kind and Dark Skies. It is about an FBI agent and a psychiatrist investigating a UFO abduction case which the FBI agent believe is a dark ruse a kidnapper is using to get away with murder. People can find out more about the project, where to buy the novel, and keep up on the latest news by visiting the film's website (www.unidentifiedfilm.com) or check out the project's Facebook page (www.facebook.com/UnidentifiedFilm). Thanks for asking!
What got you into filmmaking to begin with, and did you receive any formal education on the subject?
What got me into filmmaking was seeing the original Jurassic Park in theaters. I had always loved movies. But seeing that film as a kid inspired a kind of awe of the magical power of cinema to create such an immersive experience that can be so wholly other from the rest of our daily lives that I knew I wanted to tell stories through that medium. That love for the cinematic experience expanded over time and even in my early teens I was drawn to movies like The Shawshank Redemption, and later Contact.
What can you tell us about your filmwork prior to Intrigue?
In 2012, I partnered with Dominic and Kristina Stone Kaiser to create Stories by the River. It's a non-profit film production and distribution arm of The River South Center in Quincy, Massachusetts. We've been producing several short films so far and we are partnering in making the feature film I mentioned earlier, Unidentified. So these past few years, I have done a lot of producing and cinematography work with Stories by the River as well as directing some sci-fi short films, Playing with Ice and A Silent Universe, which Stories by the River produced and released.
Just prior to completing Intrigue, I completed and released my most ambitious short film to date, Parallel. It's an 11-minute sci-fi romance with a much more lyrical style. It was an incredibly challenging story to tell and was the longest post-production process for any film I've ever directed due to the amount of VFX, sound design, and color grading that went into the film. So far, critical reception for the film has been absolutely amazing. The film is available on-line thanks to Stories by the River (http://www.storiesbytheriver.org/videos/parallel/).
How would you describe yourself as a director?
Oh boy … this is tough. I tend towards stories that wrestle with life's big questions. Intrigue might be a bit of an outlier for me in that way, though I do feel it is ultimately a film about the need for fun in relationships. Given my philosophical bent (it was one of my two majors in college), I generally find myself exploring science fiction in some capacity as I feel it's a genre that comes right out of the box readily equipped to ask big philosophical questions about the meaning of life. I love watching and creating deeply emotive films that elicit questions and thoughts too often buried by our day-to-day existence.
As far as the actual discipline of director, I see myself as guide in the collaborative process of making a film. I try to surround myself with talented people and communicate my vision for a project and then hold the whole thing loosely enough to allow for genuine creative collaboration while keeping the story true to its original vision. In that sense, I hope I am able to inspire people to do their best work, not demand it of them like some petty dictator.
Filmmakers who inspire you?
Terrence Malick is by far my favorite director and his influence can been seen all over several of my films, most notably A Silent Universe and Parallel. But I am also broadly inspired by other filmmakers as well such as Martin Scorsese, Clint Eastwood, David Fincher, Spike Jonze, Alfonzo Cuarón, and Alfred Hitchcock. In particular in the last several years, I've been heavily influenced by the work of horror director, Scott Derrickson.
Your favourite movies?
The Tree of Life, The Shawhank Redemption, The Thin Red Line, Her, In the Bedroom, Children of Men, Casablanca, Good Night, and Good Luck, Wall-E, Blade Runner.
... and of course, films you really deplore?

Feeling lucky ?
Want to
search
any of my partnershops yourself
for more, better results ?

The links below
will take you
just there!!!

Find Mikel J. Wisler
at the amazons ...

amazon.com

amazon.co.uk

amazon.de
Looking for imports ?
Find Mikel J. Wisler here ...
Something naughty ?
(Must be over 18 to go there !)

You Got Served, Event Horizon, Oldboy, Open Water, Left Behind: The Movie (that whole original trilogy is straight-up deplorable), Django Unchained, Unidentified (a 2006 Christian film I have to honestly say is the worst script I've ever seen put to screen, and I sat through From Justin to Kelly).
Your/your movie's website, Facebook, whatever else?
My website is www.mikelwisler.com. The website for Stories by the River is www.storiesbytheriver.org.
Anything else you are dying to mention and I have merely forgotten to ask?
I'm really excited that Glen Hansard is putting out a new album. And I can't wait to see The Martian on opening night. I loved that novel!
Thanks for the interview!