Your new movie Evolution War - in a few words, what is it about?
It's what happens when a mysterious race of beings decide to take over the Earth, and they do it smart… as mankind is reeling from a terrible war, they drop plague bombs everywhere and wipe out the last of humanity with great ease. Then they start to terra-form the Earth. I like to think it's science-based and character driven, as all good science fiction is. There is a lot I cannot say at this stage because of heavy spoilers… but it is quite epic in scope.
What were your inspirations when writing Evolution War? A nd since this is a science fiction movie, is that a genre at all dear to you?
War of the Worlds is probably my biggest inspiration, and the connections with that and this film are rather interesting. Again, I cannot say more just at this stage. One thing that really inspired me was that this guy called Thomas Kent Miller wrote a book called Mars in the Movies – A History - https://www.amazon.com/exec/obidos/ASIN/0786499141 - in the book, he writes about all the films that feature the planet Mars. It kind of gets the wheels turning a bit. In Evolution War we go to Mars, at least for a part of the film. Most of it takes place on the Earth. I have always had a fascination with giant things… mountains, killer robots, dinosaurs, Martian tripods, starships, Satan, A.I., caves, darkness, space.
Doctor Who was another inspiration. I first saw it in 1970 when I was a boy, and the episode was about underground creatures – I think they were Silurians, or Sea Devils. It scared the living daylights out of me. I am obsessed with making science fiction films, and that truly is a curse. Look how the fans carry on about Star Wars (and Star Trek back in the day). It is truly embarrassing for me because I embrace it all with love and enthusiasm. These people are destroying the very thing they love by being overly critical.
From what I know, Evolution War is pretty action and effects heavy - so what can you tell us about that aspect of your movie?
Physically exhausting to shoot. I have taken a lot of risks in this film, more than anything else I have done. I saw Solo the other day and absolutely loved it. I was surprised that it cost so much, because a lot of it didn't show on the screen - due to the firing of the directors and the 80% reshoots ate up the budget. Poor Kathleen Kennedy… a brave person with the weight of the world is on her shoulders. For me, I can have no complaints. We have more locations than Solo does, but a much smaller budget and NO STRESS!!! There are a lot of nukes let off in this film, and a lot of practical explosions. An ass-load of stunt work. But aside from this, the story is unique. I really can't compare it to anything, even though we say it is Pacific Rim meets Terminator, it really is something else. It's like a backwards version of War of the Worlds.
Where was Evolution War actually filmed, and what were the advantages and maybe also challenges filming there?
A lot was shot in California. A bit in Los Angeles, quite a bit in Malibu, and the rest in various deserts. Also there are a number of caves across the West Coast of the United States, plus a sequence was shot in Syria (and I really cannot say too much because it involved doing something technically illegal). Also a lot of the space footage was shot in outer space for real. This is a combination of getting some raw footage from NASA, and also a weather balloon with a camera that actually took photos in space. When you see stars, they actually are real.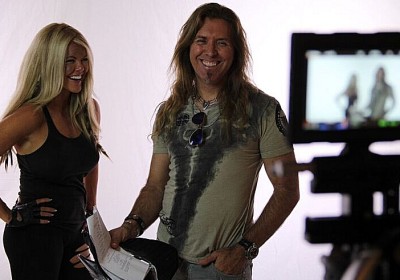 on set with Tracey Birdsall
What can you tell us about your overall directorial approach to your story at hand?
I kind of get a little obsessed with pushing my actors. Mostly I got to punish Tracey Birdsall [Tracey Birdsall interview - click here] to some big extremes. We worked together previously in Rogue Warrior, so I wanted to do something different. Her character is toned a bit like Xena, but in a more serious (less campy) way. I spent most of my time setting a tone for the actors, and pushing them up and pulling them back. I think I manipulated the actors more in this film, than I have in any other film of my career. The actors don't like me as much but I think the results are better in the end.
Evolution War stars Tracey Birdsall [Tracey Birdsall interview - click here], and it's not your first science fiction movie with her in the lead - so what does she bring to the table, and what's working with her like? And how did the two of you first meet to begin with?
I had known about her for years and finally felt I could approach her with something that she could sink her teeth into, so I asked for a meeting, and we hit it off creatively from there. I liked that she was very professional, like a few of the really good actors that I have worked with, so I knew she would be able to bring "something" to the table. What I got from her was more than I expected. She has truly embraced the roles that I have written her, so with this one, I decided to push her further than before. For her fans, and there's a lot of them, this will be a major film in her career.
Working with her is fun, but she is all work, work, work. I don't think there ever has been an off-day with her. She is completely focused, and loves being directed. So few directors actually direct. With Tracey, if you put in 100%, you get back 200%. I think inexperienced directors will have a hard time knowing what to do with her, but for me, she is a lot of fun to build a character with.
Do talk about the rest of your key cast, and why exactly these people?
All except for one I have worked with before. We found a newcomer, Vishani Miller, who just had something really special. She is very raw and I look forward to seeing her grow into herself as an actor… I enjoyed the fact that she came to set completely "on". Because she was so on, I had to pull her back, but this made for some truly great subtle moments. Usually it is an effort to get a performance from newcomers, but not this time. She plays a Travesty, a geneticist stranded on Mars.
And then there is Tony Gibbons, who we worked with previously on Rogue Warrior in a voice-over capacity. Tony's command of the voice is truly a joy to behold and his skill as an actor has been put to proper use. I'm very interested to see what the audience makes of him by the end of the film. He plays Cyrus, a southern gentleman with a strange twist.
Marilyn Ghigliotti [Marilyn Ghigliotti interview - click here], best known for her role in Clerks, is back in the fold playing a mysterious character. I really think her best, most interesting performance was in Rogue Warrior, so am looking to extend her wonderfully naturalistic performance in this film. Again, I am limited with what I can say about her.
Brooke Lewis [Brooke Lewis interview - click here], who plays SC-4, a clone who carries the weight of humanity on her shoulders. Brooke is always a joy to have on set, and it always makes me happy that she is a true professional, and it shows in her performance. Her stillness and sense of character is amazing. It's funny how so many out there claim to be "professional actors". Brooke has earned her stripes, not with words and social media manipulation, but pure hard work as a working professional.
There's more to say about so many others, but I will leave this for another time.
A few words about the shoot as such, and the on-set atmosphere?
It's nice when you purge the people from your life who want nothing more than to see your fail, yet they attempt to be your friend when the checkbook is opened. Hollywood is full of self-obsessed opportunists. This is not a healthy thing to have on set… it spreads like a cancer. Stanley Kubrick had a very tiny crew on most of his films and I truly understand this!!! I still wish I had a bigger crew some days.
The $64-question of course, when and where will Evolution War be released onto the general public?
It should be finished before September, but beyond that… it's in the hands of the distribution gods!!!!!
Any future projects you'd like to share?
Well, in general…. Film is pretty much dead in its current form. Gone are the days you can go to the cinema and choose between a few character dramas, a comedy, a period film, etc. We can get our fill of this type of material from streaming services like Hulu, Netflix and Amazon. Commercial television is also dying. We are entering into a new era… and in 20 years we will look back at this as the era where traditional cinema died. There will always be exceptions, but 98% of movies are losing money hand over fist. Rather than mourn, I move along with the times. I wrote my first novel at the age of ten. I love big epic stories. 2 hours is not enough to tell an epic tale. Look at how wonderful the extended cuts of Lord of the Rings are as a viewer. 12 hours of epic story!!!! We want BIG stories with feature film sensibilities. Storytelling is evolving… and I am damn happy that I can tell real stories at last. The Time War is an 8-hour film that I have already shot and will finish off after Evolution War. Evolution War may be part of a bigger epic, but I can say no more. I am excited for the evolution of film!

Feeling lucky ?
Want to
search
any of my partnershops yourself
for more, better results ?

The links below
will take you
just there!!!


Your/your movie's website, Facebook, whatever else?
Because I make so much, it all goes through me… www.em-pire.com from there you can be linked to my Facebook, Twitter, etc.
Anything else you're dying to mention and I have merely forgotten to ask?
Be prepared to see Tracey Birdsall [Tracey Birdsall interview - click here] punished and tortured emotionally in the Evolution War… it will be worth your time!!! Maybe I have said too much.
Thanks for the interview!