Your new movie A Tricky Treat - in a few words, what is it about?

CHICA: To me, the underlying idea is really about consumption: How we as humans voraciously and unconsciously plow through nature for the sake of pure ceremonial tradition. At the heart of this story lies a twist that aims at making the audience think about the issue of hyper-consumerism.

How did the movie fall together in the first place?

CHICA: The Soska twins [Soska twins interview - click here], who directed the popular horror movie American Mary invited me to make a short film that would be part of the Women in Horror Massive Blood Drive PSA. I asked writer Kamal John Iskander if he had a concept for me, and he brought me this script.

KAMAL: It was kind of a gag I came up with in high school. I just had it laying around with the intention of making it one day… maybe as a stop motion kind of thing. But this proved to be the right opportunity, and Patricia was very enthusiastic about making it. Her instincts were right, and it got done rather quickly and effectively.

With A Tricky Treat being a Halloween movie - is that a "holiday" at all special to you?

CHICA: I love to dress up in costume and explore different facets of my own persona, so Halloween has always been a fun holiday for me. Also, since entering the world of horror as a filmmaker, the month of October has become peak season, keeping me busy attending several horror film festivals and Halloween film showcases. A Tricky Treat is the perfect short for Halloween!

KAMAL: Definitely the right time to explore one's dark side… without the usual repercussions.

Kamal, what were your inspirations when writing A Tricky Treat?

KAMAL: I've always loved twist endings, especially with a garnish of the macabre. Writers like Roald Dahl, Guy De Maupassant, Stefan Zweig, Julio Cortázar, and Nikolai Gogol as well as filmed series like Tales of the Unexpected and Twilight Zone have always held a special place in my heart, with their one foot in reality and the other planted in the dimensions of the uncanny.

Patricia, do talk about your directorial effort to your story at hand!

CHICA: The production of A Tricky Treat was very easy to put together thanks to our producers, Grace Santos (in Los Angeles) and Byron A. Martin (in Toronto), as well as our executive producer Tara Kurtz. Because this story relies on convincing special effects to succeed, the film really came together when we found Danny McCarthy of 800lb Gorilla in San Diego, who did the practical effects, and Henry Lipatov of Fame Cube Productions in the Ukraine, who did the VFX, and their highly talented teams. We also had the tremendous help of our co-executive producers Adonai Interiano and Morris Umali.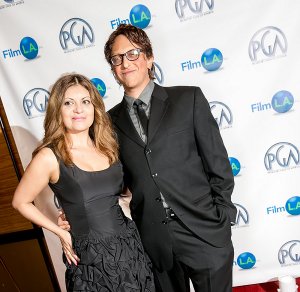 As the director, I wanted to give a lot of space to the actors. It is a challenging script to shoot because of the fact that we never see the faces of any of the four family members in the film. So I had to encourage the actors to improvise; to use their voices and hands as the main storytelling device. It was a fun process to see the characters bring the dialogue to life during the rehearsal we did before the shoot.

I also wanted Danny McCarthy to fully express himself with the practical effects on set and to render them as realistic as possible in order to make this credible. We even had discussions about the color of the blood, going into detail about the specific shade of red. He really pulled it off beautifully.

The post-production was done in Toronto and supervised by my producer Byron A. Martin.

What can you tell us about your collaboration when making A Tricky Treat?

CHICA: Kamal is one of the most creative people I know, and his sense of humor is very dark and quirky. His ideas inspire and charge me creatively, and our collaboration often encourages us to push boundaries as we constantly challenge each other to reinvent ourselves, like in this case, as the "Gruesome Twosome", in the words of reviewer Ray Schillachi.

KAMAL: I can't argue with that.

How did the two of you first meet even, and what can you tell us about your collaborations prior to A Tricky Treat?

CHICA: We met on the festival circuit in 2010 when I was touring with my short Day Before Yesterday and he was touring with his, Jesus Comes to Town. Our two shorts were always programed in the same competitions and we kept bumping into each other in various cities. We were at the Oaxaca FilmFest in 2011 when Kamal told me about an idea for a movie he had called Montréal Girls. Since I'm a Montréal girl myself, I became very intrigued by his script. After reading it, I immediately wanted to direct it. So we've been developing that and collaborating ever since.

KAMAL: Patricia's opinions, taste, and her exacting notes on the mechanics of story are invaluable. She has been a tremendous asset to the development of everything we have worked on together.

Back to A Tricky Treat - you just have to talk about the effects work on your movie for a bit, and how was everything achieved?

CHICA: To really push the realism, we had to cast the head of actor Leonard Waldner, because it gets chopped off within the first few seconds of the film. We all went to San Diego, to the studio where Danny McCarthy creates with his team. They worked on the severed head for a full two weeks before the shoot. Danny kept perfecting the look and texture on set after I gave him some further notes

Also talk about A Tricky Treat special brand of humour for a bit!

CHICA: While the dark humor was inherent in the script, it's really when the actors came together to do the first read that we were able to play with and amp up the comedy. At first, the actors did the read in a very traditional kind of way, playing it scared and disgusted. However, I wanted to juxtapose that with the hilarity that naturally emerged, and to really underscore that contrast visually. I love to play with opposites, and in this case, the payoff was bigger and darker, because we emphasized the story's humorous tone.

KAMAL: Patricia's use of a light hearted soundtrack plays into this with the voices, the acting, and the music contributing to the levity. In contrast, the visuals are very dramatic, scary, and revolting. By emphasizing the comedy in the audio and the drama in the visuals, the twist at the end became even more surprising and impactful.

What can you tell us about your cast, and why exactly these people?

CHICA: My amazing producer Grace Santos and I simply called actors we thought could fit these characters and offered them the roles. The chemistry was there and they all did such an excellent job bringing them to life. Since the four family members are never seen on camera, it didn't really matter if there was a resemblance between them. That aspect made casting super easy. They were essentially cast for their voices and each actor had a unique one that perfectly described who their characters were.

A few words about the shoot as such, and the on-set atmosphere?

CHICA: The atmosphere was very friendly on set. I like to surround myself with good people. I am able to be the filmmaker that I am thanks to the support of my team. I'm very grateful that I had all these people involved in this project. I was new in Los Angeles, having just moved there from Montreal, so it was all new collaborators. They were all incredible!

KAMAL: I was banned from set after eating the props.

Anything you can tell us about audience and critical reception of your movie?

CHICA: The reception of this little film has been tremendous both from audiences and film critics. The film recently won four awards at the Macabre Faire Film Festival summer showcase in New York, including Best Short Film and Best Director. It was also a finalist at DragonCon in Atlanta and at the Halloween Horror Film Showcase.

KAMAL: Our favorite quote comes from Heather Buckley of Fangoria magazine who said the short was "Deliciously Vile." That quote even made it to the movie poster as it perfectly encapsulates everything that can be said about this tricky little treat.

WATCH VIDEO OF OUR WORLD PREMIERE AT THE FANTASIA FILM FESTIVAL:

https://www.youtube.com/watch?v=kXUI_k0m_Xg

WATCH THE TRAILER:

https://www.youtube.com/watch?v=WcOzrrSM2B0

Any future projects you'd like to share?

CHICA: I just shot in Montreal a few test scenes of a new film called Morning After, written by Kristian Hodko. It's a coming-of-age LGBTQ drama. The teaser should be out soon and we will start shopping the project around.

Feeling lucky ?
Want to
search
any of my partnershops yourself
for more, better results ?

The links below
will take you
just there!!!

Find A Tricky Treat
at the amazons ...

amazon.com

amazon.co.uk

amazon.de
Looking for imports ?
Find A Tricky Treat here ...
Something naughty ?
(Must be over 18 to go there !)

KAMAL: Just trying to produce words that string together coherently.

Your/your movie's website, Facebook, whatever else?

Patricia Chica

Official Website: www.PatriciaChica.com

Facebook: https://www.facebook.com/Patricia-Chica-185993898124050/timeline/

Twitter: @PatriciaChica

Instagram: @Chicatronica

Facebook for A Tricky Treat: https://www.facebook.com/ATrickyTreat?fref=ts

Kamal John Iskander

Official website: www.kamaljohniskander.com

Facebook: https://www.facebook.com/Kamal-John-Iskander-100336453356995

Anything else you're dying to tell us and I've merely forgotten to ask?

CHICA: Trust your instincts, trust the process and never give up!

KAMAL: Keep your head about you.

Thanks for the interview!