Your movie Das Wundern des jungen Ulysses - in a few words, what is it about?
It's the cinematic obituary to an artist, whose traumata quite probably pushed him beyond breaking point.
Das Wundern des jungen Ulysses has a bit of a mystery to it - so what's the story behind the movie, and what made you want to make the film in the first place?
I wanted to make the movie for a very simple reason, because I had the opportunity. But I also have to say that I didn't know anything about the backstory before I entered the apartment. Basically, a friend of mine told me about that apartment where someone hanged himself, and apart from the body, that was of course removed, everything is like it was then. I found that interesting, so I contacted the landlord of the apartment. In the conversation it transpired that the man apparently cut off his penis before his suicide. That was interesting, and after he sent me photos of the apartment and the hand-painted pictures of the tenant, it became obvious that I had to shoot something.
The artist covered in Das Wundern des jungen Ulysses - how did you find out about him in the first place? And what can you tell us about his art?
As mentioned, I learned about his art through the photos that were sent to me. The bedroom and the den were full with these pictures and show that he had been trying to channel his traumata artistically for quite a long time. And the landlord didn't even know about the case with all the self-drawn comicbooks. We only discovered that by chance in our conversation before the shoot. It was also pure coincidence that I found the "confession" at all. The whole case was full of his comicbooks, and I just picked out some randomly and thumbed through them.
How would you describe your directorial approach to your story at hand?
Before I even entered the apartment, I thought I ought to put the focus on the living room. But when the story evolved more and more before my very eyes, the pieces in the den grew more and more important. Stylistically I had to rely on what I had, also because I only had 80 minutes for the shoot as such, which is why there are minor breaches of style every now and again. This is also owed to the fact that I had no actual concept for the film and wanted to let myself be directed by circumstances - which actually happened, too. But even if I had had a concept back when, it would have been discarded when I found all the comicbooks the latest. Investigating a room through the eye of a camera creates a feeling of intimacy. Intimacy between me and the audience, but also between the artist and the audience - even if months have passed between the actual suicide and the shoot (the apartment had been sealed off by the police) one gets the impression that it had just happened. One can still find out how he passed his last days (at a steakhouse and at the movies). Even his ID card was still sitting on the table. Taking that into account, it wasn't easy to keep an objective distance to the case, and this is something I wanted to transpire to the audience. Likewise a certain feeling of anticipation, since at the beginning it's quite unclear what the film's about and what's happening.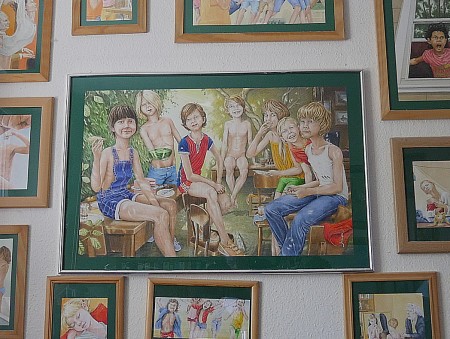 I also liked the idea to give the audience the impression that they uncover a secret. Since the part that was shot with hand-held cameras was very reminiscent of crime scene investigations by the police, later when the "confession" is found one gets the feeling of having solved the case, which in a way is possibly true even. I filmed the self-drawn pictures on a tripod and often only showed details. I wanted to let the audience to think there's something hidden here. The musical score by Stephan Ortlepp only enforces that feeling. Narratively, I wanted to take myself back as much as possible, thus the sudden ending, no prologue or epilogue. Since I tell Ulysses' story, I found that fitting, even if or even because only the apartment is doing the narrating. Maybe he has been considering for a long time to tell his story to the public via his comics, but didn't found the courage. But this will all just remain speculation.
Filming in someone else's apartment and going through his things - what did that feel like, actually? And what can you tell us about the shoot as such?
It was a very odd feeling. After all, I've entered the personal space of another perosn uninvited - and if that person's alive or not doesn't really matter here. Until days before entering the apartment I was unaware of its existence. I can't say what kind of a person he was or how he became what he was. But because of the shoot, especially in the following weeks, the story stayed with me and I could think of hardly anything else. During the editing process, I did get the feeling that I got closer to him as a human being who has experienced something bad. That's why I want my film to be understand as a obituary of a man who had enormous artistic potential, not as an accusation. Judging from his journal I'm pretty sure that he's been a victim of sexual abuse. If he also was an offender, which might be a way to interpret his work, I cannot tell. This is why I've only portrayed him as a victim and omitted some shots since they might be misinterpreted.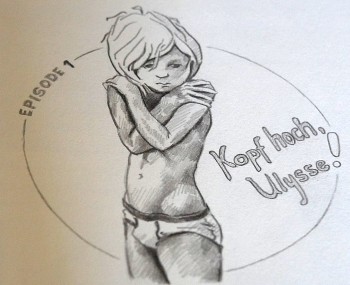 The $64-question of course, where can your movie be seen?
I'm planning a small DVD release of shorts that I've made in the last two years - which would be Addio Uomo, Todessehnsucht, Ossarium, Das Wundern des jungen Ulysses, and maybe a fifth movie as well. But for the time being I can't say anything more concrete. But additionally I'll send the movie to a handful of film festivals, all of which will reject it. But I've already gotten an acceptance.
Anything you can tell us about audience and critical reception of Das Wundern des jungen Ulysses yet?
As of now, I haven't really made the rounds with this movie, apart from with the usual suspects. But the feedback has been very promising on one hand, on the other it has been as a punch to the gut - and that's exactly the reaction I was going for.
Your/your movie's website, Facebook, whatever else?
https://www.facebook.com/wiesnerfilms/

Feeling lucky ?
Want to
search
any of my partnershops yourself
for more, better results ?

The links below
will take you
just there!!!


Anything else you're dying to mention and I have merely forgotten to ask?
Thanks for all your support for my (and everyone else's) little films, and also for the chance to talk a little about Das Wundern des jungen Ulysses, which for some will be elementary.
Thanks for the interview!
Anytime.