Your new movie Wisper - in a few words, what is it about?
Wisper is the true story of the murder of a middle-class African American family in Northern New Jersey. In the summer of 2016, three children and their mother were found shot to death in their large suburban home. Loosely based on the personal videotapes and diaries owned by the father of the victims.
How did you get involved with the project in the first place, what drew you to it?
This was the passion project of my producer Howard Nash, who had this idea in his mind for near thirty years. He and I worked together on four previous feature films including the award-winning Occupants, and he hired me to direct Wisper for which I am extremely grateful. The fact that it's a story where the "protagonist" is an ambivalent character was enticing for me because nobody is perfect and Josiah Wisper is nowhere near that. That makes for an exciting story. The fact that it's based on a true story was also something that made me interested – I thought this story was worth showing to the world.
What can you tell us about Wisper's writers Howard Nash and Rod Cavin, and what was your collaboration like?
Howard Nash is also the producer of the film and as I mentioned, we worked on four previous feature films together. The relationship we've had over the 14 years has been amazing and if it wasn't for Howard, I would not be a feature film director today, so I owe him a lot. As for Rod Cavin, he's a wonderful person and very personable. It made working with both him and Howard a pleasant experience, which I hope comes through onto the film itself.
Wisper is, however loosely, based on a true story, right? So did you personally do any research on the subject before making your movie?
Yes I did, I looked at various digital archives and asked Howard Nash (the producer/writer) for various newspaper clips he accrued. Based on my research, it made directing the actors much easier, especially Christian Barber who plays the lead character Josiah Wisper.
Wisper was made in the found footage/mockumentary style - why is that, and what are the advantages and challenges shooting that way?
That's a great question. My previous feature film Occupants was also in the found footage/mockumentary style. The idea of shooting this way was actually the brainchild of Howard Nash, the producer of both films. His rationale was that by filming this way, we could make this film for cheaper because unlike a classical narrative film, we don't need various angles to film each scene, so that's way less footage we have to shoot. Unlike Occupants, which employed mostly static footage, one location, and only three principal actors, Wisper was more fluid and "handheld" taking place over multiple locations and over 100 actors (principal, supporting, background).
The main challenges of filming this way is first off, the actors have to treat each scene like a play where they can break what we call the fourth wall (basically, they can stare at the audience which in this case is the camera itself). Secondly, it makes editing much harder – because we don't have numerous camera angles per scene, the only way we can "cut/edit" is the same way we did in Occupants – by employing a "visual glitch."
What can you tell us about your overall directorial effort to your story at hand?
This was a very ambitious project for me. I mentioned before we had over 100 actors and 12 locations total located in two states (New Jersey mostly and some in New York). I worked with my director of photography Emile Haris (whom I worked with since 2002) to carefully map out the script and bring it to the big screen. Because it is a "found footage" film, I had to direct the actors to treat the camera as if it was a character itself because it is being "held" by someone (mostly the character "Laura" played by Naaji Kenn). I also like to give my actors both an "entrance" and "exit" for each scene and incorporate their own mannerisms into their characters, hopefully making their performances more natural. As for the other departments, I like to do a breakdown of each department so for instance, wardrobe knows what to expect in each scene.
Do talk about Wisper's key cast, and why exactly these people?
Right off, I have to say, I had an amazing cast that really gelled well together. Many of the key cast were picked based on the audition process we held a month before we filmed, including Christian Barber (Josiah Wisper), Naaji Kenn (Laura), Lanisha Javon Gholston (Norma), Kenishia Green (Melonie), Laquana Henny (Alisa Wisper), Gayle Samuels (Momma Wisper), Morris D. Small (Curtis Wisper), Vincent Michel Paul Filliatre (Willy), Rachel Jarvis (Jenine Wisper), Shanel Cheatham (Penny Wisper), and Cameron Newsome (Michael Wisper). Others including Michael Emery (Reverend Henning), Michael Ray (Manny), Craig Batchker (Detective Rothstein), Tim Cinnante (Detective Cardelli), and Nicholas E. Calhoun (Detective Conlin), were people we either worked with before or knew from other projects. And two of our actors Joseph Coppola (Detective Shuster) and Isabel Romero (Birthday Testimonial) were cast through the company Clapit, a "talent discovery app that crowdsources professional and amateur actors straight into film & TV roles."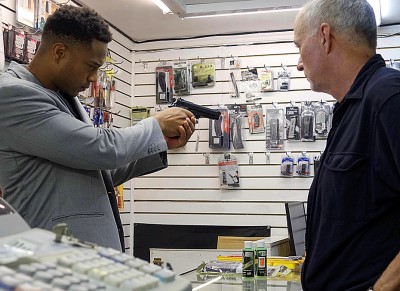 A few words about the shoot as such, and the on-set atmosphere?
We filmed over 10 days and it was a 97-page script, meaning we had to film over 9 pages per day. That made for a very tough shoot, but because we pre-planned extensively including rehearsals, we were able to be very efficient and even had an incredibly fun atmosphere to work in. In the end, looking back at the shoot, it brings a smile to my face.
The $64-question of course, where can Wisper be seen?
Wisper can now be seen on Amazon Prime at the link: https://www.amazon.com/exec/obidos/ASIN/B0861H1VZM/
Anything you can tell us about audience and critical reception of Wisper?
So far, people seem to like the film overall. At our upcoming film festivals we have been selected to participate in, we were nominated for "Best Thriller" and "Best Director" at the 2020 Bare Bones International Film & Music Festival, as well as "Best Feature Film" at the 2020 Las Vegas Black Film Festival. Recently, a film reviewer, Mike Haberfelner, wrote that our film was "... a very tight thriller without clear heroes or villains - thanks to a tight directorial effort, a tense script and strong performances by all involved... it's a genre movie that shouldn't be missed."
Any future projects you'd like to share?
My latest film which is currently in post-production is the action film The Assassin's Apprentice II: Silbadores of the Canary Islands (2021). It stars Tarah Paige (reprising her role as "Kaylee" from the award-winning first film), Katherine Munroe, as well as Star Trek alums Armin Shimerman, Gary Graham, Sean Kenney, and Tracee Lee Cocco. It's written by executive producer Paul Hickman (who was the brainchild of the first film), and we even filmed on location in the Canary Islands (located in Spain) in September 2019. All I can say, whereas the first film was an action-packed adventure, this one guarantees to be the first film on steroids!

Feeling lucky ?
Want to
search
any of my partnershops yourself
for more, better results ?

The links below
will take you
just there!!!


Your/your movie's website, Facebook, whatever else?
Russem Productions, my film production website: http://russem.com/
Wisper official website: https://www.wisperproject.com/
Wisper Facebook site: https://www.facebook.com/wisperproject/
Wisper Twitter site: https://twitter.com/WisperProject/
Wisper Instagram site: https://www.instagram.com/wisperproject/
Anything else you're dying to mention and I have merely forgotten to ask?
Just wanted to say thank you for interviewing me and helping to promote Wisper which I think is a story that needs to be shared. Thank you so much.
Thanks for the interview!