Your new movie Art of Obsession - in a few words, what is it about?
At itís simplest, Art of Obsession is a reverse Stephen Kingís Misery. But instead of a fan kidnapping a writer, in this film, a writer kidnaps his muse. But itís not just about the suspense and tension of this scary situation. Thereís a strong artful side to the story as well that explores addiction and losing yourself in your art.
What were your sources of inspiration when writing Art of Obsession?
Like with every story and subsequent movie I create, my main source of inspiration is music. For this film, it was primarily the early 90s Seattle grunge scene. Specifically bands like Nirvana, Alice In Chains, and Mother Love Bone. I always was and always will be a metal-head, but there is something about the rawness and the realness of the vocals and lyrics of people like Kurt Cobain and Layne Staley that is so powerful and so haunting. And that is what I wanted to capture for this story. The subject matter of the film has absolutely NOTHING to do with music or these musicians, but I was influenced by their emotions and pain. Especially someone like Staley, who was so talented but after the death of his true love, Demri Parrott, he just kinda drifted away until he died, so utterly alone that no one went to check on him until two weeks after he died. I know that sounds really dark and depressing and I knew it while I was writing it. And the reality is I wanted to make a horrifying and mournful story, not a depressing one. So I was kinda inspired by David Lynch as well. I focused a draft of the script on making it weird. Sometimes the dialogue would be odd or the delivery would be quirky.
To what extent can you identify with your lead character Kennedy, actually? And what kind of a challenge was it to make a psychopath your movie's protagonist?
I think I can identify with him to the same extent that any artist can identify with him. Whether itís novels or music or paintings, every artist knows that nervous feeling they get when they release their art for public consumption. Thereís a quote by Robert Hughes, ďThe greater the artist, the greater the doubt. Perfect confidence is granted to the less talented as a consolation prize.Ē So when I think about the character of Kennedy Sait, or myself or any other artist, I think we can all identify. And to be honest it really wasnít that difficult to make a psychopath the movieís protagonist. I mean everyone is capable of good and evil. Itís a fine line and itís just about understanding what has brought them to this point. Youíre not cheering for Kennedy, but at the same time I didnít want him to come across as a total bastard.
With Art of Obsession being a psychological thriller - what can you tell us about your approach to the genre?
I approached it like I do all my films because whether itís psychological thriller, slasher or whatever, itís still a horror film. This one is just a lot more realistic than my previous couple. Psychological thrillers definitely have a heavy dramatic element to them so it was about finding the balance between drama and horror. Since the story revolves around a woman who is being held prisoner by a man obsessed with her, I felt the elements of terror were definitely there no matter how we did it.
Do talk about your overall directorial approach to your story at hand!
Well the script is like the blueprints for the characters and itís the actors that bring them to life. So I like to give them a lot of space to try things and take chances. And then I work closely with my crew, creating everything around them. I once again had my cinematographer Michael Davidson and editor Chris Cull working closely with me (Chris is also producer). So the look and substance of the film has just as much to do with them as it does with me. Since we have worked together many times (and Chris and I have also written a number of different scripts together) weíve created a shorthand between us. And because there is that understanding and trust there, Davidson has the freedom to focus on the lighting and the shots, which allows me to be able to focus on the story and cast.
I like to give freedom to every department to be able to contribute a lot of themselves into their work, which is why it is important to work with people you know and trust and have a mutual respect for. There is always going to be new faces, which I always welcome. For this film I was able to finally bring Eva Mancini onboard as a producer as well. Evaís a friend who I went to film school with and we had been talking about collaborating for years. It was great to finally do that.
One of the other new collaborations that came on this film was with composer Janal Bechthold. She is a creative genius with a killer ear. And with a genre film where building suspense is key, music is such an important component to that. Especially this film because it is such a quiet and moody piece, the music really drives the scenes forward. It was really rewarding doing spotting sessions with her and discussing styles and motivations. I think with all departments, you can never be too prepared. And you can tackle any obstacle that arises as long as you are fully prepared. And making an indie film there is always going to be shit that arises.
What can you tell us about your key cast, and why exactly these people?
Ry Barrett stars as Kennedy Sait. Iíve worked with him a few times and Iíve seen him in so many other films. He plays a great monster, he plays a great villain, he plays a great jerk, but I think one of my favorite roles that Iíve ever seen him in was in a film called Neverlost. He wasnít just playing a tough guy or a mean guy. He played a vulnerable guy with so many layers and flaws. And he played it perfectly. I admire his fearlessness and his commitment to the role. When I see him on screen, I donít see him at all, I only see the character heís become. Before making this film, we made a short film that was the origins of ďthe anger artistĒ part of his character. Eventually when I decided to turn this into a feature, I combined it with another story of mine, which was a lot more horror based. And it had to be Barrett leading the way because Ry Barrett is the total package.
Another actor that I had to have in this film was Jessica Vano. I just knew that she had to play the role of Melanie. Jessicaís got such an incredible look and the camera loves her, but more importantly, sheís a natural born talent. The moment I saw the film The Demolisher I thought, wow she was so captivating. She took me on a journey with every emotion and movement. Jessica Vano is the indie film communityís best kept secret.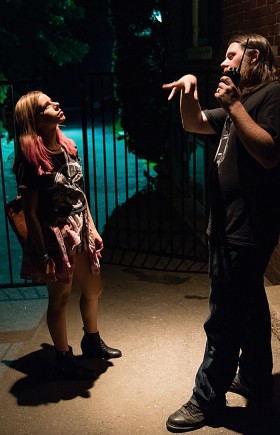 Ryan directing Raven Cousens
Raven Cousens is an actor whom Iíve known in the film community for years. Iíve seen her in multiple films like Late Night Double Feature and Dead Rush and she always steals the show. It was a big honor for me to get to bring the character to life with her and direct her.
Then there is Winny Clarke [Winny Clarke interview - click here], who plays The Muse and Patricia. And with her it was totally different. She is not someone I knew of prior to this shoot and to be honest, the way I envisioned her character, was nothing like her. But she came in to the audition and was so phenomenal that I just said, Ďscrew it, I know she doesnít fit what I had in mind for the character, but thatís fine cause she just changed what I envisioned that character as.í And she delivered on set. Winny is creative, daring and such a wonderful soul to work with.
But itís not just the key cast. I lucked out with everyone who was in the film. Brian McDonald and Margaret Jeronimo both played their parts just how I wanted, which worked so well off of the key cast. And Tim McCarthy and Keegan Chambers not only came in last minute for their roles, but they fit so perfectly with everyone else that it made their characters bigger and better than I originally thought. Tim is an actor that I worked with 7 years ago and whom I always respected and enjoyed the work of. And Keegan is an actor that I enjoyed seeing in an indie Toronto horror film called Secret Santa and I thought, ĎIím gonna work with her one day.í
So I have always been very grateful to have been able to create with such a wonderful cast.
A few words about the shoot as such, and the on-set atmosphere?
Well I was definitely out of my comfort zone on this one, which was exactly what I needed. And thanks to having some great people by my side, we pulled it off. Sure there were obstacles and definitely a couple big fires that needed to be put out, but itís a testament to the team I worked with, that we met the chaos head on and came out on top. And to be honest, there was something about the filmís subject matter and style of storytelling that I think benefited from the craziness of the shoot. The bottom line is everything happens for a reason. Kennedyís house in the film was perfect, but it wasnít the location we originally had, so that change was one of the issues we had to work with and in the end, the film is better for it.
The $64-question of course, when and where will your movie be released?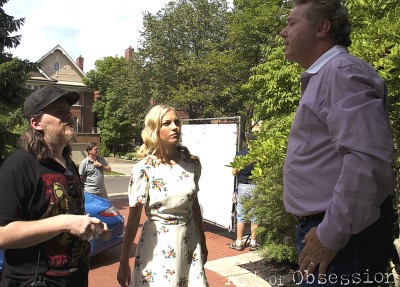 Ryan directing Winny Clarke, Brian McDonald
It starts playing film festivals this fall. And weíll be spending at least the rest of 2017 and into 2018 taking it around for screenings. After that will be distribution, but if you want to see it sooner rather than later, the best bet is to keep track of the film on Facebook, where we will announces festival screenings and hopefully one of the festivals will be near you.
Anything you can tell us about audience and critical reception of Art of Obsession yet?
We actually kept this film pretty quiet, so it hasnít been seen by too many eyes yet. We only just announced the film once we got into festivals, but the response that weíve gotten from those whoíve seen it has been really positive. Reality is there will be people that like it and people that donít. But hopefully for fans of this style of film, theyíll enjoy what weíve created.
Any future projects you'd like to share?
Iím working on a couple new scripts and even a novel, which I am really excited about. And I have a couple films in development but my main focus right now is getting Art of Obsession out there to festivals.
That plus also continuing to push my previous film Save Yourself.
Your/your movie's website, Facebook, whatever else?
We have only launched a Facebook page so far, but we will be posting about all of its screenings and future distribution there. So itís best to follow there. Weíll have Twitter and Instagram soon. https://www.facebook.com/TheArtOfObsession/
You can also check out the teaser on YouTube: https://www.youtube.com/watch?v=Pxjij1kf-6I
My social media is:
Instagram: ryan.m.andrews
Twitter: @RyanMAndrews1
Anything else you're dying to mention and I have merely forgotten to ask?

Feeling lucky ?
Want to
search
any of my partnershops yourself
for more, better results ?

The links below
will take you
just there!!!


As always what Iím dying to talk about is encouraging people to get out and seek out independent artists. Iím always hearing people complain about the unoriginal big budget cookie cutter, well if you wanna see something new and support the future, look to the indie world. We are passionate and we care about our stories. There are so many hidden gems out there and the Toronto genre scene is just as big as ever. Tricia Leeís film Blood Hunters has just been released [Tricia Lee interview - click here] and Navin Ramaswaranís new film Poor Agnes just premiered at the Fantasia International Film Festival and will be making the rounds soon. Its star Lora Burke is someone to definitely look out for. Also Black Fawn Filmís The Sublet, which stars Save Yourself star Tianna Nori [Tianna Nori interview - click here] is also one to check out.
Wherever youíre located Iím sure there is a local indie scene and it needs your support. And you wouldnít be supporting some faceless corporation that follows a formula. You are supporting blue collar hard working artists.
Thanks for the interview!
Thank you for the opportunity to chat about this new film.