Since your movie Black Eve is just about to be released - in a few words, what is it about?
It's a Halloween party gone wrong. It's pretty ladies, booze and sexy Halloween costumes. Three key ingredients for a body count / slasher film. The setting is a closed down department store, where a group of young adults have a Halloween party. An uninvited guest shows up and, well, bad things happen!
Now how did the project fall together in the first place?
Producer Neil Green, who also plays "The Man" in the film, came to me. He had acted in one of my earlier features, A New Design, and we had already worked together making two short films as well. Basically Neil pointed out this closed down department store and said, how would you like to shoot in there.
I took a tour of the place and it was amazing. It was huge and empty. And I actually remember, in the middle of one of the floors shrouded in darkness was a tiny pink tricycle, just sitting there alone. It was really creepy. Like, it was the perfect setting for a horror film.
I had an interesting body count script laying around and I thought this would be the perfect location for it, so Neil and I re-worked the story to fit with the location. And then he hit me with the catch. Eventually the building would be torn down, so we had to go to camera in about a month and we only had six days to shoot.
Of course I was already hooked, so I couldn't say no.
With Black Eve being a slasher movie, basically - is that a genre you can at all relate to, and some of your genre favourites? And what do you think makes your film stick out of the crowd of slashers?
I grew up on the horrors of the 80's. So there always has been and always will be a soft spot in my heart for the slashers. Of course I love Freddy and Jason, but even more, I loved the lesser known slashers, Night Of The Demons, Terror Train, Sleepaway Camp.
I definitely wanted to make sure Black Eve stood out. I didn't want to just make another by the numbers slasher. I wanted to give slasher fans something a touch different. And I think we did that. The main character, which would be considered "The Outsider/Loner Character" was the outsider because she has psychic abilities, Because she's different, she's teased and picked on by everyone else.
She's the only one that survives the party, primarily because she was the victim of a prank, orchestrated by the "Bitch Character" of course. So the film actually follows our psychic when she wakes up the next day to find dead bodies everywhere. She goes from room to room using her psychic abilities to retrace the events of the night before.
So to stand out from the crowd, Black Eve is still a fun by the numbers body count film, but it plays out in a much different way.
We have all the usual suspects, the bitch, the slut, the loner (which is like the modern day version of the virgin character). At the end of the day, with some artistic integrity, we just wanted to have fun with the characters and the film. Play them up a little, not make them full-out cheesy, but we're paying homage to a fun sub-genre.
Other sources of inspiration when writing Black Eve?
Music. Music is a huge influence for me when writing anything. Since this script was all about a party gone to hell, I listened to a lot of horror themed party songs, Stuff by Murderdolls, Wednesday 13 and Rob Zombie. I love Zombie's music and I've seen him live many times. He doesn't do a rock show, he does a "Motherfucking Zombie Party." I mean what do you expect with songs like Living Dead Girl, Mars Needs Women, Meet The Creeper.
Slasher movies demand quite a bit of blood and violence almost by definition - so how did you go about this in Black Eve, and was there ever a line you refused to cross?
We definitely have blood. Lots of blood especially considering our restraints. This isn't a 20 million dollar Hollywood slasher. Hell, this isn't even a 2 million dollar slasher. We had six days in a mall. We were limited with time, we were limited with money. But when it came to the blood, that was key and I made sure we did everything we could.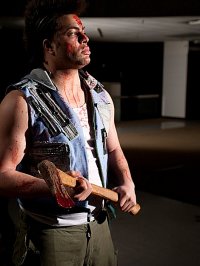 Neil Green
At the end of the day, some people think that horror films need "tits" to sell. But they don't. You want "tits", watch a porno! For horror, fans want blood. Look at The Texas Chain Saw Massacre, Black Christmas, Scream, Child's Play, hell, even (in my opinion) the best Friday The 13th... Part 6: Jason Lives. They work really well and there is no nudity. Yes, many slasher films do have a lot of nudity, and I have no personal problem with it. I'm a fan, but when it comes down to it, in a horror film, the blood is WAY more important.
So we went balls to the wall. Probably some of the best deaths I have done on screen. And there is one specific death, that for some might cross a line. It's very violent and very disturbing, but it actually has a lot less blood than a couple other deaths. But it is about the context. I can't say much about it without giving a lot away, but I'll just say, everything I do in any film has a purpose. So despite it being graphically violent and maybe possibly offensive, it is there for a reason.
How would you describe your overall directorial approach to your subject at hand?
With Black Eve, like all my work, I approach directing the same way. I've created these characters and set the world they play in, but it's the actors that breathe life into them and make them real. I like to give the actors a good amount of space to feel at home and not afraid to try things.
Everything is about prep. Discussions with the make up artsits, production designer, DoP, actors, everyone, is done long in advance cause when you get on set, you just gotta move. There is always that moment when you are actually in the middle of it with everyone there that creativity strikes, but you can only change the playbook if everyone is in sync. So it's all about prep and communication.
You of course have to talk about your location, the abandoned department store, for a bit, and how did you get it, and what were the advantages and challenges of filming there?
First thing that comes to mind was, the cold. It was the dead of winter, in Canada and we're in a closed down department store. There was no heat. We had lots of space heaters but the department store was so huge, there was no way we could heat it all, only small parts at a time. Of course, who am I to complain, I'm standing there in a sweater and coat next to a couple women in skimpy outfits. Clearly they're the ones that got the use of the heaters.
It was just the perfect location to set a film. There were so many rooms upon rooms to shoot cool things in. It was great. Just cold.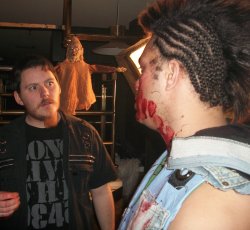 Ryan M. Andrews and Neil Green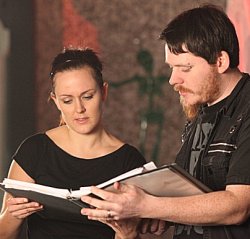 Eva James with Ryan M. Andrews
Neil got the location, and though it would be fun to make up a story where we had to sneak in, or con someone, the reality is we did everything by the book. We got the location the same way any film gets their locations.
Do talk about your key cast for a bit, and why exactly these people?
Well of course there is Neil Green, who played the killer. And he didn't just get the part because he was one of the producers. He is one helluva actor. After Black Eve, I had him in my next feature, SICK. He's very talented and has a great on screen presence. He really fills the screen. I think I definitely butted heads with him a few times on set as producer. We probably wanted to kill each other but that was because we were dealing with such a tight window for shooting and everything was go, go, go. But no matter what, when it was time for him to take the producer hat off and jump in as his character, he did it perfectly. Never any problems there.
Eva James plays our lead. And whether she really believes me or not, I had wanted to work with her for years. I had seen her headshot at least six or seven years before that and I really liked her look. And I had auditioned her for one of my earlier films and she was amazing. It came down to her and another person. We made the right choice going with the other person for that role, but I definitely took notice of Eva. She is a great actor and she has a very "real" look. She's the girl next door. One of the shorts Neil and I did, I brought her out to be in that, and while we were shooting, Neil and Chris Cull (who is also a producer on Black Eve as well as the editor) both said to me, "we need to put her in a feature." So they saw the same thing I did, and the moment Black Eve came to be, my first phone call was to Eva.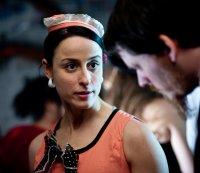 Kassandra Santos
Second phone call was to Kassandra Santos. She was another actress I had worked with previous to Black Eve and she was great. She is a very fluid actor. By that I mean it just comes out of her. It's so natural and beautiful to watch. Whatever I needed, she could deliver. And like Neil, her presence also fills the screen. There is also a slight darkness to her. She is an extremely beautiful woman, but she has a sly, devilish thing about her as well, which is why I thought she would make the perfect "bitch character".
Veronika London, Emily Schooley, Hayley Toane, Cailey Muise, were some of the other women we brought in to play the various "women in a horror film" characters. And it was a lot of fun working with them. They all had equally great, but different looks that played well for the film and their characters. And Thet Win, Scott Vancea and Jo Jo Karume were great male actors to play off of the ladies. These guys all had great looks. I felt the audience would definitely have their favorites and they would have the ones they love to hate. I'm so happy with all of them.
A few words about the actual shoot and the on-set atmosphere?
It was fast and intense. Every day there was a death or two and a bunch of heavy dialogue scenes. Geoff. W. (our production designer) was actually kinda like a ghost. Cause you never saw him. Just his work. While we were shooting at one end of the department store, he was dressing a hallway at the other end, that we would be using the next day. And when we were there, he was on to the next floor. So we never saw him, but we saw his work.
I remember our big party day. The day began with shooting our biggest death scene and followed by all our party shots of everyone dancing and having a good time. So we spent many hours in this long narrow hallway rigging an amazing SFX prop thanks to make up SFX master Steve Dawley who worked closely with our make up artist Stacie Robinson putting everything together. While we were doing this and pumping blood everywhere, people started showing up who were playing party guests. So what we ended up doing was bringing a television set in. It turned out we were shooting this on the same day Canada was facing off against the USA in the gold medal Olympic hockey game. It was the final game too. So everyone was sitting around watching the game and it was like a real party. The game went into overtime and Canada won. So everyone was in a great mood and ready to shoot the big party scene. When you see everyone dancing and throwing their hands in the air, it's because they were celebrating Canada winning the Gold.
So what can you tell us about critical and audience reception of your movie?
It's impossible to make a movie that everyone loves, so there are those out there that I'm sure didn't like it. Some may have preferred if we had more kills at a faster pace and maybe others wished we slowed things down more or whatever. But I'm very happy to know that Black Eve does have its fans. We worked so hard with so little, I don't think people realize how much we were able to do with so little time and resources. So it is really rewarding to know horror fans really like it.
And it is the same for the critical reception. We have played a number of festivals and we've won a few awards as well. There's been good reviews and not so favorable ones too. But you can't please everyone. A horror reviewer I really respect told me, he was honestly really impressed because it starts out as a by the numbers slasher film and it plays up to your expectations but by the end, you realize it is its own style and story.
At the end of the day I had fun making it and I hope people have fun watching it.
Since finishing Black Eve, you haven't exactly remained idle - so feel free to talk about the status of your current and future projects for a bit?
Creating is like breathing. I can't not do it.
Probably the biggest thing since Black Eve is SICK. SICK is a dramatic zombie feature that is currently playing film festivals and winning different awards. I'm proud to say I won a Best Director award for SICK. You can follow it on Facebook at facebook.com/sickthemovie and see where upcoming festival screenings are. We want to finish off the year with a big push through the festival circuit and then get it distributed. SICK stars some of Toronto's best actors including Robert Nolan [Robert Nolan interview - click here], Ry Barrett, Christina Anne Aceto, Richard Sutton, Jennifer Polansky, Sandra DaCosta [Sandra DaCosta interview - click here] and also features horror scream queen Debbie Rochon [Debbie Rochon interview - click here].
Between features I love making shorts just to keep in shape, keep practicing and trying new things. The Devil Walks Among You is my award winning short that is still being played all over the place and winning awards. I'm blown away by how much people really love that one.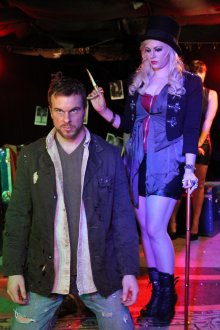 Ry Barret, Jessica Cameron in Klymene
After finishing SICK I did two new short films. The first one is called Klymene. It's a very artful, moody piece that stars two of my favorite people, Ry Barrett (NeverLost, Kingdom Come, Desperate Souls) and Jessica Cameron (Silent Night, Truth Or Dare, Camel Spiders) [Jessica Cameron interview - click here].
The other short is called My Old Man. Written and produced by Max Giacomelli, he brought me in to direct. It stars Robert Nolan [Robert Nolan interview - click here] and Adrian Cowan. It's a very Lynchian style, art house noir film. It's a real intense story.
Both of those shorts will be released by the end of the year. And because of the amazing success and response to The Devil Walks Among You, Chris Cull and I have decided to do one more short film as well. Chris co-wrote SICK with me, we produced Klymene and have worked on many projects together. And we decided we wanted to do one more short that, like The Devil Walks Among You, is just a very simple, minimalistic but brooding film. It's a macabre story called The Fourth Telling.
But it's not all shorts, I have a few features in various stages of development and pre-production. Probably too much to mention, but I am working with some great people on these projects and one of them is moving forward with great momentum, which is really exciting for me. I'm doing a couple classic style ghost stories with fellow Toronto filmmaker, Navin Ramaswaran and the other films range from a psychological mindfuck to a twisted and bloody Grindhouse. I'm working again with Ry Barrett, Jessica Cameron [Jessica Cameron interview - click here] and Sandra DaCosta [Sandra DaCosta interview - click here], but there are also so many new actors I am looking forward to creating with. I am also set to direct one segment of an anthology called Tales From Hell produced by Kelly Michael Stewart.
That is what I love about the horror genre. Other than how passionate and dedicated horror fans are, I love that there are so many different styles of horror. It's not just slasher or torture. I've done four horror features and each one is a different style. And these new ones are all different as well. I know after ten years in the genre, some directors want to move on and try other things and that's cool. And a good story is a good story, so if I'm offered something outside the genre, I will consider it based on the story. But at the end of the day, I personally have no intentions or even desire to step outside of horror. There is too many styles and stories to tell within our community here for me to look elsewhere.
Your/your movie's website, Facebook, whatever else?
Anything else you're dying to mention and I have merely forgotten to ask?

Feeling lucky ?
Want to
search
any of my partnershops yourself
for more, better results ?

The links below
will take you
just there!!!

Find Ryan M. Andrews
at the amazons ...

amazon.com

amazon.co.uk

amazon.de
Looking for imports ?
Find Ryan M. Andrews here ...
Something naughty ?
(Must be over 18 to go there !)

Well, just that for anyone in North America, Black Eve comes out on DVD Sept 24th 2013. It can be pre-ordered through amazon or you can get it from wherever you buy DVDs. So please support.
Other than that, just thank you to all the fans of horror, especially all the fans of indie horror. It is because of your passion that me and so many like-minded artists can do what we do. Brandon Slagle [Brandon Slagle interview - click here] and Devanny Pinn [Devanny Pinn interview - click here] have their film The Black Dahlia Haunting coming out this fall, Gabriel Carrer has his latest, In The House Of Flies, also coming out on DVD. The Soskas' American Mary & Dead Hooker In A Trunk are both already out [Soska Twins interview - click here]. And currently playing festivals all over is my film SICK, Chad Archibald's AntiSocial, Jessica Cameron's graphic torture horror Truth Or Dare [Jessica Cameron interview - click here].
Consider it a wake-up call to Hollywood. Quit wasting money. Horror fans love these films, not because of the size of the budget or because it is littered with a million overpriced stars. Horror fans love a horror film, if it is good story with good acting.
Thanks for the interview!
Thank you.